May 17, 2013
It's perfect weather for an outdoor picnic, no? Hopefully you're experiencing this beautiful sunshine wherever you are, too! Eating outdoors is the best (especially on a big grassy lawn at some fun park) and now that the Outdoor Eating season is approaching here in Southern California, I think more picnics need to happen in our house. Or, outside our house. Maybe on the new outdoor table.
Liv and I were experimenting with painting (her new very favorite-ist thing to do in the whole wide world), and while Liv took to the bright colors, I played around with updating simple rattan chargers from Ikea with white paint.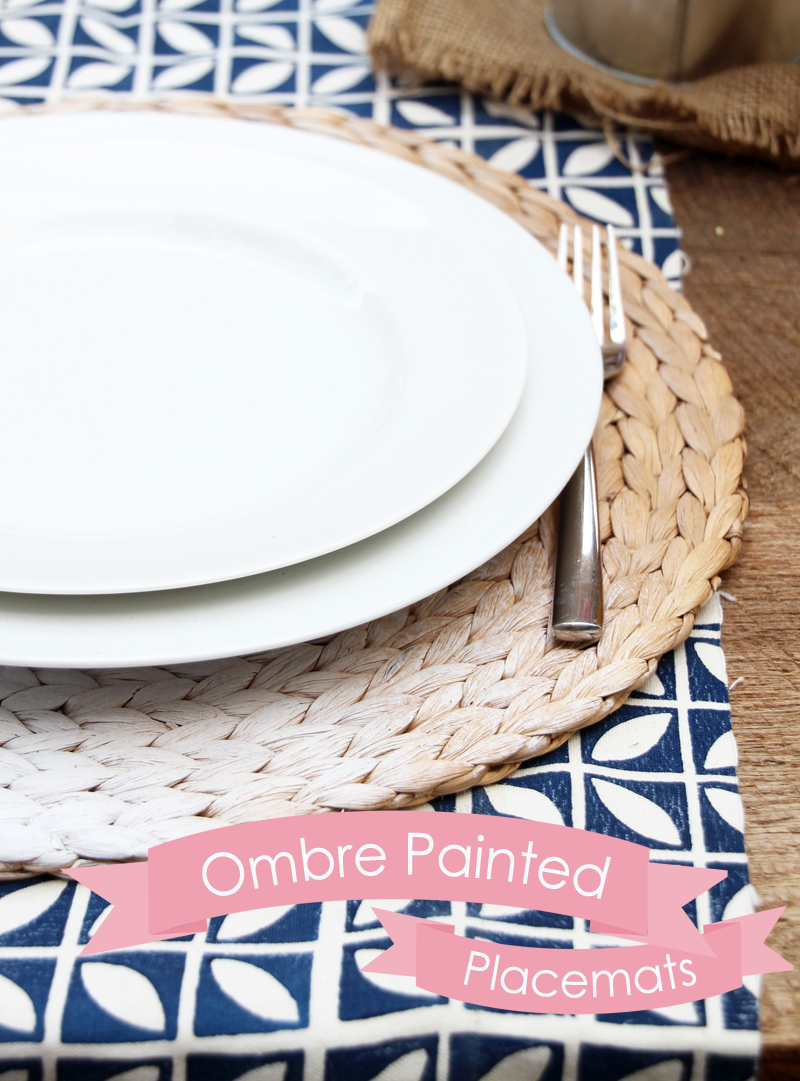 Turned out pretty cool! I really dig the look with that blend of the soft rattan and the stark white finish. Actually, this is just dawning on me – they kind of remind me of these.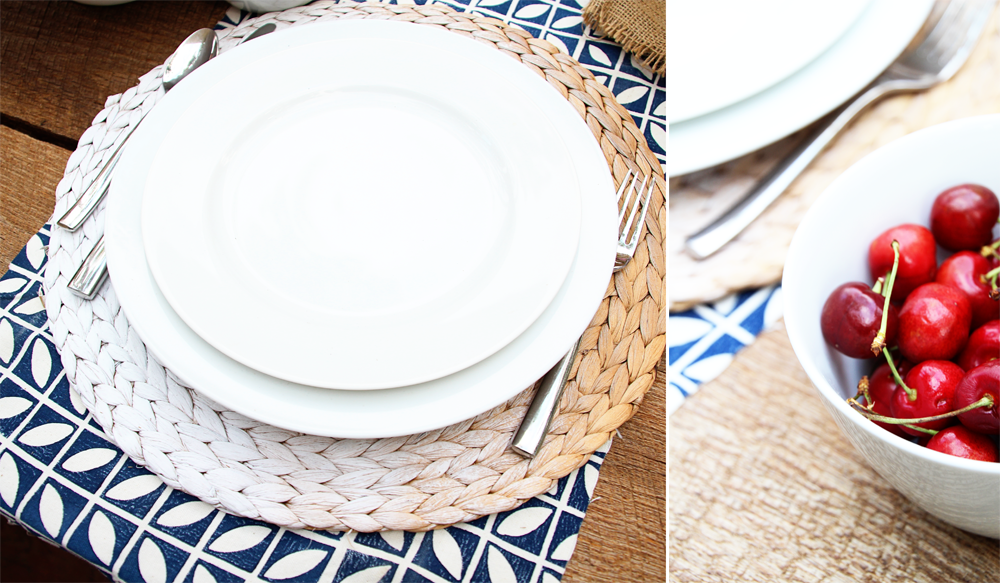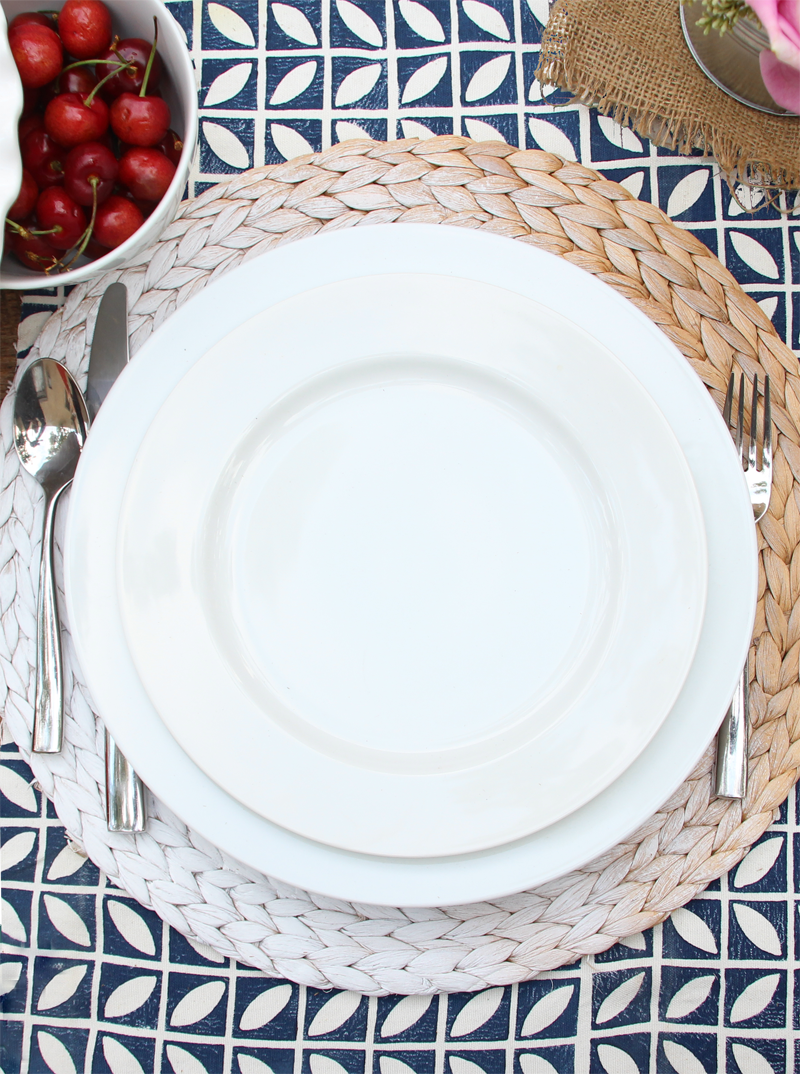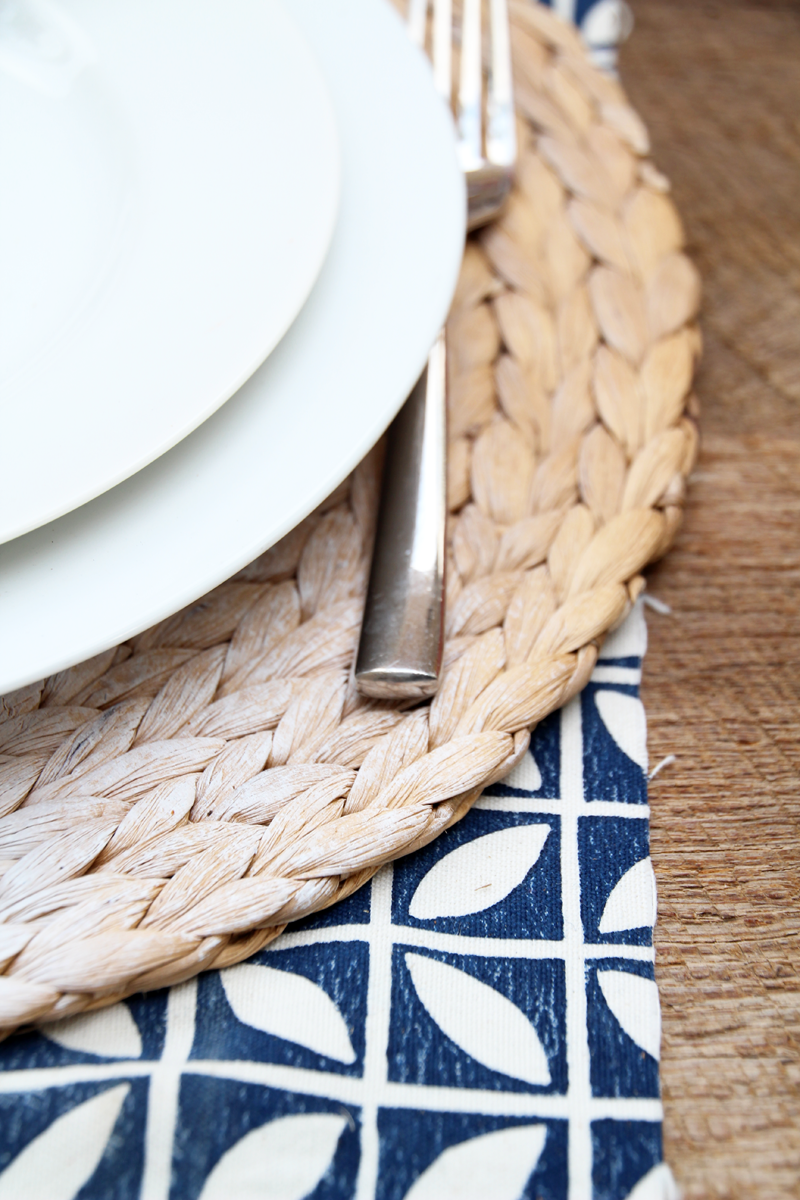 The application process was more than basic. I actually tried spray paint first thinking that that might be fast and easy, but couldn't achieve that gradiated effect I was picturing, so went over the work with acrylic and a paint brush.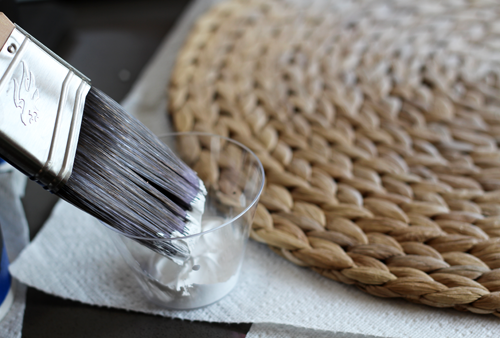 Brush, brush, blot, blot…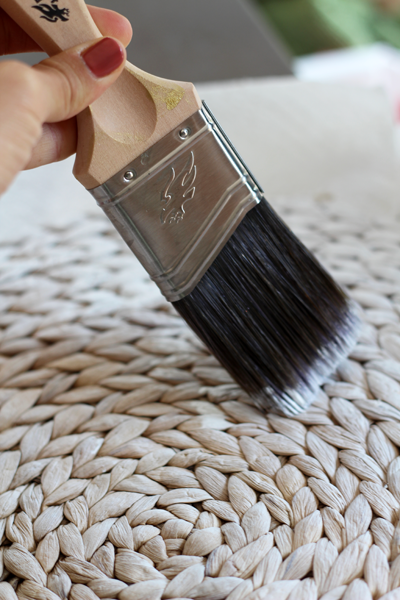 Lots of blotting later…
And finished!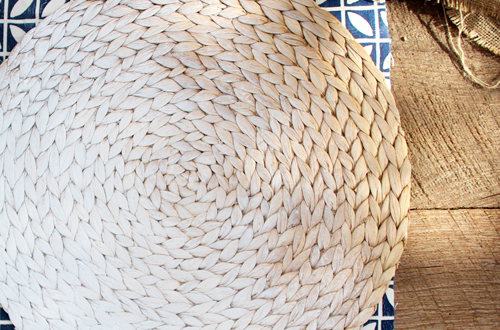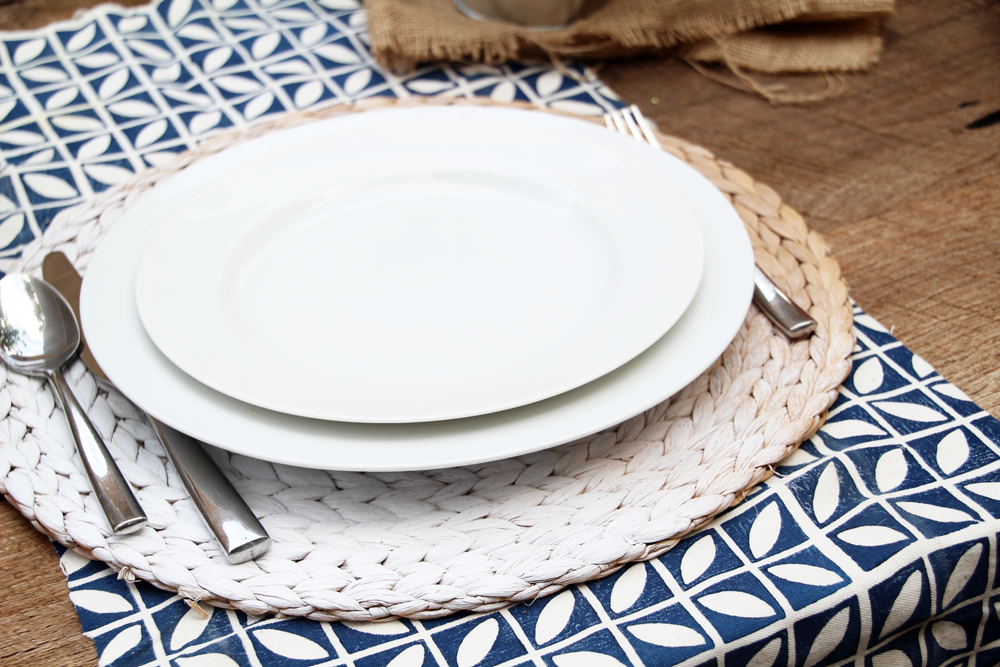 Navy and maroon might be a new favorite color combination – kind of perfect for July 4th, no?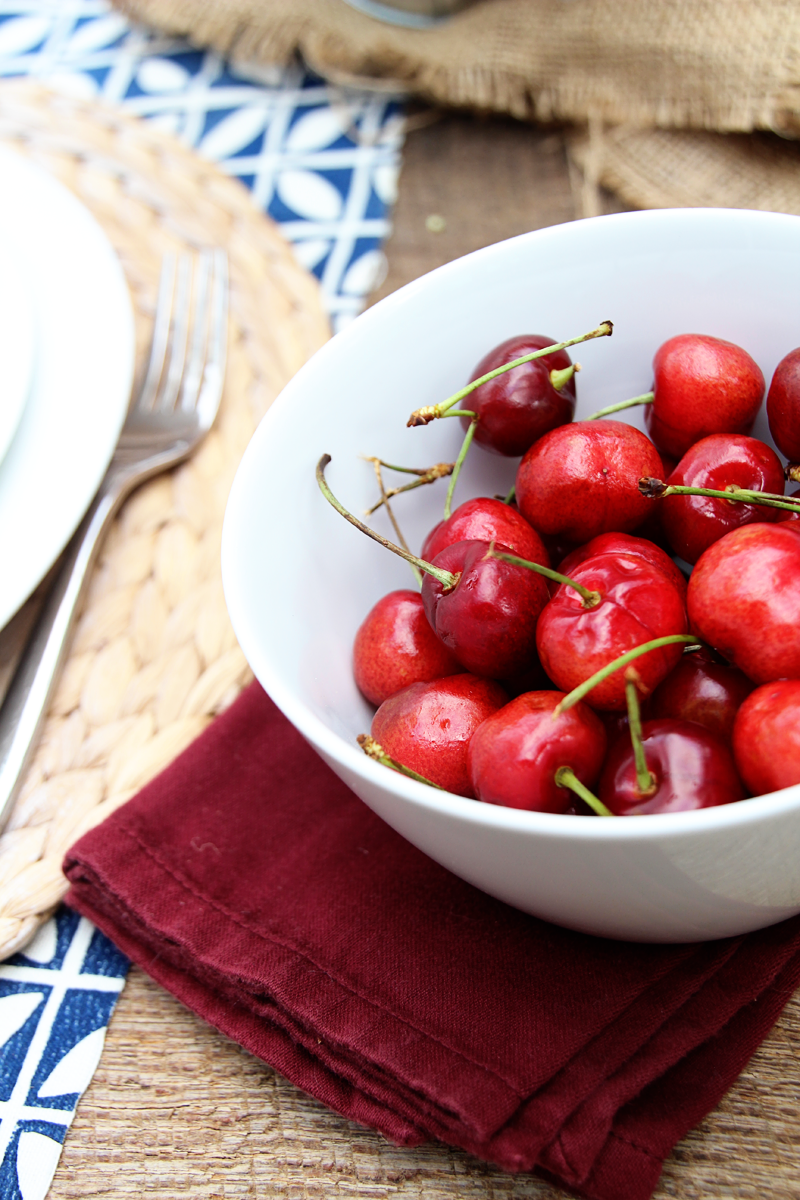 These placemats were so simple to create and at a couple of bucks a pop, a great housewarming gift idea as a pack of four or six, or perhaps as something special for a special lady/friend/mother in your life? Or even better, package up in a picnic basket with a fun outdoor blanket and a bottle of wine as a wedding gift (it's that season, too).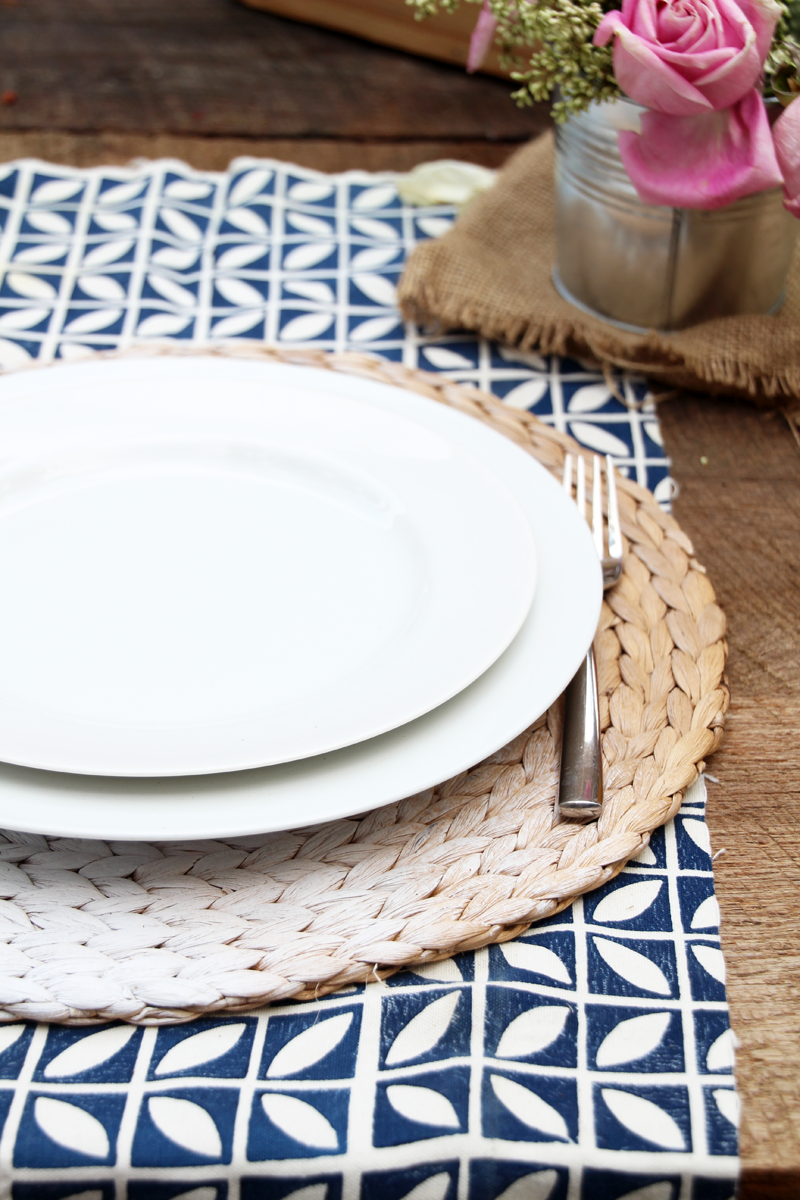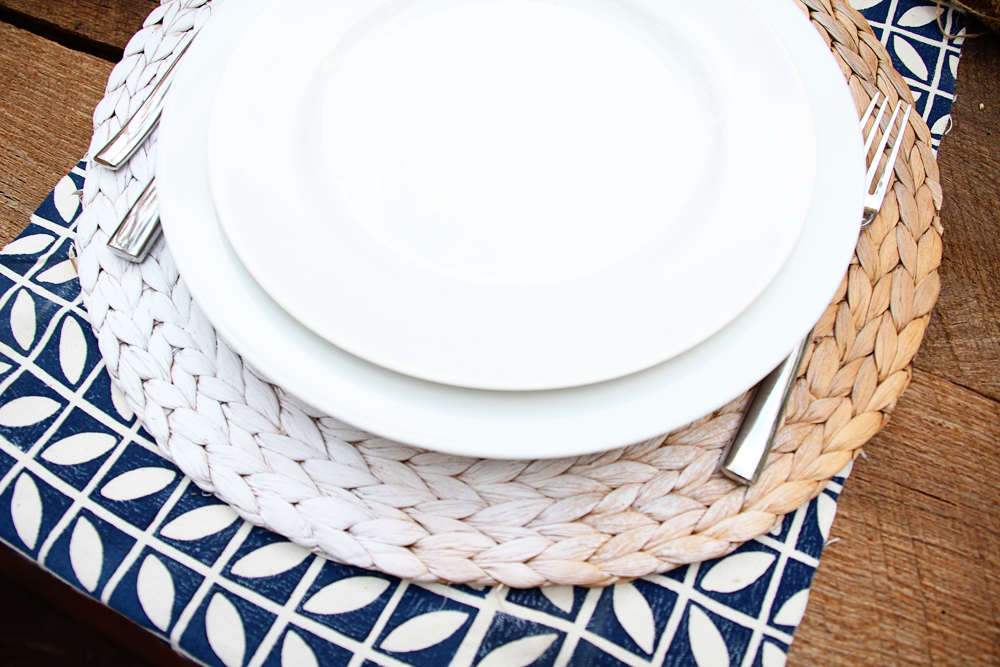 Sorry, enough photos. The lighting was perfect and I went a leeetle overboard.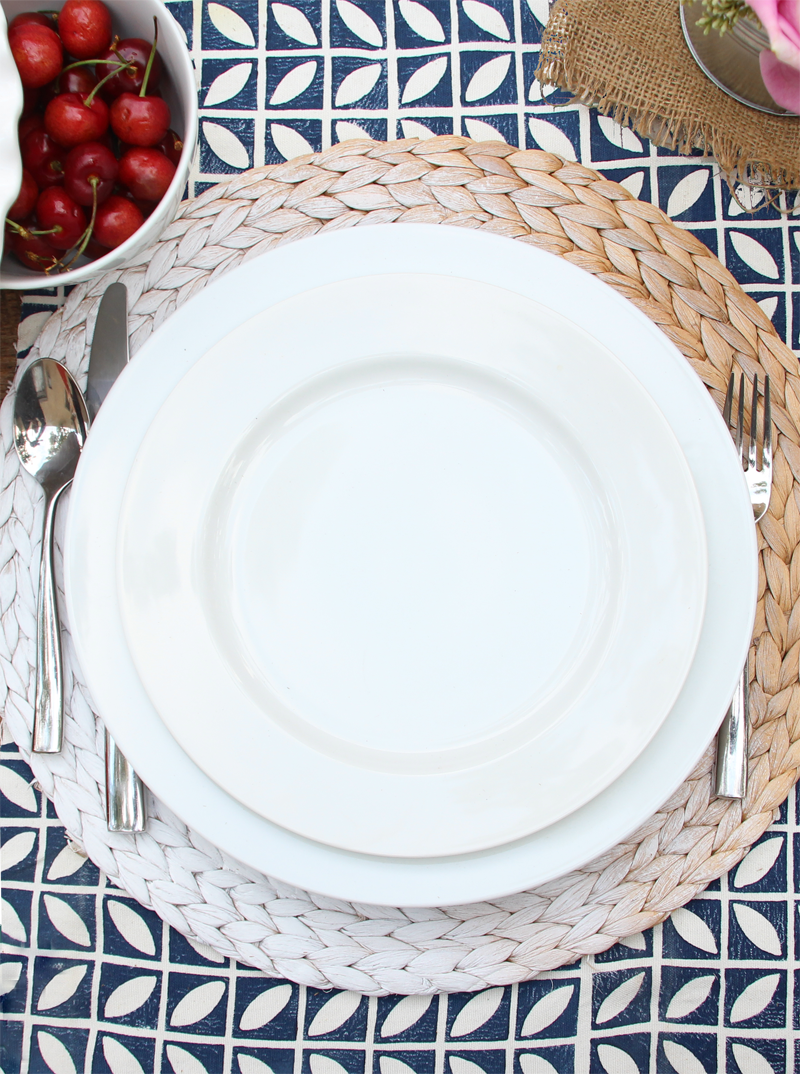 More handmade gift ideas found right here.
Tags:
Accessories
,
Before & After
,
Crafty Solutions
,
Decorating
,
DIY
,
Home
,
Parties & Entertaining
,
Tutorial
,
white
Posted in
Crafty Solutions
,
DIY
,
Handmade Gifts
,
Home
,
Parties & Entertaining
|
3 Comments »
May 16, 2013
Man oh man this has been one of those weeks where as a 35-weeks-along-pregnant lady you just wish it were all over (pregnancy, that is). The belly feels huge, the disabling heartburn crawls up into your chest and takes over every evening, you're constantly short on breath, dizzy spells are a regular, the sore lower back muscles feel no relief regardless of what you try. My feet become frozen with legs cramps that I didn't know were possible but make you holler and jump on one leg – back and forth, back and forth.
Sometimes I can't believe I have 5 – maybe 7! – more weeks to go. I hate to complain and I cannot wait to meet this baby girl, but there's a reason that most women have short-term memory when it comes to pregnancy and delivery. I'm sure if we could recall every moment of the previous birth we would probably stop at one!
Allright, enough online griping, thank you for listening. I always know you'll listen.
Here's a little tip for you fellow baby/toddler mommas out there that I've heard about and have finally employed with our bin of bath toys that was getting a little mucky.
After running all bath toys through the dishwasher, I separated out the 'squirters' and used my nifty little glue gun to seal up those squirting holes. Ignore how dirty that glue gun is. It needs a trip through the dishwasher. (kidding)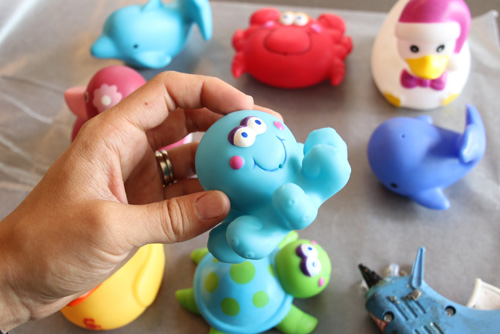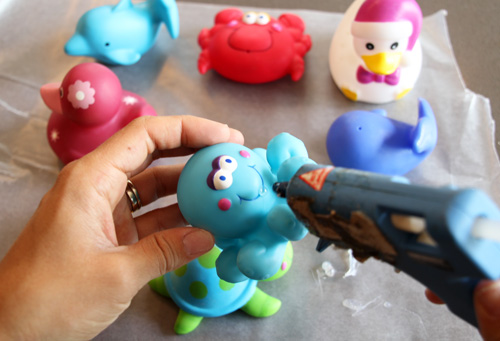 Gone are the cavernous spaces that hold onto mold and mildew! Wish I would have done this from day one

.
Happy almost-weekend!
Tags:
Kid's Toys
Posted in
Crafty Solutions
,
Tips & Ideas
|
4 Comments »
May 9, 2013
I have a fun project to share with you today!
I've been on the hunt for a neat centerpiece (to either DIY or buy) for the big outdoor table that Kevin built on our new deck and am so happy with how this oversized planter's box project has turned out. My favorite might be the pops of color in the form of five added geometric hexagons.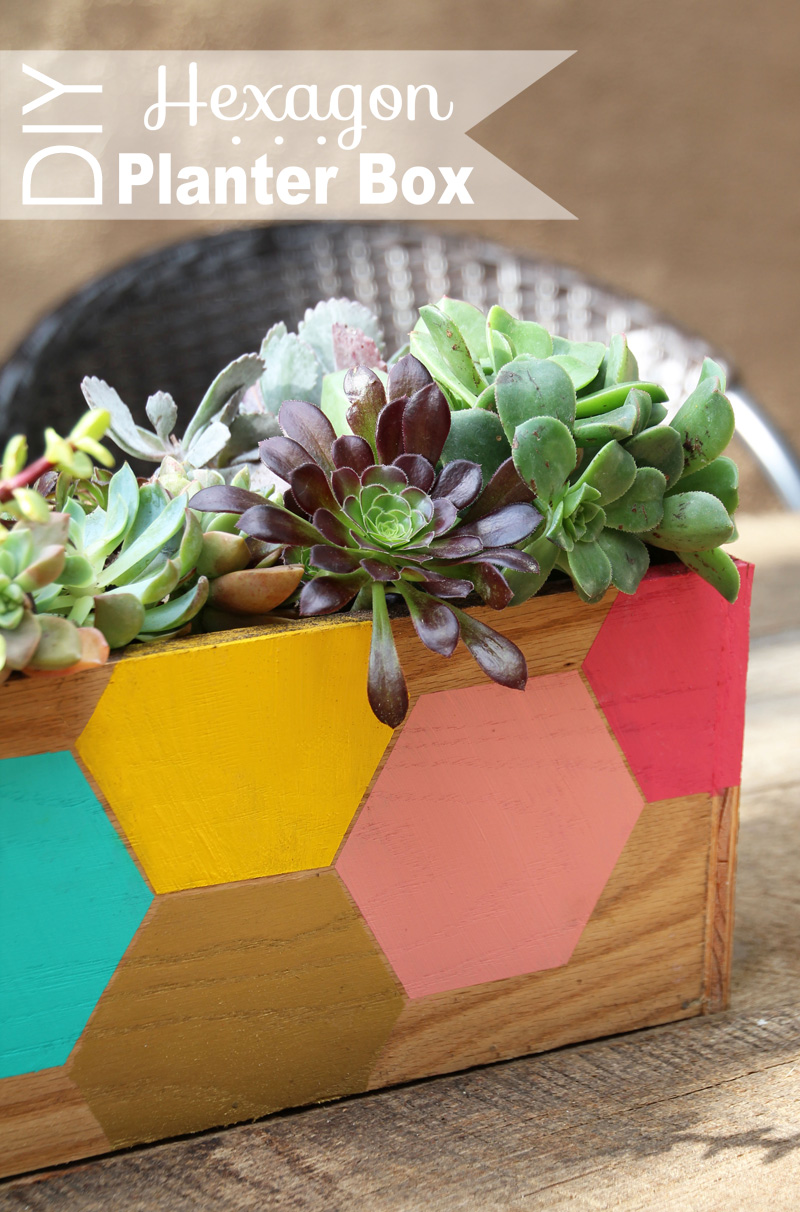 Succulents and I get along really well, and they look so pretty all together in one large container! I've been wanting to play with them more in our garden in unique ways, maybe even designing a succulent wall along the back bbq area.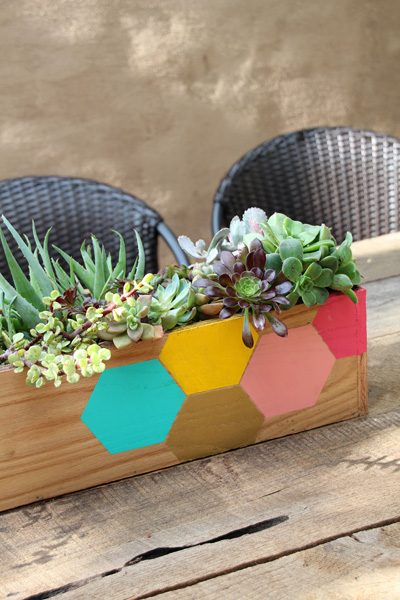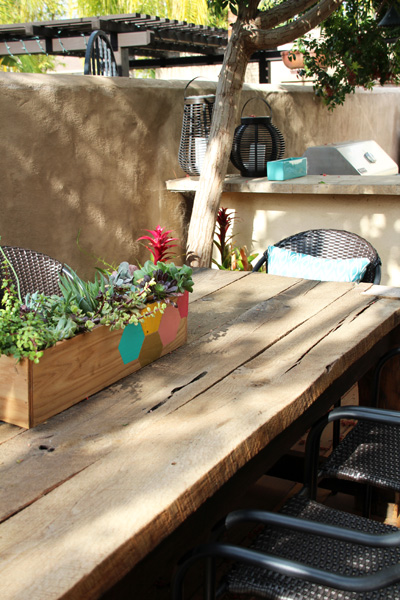 The hexagon pattern wraps over the top edges of the box and along one corner as well, I love the symmetrical pattern and how the painted shapes work together but provide their own little bursts of bright, unexpected color.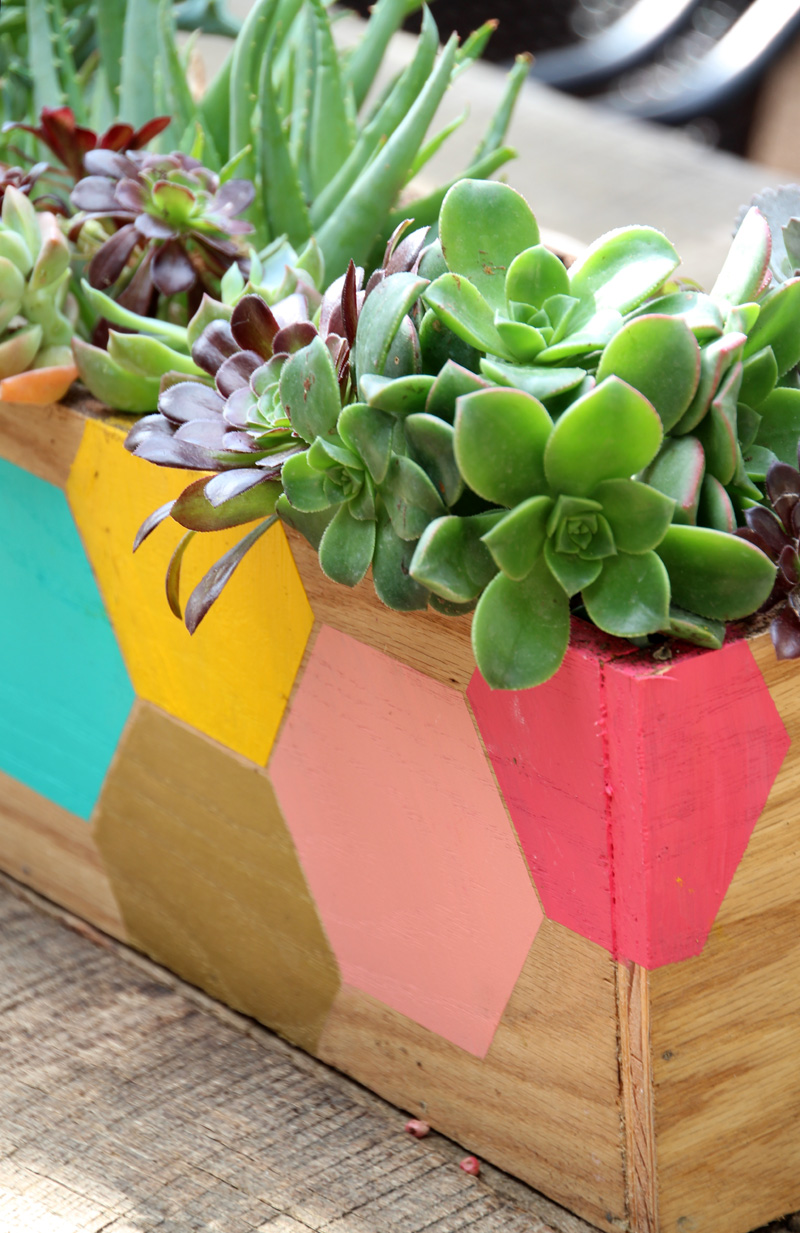 I was actually inspired to finally getting around to finishing this project by Katie and Sherry's Spring Pinterest Challenge:

It provided the inspiration needed to pull my materials together and take a couple of hours to build, stain, paint and plant my new succulent centerpiece.

The goal of the challenge is to take a pinned idea and make it happen – here's my pinned inspiration: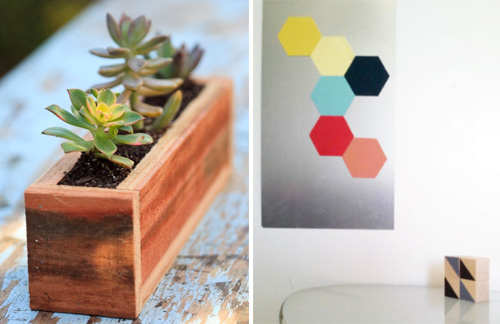 This lovely wooden planter box from The Growing Wall and these neat felt hexagon shapes by Squared Array. I imagined them as potentially very pretty when combined together.
Let's get into the nitty gritty…
The process for building my initial planter was pretty simple. To keep material costs on the low end, I purchased a single piece of 24×28″ plywood from Lowe's and asked the technician to cut the board horizontally into three strips  that were 24×6.5″ in size and the remaining 24×6.5″ piece into two 6.5″ square sides. That used up just about every inch of the wood perfectly (I had just one large rectangle left over).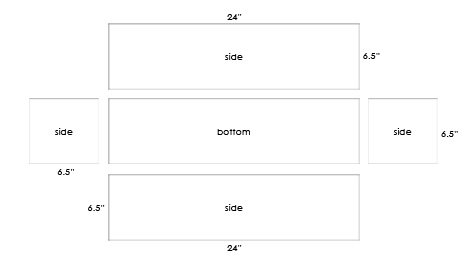 Cutting plywood often causes freying at the edges so if I had needed a more exact cut I might have opted for real (rather than compressed) wood instead. But this worked out perfectly as the cuts were kept to a minimal and the plywood cost just $6! And all of the cuts were made at Lowe's so I didn't have to bring the board home, pull out the table saw and add that extra step to the process.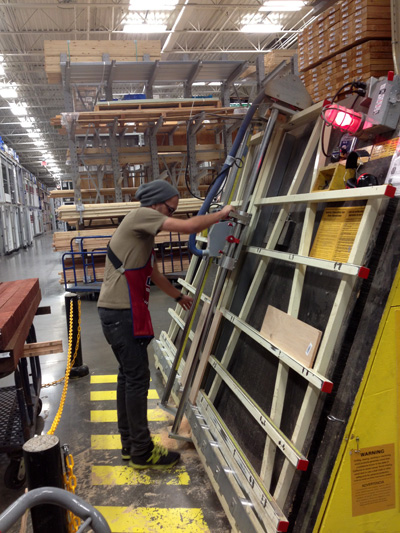 Thanks, Lowe's man.
To nail the box together I used small tack nails that I had on hand.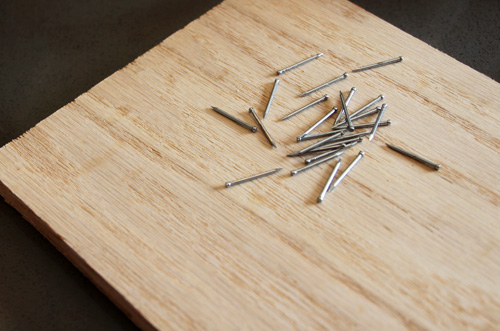 As well as my trusty floral hammer! No need to dig through the garage and pull out a massive hammer from the tool chest, I really love having my smaller-than-average tools in my office and waiting for everyday use.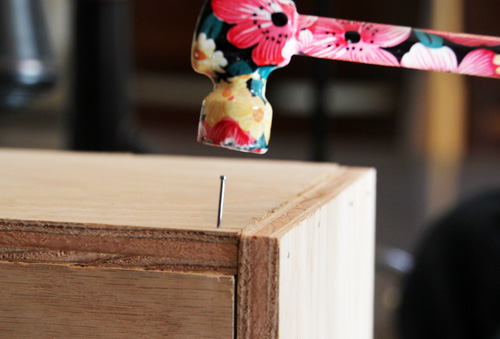 I placed a nail every 3″ or so along all edges of the box that met with another edge. 32 nails and one finger later, and the planter box was assembled.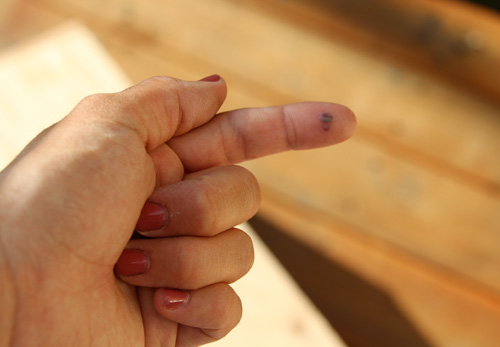 To hide the silver tops of the nails, I used a stainable wood filer that we had on hand (but I would say that this step is optional).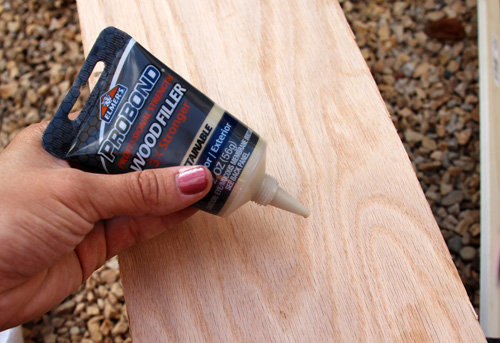 And to remove any pesky store barcode stickers (why do they make them actual stickers??), a little Goo Gone.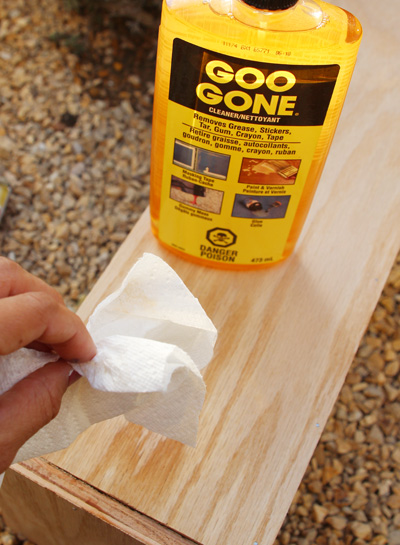 We have a decently sized stain collection from various projects in our garage so I chose from two of the lighter finishes. I ended up using both the "ash" and "oak" (oak first followed by a quick layering of ash) to give the box a slightly birchy, slightly weathered look.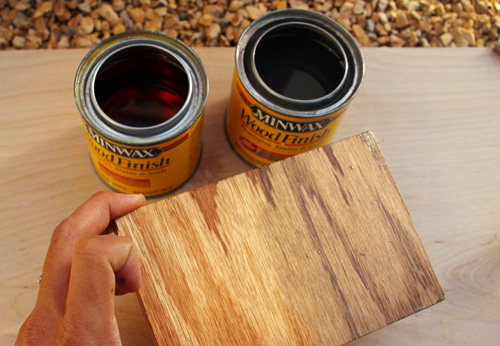 With the glare of the light it's hard to see the finished stain coat here, but the coloring came out just as I had hoped.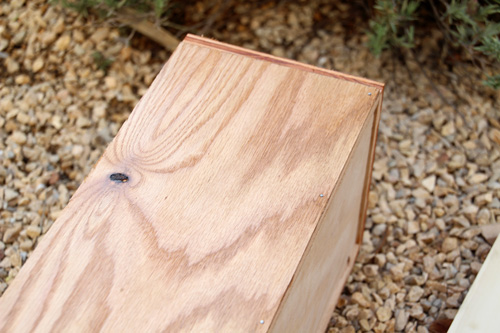 I stained the first few inches of the inside of the box as well, the rest will be filled with soil and will be pretty much unnoticeable.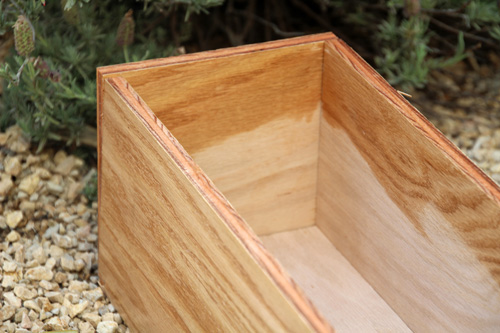 To make my hexagon painted shapes, I printed out a basic hexagon outline (using the Illustrator shapes feature) on to cardstock. Feel free to download my copy here. Laying out the cut out shapes in various formations helped me to come up with a final pattern.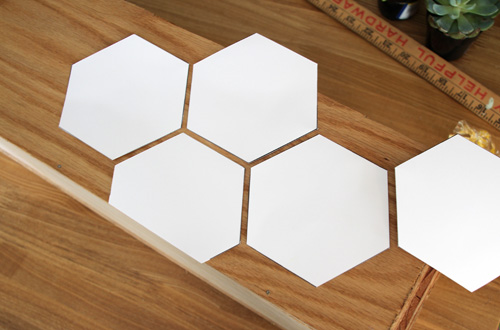 Using that pattern as my template, I taped out the various paintable hexagons one at a time.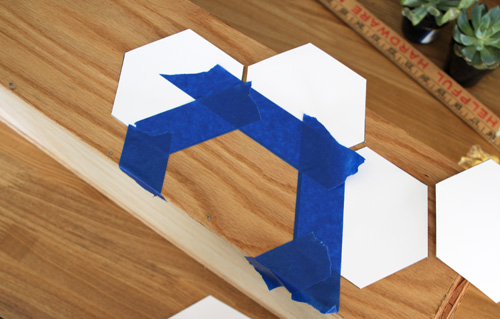 And slowly filled in the taped off areas with various colors. You can see that I left a sliver of wood showing between each shape, I love that little detail.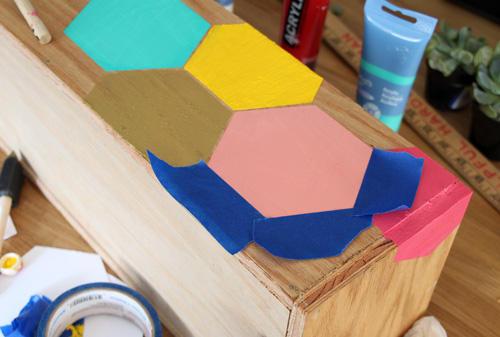 Press down solidly on those edges to prevent any under tape bleeding! And as soon as you've applied the paint to the wood, pull up that tape right away for a flaw free line.
Next up was planting. I found it was cheaper to purchase most of my succulents in one large prearranged plastic round planter from Lowe's (that I broke apart and replanted), then supplemented with littler containers and cactus from our garden.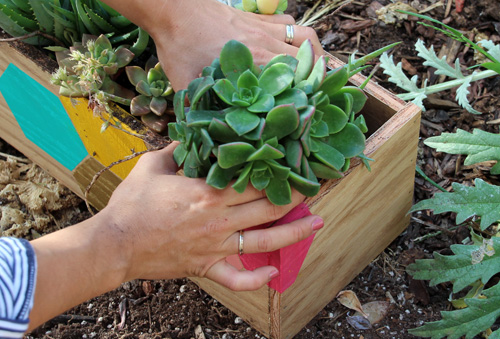 Finished!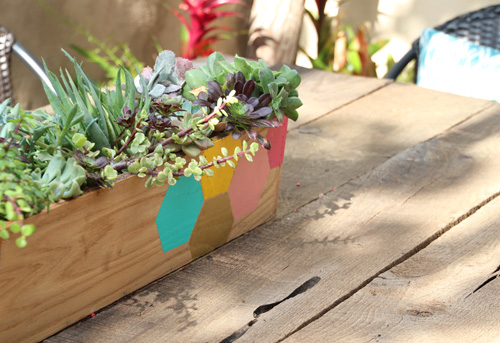 A new, pretty centerpiece that is just the right size for our 12 person table. This will look great in the summer for outdoor picnics and parties – I'm picturing a pretty table set in whites and navy blues, or even pinks and mint greens to compliment the colors of the planter box.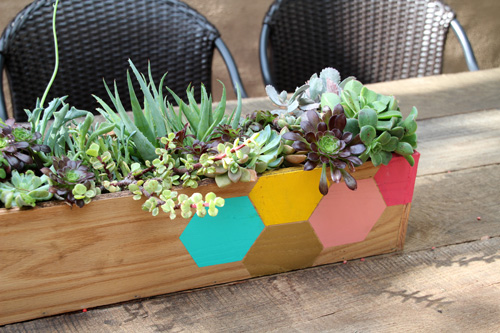 The hexagon shapes are definitely my favorite part.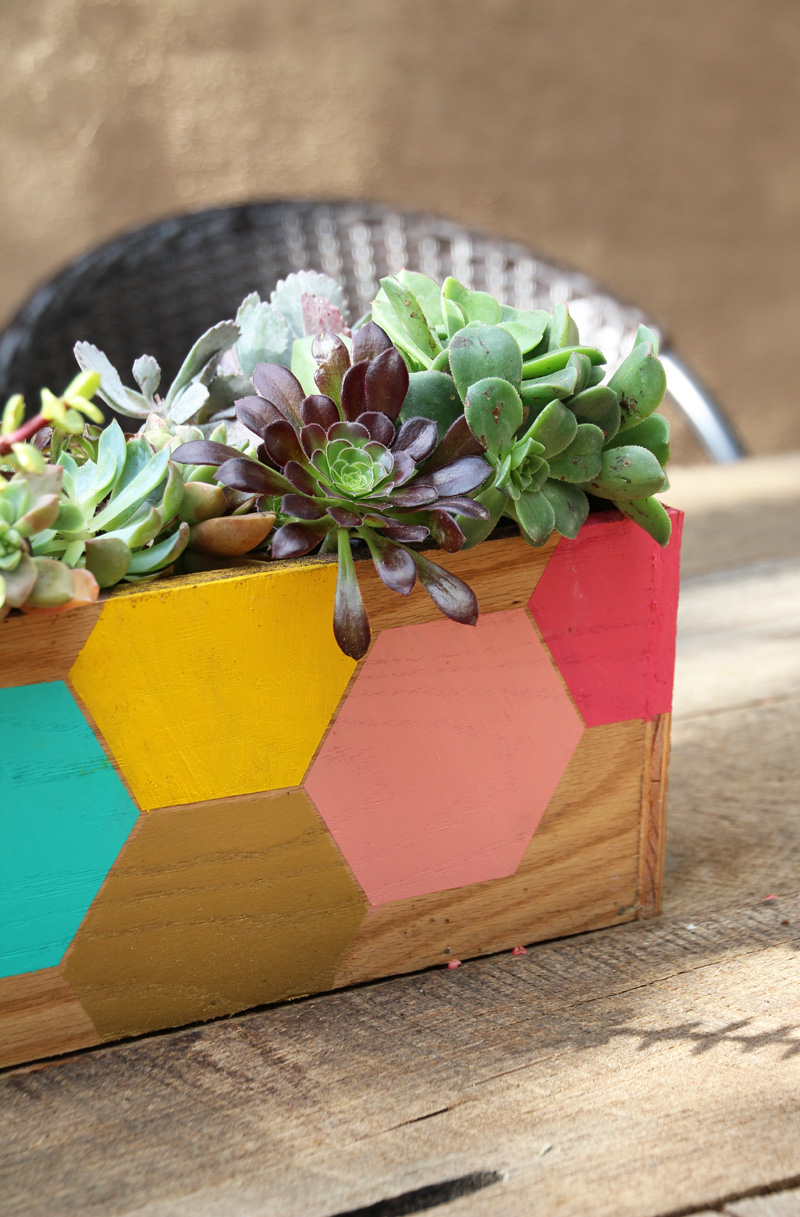 I will be linking this project up with the four hosts of this season's challenge: Katie, Sherry, Emily and Renee. Check out all of the great projects!!
Here's a link to my previous Pinterest Challenge projects (including the fireplace facade that has an exciting announcement to make soon, an ombre step stool for Liv, faux gold mercury glass, a chevron cloth napkin project, a painter's tape stenciled hallway and so many more fun ideas…).
Tags:
Accessories
,
Crafty Solutions
,
Decorating
,
DIY
,
Gold
,
Home
,
Paint
,
Patterns & Color
,
Pink
,
Pinterest Challenge
,
Teal
,
Turquoise
,
Tutorial
,
white
,
Yellow
Posted in
Construction
,
Crafty Solutions
,
DIY
,
Downloadables
,
Favorites
,
Gardening
,
Handmade Gifts
,
Home
,
Our Yard
,
Renovating Adventures
|
6 Comments »