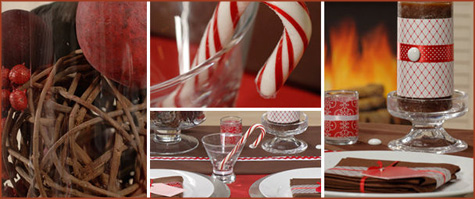 On the search for some really wonderful holiday party inspiration? Head on over to Hostess with the Mostess to find nine beautiful themes that are ready to be replicated!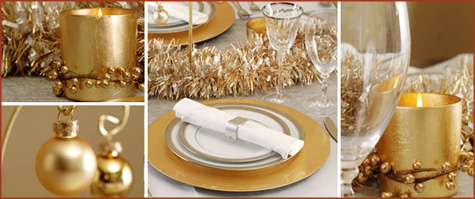 Whether you're aiming for something traditional & classy or very modern & chic, Jenn has assembled several wonderful tablescapes to get you on your way. From 'Santa Baby' to 'Green and Serene' you'll find a theme that's perfect for your holiday shindig.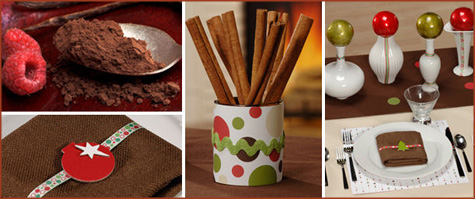 She includes detailed suggestions for party and table decor, what to serve and pour, as well as neat favors that match the theme. It's so easy to throw a beautiful party — and the extra effort makes a special impact on your guests.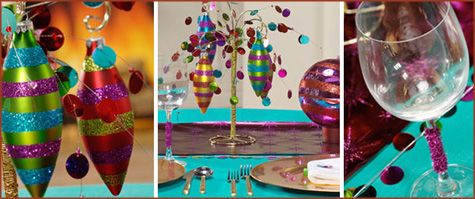 Follow the jump for five more ideas and a few tips on keeping your event decor on theme and low budget.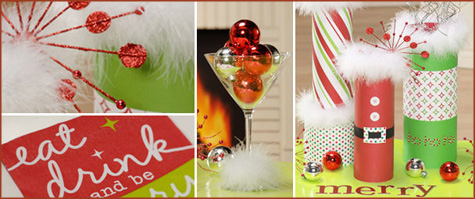 To avoid breaking the bank to make your party 'perfect', choose a theme with your current holiday decor in mind. After you've chosen the color combination, take a trip around your house pulling out pieces that fit the criteria. You'll find perfect additions like platters, chargers, knick knacks or random vases that you already own that match perfectly!
I love the unique DIY and low budget centerpiece ideas that HWTM features in her sample tablescapes.
Everyday household objects or Christmas decorations can be 'featured' on your table, mantel or other areas where party goers will naturally congregate. Supplement what you already own with a few statement decoration pieces that slowly add to the collection. For theme-specific decorations, stick to fabric remnants, scrapbooking/wrapping paper and budget-friendly decor that can be a one-time use.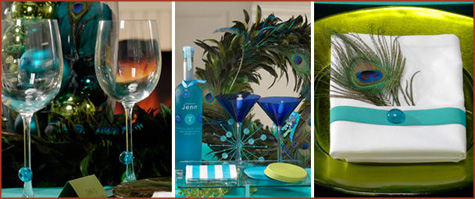 For a clean look, keep your dishware all white. It's easy to supplement a classic set of white dishes with craigslist, thrift store or garage sale finds that are also white. We recently hosted a dinner party for 18 and no one knew the difference between my trusty Crate & Barrel white wedding set and the hodge podge white dishes that have been added from here and there over the years!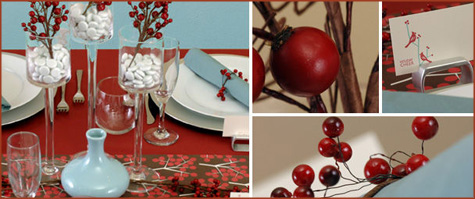 If you're hosting a pot luck, set out white dishes for guests to transfer their goods to. A buffet table full of random platters and crock pots will be an eye-sore in your pulled together theme.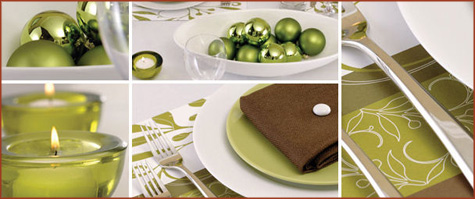 Most importantly, stop decorating at least an hour before your event and pour yourself a glass of wine. You deserve to enjoy the party too! (and how easy is it to forget that ?)