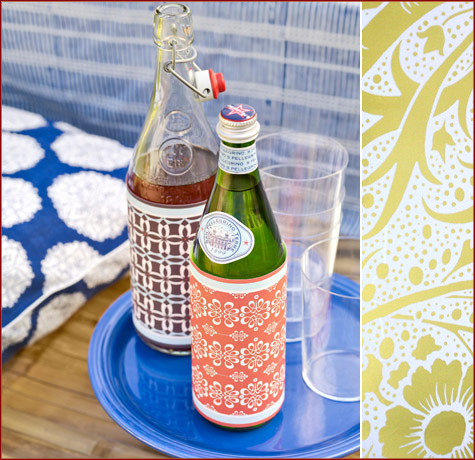 This idea is too great. Wrap up those random bottles and labels for your upcoming events – from showers to bbqs – with beautiful scraps of favorite scrapbooking or wrapping paper (maybe even fun stickers or remnants of vintage wallpaper?). Nicely ties signature drinks in with the party *theme* and hides unsightly labels (or two buck chuck!).
I really love the reusable glass jar as well – a great way to hold and identify mixers such as cranberry juice, oj, or club soda again and again for each get together.
We have big carafes from C&B that we keep around for the same use – guests can build their own mimosas for a Sunday morning brunch or elaborate cocktails at a dinner party. Image from Martha Stewart.