If you had a chance to check in yesterday, you got a sneak peek at all of the projects going on here to modernize an old Spanish bath that hasn't seen many updates for quite a bit of time (I'm guessing that the previous owners did a bit of updating in the realm of handicap bars, mirrors and lowering the built in vanity in the 80s, but other than that the architecture, original basketweave flooring and old fixtures are pure 1930s).
Here's a reminder of what the bathroom looked like just before we moved in: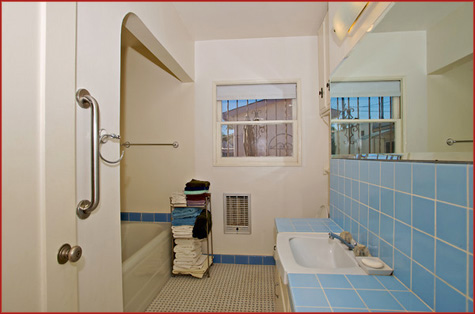 I love the older features of the room and we've done our best to maintain the integrity of the original architecture throughout the house. The arch over the tub is one of my favorites.
Our updates included bringing down that giant old mirror and replacing with two smaller vanity-style versions, patching and painting the lathe & plaster walls, updating the window shade, making our own fabric shower curtain and adding a few new accessories.
And here's the recently updated space: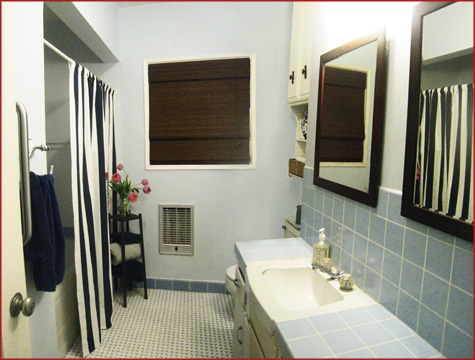 The photo's at a bit of an odd angle as the counter tops really don't jut out to the right. What do you think?
The shower curtain is my favorite part of the project! Just a bit of a modern pattern will update any space. We used an inexpensive Ikea white rod and while I bought a liner to keep the fabric from getting wet, this bathtub shower space doesn't serve as the primary shower (there's a built in shower nook hiding behind that door handle in the above pictures) so I'm not worried about it getting too wet.
If you do have plans to make your own curtain, Ikea sells a simple clear liner for around $2 that could easily be sewn to the back of your fabric (as the reverse side) or hung on in the inside of the shower.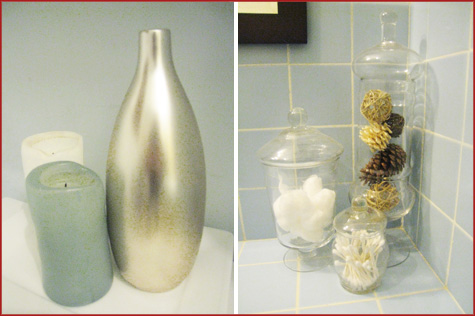 A few new accessories… including:
*garage sale candles (nothing says 'relaxing' like a bubble bath and plenty of twinkling lights)
*apothecary jars from Michaels (40% off coupons can go a long way… did you know you can print them any time online, including their '20% off an entire purchase' coupons?)
*baskets from the Container Store
*a neat plate on sale from Pier 1 (picked it up ages ago)
*vases from West Elm's 20%-off-all-vases sale
*shells from ebay (used for a wedding shower from a couple of years ago when I bought them by the dozen – beautiful!)
*my favorite soap container from Home Goods
*bamboo shade from Lowes
*espresso picture framed (Aaron Brothers) mirrors (Lowes)
*shower curtain and rod from Ikea
The entire Before & After project (since I shopped my house and kept purchases to a minimum) came in at just under $100.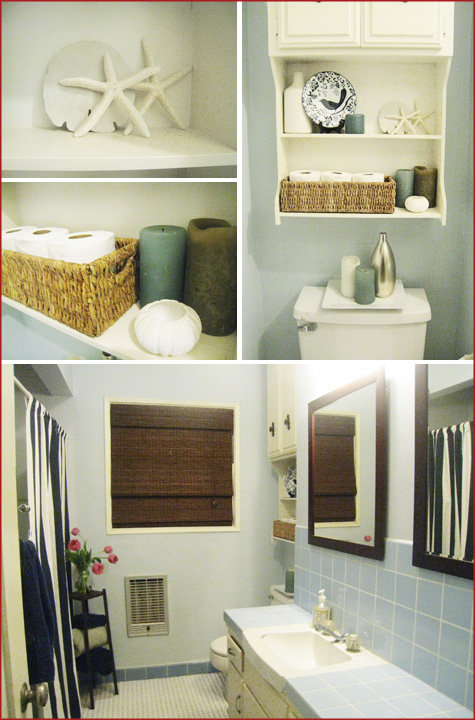 We're hoping to overhaul this bathroom in the fall, so hardware, light fixtures, coil heater (does anyone else have one of those?) and annoying handicap bars had to stay. But I'm enjoying all of the updates!