Halloween has come and gone… it always amazes me how much prep can go into one day and then how quickly that day passes! But I suppose the fun of the anticipation, the decorating and the celebration is what makes this time of the year so special (Thanksgiving, Christmas and New Years are just around the corner!)
Here's a round up of Halloween in our home: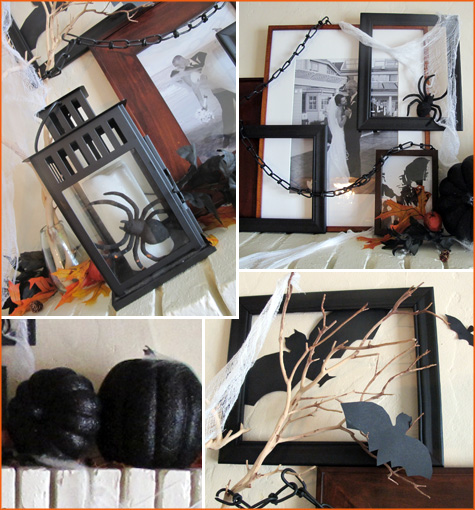 The mantel was plenty of fun to create, here's the full post (including our day at the pumpkin patch). Most of the decor came from garage sale finds and a bit of diying.
We hosted our annual Halloween dinner party last night as well, the formal planned sit-down meal had transformed itself into a buffet-style potluck at the last minute but here was my set up for the seated version: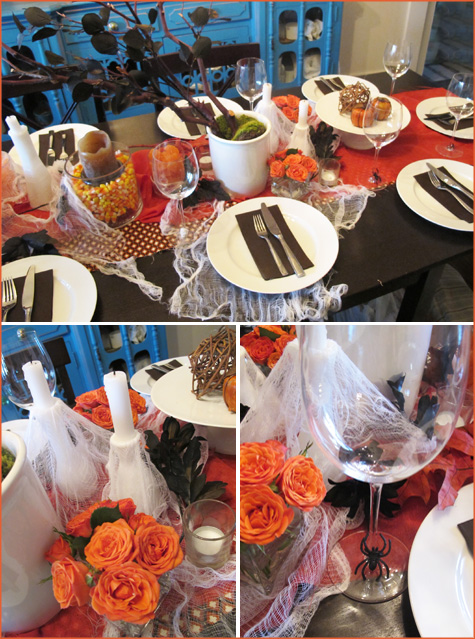 I kept the color scheme traditional with oranges and browns, mixing in the occasional white and green to add vibrant pops. Cheesecloth created spooky cobwebs draped over thrift store milk glass candle sticks and round vases full of colorful candy & candles. I borrowed HWTM's clever idea of creating wine glass labels out of Halloween rings to help guests differentiate their glass from their neighbors.
My go-to manzanita branches made for a bit of height and I added 'dead' floral stems to the ceramic vase (love the organic moss in the bottom). White cake plates were set up to hold family-style serving dishes but made for temporary mini pumpkin displays a top fabric remnant strips (didn't bother to hem) to bring in pattern and color as a table runner. I love the casual, messy look of several different styles of fabrics draped together – and at just a few bucks for each remnant at the fabric store you can't beat it!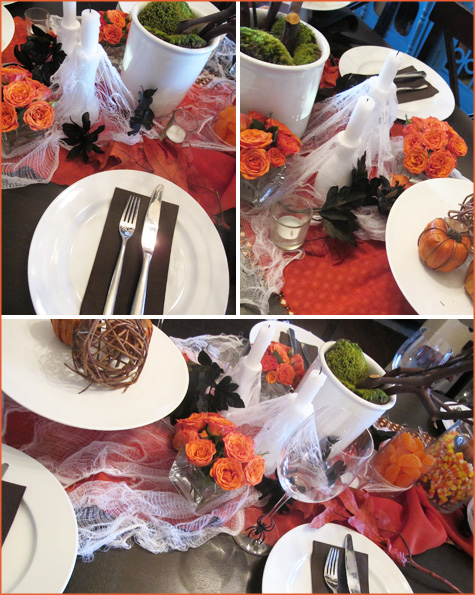 Else where in the house picture frames received a bit of spooking, giant spiders were hung from window curtain rods and plastic skulls covered in black spray paint adorned countertops and shelves: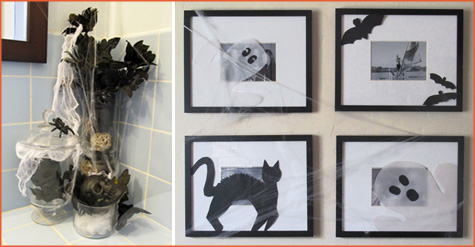 Costumes were great fun… everyone showed up in unique and spirited handmade getups. I attempted to incorporate Baby S into the theme and made him/her my little spider… quite the handmade costume but it was fun to create.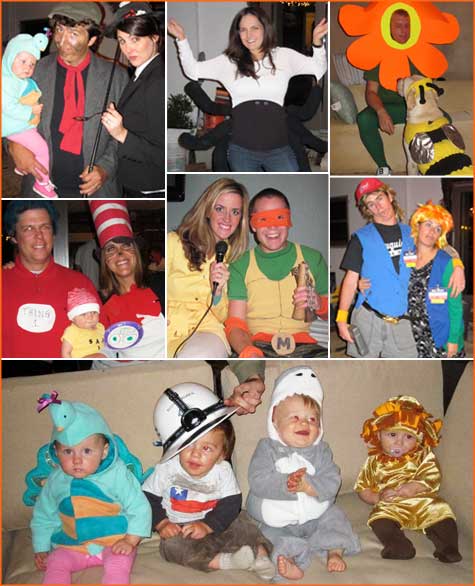 From flowers and bumble bees to Mary Poppins and April (Teenage Mutant Ninja Turtles!), everyone always comes up with a fun and creative idea.
And there's our 2010 Halloween round up. Down will come the black and spooky decor today and up will go the rustic colors of Thanksgiving!