I was looking forward to creating some pretty neat animal wall decals out of fabric or wallpaper for the new nursery (see the inspiration board here), but then I received the most wonderful surprise from Kevin's mom and aunt. They offered to drive all the way from Phoenix to help paint the nursery just this past weekend – in any design that we'd like!
His entire family is filled with amazing artists and his aunt is especially talented as a professional home muralist (Palette of Possibilities). Because of the short notice and the gender-neutral theme, I stuck with my original animals and asked them to paint several zoo/safari style characters around the room.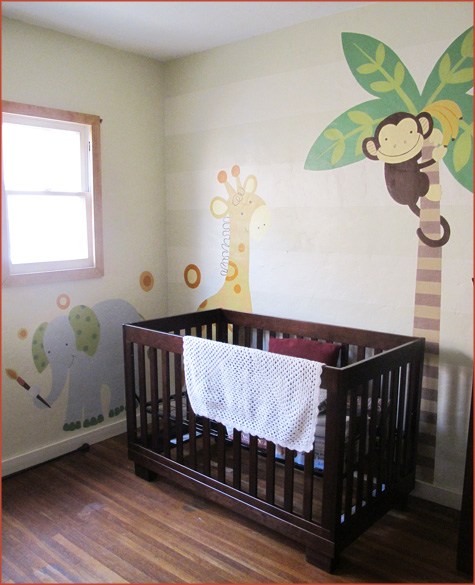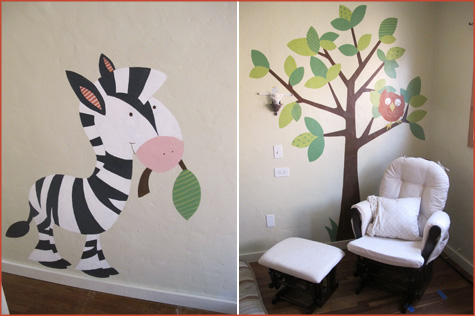 They're so talented! Here they are in progress: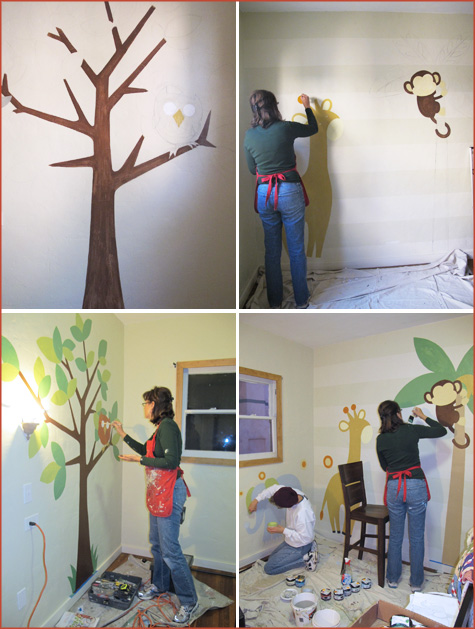 They spent an entire Saturday from dawn until well after dusk finishing the room and I was so impressed with how fast the colorful animals came together. And then, just as quickly as they had arrived, they zipped away back to Phoenix leaving us with a beautiful nursery.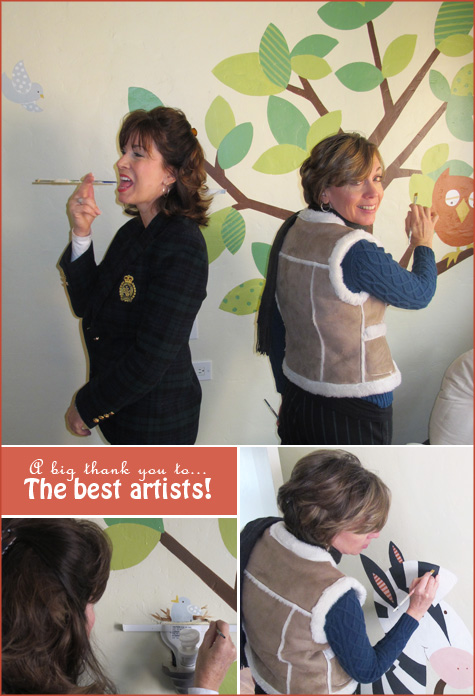 If you're on the hunt for some easy-peasy not-so-hands-on mural ideas, here are a few of the resources that I love: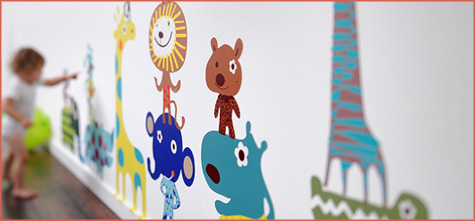 Jiving Jungle Pals fabric stickers by Pop & Lolli (completely reusable – just peel off and stick anywhere) are whimsical and adorable!

My Wonderful Walls has created a neat line up of wall stencils (such as the safari animals above) and they work with local children's hospitals to help decorate bare rooms. Beautiful art for a good cause!

The original designs that inspired an animal theme for the nursery were these beautiful patterned wallpaper decals by Inke over in the Netherlands. Shipping might be expensive but it would be well worth it!
For more Project Nursery posts, click the Home Makeover button on the right sidebar. The nursery is almost finished!