Do you remember singing that song in grade school? It went something like "Christmas is coming the geese are getting fat…" – that first "Christmas is coming" line has been playing again and again in my head all week! Odd Christmas carol to be singing, I know.
We dressed up the home as usual this year and I thought I might take a couple of quick pictures to share what the holiday spirit looks like at the Spenla house.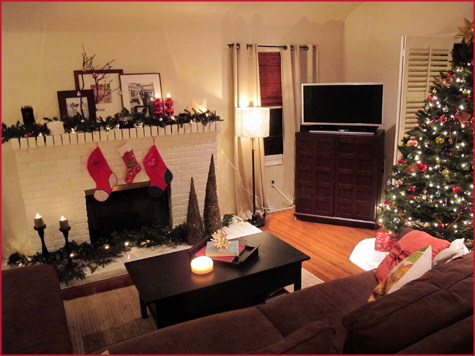 This year we added a new baby stocking to the mantel! We're expecting baby S any day now (my official due date is the 29th). We put up our tree the first week of December and my love of all things bulb ornaments quickly took over. This year I added lime green, hot pink and baby blue sets to the mix but we usually keep it pretty classic in terms of the ol' green and red theme.
A few of my favorite new details include manzanita branches with mini ornaments (next to my diy sweater vases which are staying for winter) and a great Kohl's ceramic deer head find (he resembles a reindeer for now but I think I'll keep him out all year long).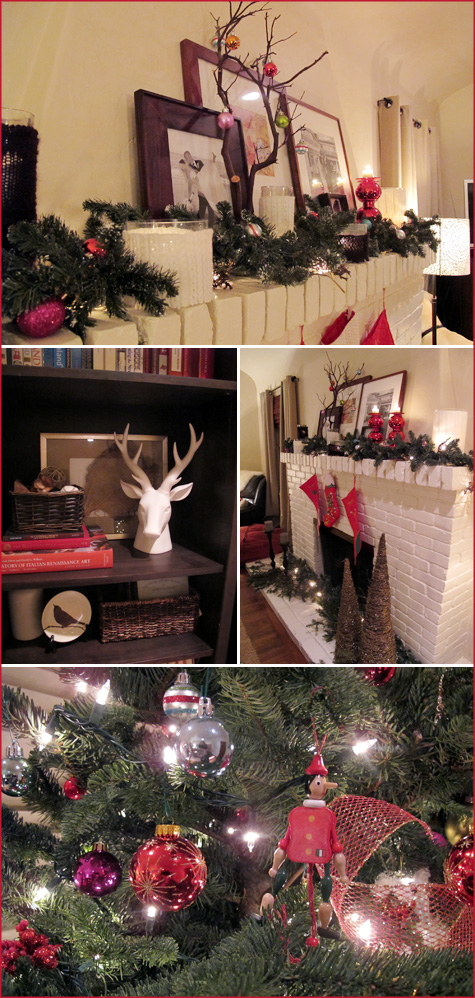 I found these two red bulb candlesticks on the 90% off shelf last year at Von's – surprisingly their little floral department has the neatest holiday decor and it's always heavily discounted the week after that holiday (be it Easter, Valentine's Day or Christmas). Here are my white feather trees again and a red beaded garland strand (cranberry-ish) hanging from a window and full of our Christmas cards from family and friends.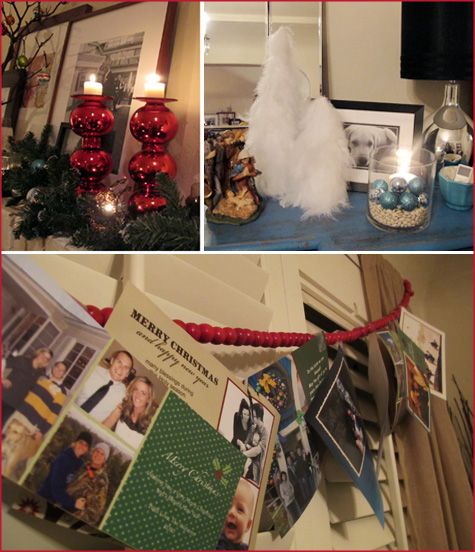 Sorry for the poor lighting – I love how the room looks lit up at night but I realize that it doesn't capture too well on film.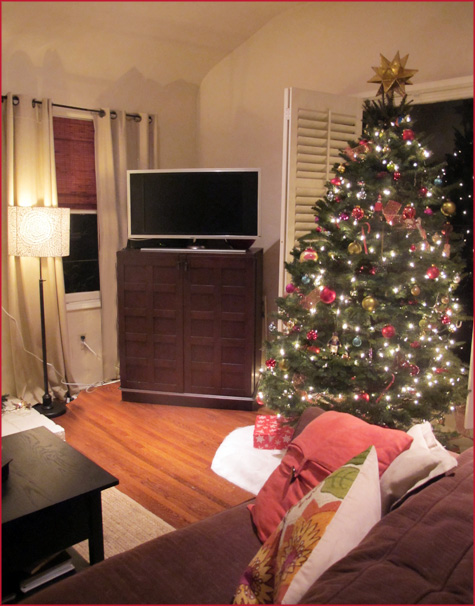 One of my favorite pieces to pull out each year is a thrifted gold star that I use for the top of the tree. I also made a simple tree skirt out of faux sheepskin fabric from the local discount fabric shop (inspired by this awesome duo), kind of reminds me of snow (especially since we don't get a white Christmas in San Diego) at the base of the tree.
Feeling inspired to crash a few more holiday homes? Check out this link party by Nesting Place. Just five short days until Christmas!