I try not to overwhelm the blog with too many baby update posts… I know it detracts from the design element of the site and that it's not super high on everyone's priority list (though we can hardly contain the excitement over here!) but I thought it would be fun to provide the occasional 3 month update on the belly and impending baby arrival.
Well, we've officially reached the finish line! Here's the announcements from month 3 and month 6, and here's the most recent photo update looking back through month number 9!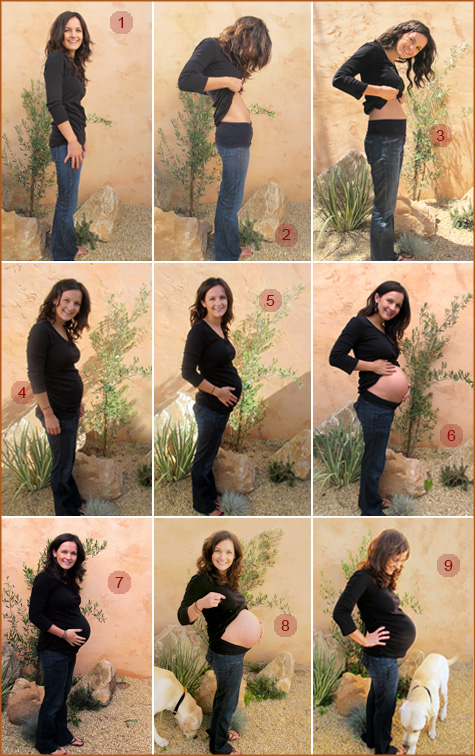 Kevin and I cannot believe that there's a little person in there!
Choosing an outside photo location was not such a great idea considering the lighting of different times of the day (aligning that one correctly each month would have been a bit difficult) but overall I think this growing-baby-belly experiment was successful. It's been neat to record the progress of the bump for use in a future baby photo book and just for oohing and ahhing over here by Kevin and me.
On another note, we've celebrated with a few wonderful showers that I'm excited to share. The first was a coed shower in the Santa Cruz Mountain wine country (where I'm from originally) and the second, a local San Diego shower for friends and family close by.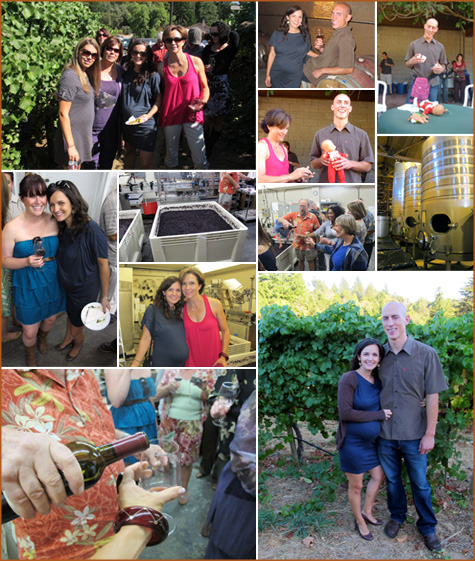 Kev and I are so fortunate to have family and friends who are just as excited to celebrate with us to welcome this new life. Kevin's mom threw me a shower in Phoenix earlier in the fall, which I posted about here, and my Mom threw us a shower in October in my hometown of Santa Cruz. Kevin had the chance to participate in this one since it was a coed get-together at a local vineyard.
Don't worry, I didn't take part in the wine tasting, but the tour of the vineyard and chance to catch up with family and friends was wonderful!
A fun present for a daddy-to-be (if you're attending a coed shower any time soon) is a diaper changing tool belt! Kevin received a belt and one of my baby dolls from long time ago – he was timed and had to correctly change (with all of those diaper changing tools) the doll while everyone cheered him on.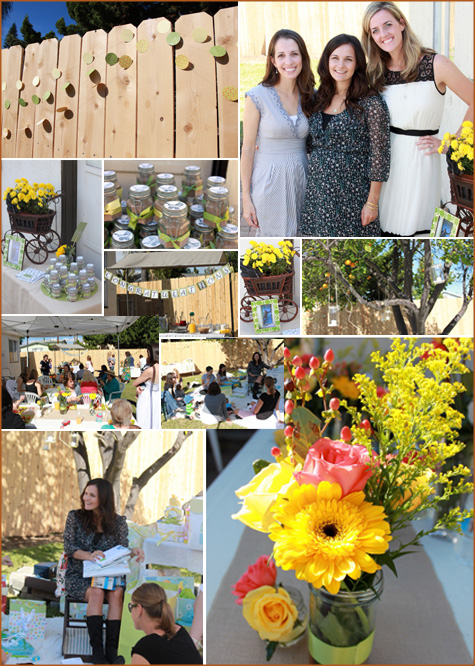 My girlfriends in San Diego also threw me a local shower which was so special, and they really went above and beyond when it came to adorable decorations and delicious food. A few of the details included a brunch buffet with a handmade paper flag backdrop, glass mason jars hanging from a lemon tree (we opened presents on big blankets under the tree – how perfect for a beautiful San Diego afternoon) and chai tea favor jars for all guests.
A great game that they put together was a quiz that was first answered by both my mom and Kevin's, and then passed out to all guests. Questions varied from how much we weighed as newborns to when we took our first step to our favorite baby food, it was really neat to hear what everyone thought and to attempt to answer the questions myself!
********************************************************************
Don't worry… if you're not all baby belly crazy like we are right now, updates on the new office/guest bedroom (and its new set of found-by-the-side-of-the-road french doors) and nursery are coming soon.
Happy New Year to you all!