Look what arrived in the mail!
Ever since I spotted the little wooden rocking horses in several of these nursery inspiration rooms, I decided I'd love to track one down for Liv's room, too. There's just something about an old-fashioned wooden rocking horse that is the iconic symbol of a kids room (besides the fact that it's soo adorable).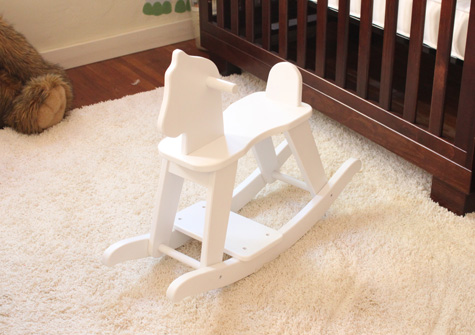 And a modern, plastic version won't do. It needs to have that vintage, antique feel that stands the test of toy time (I'm not a huge fan of the box store plastic toys, anyhow.)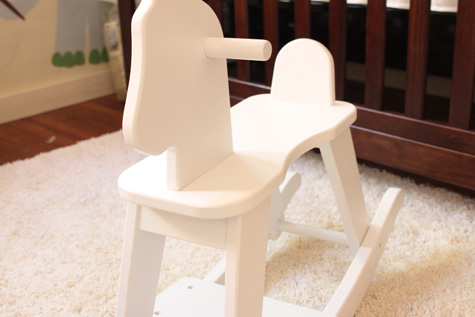 I did a bit of Craigslist searching and even some antique shopping but only came across pricier, not-for-kids collector models. Wooden rocking horses are not easy to find!
Then a friend, knowing I was on the hunt, sent me a link to Zulily – a daily deals site for moms, babies and kids (just like Gilt and One Kings Lane, but for the babes!). KidKraft was one of the featured sellers for the day and they had the perfect wooden rocking horse for $32.99. Sold. (I found the same rocking horse on Amazon today as well – ironically it's called the Modern Wooden Rocking Horse).
Liv doesn't take much interest in it now, but I think she'll love it here in a few years.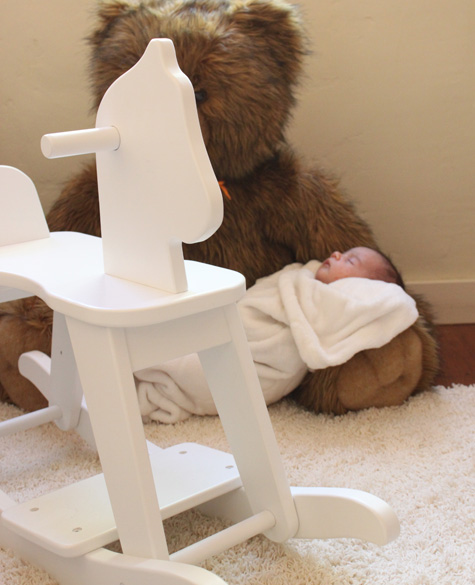 She helps me out a lot in the nursery these days – and by helping out I mean she finds a comfy little nook and passes out while Mom compares fabric swatches and organizes bins of clothing & toys.
I'm considering painting the horse a complimentary color (but not matchy matchy) to the curtains, which are in the same palette as the wall animals. Perhaps a more saturated tone? Or maybe I'll leave it white?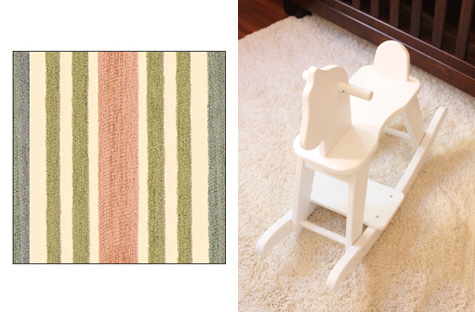 Decisions, decisions. Until then, it's back to creating those curtains!
If you're catching up on Project Nursery, here's a link to the fabric board, curtains part 1, new pendant light, vintage wall art addition, changing table makeover, nursery wall striping tutorial, painted animal project, the initial inspiration board and the before picture posts.