The curtains are up!
– UPDATE – (Thanks to all of your lovely responses about how low the curtain rods in the images from earlier today were hung – I absolutely agree, how did I miss that? and prefer rods hanging higher as in this bedroom makeover – and have moved the rods several inches north! If you're reading this post for the first time you don't have to see the low hanging curtain version ;) )
There's just one final step in finishing my mammoth-of-a-project lined drapes, and that's hemming these babies (here's links to Part 1 and Part 2). To get a more accurate read on where these drapes hit the ground (so I can hem just above that mark) I've added the curtain rings ($4.99 a set at Target) to the tops of the panels and am letting them sit in this position over the weekend to let the heaviness of the fabric stretch out.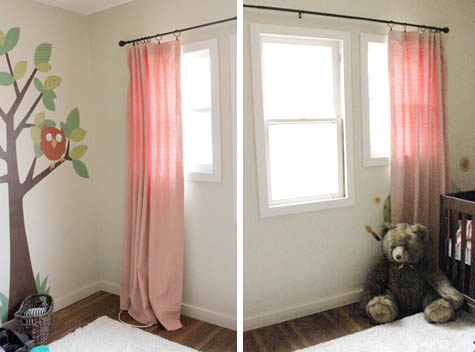 After that they'll get another set of pressing (don't worry, those wrinkles will go away and the folds will be a bit more defined) and a final trip to the sewing machine. Woohoo!
Go ahead and ignore that broken light sconce hanging out of the wall below. That's a few items down on the list!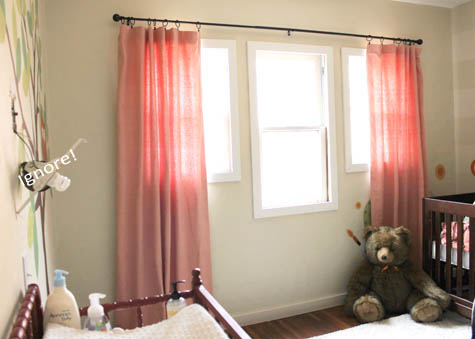 Just in case the curtains are showing up a bit orange on your screen, here's how they'll look when matched with the crib bedding that's in the works.

The actual color of the curtains is above on the right, the new bumpers will  be the stripes in the middle, and the skirt will be out of the fabric on the left. All found here at Thibaut!
Now one more question – to valence or not to valence?
Does it add a little something special? Or too much? My photoshop version isn't great, but it's a rough idea of what it might look like to include a valence. The jury is still out on this one.
Almost there. Hopefully the awkward lighting in this post will make the big reveal later that much sweeter. Fingers crossed.
If you're catching up on Project Nursery, here's a link to the sewing the curtains part 1, part 2, nursery fabric board, curtain fabric selection, rocking horse find, new pendant light, vintage wall art addition, changing table makeover, nursery wall striping tutorial, painted animal project, the initial inspiration board and the before picture posts.