Our new guest bath design was originally inspired by the latest Decor & Trends project videos that were recently released by the Lowe's PR team (not available on the website so be sure to check them out here). After hopping out to the Lowe's website to explore additional how-to ideas (listed under Home Ideas and Projects on the site), I was surprised at how many great diy suggestions, articles and videos that they share online as well.
One particular video from the Decor & Trends section happened to feature a bathroom that rang very similar to what we had envisioned for our new guest bath and it was quickly added to the 'inspiration folder' on my desktop. Here's a sneak peek: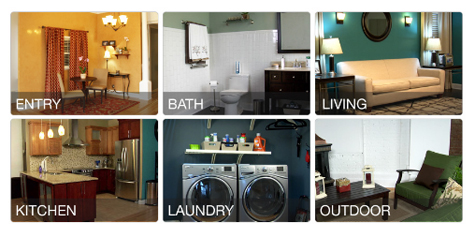 What we loved about the bathroom decor was the simple integration of old-world style melded with modern furnishings and details. The white subway tile (a favorite of ours as we used a glass version in our kitchen remodel) brought in an original, traditional element that will stand the test of time, while the vanity, eco-friendly touches and rich colors keep the bathroom modern.
Having several visual images to work off of is so helpful for Kevin and me when remodeling – it helps to keep us on track with the overall look we're trying to achieve (it's easy to get distracted when you start shopping and there are so many choices out there) and since we've already decided on a plan it keeps us from mid-aisle disagreements about the shade of this paint over that. When the decisions get tough, we can pull out our handy inspirational images to see what color grout might be best or how various tile & paint colors work together in a final room.
The diy sections and videos are totally worth a look!