Check out this before & after, I'm so thrilled with the results!
Before: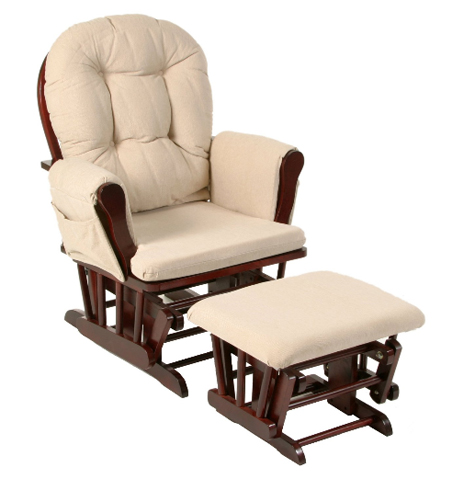 After: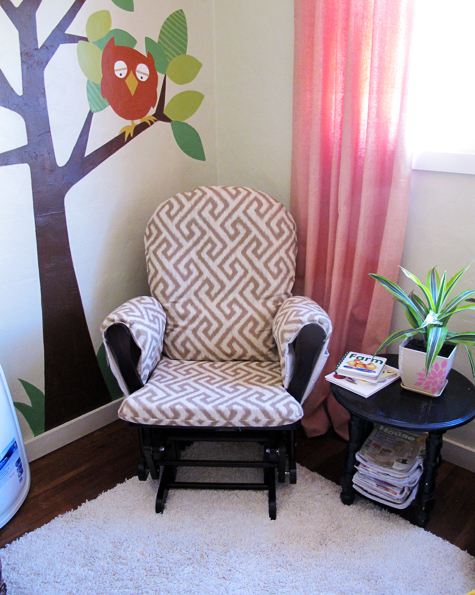 I'll be recovering the footstool shortly in the same Thibaut print which I so L-O-V-E. I'd cover every chair in my house with it if I could.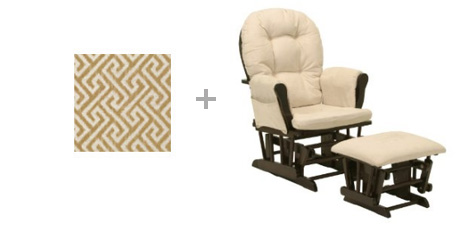 My dad purchased our Stork Craft Hoop Glider as a gift for the nursery back when we found out we were expecting. I loved the comfort of the glider but wanted to add a slip cover for two reasons, a. I wanted a washable option just in case spit up, etc stained the cushions and b. it was a great opportunity to add a modern pattern to the room.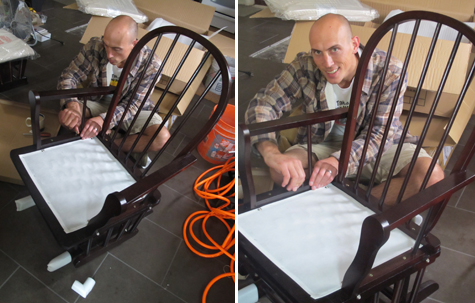 Instead of tackling the project myself (beginning sewing novice over here…) I took the cushions to my local alterations/dry cleaning company (a hidden gem for upholstery work) and had the chair cushions covered for just $15 per piece. I had an actual upholstery company quote me just over $300 to do the same job.
I'm just getting the cushions back now because of my ordering error on the fabric. Lesson learned: always take into account shrinkage due to washing fabric before you determine how much you need! The 54″ width of the fabric shrunk to 48″ and I ended up needing twice as much in length to account for the missing width.
But the glider is in full use in the nursery now and it looks great! I couldn't be happier!
More Project Nursery posts: sewing the curtains part 1, part 2, part3, nursery fabric board, curtain fabric selection, rocking horse find, new pendant light, vintage wall art addition, changing table makeover, nursery wall striping tutorial, painted animal project, the initial inspiration board and the before picture posts.