Back with a quick update on the nursery… it's nearly finished (as Olivia rounds her 3 month mark!) but I've learned that sometimes these projects just take a while (sigh). Most of what I'm waiting on has to do with little DIY projects that I need to find time to sit down and knock out.
Speaking of DIY projects, remember when I shared the changing table basket makeover? Well Kevin's Aunt has done it again with these adorable basket liners from extra nursery fabric (pearl trellis and baltic stripe by Thibaut):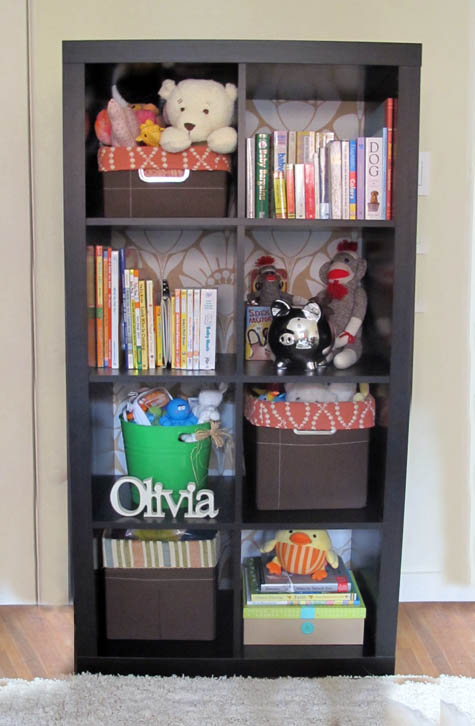 The original plain brown fabric boxes looked fine, they blended in well with the Ikea Expedit bookcase and held all of Liv's fun toys and stuffies. But there's just something special about these colorful liners that add a little 'pop' to the bookcase! And I love that it ties into the rest of the room in such a subtle way that it doesn't appear matchy-matchy.
As far as storage goes, we keep her bath time toys in that water-friendly green pail, her snuggies and stuffies tucked away in one of the baskets while rattlers and other noise makers go in the other – that green lidded box on the lowest shelf holds all of her keepsake pieces such as her birth announcement, cards from family and her footprints from the hospital (having it easily accessible means I don't forget to store away important items). Her library really grew when books were substituted for cards at one of my baby showers. Instead of signing a card with their gift, guests were asked to bring a book with a special message written inside!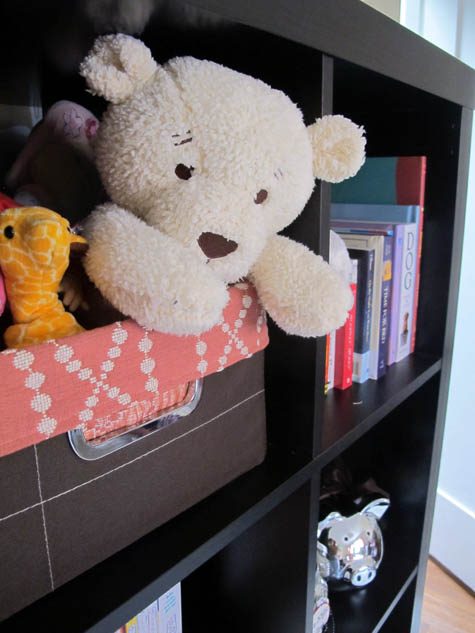 To create a really simple basket liner pattern, check out this post. Thanks, Aunt Laurie!
As for that bookcase, it's a piece that I spruced up by adding a fabric backing for this design show last year, where I presented a few fabric remnant ideas for quick decor updates.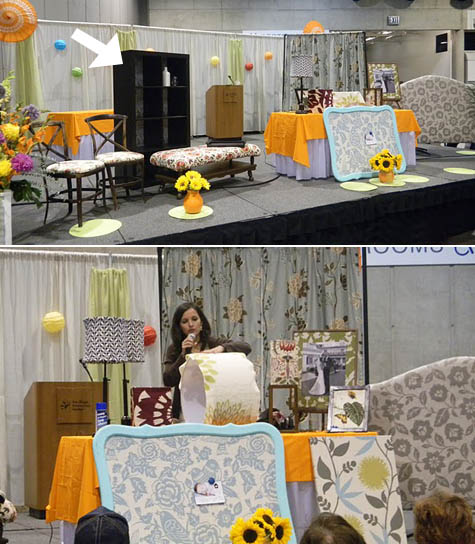 The step-by-step for adding the backing to the backless Expedit bookshelf is posted here.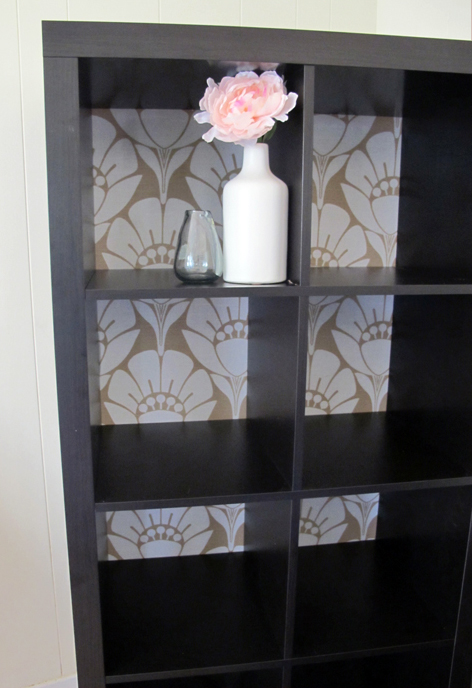 That beautiful fabric is Flower Field Sand Dollar, I noticed that Calico Corners carries it in pink now too.
Working on Liv's mobile now! I'm working on a felted project that will tie in perfectly with the theme… but that's all I can share for now ;).
More Project Nursery posts: basket liners part 1, the great glider makeover, sewing the curtains part 1, part 2, part 3, nursery fabric board, curtain fabric selection, rocking horse find, new pendant light, vintage wall art addition, changing table makeover, nursery wall striping tutorial, painted animal project, the initial inspiration board and the before picture posts.