It's about time for a bathroom update. Our bathroom-from-scratch doesn't feel like it's moving along quickly, but I have to remind myself that it's well underway and in a state of in-progress projects (like the most recent day of tiling!).
Here's a little in-progress update and a tiling overview of the new shower nook. I love the color of the tile! so zen: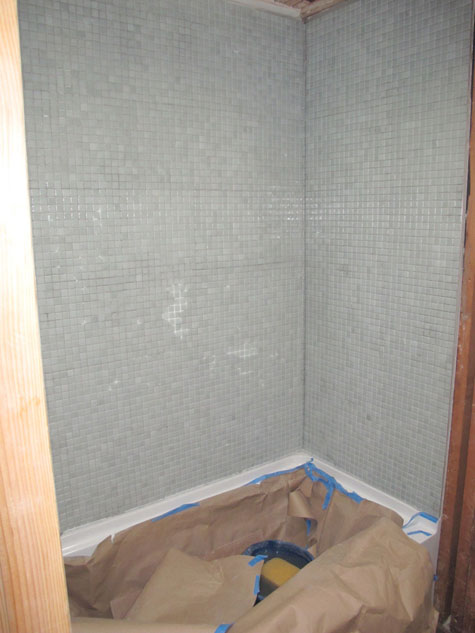 The newly framed out guest bath looked like this just a few weeks ago: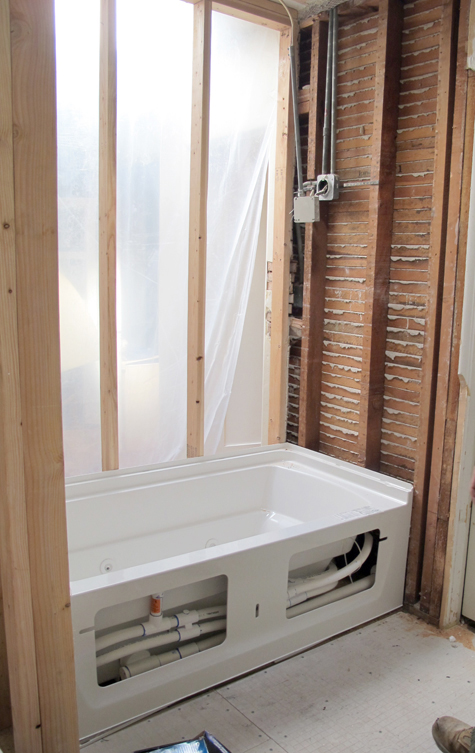 Then the tar paper (a barrier for moisture intrusion) was stapled into place: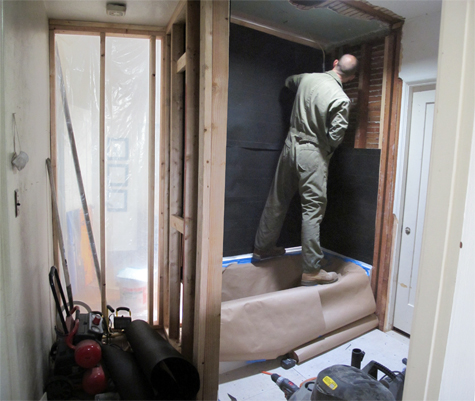 A final layer of drywall was added (I wish I had a better picture) before the shower walls were ready.
We chose Elida Ceramica recycled glass tile in Moonlight for a variety of reasons – it's beautiful! and we love to encourage and support sustainable home remodeling (did you know that despite recycling, more than 70% of our glass ends up in landfills?). It looks unassuming on the shelf, but up in our bath it's stunning and we're really happy with it.
As for cost? As you can see below the going rate for our choice is $4.44 (on sale from $4.98) for a 12×12 sheet of tile. This notably is on the cheap end of tile, let along recycled tile! Your average glass tile sheet per square foot will run you about $15 and I've noticed that recycled and regular is pretty comparable on that front. We love the look and feel of the tile and in our opinion quality definitely wasn't compromised for such a fantastic price. Enough tile for our shower nook would average $180 + tax for the Elida Ceramica recycled glass tile in Moonlight (Lowe's actually offers four different color choices in this price range), to tile it at the average cost of glass tile could easily cost you $600 plus.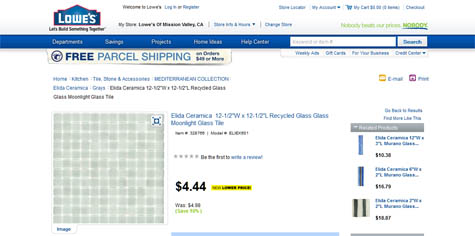 Recycled glass is formed by melting down industrial and everyday glass waste in boilers that are heated to over 2000 degrees. The molten glass is then formed into various sizes and styles of tile for the bathroom, kitchen, outoors, etc. Some of the benefits of recycled glass include: it's incredibly durable (most often scratch, stain and heat resistant), it uses less fossil fuels (reshaping glass takes less time and energy than making glass from scratch), it's easy to clean, it's resistant to chemicals and stains, it does'nt allow certain types of bacteria to grow, it reflects light and brightens up areas, it creates a use for the overabundance of post-industrial glass, and finally it helps to reduce waste in landfills.
********************************************************************************************
Tiling Glass 1×1 Tiles

n
Materials: glass tile, thinset mortar, tiling trowel, bucket for mixing thinset, several sponges, non sanded grout (double check your tile instructions – usually located on the back of the tile sheet), bucket for mixing grout, dry soft cloth
A few points to keep in mind when tiling with small glass tiles:
While dry setting (or laying out your tile pattern before adding thinset) is not easy to do when you're applying the tile to the wall, it's a good idea to layout your design on paper and to measure to make sure you take into account any necessary tile cuts.
Cuts can be made with a tile saw or glass snippers (if the tiles are tiny).
Mix your thinset to the consistency of creamy mashed potatoes – let sit 8ish minutes and then mix once more before using. A cage-type or paddle-type mixer attached to your drill in a 5 gallon bucket is the best way to achieve this.
Use the straight side of a tiling trowel to first 'skim coat' a section of wall with thinset, then use the grated side to spread the thinset out (this order is important).
If your tile comes on sheets of mesh and with a sticky back side (like ours), peel off the paper and apply directly to thinset. If your tile does not have a sticky back side, 'butter' the back of the tile sheet with a swipe of thinset and then apply to the wall.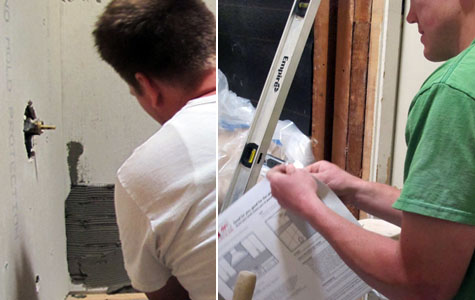 Be careful to not overbuild your thinset on the wall, this can cause a wavy, uneven final product (plus it increases the possibility that the thinset might shrink when it dries).
Carefully press the glass tile into the wall.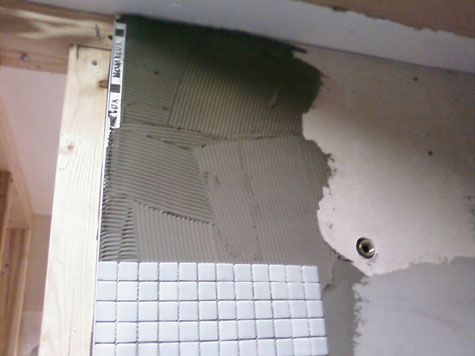 Repeat and repeat a few times more until your wall is complete.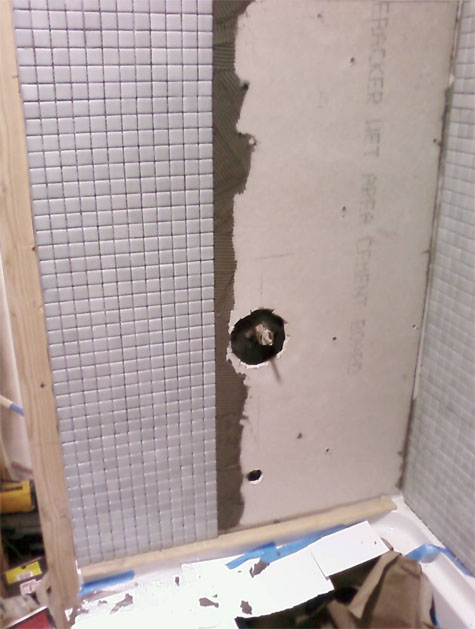 Grout should be mixed to the consistency of a milkshake. Apply a glop to the top of the dry tile and spread with a sponge. Press into all spaces and don't worry about getting the tile dirty!
Lightly wash the tile with a wet sponge removing larger chunks and streaks of grout.
Wait 48 hours and wipe the glass tile down again with a soft cloth, removing all excess grout.
Seal the tile
We haven't reached the grouting/sealing portion of the project yet but the overall installation process has been great. Usually small 1×1″ tiles are tricky to work with, but the mesh backing and thinner tiles (thinner than ceramic) have made it really easy.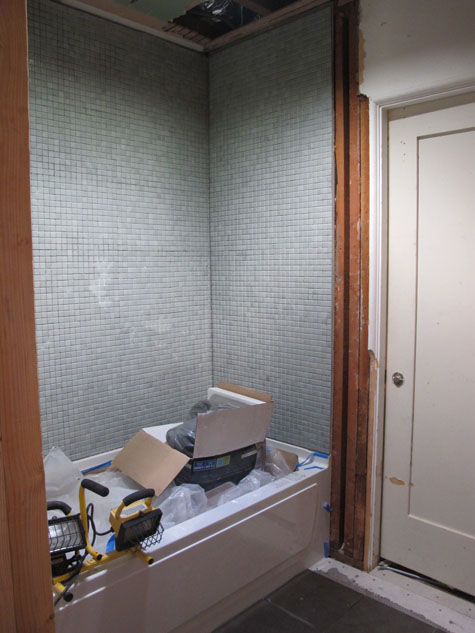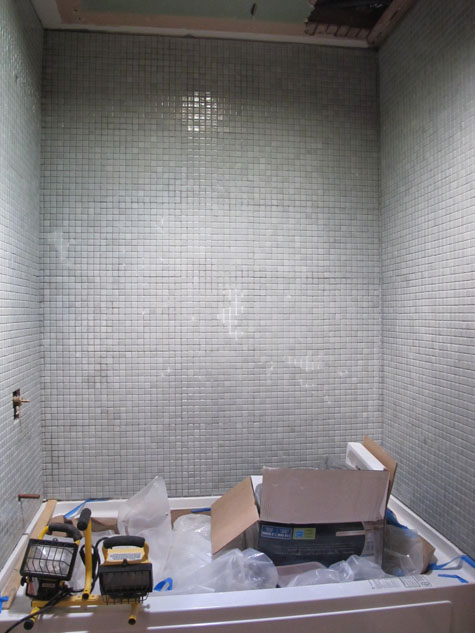 Now onto the floors – the new bath is coming along!
More building a bath from scratch posts: rub-a-dub-dub choosing and installing a tub, demo time, initial inspiration and where it all started – a Lowe's collaboration.