Despite the drywalling, plastering, painting, wallpapering, carpet installation, furniture moving and moulding projects that have consumed the new office/guestroom over the past month, we've managed to fit in not one but three sets of guests! It's great to put that new room to use.
I'm not going to lie… my parents (1) helped sort through boxes while they were here, my in-laws (2) had to deal with piles of books, magazines and office supplies during their visit – and our more permanent guest (my brother – 3) who just moved to San Diego and is a student looking for housing at the moment – has had to officially relocate from guestroom to couch three or four times to accommodate a handful of projects, including this one.
But it all started about a month ago… anticipating the arrival of family, I sat down to do a bit of research on beds and what was the most economical/comfy solution for our visitors.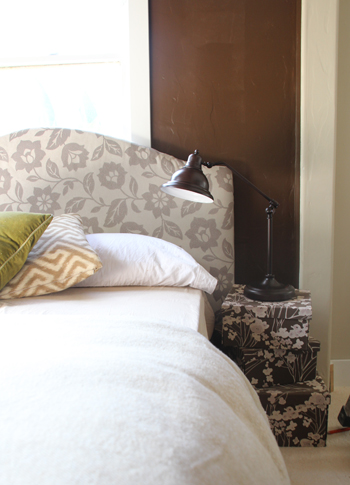 In the end, we purchased a mattress from Costco and a basic platform bed from West Elm to pair with my diy fabric headboard from last year. As you can tell from the pile of boxes as the night stand, the room is still very much in-progress!
I try and space out purchasing furniture for a new room so that it can be budgeted over the course of months or even a year. Pieces that I know that we'll need are easy to buy in advance – such as this bed. Purchasing the bed in June meant we could add the mattress in July! We considered several different room layouts a while back, including the possibility of a daybed that would have left us with more floor space, but in the end the double won out. Our guests often come in pairs and we think that even a small full is comfier than a seamed bed or a trundle.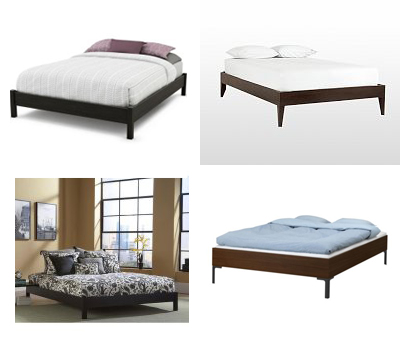 The contenders included South Shore's Gravity Bed ($179), West Elm's Narrow-Leg Frame ($224 on sale), Leggett & Platt's platform bed ($169.50 on sale) and Ikea's ENGAN bed ($149). We ultimately chose the West Elm narrow-leg bed frame because of a merchandise credit and an awesome sale – but if it had come down to just the dollars, I would have happily scooped up that ENGAN Ikea bed with those great metal legs!
I knew the platform bed was the way to go for us because I had been dying to use a fabric headboard that I had made from an old Craigslist find last year: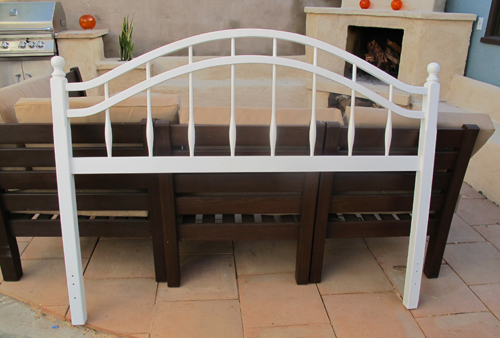 You can read all about the makeover here, but the quick and dirty: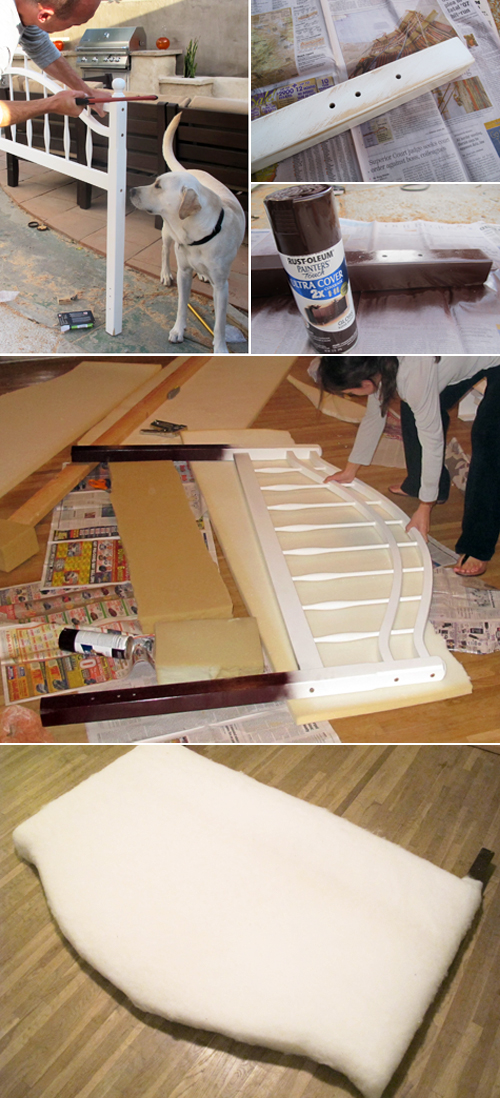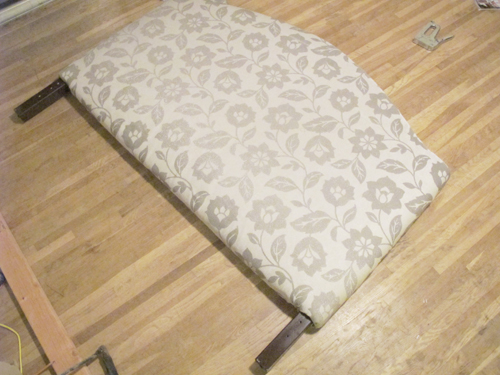 The only unfortunate part? The fabric headboard is for a queen sized bed and it is quite large on the new full sized frame.
Ignore that random cable poking itself out of the wall on the left side. We still have plenty of cat5 Ethernet cables to rewire 'round here. See what I mean about the wide headboard? I'm hoping large shams and poufy comforter covers will hide the issue, though it feels pretty pronounced right now. Hmmm…. white or tan for the bedding? Or maybe something colorful?
As for purchasing a full instead of a queen? You can probably already tell from the photos but the guestroom portion of this space is a tight squeeze and a full fills the space without overcrowding it. Couples will have to cuddle, but we think the bed is still big enough to offer sweet dreams.
I adore the headboard in the new room. There's a reason it's been patiently waiting over 15 month for its home… by the way the fabric is Luxor Silver and it's currently on sale over at Calico Corners. I love the simple pattern and colors, and I love how cozy it looks against the chocolate brown walls.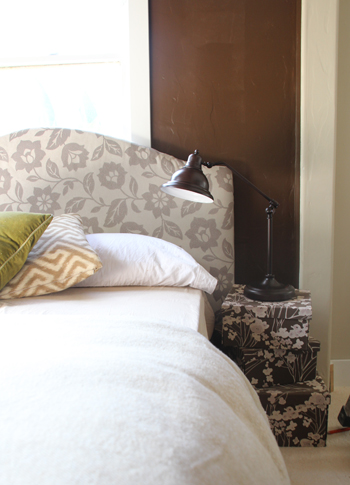 A great and affordable fabric headboard resources – for the non-crafters – is: MoreHeadboards.com ($199-349). Any big projects or great finds on your end?
For more Office Makeover posts, check out: 'finishing' with moulding, dining table-to-desk,  a new desk & bookshelves, installing remnant carpeting, grasscloth wallpaper, painting the office nook, finding carpet for the office, chocolate brown wall ideas, plastering progress,  inspiration for a diy desk, back in action!, desking hunting for under $300, bookcases under $300, inspirational rooms, room layout options, demo part 1 & demo part 2.