Hope you had a great Labor Day weekend! We spent Monday relaxing, having lunch with friends and visiting the park. Such a great way to spend the day off!
Here's a quick fix that I finished up yesterday too – a solution to our slippery slidey kitchen cushions that may just swoop out from right under you when you sit down.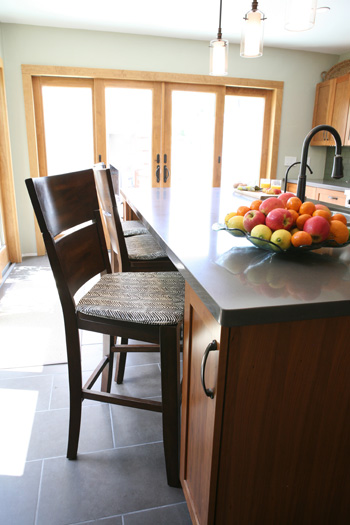 You may have noticed when we added the cushions (from this great fabric) that I decided not to add ties for around the barstool backs.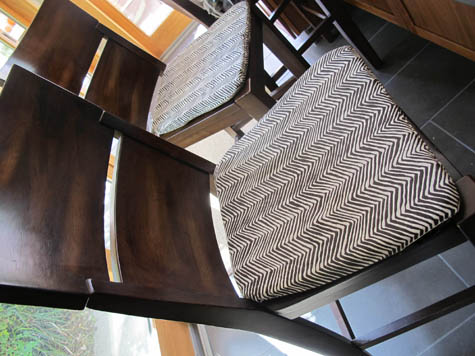 I don't really love the look of ties (though they are so practical) and I wanted to keep the lines modern.
But… those darn seats slide up and off all the time. I didn't think I would mind so much, but it's kind of annoying.
So when I came across these picture frame velcro fasteners at a Joann's, I thought I'd give it a whirl. These are built for securely fastening objects like frames to walls, and I figured if they're strong enough to hold a picture, they should be strong enough to hold cushions on a chair (even with the weight of a person sliding forward or back).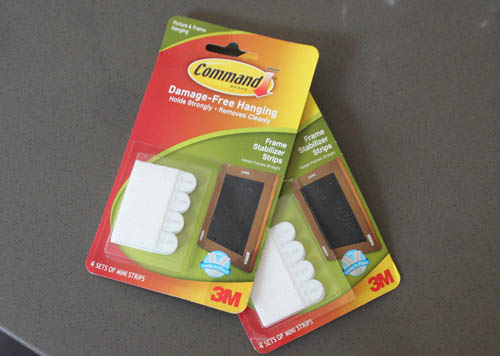 Plus, when you're ready to remove them from the wood of the chair, a little soap and suds is supposed to take them right off.
The seat of the barstool reieved a fastener on the top and each side, then the sticky end came off and the cushion was applied directly to the top of the sticky velcro. I pressed down on each cushion-to-velcro piece for at least 30 seconds to ensure a very tight stick.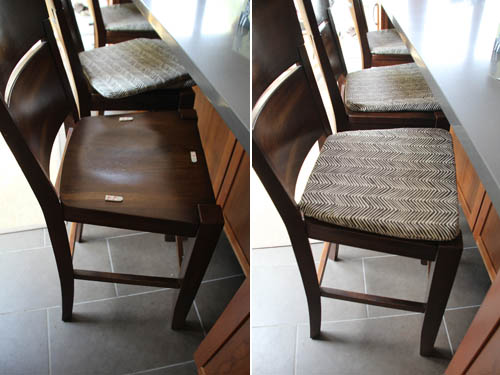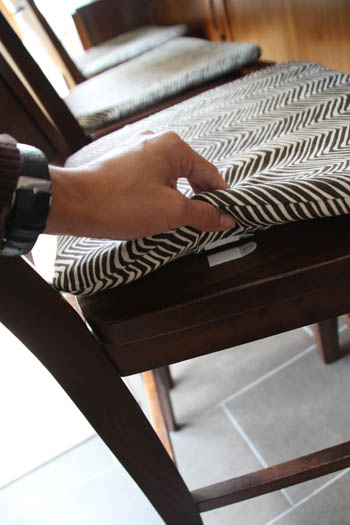 So far so good! This velcro is strong! I attempted the above with just two pieces for a cushion and that wasn't as secure, four may be even better.
In other news, these cushions made it to the Quadrille gallery! You can imagine my excitement when the marketing director asked me if they could post an image of our kitchen in their gallery (along side my favorite magazines and designers):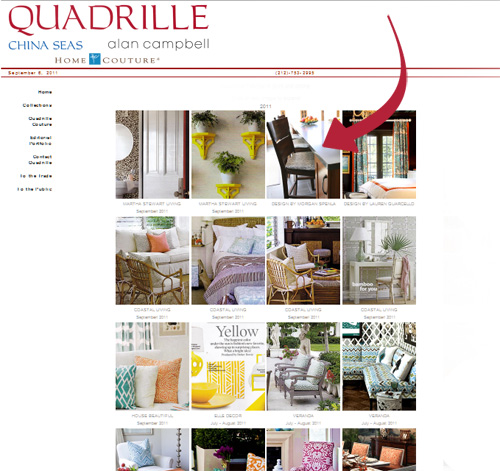 Woohoo! Made my day.
Have a great Tuesday!