It's been far too long since that little button marked 'Wardrobe Style Boards' over there in the left sidebar has received any attention.
I'm here today with a fall update! I've loved the lace inspiration that has inspired both summer and fall clothing lines this year and I'd love to find a casual way to incorporate it into an everyday wardrobe.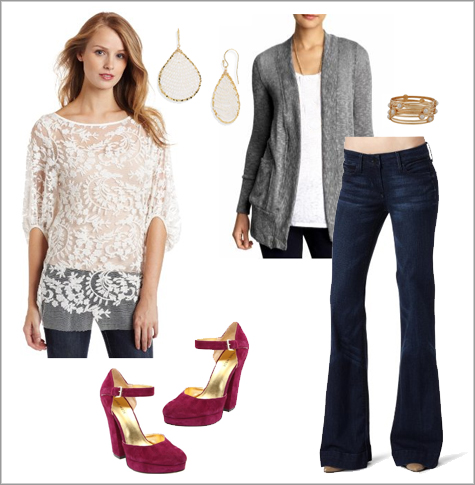 Enter the lace tunic. An ideal top that could be tucked in, belted, worn with a skirt, over a dress or as a layering blouse over trouser jeans for a Casual Friday at the office. So versatile and absolutely a piece that can be both dressed up and dressed down for any type of occasion.
Pair with a pop of color in the form of adorable pumps or handbag, a super soft fall cardigan and simple gold jewelry and you have my fall staple. Minus the heels… perhaps a pair of classic black or cheetah print flats for everyday wear and tear.
For more style boards, head on over here or click that 'Wardrobe' button in the sidebar to the left! Prices and sourcing after the jump.