It's been a while since I've had the chance to add a post to my Going Green series, so I thought I'd take a moment to mention a little research I did just about this time last year. We're doing our best to live as sustainably and low-impact as possible (more on that here) and purchasing green furniture when affordable is something we considered for Liv's nursery.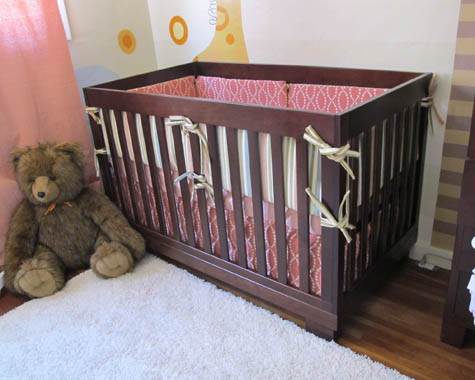 To me there are several ways to purchase 'green' furniture: upcycling (bringing new life to thrift and old finds), recycling (reusing what you have) and purchasing new with eco-friendly in mind. Admittedly, we do lots of the first two and very little of the last, mostly because it's just too pricey.
A few examples of Craigslist, thrift store or upcycled finds that have found a new home with us: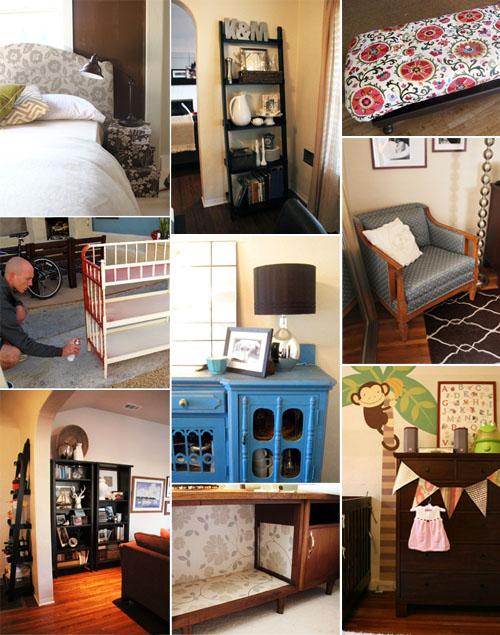 But when it came to Liv's crib I decided to buy new, namely because I was a brand new mommy and I wanted something that I knew had passed all recent safety tests and also because I knew it wasn't uncommon for little ones to gnaw on the wood in their cribs (and if I found a cool hand-me-down I couldn't be certain the paint was non-toxic).
Side note: did you know that babies spend somewhere around 4,200 hours (or 175 days) in their crib during their first year?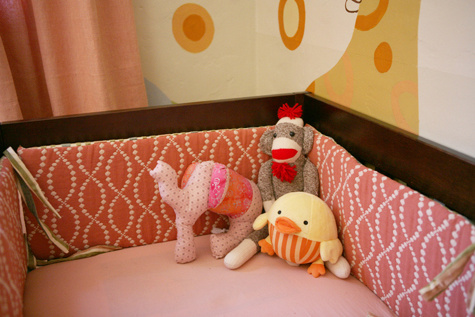 Here are a few guidelines that I tried to follow closely when searching for the right crib (though I suppose you could go by this list when searching out any green furniture):
*Sustainably harvested wood (even better if it's a fast growing, fire and decay resistant hardwood such as Paulownia wood)
*or formaldehyde-free MDF (bonus if it's recycled)
*Water based paint (no lead, oil, phthlates or VOCs)
*Glue-free (aka formaldehyde-free)
*JPMA certified (for cribs)
*Tip proof (also for cribs)
But price! Oh my goodness, the price of eco-friendly cribs is in the $600-2500 range (yes really, $2500! Check out this cool but crazy expensive one) and we definitely couldn't do that.
After much research I came across the Babyletto Modo 3-in-1 crib (listed here at babycribstation.com) and after further research discovered it was built from solid New Zealand Pine from sustainable forests, had a non-toxic finish (no glue, no paint emissions) and is JPMA certified. Plus being a 3-in-1, if we choose to have Liv use it as a toddler and big kid bed it will last even longer (though we'll hopefully have baby #2 by the time she's ready for a big kid bed AND I'd love to design a cute, mini upholstered bed for her). I love the modern, clean lines of the crib and while I'm not necessarily a matchy-matchy person when it comes to furniture, it fits in pretty well with our existing dresser and bookshelf.
It's a bed that I anticipate using for 10+ years and that will see (hopefully) many babies (both ours and whoever we pass it down to – granted it still passes all safety guidelines), so at $379 I thought it was a steal!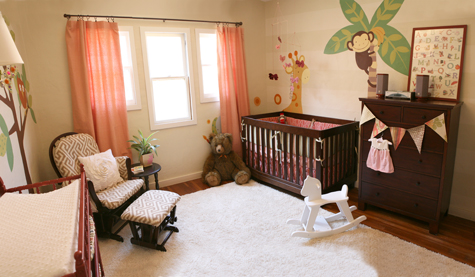 As far as the rest of the furniture in our house? We rarely buy new. Our bed, dresser, the armchair in our room, Liv's dresser, Liv's changing table, our living room bookshelves, big leather chair, office desk, office credenza, guest bedroom headboard, dining room bookshelves and dining room buffet table were all Craigslist and thrift store finds or passed down from a family member. But we occasionally buy new when we find a steal or save up for something we love, like our couch (which was the very first piece of furniture we saved up for together), dining table (that expands to seat 12 and collapses to seat 6 – a feature I was really looking for), Liv's Ikea bookshelf, office West Elm bedframe (to match my DIY headboard), office World Market bookshelves and WM side table.
We try to eat healthy (we participate in CSA, make our own baby food, have a mini garden and even have two city chickens), avoid creating too much trash (by recycling, composting and even cloth diapering) and when remodeling, reuse and repurpose materials (like for our kitchen). We're not super strict about it but I figure every little bit counts, and if we all make small steps today we can make big impacts for future generations!