Hope you had a great weekend! We had family in town so we played and enjoyed good food while also sneaking in a few house projects. Thanks for helping out, Mom and Dad!
I have such a neat find to share. I'm so thrilled with this random thrift store discovery that I still can't believe my luck.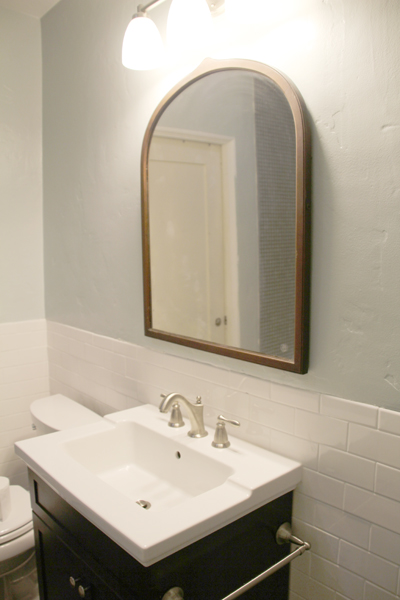 I was perusing a local shop that was on its way out of business (very sad, it was a spot that carried some great gems) when I came across a beautiful, arched mirror high on a wall at the very back of the store. When a clerk came to help me get this guy down, I was so happy to discover that it was heavy and really well built. So heavy that I was at first wary it might not mount right and actually passed on it. But its unique shape and quality taunted me all day and eventually I went back to pick it up.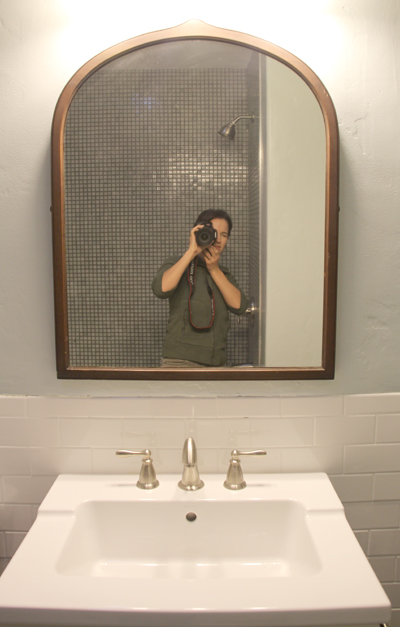 So happy that I did!
I love love how our bathroom is coming out but it is in need of a few unique pieces to balance out our new modern updates. Our home is a juxtaposition of old meets new. She's a 1930's bungalow with high, arched ceilings and lathe & plaster walls, but she's also expected to be fresh, modern and functional for a family living in the 21st century. It has been one of our main goals all along to pair that vintage-meets-contemporary design aesthetic throughout, and when a room begins to feel too much one way or the other, it's a clear sign that it's time to inject the opposite into the space.
Enter the guest bathroom with its brand new glass tiled shower, crisp blue walls, brushed nickel fixtures and stone grey floor – now it's time to inject some of that old-world bungalow charm to compliment the subway tiled chair rail (a more permanent nod to the original style of 1930s baths). A feature of the mirror that I love best is that the unique shape actually kind of reminds me of the arches in our living room, dining room and guest room, a key feature of Spanish-style homes.
(A few have asked about the grey grout and yes, we took the unconventional route of grouting the entire shower in the same grey as the stone floor. It was Kev who had to get me on board with this one but I'm super thrilled with the result – and lack of any grout stains that may show up in the future).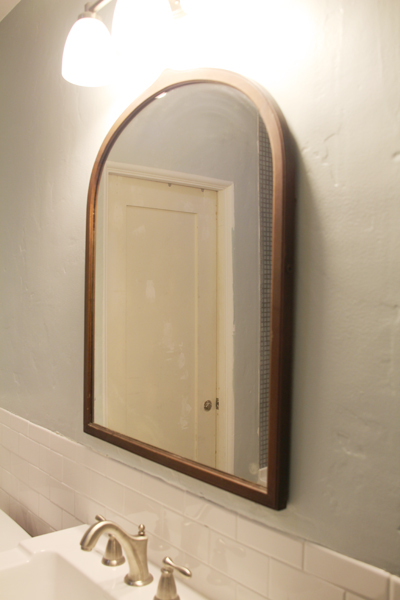 A cool shape, right?
Kevin was skeptical when I brought it home but humored me enough to give the mirror a shot for a little while. And now he sees why I dig it so much.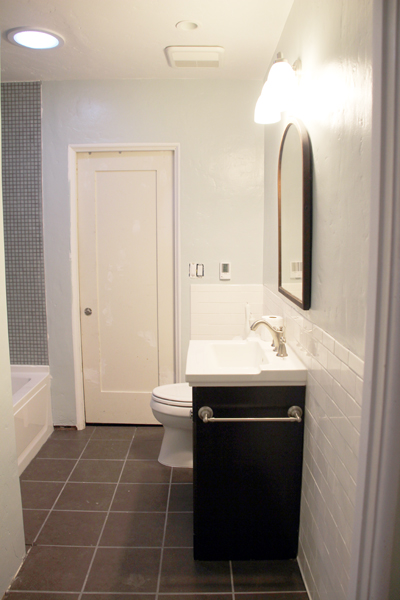 Please ignore that manilla colored door in the background… it is screaming for a coat of glossy white paint. (Manilla must have been the white of the 70's because this home has fully embraced that cream trim look.)
I don't often get to sneak away to go thrift store shopping these days with how busy work has been and how difficult it can be to shop with the little one, so when I pop into a store here and there I am often bemused at my lack of good fortune. I rarely find what I'm looking for. But in my book, this mirror spotting could be my one find for a long time and I'd be a-okay with that. :)
Now it's time to add a little art, a few additional fixtures (like this one):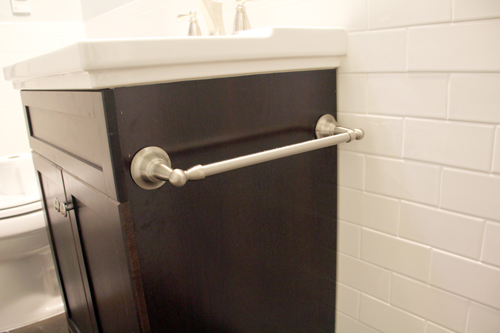 Some paint touch-ups, shower door and baseboard additions, and soon our bath built from scratch will be ready for its big reveal. Thanks for your huge amount of patience :).
More building a bathroom posts: installation time, vanity wars, subway tile installation,  floor tiles and toe warmers, a quick catch-up on our work on the bathroom in 2011, tiling with recycled glass, choosing and installing a bathtub, demo time!, a peak at the layout, initial inspiration, partnering with Lowe's
We partnered with Lowe's on our bathroom remodel and had the opportunity to try out some of their product at no cost and some product at a discount. The ideas and stories shared in this post are entirely our own, promise.