It's difficult for me to not let you in on a little bit of the action that's been going on over here. You might have read Friday that I have a plan that I'm scheming about for a hallway makeover that is both inexpensive and a little fun!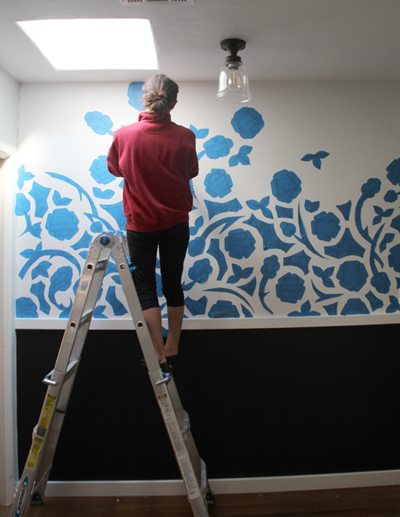 And as you may or may not have guessed by me ditching the wallpaper or stencil route, I'm winging my own accent wall with a couple of rolls of painters tape and a pair of scissors. That, plus we've added a NEW chalkboard section just below my DIY wall that's separated with a thin 3″ chair rail. Very excited for Liv and her little buddies to draw all over it with heart shapes, stick figures and scribbles! It's her very own coloring pad that's available all the time and with plenty of space.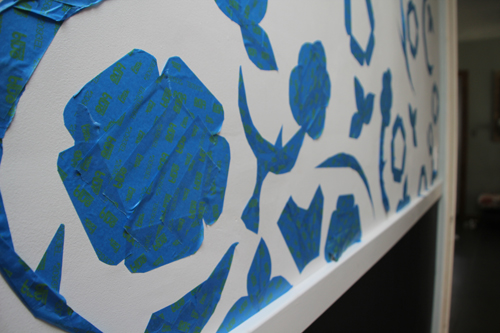 Creating the painter's tape shapes has been somewhat time consuming. I've found that my most productive route is to cut out about 100 of the same shape and then stick them up on the wall asap. I've spent a couple of late nights catching up on favorite shows while using my laptop as the temporary pinboard.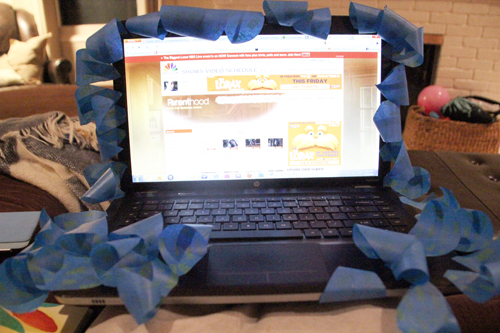 I've decided to forgo a formal pattern for placing the shapes up on the wall in lieu of a more imaginative and less perfect design. Cutting the tape and applying to the wall has been a big project and I didn't also want to measure space between shapes (for consistency) or map out a repeat pattern for a more wallpaper-esq look. I've found that by picking 4 or 5 basic shapes to repeat, I can have fun with the layout without being a perfectionist (trying very hard to quell the inner urge!)
We have since finished painting and installing most molding in the kitchen (before the appraiser for our refi came a couple of weeks ago!) but here's a shot of walking into the hallway from our kitchen.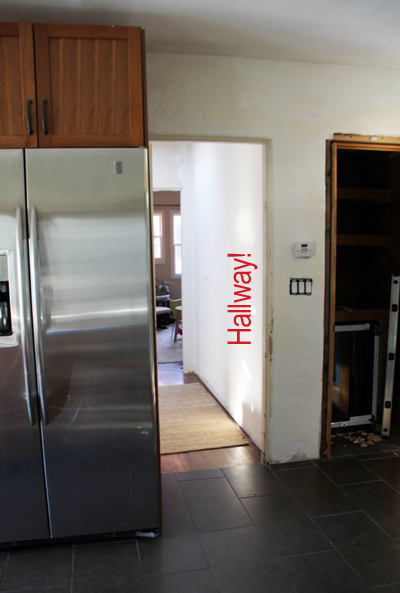 The in-progress pantry (going to be so cool with Kev's idea of recycling old wooden pallets) is to the right and Liv's room is straight ahead. You can get a better bird's eye visual of how the hallway fits into the house by checking out the floor plan here.
This new accent wall is the perfect space for Liv to use as a drawing board while we're making dinner, etc just beyond, I think it will be a fun learning tool and entertaining spot (and a good alternative to pulling out the tupperware drawer while you're trying to cook). It's also a great 'drop zone' for coats and boots and bags if I could make some sort of furniture/bench piece work there…
The finished hallway is almost ready to share!