Sharing a quick update in our nursery today. I finally had some time to restring the butterflies from Liv's felt mobile and to invest in a proper wooden hanger! My previous version worked for a while… and then decided it didn't want to support the weight of the little floating felt butterflies any longer.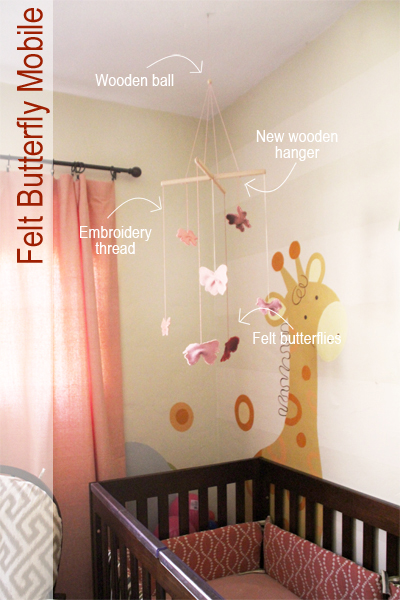 If you're ever interested in creating your own unique mobile, I highly recommend purchasing a basic wooden frame/hanger from Seven Acre Toys as your base. I searched for quite a while to find something that would fit the look and design that I had in mind and was so happy I eventually came across their site on Etsy. They didn't sell just the hangers at the time but after reaching out to them with my project they set up a custom listing and built the hanger to my 14″ specs with rounded edges, a wax finish and with drilling holes for hanging, all for just $10 + shipping.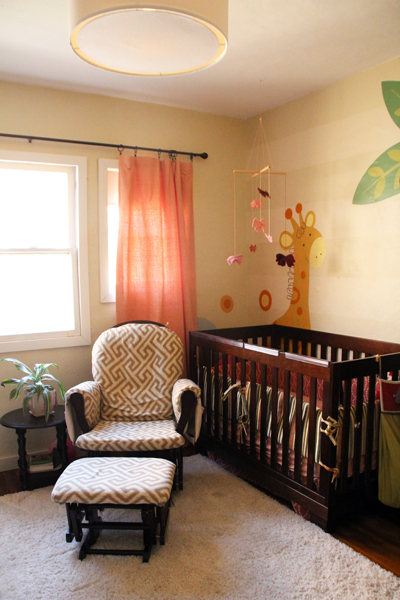 I love the way it looks! And how the butterflies sway and spin casually as breezes enter the room.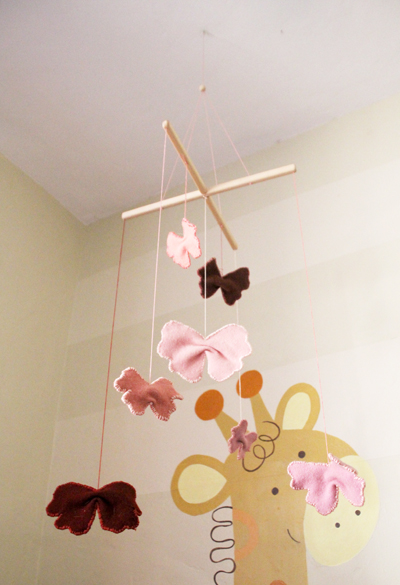 I used a small wooden ball bead from a craft store to hide the knot of the four adjoining embroidery thread supports that connect from each arm together. One of these supports continues on up to the ceiling where the entire mobile is supported by a threaded eye screw. Here's that visual again so you can see what I mean: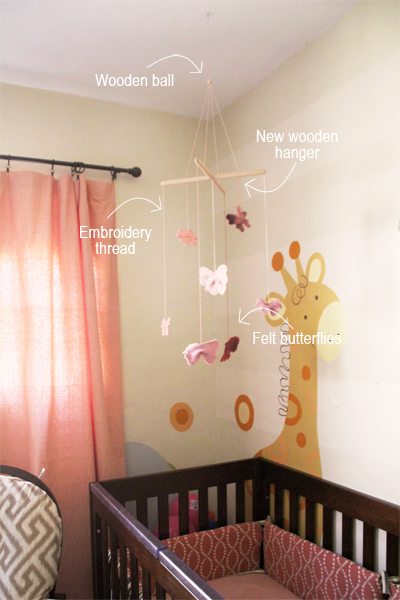 This underside image shows that each arm has three drill holes – one at the farthest end for a butterfly, two halfway between the center of the X and the end for the embroidery thread support that reaches up to that wooden bead and for a second butterfly. There's also two holes in the very center for the butterfly that hangs down the middle, though one would have been fine. Here's my exact listing if that's helpful!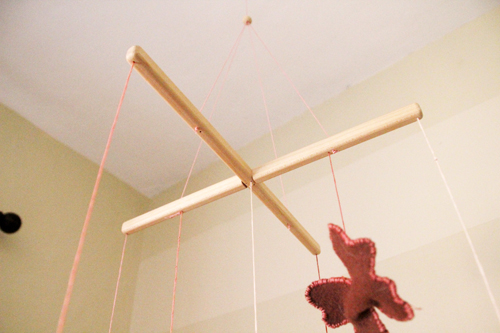 And from Olivia's angle: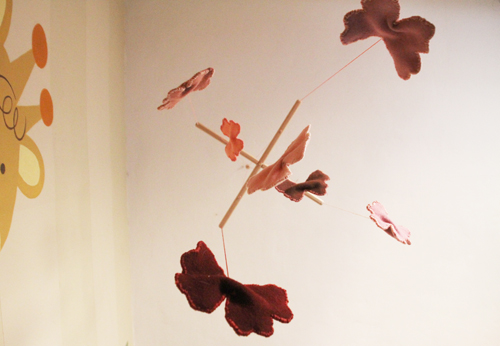 The butterflies are two pieces of felt from the Etsy company Three Sheep Studio (they don't sell quite the color range I was looking for at Joann's or Michael's, and this felted wool is just beautiful) connected together by complimentary embroidery thread that wraps around the entire outer edge in a simple stitch. Read more about creating each of those guys here.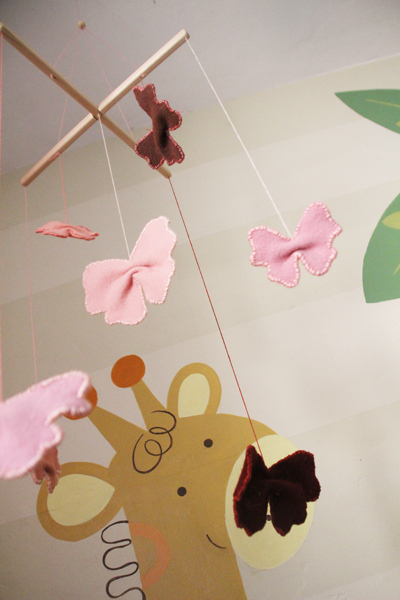 The made over glider has been moved to next to the crib for now while we build out Liv's little reading nook.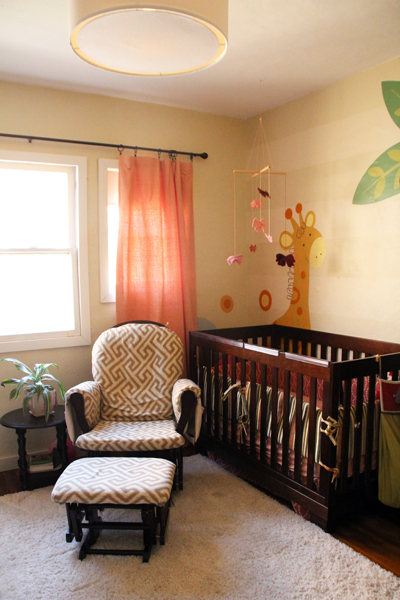 Very excited to cross 'updating Liv's mobile' off of my list! And wanted to be sure to share my resources with you all since they were so great to work with.
More Project Nursery posts found here: a new reading nook part 1, finished after photos, no sew fabric pennant, baby clothing art, handmade felt butterfly mobile, DIY crib skirt, basket liners part 1, part 2, the, glider makeover, recovering an ottoman, sewing lined curtains part 1, part 2, part 3, curtain fabric selection, nursery fabric board, rocking horse find, new pendant light, new sconce lighting, vintage wall art addition, changing table makeover, nursery wall striping tutorial , painted animal project, the initial inspiration board breakdown, the before pictures