Here in California the weather has been slowing crawling towards beautiful spring – but with just enough chill to make you want to keep a cozy sweater nearby. It's the season of Spinter – make that Spring emerging from Winter.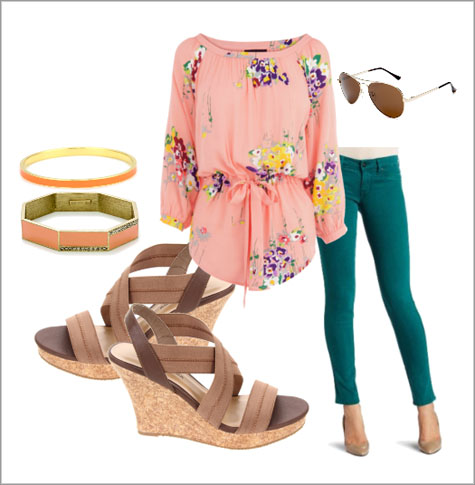 This time of the year I'm drawn towards bright colors but in slightly comfier cuts, such as a blousy long sleeve top paired with a dark pant. I'll be the first to admit that I'd probably pair the above with everyday sandals, but the elastic on those Chinese Laundry heels look awesomely comfortable for a slightly dressier weekend brunch or luncheon.
The color I'm leaning towards this spring? Coral! I love the versatility of the bold shade of peach meets pink. Coral is easily paired with so many contrasting colors, including lavender, navy, teal, plus all of the neutrals.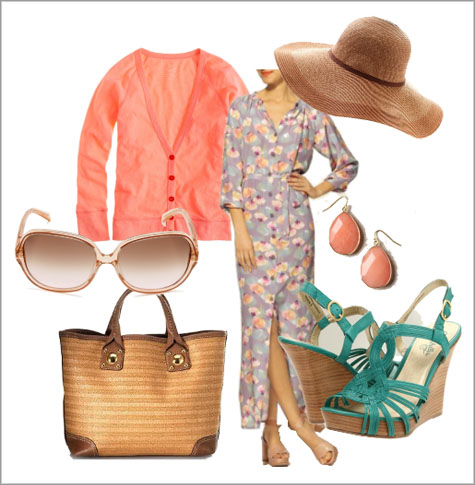 Another spring meets winter go-to is a classic maxi dress matched with a cardigan. A long sleeve, long skirt like the above is the perfect find for this time of year! And if you're feeling a little resort-ish, pair with a wide brimmed hat (beach, anyone?) and a straw tote.
My everyday early spring attire is usually in the form of a cuffed jean, a casual top and a pair of colorful drop earrings. This floral blouse offers a great cut with the knotted front.
Have you heard of Rent the Runway? It sounds like a really awesome alternative to purchasing dresses for big events, and this coral color block silk dress is one of my favorites. I would pair this dress with gold for a wedding or flat leather sandals and a shoulder bag for a more casual shower. I love the idea of being able to invest a small percentage into a rented, stunning dress rather than purchasing a full price outfit you might only wear once or twice. I haven't tried it out yet but rumor has it that they ship you the same dress in two sizes to be sure of the fit.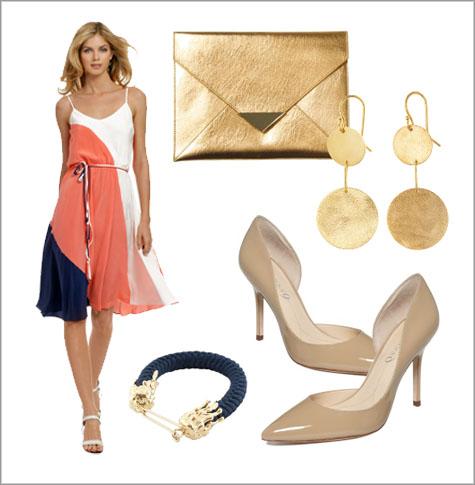 There you have it, a few of my coral favorites perfect for this early spring weather! Happy Wednesday :).
Pricing and all sourcing can be found on the Style Boards page right here.