Very excited to share with you all today that we have a new style board contributor coming on board! You all know that that little Wardrobe Style Boards button there in the left sidebar (smooshed between 'Entertaining' and 'Organizing') is a favorite of mine… but that it does not receive as much love as it should.
I've had the privilege of slowly introducing a few style board contributors with the hopes that they will help me keep that little wardrobe gallery (check it all out here, or click on that pink button at any time) up to date and well stocked.
Without further ado, I'd like to introduce you to Anna Kate, whose style I've always adored and who – despite being weeks away from welcoming her first son! – is joining me here today to introduce herself and her first round of style boards (two are maternity, which I think is doubly awesome). PS AK is originally from the south (yay for wonderful y'alls and accents!), now lives in Tempe, Arizona with her husband Ray, and blogs about everything life over here. (And yes, people tell us we look a lot alike ;)).
***************************************************************************************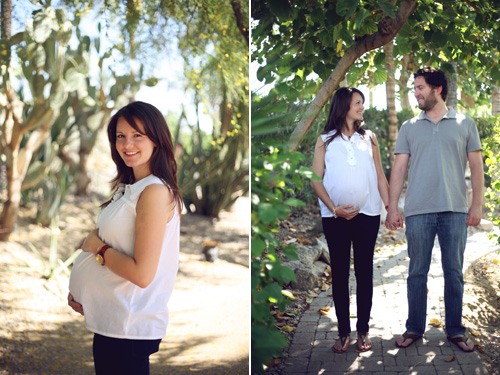 Hi y'all! I was so pleased when Morgan asked me to contribute to the style board section of her blog! I've been a big fan of this blog for some time now, so I feel really honored to be a part of it! My husband Ray and I were married in September, and found out we were pregnant just about 4 weeks later. We are (im)patiently awaiting our little one's arrival in just a few short weeks, and working overtime trying to get everything ready for him! In the midst of a last minute kitchen remodel, a full-time job (can't WAIT for maternity leave!), and struggling to get around with my enormous belly, creating these style boards for you has been a welcome respite. I hope y'all enjoy them!

Anna Kate & Ray on their wedding day, surprising everyone with their special announcement, Christmas, 8 months later, AK + sisters + mom at her shower
And on to the style boards!
I spent the first few months of my pregnancy searching for clothes that didn't feel like your typical high-function, low-style maternity clothes. But after trying on countless black dresses and frumpy ruched t-shirts, I started to feel really discouraged. And then, while browsing Pinterest, I came across asos.com. This online British shop has so much to choose from for maternity- lots of trendy pieces, but also really great classics (like skinny jeans!). And their shipping options are amazing- 2 day shipping for just $12, or free shipping both ways, so if something doesn't fit, just send it back, no charge! This was key for me when shopping online for maternity.
When you're pregnant, especially REALLY pregnant, you don't always feel all that cute. In fact, sometimes you feel downright UNcute! But even on my darkest days, a colorful outfit can somehow manage to change my mood and make me feel like my old self again. So, my first two boards feature brightly colored maternity pieces from ASOS that I find myself running to whenever I need to feel a little less frumpy and a little more.. normal!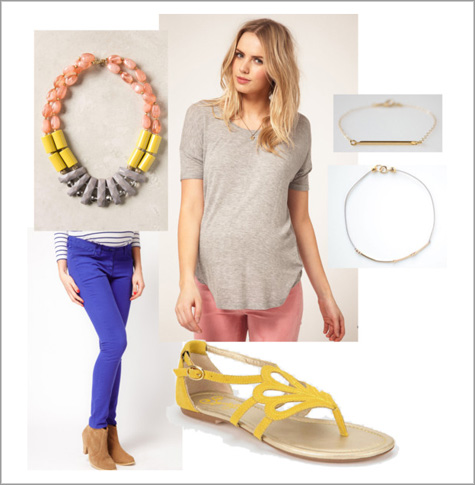 (Above) This grey top may look like any other simple t-shirt, but it is my favorite piece in my closet at the moment. It goes with everything, and is so soft and thin- PERFECT for summer time. I paired it with bright, trendy skinny jeans and a colorful, chunky necklace, because sometimes a girl just needs a little color to make her feel pretty! I've been eyeing this little morse coded bracelet from COATT- I want one with my little one's name on it! I think this would make such a sweet gift for a new mom.
(Below) For this outfit, I wanted to go with something simple. This yellow dress over a big pregnant belly will really stand out, so I wanted to pair it with more neutral accessories. I'm a firm believer in flats, especially during pregnancy, and I love this pair because they look like the leather will stretch and breathe a little on swollen feet. Y'all know every woman needs a good sun hat, and I love this one from Anthropologie. It's simple and sweet, and goes with everything! I wanted to do a great clutch, like this little wicker beauty from JCrew, because let's face it- once your baby is born it might be a while before you can carry just a small handbag again!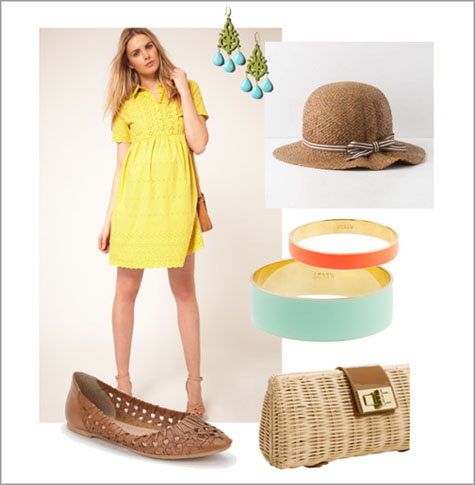 For my next two outfits, I wanted to build around pieces that I would really love to wear if I wasn't pregnant. I wouldn't dream of squeezing my body into these beautiful white shorts at the moment, but I've been secretly day-dreaming about them! Again I wanted to go with some pops of color, since it is summer after all. You may notice I've featured a lot of jewelry from Anthropologie throughout my style boards. I couldn't help it- they have so many beautiful pieces right now, and some really great stuff for under $50! This necklace is a bit of a splurge at $142, but I can picture it with almost everything in my wardrobe, so I think it would be well worth it. And can we talk about this bag?! I love it so much, I just ordered one for myself (don't tell my husband!). It feels like a steal at only $56, and I can imagine wearing it with so many things.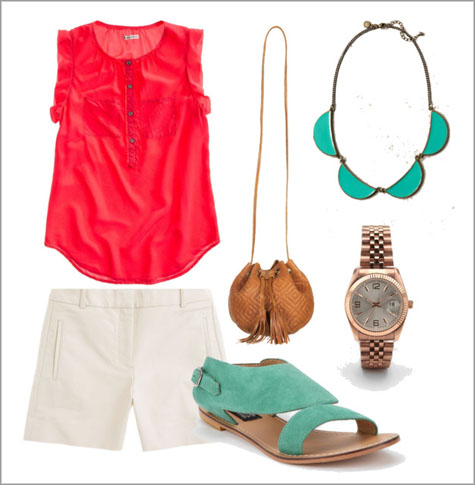 Here's another outfit I can't wait to try out after the baby is born! I love this simple little dress. It features flattering stripes, and the prettiest cutout and pleating in the back. I picture it looking so beautiful and sweet with delicate jewelry and beachy, soft waves in your hair- the perfect look for a laid back, easy date night. And these pretty yellow heels spice it up without making it too dressy.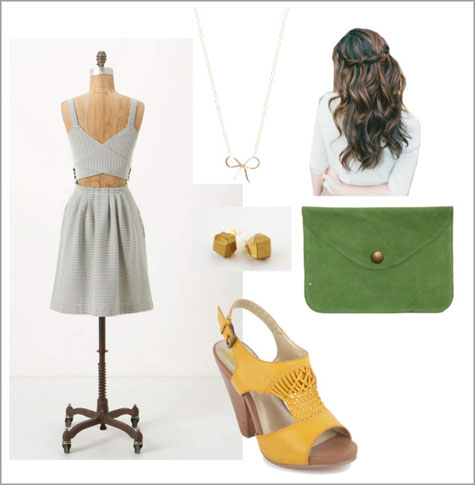 That's all for now! I can't wait to come back next month with more summer inspiration, and hopefully some tips for dressing a post-baby body!
*******************************************************************************************
Thanks so much, Anna Kate! Very excited to have you here and love, love these boards!
As always, you can find ALL sourcing (including brands, pricing, etc in the gallery itself.)