And they're gluten free. But don't let that deter you my wheat-eating comrades, these guys are amazing.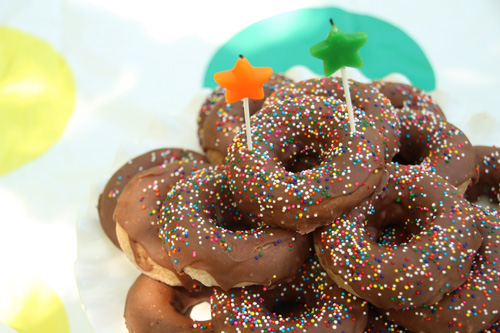 My good friend Anna recently threw a party for her son's 2nd birthday and featured these chocolate treats as the dessert.
They were so delicious. Rich, moist, flavorful and – dare I say, healthy? okay not quite, but with ingredients ranging from your traditional sugar and eggs to mashed ripe bananas and nay a stick of butter in sight, I'm counting it.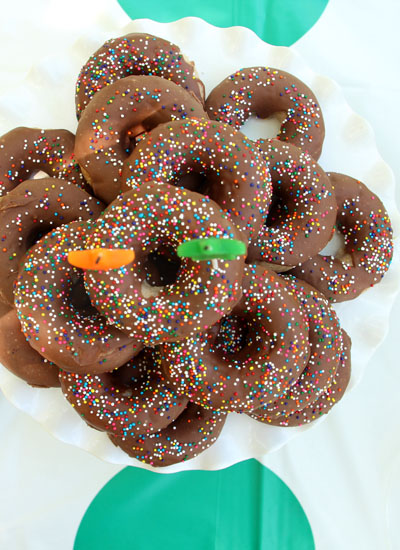 After discovering hers and her son's intolerance to gluten and dairy, Anna has found ways to substitute key ingredients in delicious recipes to create yummy meals. The secret behind these doughtnuts? A fabulous cookbook that she recently lent me by Silvana Nardone, editor-in-chief of Everyday with Rachel Ray and author of Cooking for Isaiah (check out Silvana's daily blog here):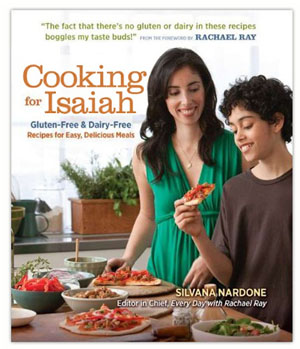 Other than the unique flour blend that Silvana has created (which I'm thinking I can substitute with white flour – funny that I'm trying to re-gluten a gluten-free recipe?), the ingredients are basic: eggs, vegetable oil, vanilla extract, baking powder, ground cinnamon, salt and bananas.
Banana Doughnuts (from here)

Makes: 12, Prep Time: 15 minutes, Bake Time: 15 minutes
1¼ cups Silvana′s Gluten-Free Flour Blend
2 teaspoons baking powder
½ teaspoon salt
1½ teaspoons ground cinnamon
1 cup granulated sugar
2 large eggs, at room temperature
1½ cups mashed ripe bananas (3 bananas)
2 teaspoons pure vanilla extract
½ cup vegetable oil
Preheat the oven to 350 °. Grease 2 nonstick, 6-count doughnut pans. In a large bowl, whisk together the flour, baking powder, salt and 1 ½ teaspoons cinnamon. In a small bowl, whisk together the granulated sugar, eggs, 1 ¼ cups mashed bananas, 2 teaspoons vanilla and the oil. Stir the wet ingredients into the dry until just combined. Spoon the batter about three-quarters full into the prepared pans. Bake until golden and a toothpick inserted comes out dry, 12 to 15 minutes; let cool completely on a rack.
Chocolate Glaze
¼ cup boiling water
6 ounces semisweet chocolate chopped (about 1 cup)
2¼ cups confectioners' sugar
1½ tablespoons light corn syrup
1 teaspoon pure vanilla extract
Rainbow sprinkles
Stir together the boiling water and chocolate until melted. Sift in the confectioners' sugar and add the corn syrup and vanilla; stir until smooth.
Set doughnuts on a rack over a baking sheet. Dip the doughnuts in glaze and set on the prepared rack; top with sprinkles. Enjoy!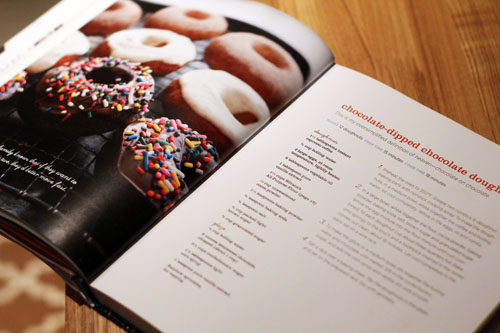 Yum. And more photos from the adorable birthday party!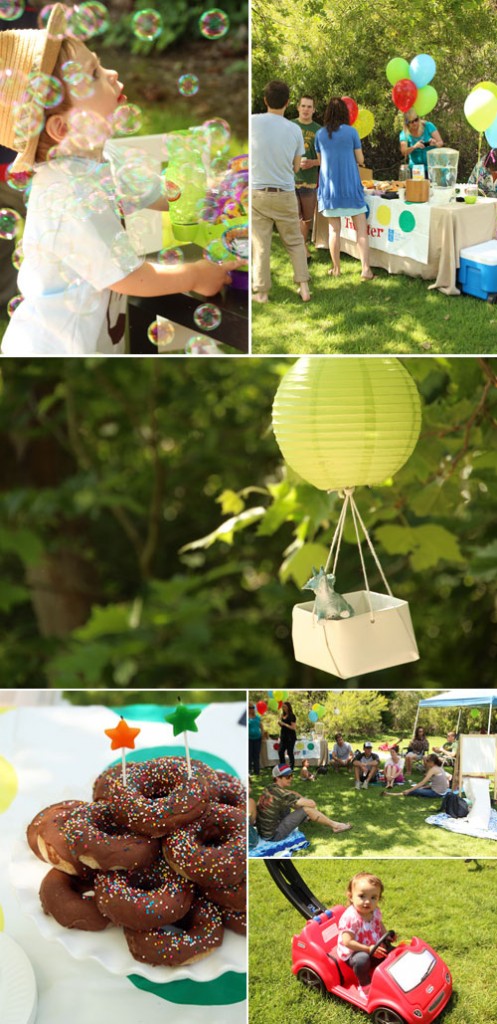 Favorite details include paper lantern hot air balloons (holding little dinosaurs who are each peering over the edge) hung up in the trees and a scrabble mat that doubled as a brightly colored tablecloth (above).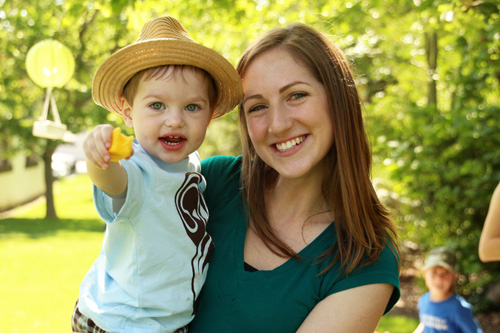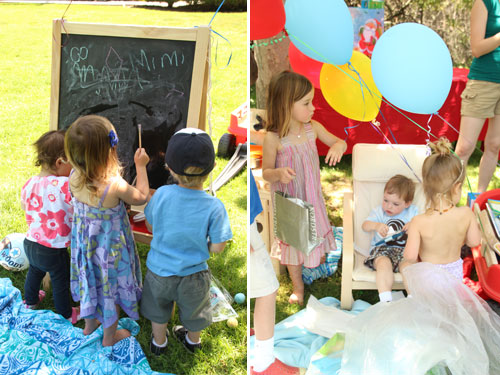 Happy Birthday Mr. Gavin!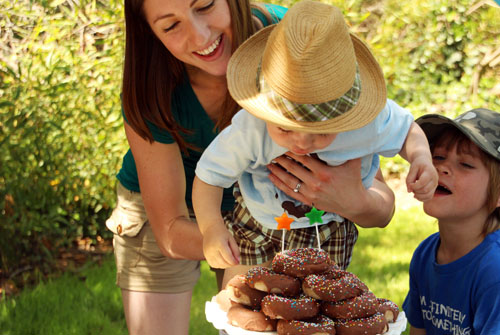 PS he's Kevin and my's godson, which gives me even more bragging rights. :)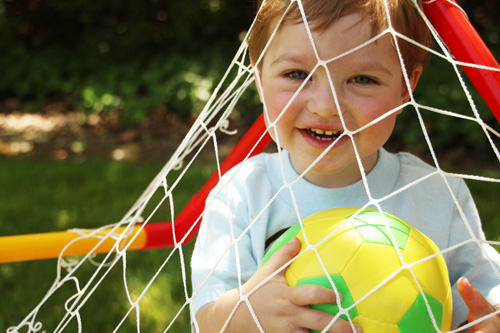 So handsome. This is my favorite picture from the day.
Have you been surprised by any alternative ingredient recipes lately? I must try these doughnuts again soon.