Kevin and I headed up to San Francisco for a quick trip to celebrate our 5th anniversary and we had such a great time! Thanks to those who left a comment or sent an email wishing us a great day!
Now that Kevin is out of school for the summer, I cannot think of a better anniversary present than spending some time together working on a few big changes for the front of our home. We tend to reserve major renovation projects for when Kev finishes up classes for the summer (which, by the way, I'm so proud of him for right now! Three of his hardest years down, two to go until he finishes up his degree in architecture ), and he just wrapped up finals last week.
This summer is no exception with a big wrap around deck (side yard and back), pergola, outdoor eating area, side yard wall, landscaping and overall outdoor beautification on the list. I am even more excited about that fact that we are once again partnering with Lowe's to help participate in their Trend & Design theme for the summer – curb appeal!
The above is our home today, and here's a quick reminder of where we started at: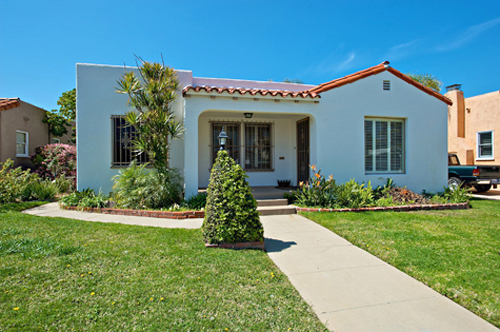 Not too shabby so far, right? But we have BIG plans, starting with painting the house!
Olympic and Graco have offered to partner with us for this project and of course that made the reality of such a big undertaking feasible for us to move ahead with as early as this upcoming weekend! Wow.
I have been patiently looking forward to updating the traditional white on the front of our home since the day we moved in four years ago and excited doesn't even begin to capture my feelings at the moment. Overwhelmed, giddy, smiling ear to ear might get me a little closer.
Olympic has a helpful tool that allows you to upload a picture and then play with paint colors. I can't get too color carried away as we live in a Spanish style house and I tend to love these particular bungalows in beiges, tans and browns anyway, but that's where we're starting our search.I uploaded our current outdoor photo into ColorClix to get a better idea of what our home would look like in a few favorite shades.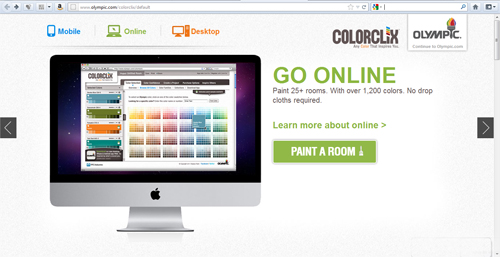 The first step is to use the tool markers to identify what is a paintable wall vs plants vs roof, etc. (these same steps apply for interiors, but identifying interior walls, furniture, windows and trim instead).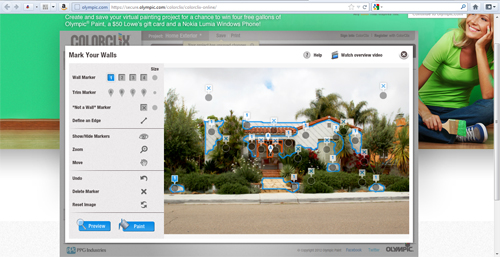 Then it was time to experiment away!
This light Vanilla Brandy is a favorite: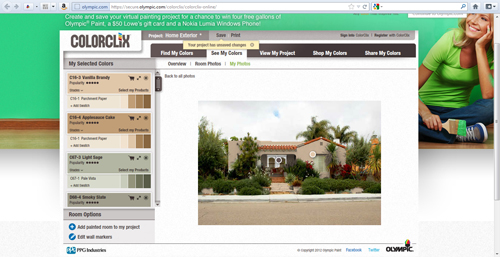 As is Dusty Trails with its ever so smoky-tan appeal:
A slightly darker option is Stony Creek: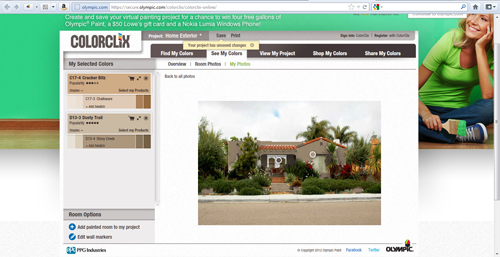 Applesauce Cafe rounds out my fourth favorite tan (I sometimes wonder where these names come from – what a fun job) with its honey undertone: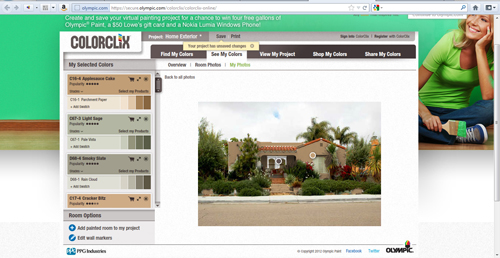 Kevin really digs the idea of a mossy grey house. If we lived in any other style I think that I would be on board (or at least seriously consider the option), but I'm not such a fan for our home: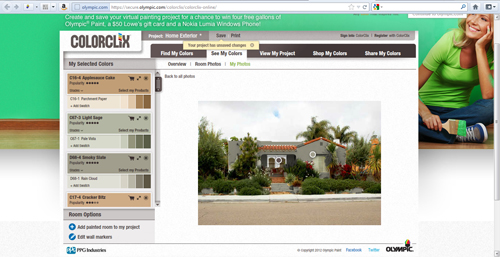 Will keep you posted on the progress! We are deciding colors asap and it's quite daunting.
Next up on the paint list is trim. I'm thinking white, but perhaps a dark brown would be option 2. Spanish homes are known for their creative trim-on-trim styles and maybe an even better, dual option is out there somewhere… this is when long walks with Liv and sneaky iPhone camera shots of my favorite homes in the neighborhood become very helpful as local inspiration. It's not odd to pretend like you're talking to someone at arms length while you line up a shot of the neighbor around the corner's home, right?
Any home painting tips, thoughts? or do you have any big projects lined up for this summer?