Hope you had a beautiful weekend! The weather here in San Diego has been a bit on the muggy side, but I can't complain when it's sunny and bright outside. I'm traveling today so I thought I'd share a couple of my favorite summer wardrobe pieces with a new Style Boards installment.
I built these two boards around wardrobe staples this summer, pieces that I love and wear every day! I have a few more coming with lighter, airier dresses in mind, but these are a few go-to pieces for after the sun sets or when it's not quite so hot out.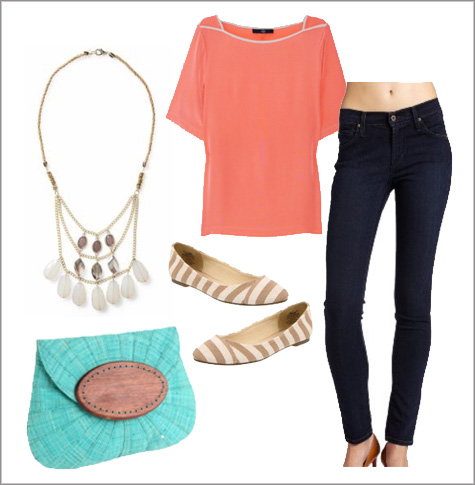 I love a good second hand shop that sells designer jeans for a discount (eBay is a great source, too), but when I was in a pinch and could not find a flattering skinny jean (and getting frustrated at my bad luck), I gave these a go and fell in love. They're perfect rolled as capris, all the way to the ground with flats or tucked into boots (yay, fall!) and won't scrunch, stick or stretch out too terribly. Likewise, this bib necklace is an absolute steal right now and it's stunning in person! I really am digging it this summer.
I've become a big fan of the oversized statement necklaces this summer and I was really excited to find this one on sale over at Piperlime, too. That pink is quite the pop! Love it against the dark purple of my favorite silk tank (which is easily one of the most versatile pieces right now – matches great with shorts, as a shell with suit pants for the office or tucked into a skirt).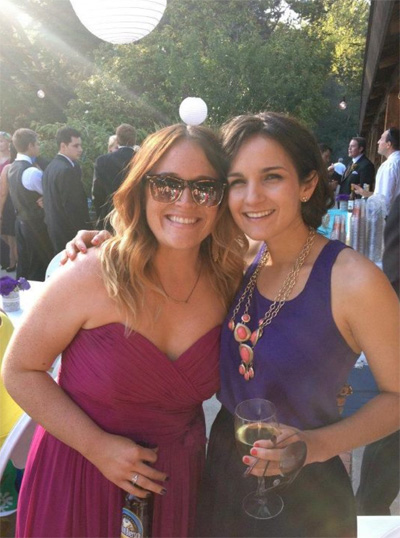 And so my next little round up includes the above plus a maxi skirt that I have found to be incredibly flattering (with a seam down the front that helps to flatten everything out) in a soft cotton for running around town: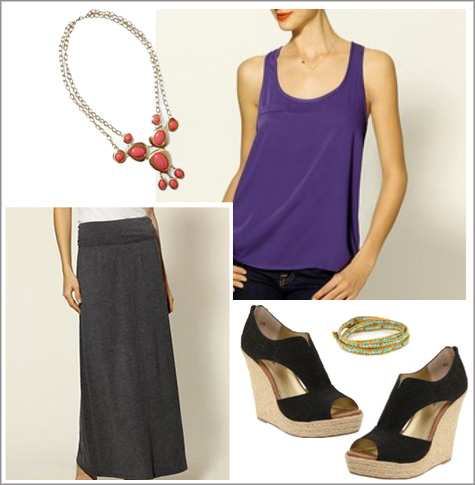 There you have it, five of my favorite finds this summer (after a little trial and error!) that add a little trend and spunk to my usual wardrobe. Will be back soon to post these in the actual gallery with all of the sources/pricing for everything I've shared.