We are making huge progress on the side yard! The goal is a new wall, a new deck and a new flagstone walkway before Europe. Plus, finish painting the house! Which has turned into quite the beast.
Back in the spring we made a goal to really focus on and tackle big projects on the outside of our house this summer – we dubbed it the Curb Appeal Transformation (even though a good chunk of it isn't visible from the street :)) and while it's nearly fall, I'm so happy with how on target we actually are. Even if that means we've had to bring in reinforcements here and there (in the form of friends, family and even a few tradesmen) when absolutely necessary.
A quick reminder on the jungle that was our side yard just a few weeks back: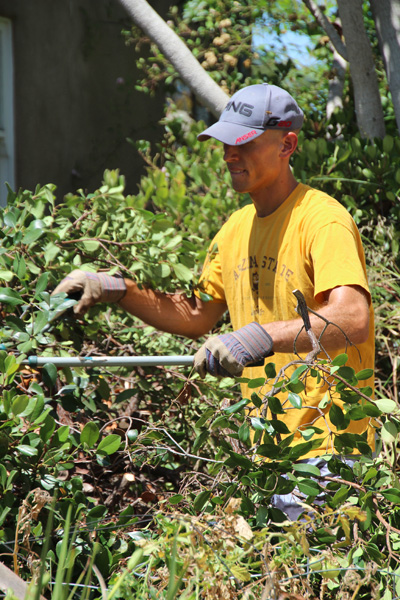 Here's where I left you last in the part 2 post on laying the new foundation for the wall that would box in this new space: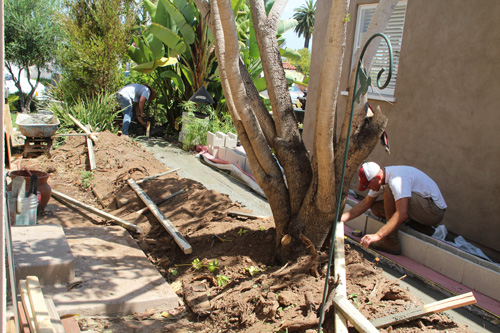 Amazing how many details and how much time a project like a cement block wall can take!
Here the boys are slowly building the wall up and up! Two levels…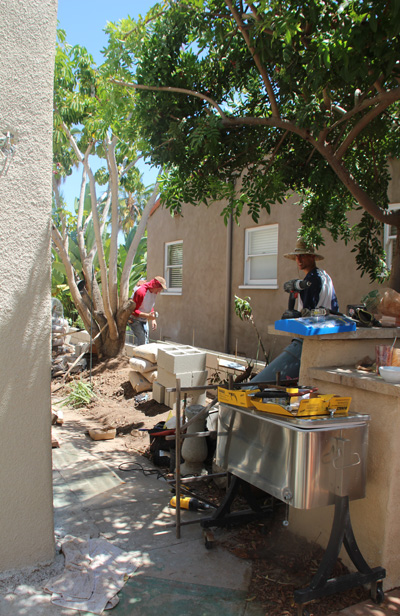 …quickly turned into eight.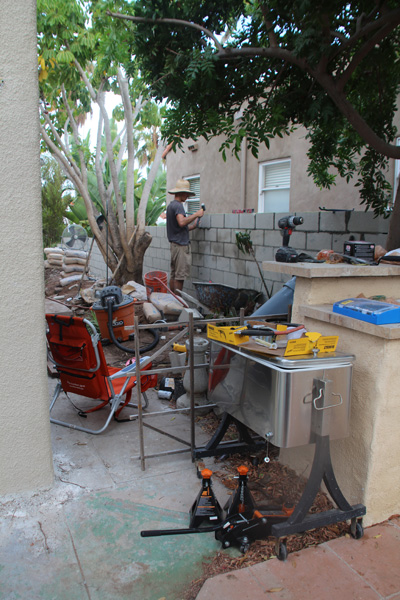 Safely barricaded behind a door and glass, I'm observing some heavy duty cement block slicing to create the very top layer of the wall. This wall is one of those projects that I left to Kevin and was happy to do so.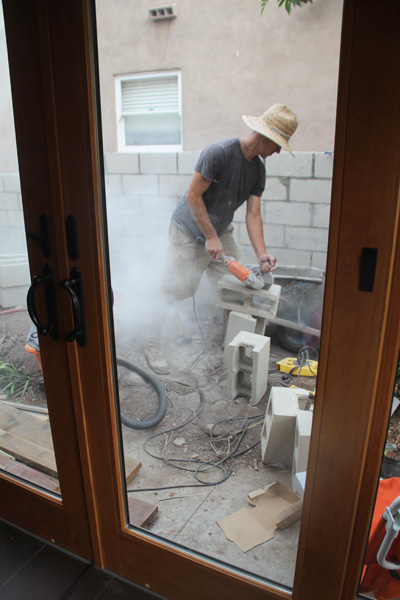 Finally a "brown coat" (which isn't necessarily brown) was applied to give the plaster a surface to adhere to, the final layer will be a tinted plaster. More troweling, measuring and leveling ensued: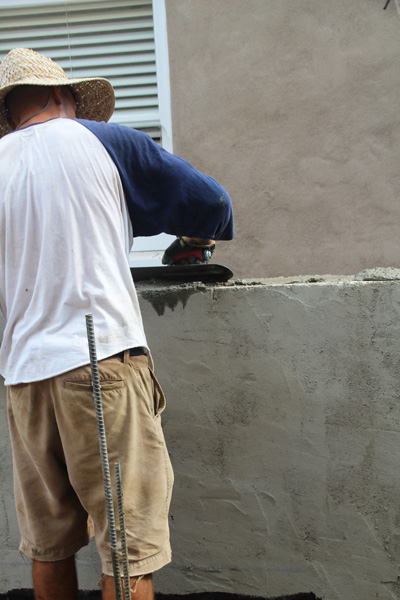 Woohoo! Now that's a wall!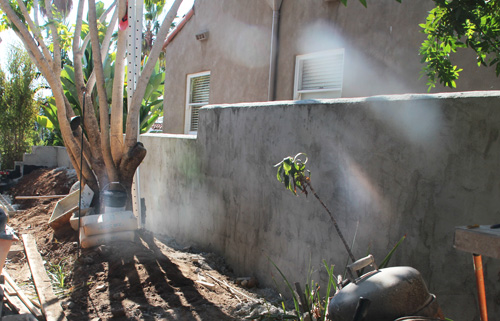 Kevin designed the wall so that it stair stepped down from the back of the property to the front of the house, where it is only 4 feet ish high. We can still have friendly conversations with our great neighbors without them being Wilson-style (Home Improvement, anyone?), but the tall back wall will allow us to enjoy the dining portion of the future deck in privacy (and keep music, etc contained).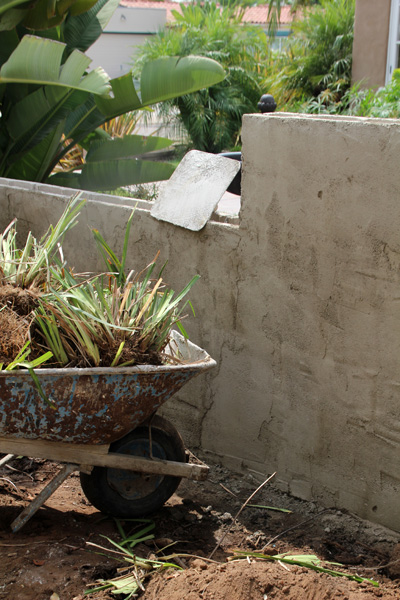 Here's where the new wall meets with the existing wall: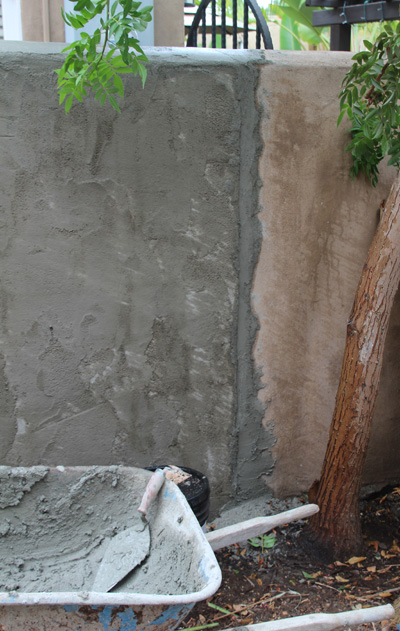 A day's work is done!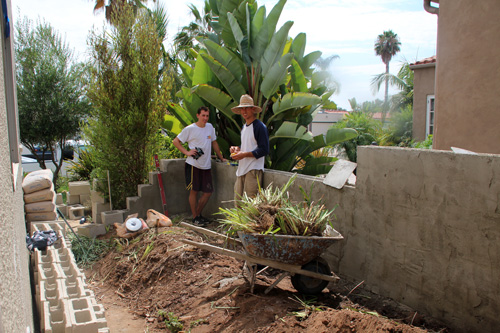 The toughest critic was probably our little building inspector…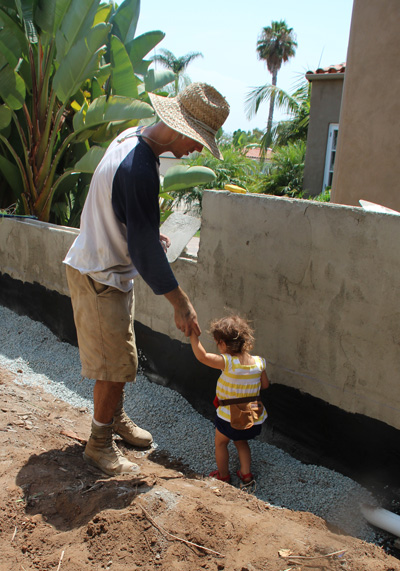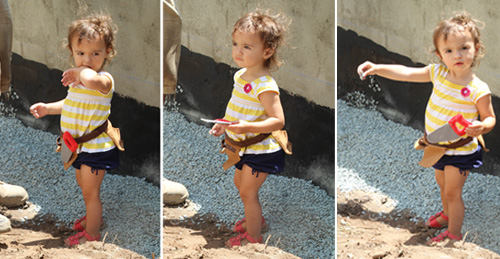 She questioned the use of gravel over our built-in irrigation system for the future planter box, but was pleased overall.
Speaking of planter box, Kevin applied a watertight sealing over the area that would soon hold veggies and flowers to ward off potential water damage.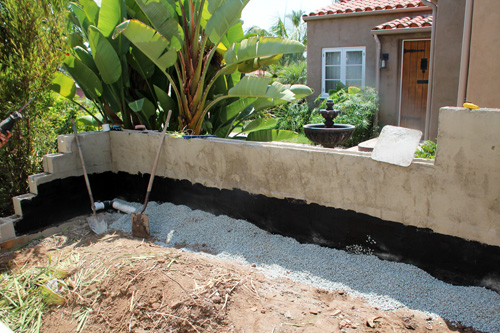 The last part of the actual construction of the wall was the planter box itself. Here's the footing being poured into place: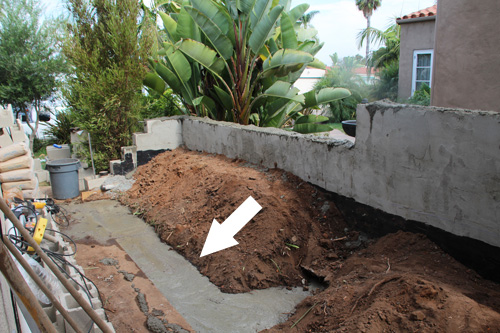 And the entire cement block process was repeated to build a mini wall.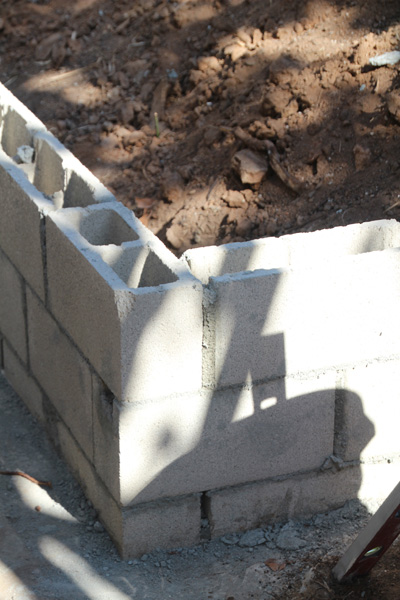 Finished!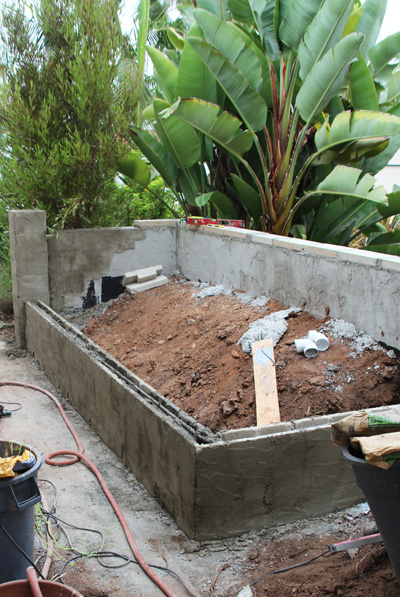 Sometimes it's cheaper and more efficient to bring in a big cement truck to help out, like we did here, but sometimes it's more cost effective to mix up that cement yourself (stucco, too):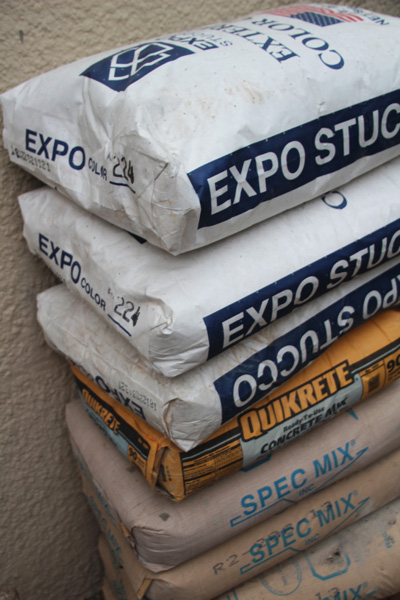 Helps to also have a cement mixer in your toolbox (er, garage), I think we found this guy on Craigslist a long while ago and have used it for many, many projects.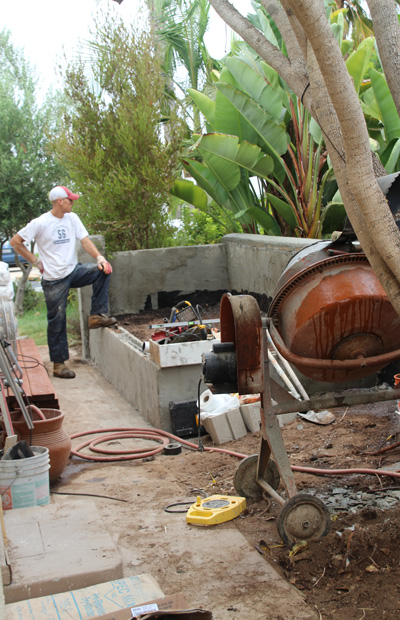 The soon-to-be entrance to the side yard from the front: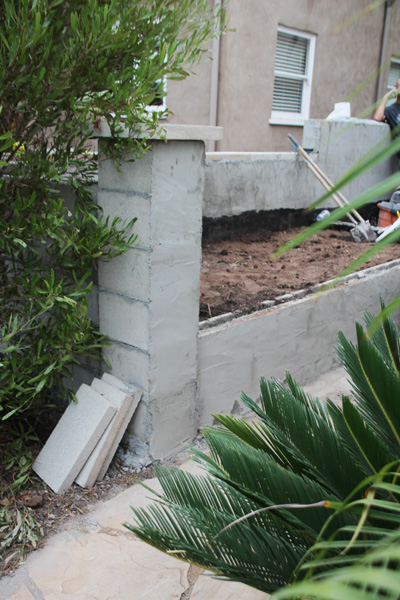 And here she is! Plenty of room for a big deck and dining space: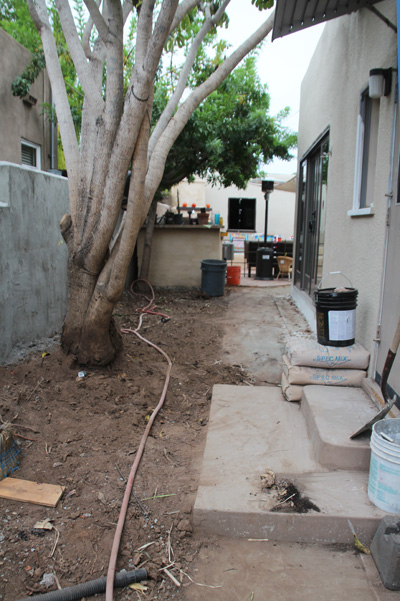 Liv approves, and plays with her best friend while we all check out daddy's hard work at the end of the day.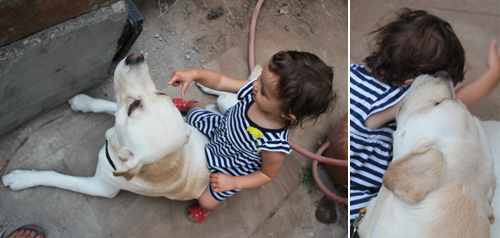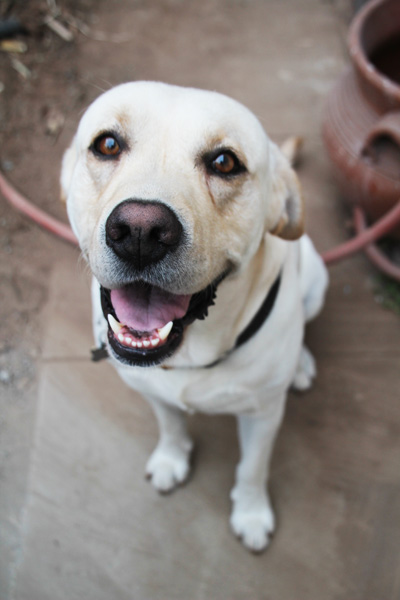 Bodie is such a good dog. I can't believe he was just a little puppy when we moved into this house.
More side yard transformation posts here: part 1: breaking ground, part 2: foundation. And more outdoor projects/curb appeal progress right here!