It is a crisp but sunny day here in San Diego and I am soaking up our delicious fall weather. Fall has always been my favorite time of the year and especially for the weather right around this time, too. It's cold enough at night to enjoy slippers and coco (I've made myself a mug a couple of times this past week, with marshmallows – I totally recommend it) but still sunny enough during the day to enjoy being outside for a nice walk at lunch or after work.
I've been known to pull out fall wear too early in September and October – you can't wear knee high boots and layers of socks and cowl neck sweaters in San Diego during these months or you will boil. But now we are close! Maybe a couple of weeks away. And to all of you enjoying snow in your parts, insert my jealous grin here :).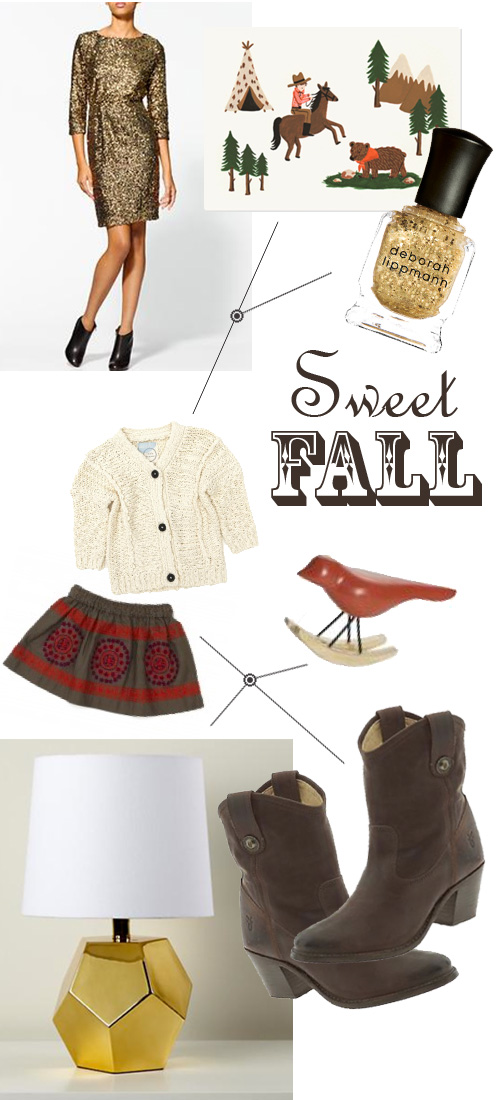 Gold sequin dress, cowboy print, glitter nail laquer, baby fisherman's cardigan, baby Frida skirt, rocking bird, button booties, rock lamp base
That baby fisherman's cardigan is amazing, as are those leather booties! And the cowboy print. Hope you are enjoying your fall!