So happy to welcome back Anna Kate today, PDB's very stylish new momma who regularly contributes style boards to our gallery over here. I LOVE the looks that AK has put together for this month, especially the awesome flats and accessories that are adding just that extra little something to each outfit. I must admit that I'm very partial to the oversized grandpa cardigans, skinny cords, wrap around watches and blouses this fall that she's included, too… you are all getting added to the Christmas list!
Last we left AK, she was 9 months pregnant! and sharing a few of her favorite maternity finds right here.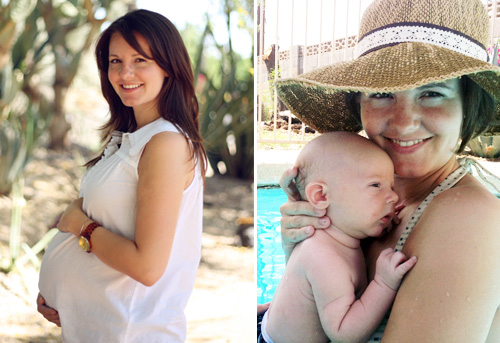 Mr. Emmett joined her and hubby Ray just a few weeks later, and now momma is adjusting to life with her deliciously handsome little one.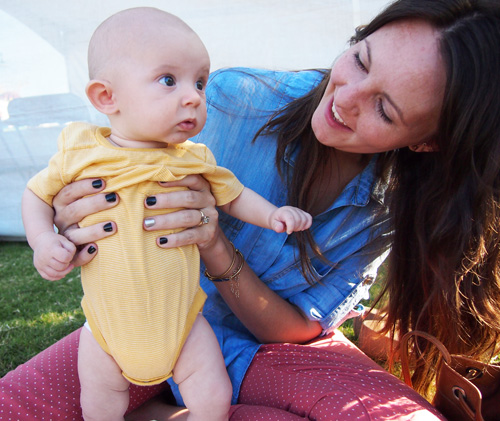 Take it away, Anna Kate.
*******************************************************************************************
Since having my little boy 4 months ago, I've started to think differently about my wardrobe. I am definitely much more choosy, and tend towards functional (but pretty) basics that I know will last. I have so much less time, energy, and money to spend on myself, so I look for pieces that can be mixed and matched a million different ways. I also look for things that I can wear to work, and to run errands on the weekends. For fall, I'm all about muted colors mixed with girlie accessories.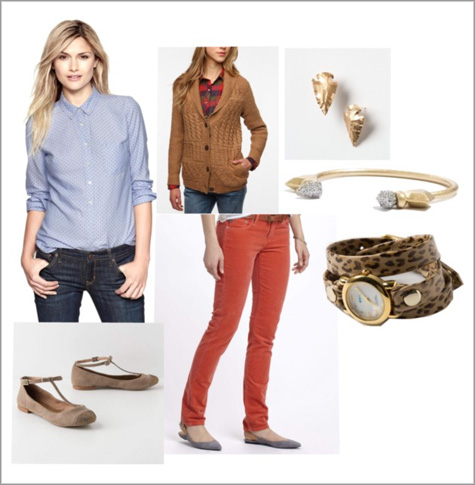 I tend to live in oatmeal-y brown sweaters at work, and I love the idea of a chunkier, textured version for the weekend. This outfit is simple, and menswear inspired, so I wanted to add fun and girlie accessories. Anthropologie is killing it right now with their flats (aren't they always!), and I feel like I could wear these with almost everything! I picture them with skirts and dresses for work, skinnies on the weekends, and maybe even something sparkly for a holiday party.
This next outfit would be great for grabbing happy hour drinks with girlfriends. I'm a huge fan of black jeans for fall and winter – they go with EVERYTHING, and always make me feel a little bit edgy and dressed up. I love the pop of pink in this super-flattering top, and get a load of those shoes! So sassy.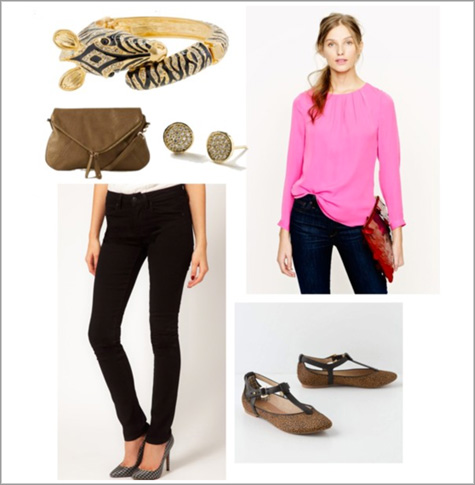 *******************************************************************************************
Have a happy Tuesday everyone and hope you're enjoying your Turkey Day prep!
As always, you can find ALL sourcing (including brands, pricing, etc in the style board gallery. Easy peasy.)