Wow, I am amazed that Christmas has snuck up on me again! I was online last night searching for a couple of last minute gifts for family and was about to check out when I noticed that my shipping charges, to have said gifts here by the 24th, were upwards of $17. I though, surely! not with so much time before Christmas!, but then I glanced at the calendar and laughed at myself for forgetting that the special holiday is just (literally) a few days away! What!? I'm avoiding the mall at all costs but I might not have a choice now…
Ah well, on to prettier topics! Anna Kate and I each put together a Christmas and New Year's Eve outfit to share with you all for the Wardrobe Style Boards gallery and without further ado, here's a little Christmas inspiration for you.
AK first.
*****************************************
When Morgan asked me to put together a couple of style boards for Christmas and New Year's Eve, I knew just what I wanted to do. For me, Christmas Eve is always a little bit crazy. There are gifts to wrap, church services to get to, and so much food to make (What? Not everyone has 50 people over for Christmas Eve dinner??) so I try to keep it simple when it comes to my outfit. I always have to resist the urge to wear red or green, because it's just too obvious and no one wants to be the girl in church lookin like a Christmas tree! So I usually go with a special black dress and pretty accessories. I added a scarf, tights, and a coat to this outfit because if I'm dressing up, I'm all about staying warm and cozy! And for a festive touch, I will definitely be wearing this grown-up glittery nail polish in the perfect Santa Claus red!
Happy Holidays Everyone!
AK
(PS don't forget that you can catch all of her lovely style – home and family, too! – over at her blog: Home Away From Home)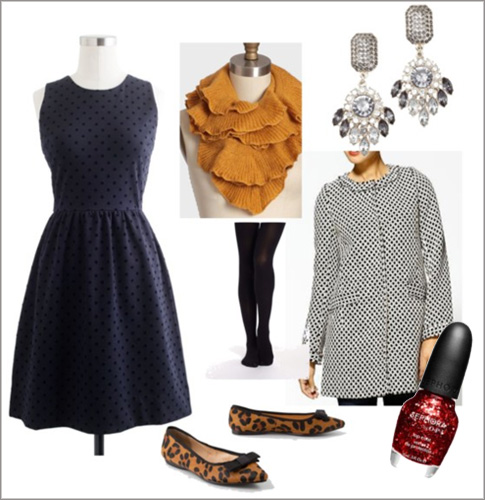 Anna Kate and I didn't share our boards prior to this post, so I was really happy to see that we each took our outfits in different directions. I love her black and mustard combo, and that jacket is amazing.
I was dreaming of a late night Christmas Eve when I imagined this board and what I would wear that could be both pretty and lounge-worthy (for the post-Church gatherings with family and friends or the early dinner that we'll enjoy together. That plus toddler-chasing. The perfect solution? A beautiful tunic top paired with comfy leggings and satin sparkle flats. Plus accessories that announce that the occasion is indeed special :). Now if only I could get the below shipped to my casa by the 24th – Amazon Prime, where are you when I need you??
Don't forget that you can catch all of the wear-to-find and price info for the above over in the actual gallery itself (just click on a board to see the details).
Happy 5-days-to-Christmas!!