It's been a while since we revisited the dining room, but I've been in the mood to inject some color into our home this spring (and pink, of all colors!) and this particular room was high on my list. We've had a wall in this space that for some time has needed one BIG piece of artwork. Something colorful and whimsical and oversized, a piece that would 'pop' with beautiful color.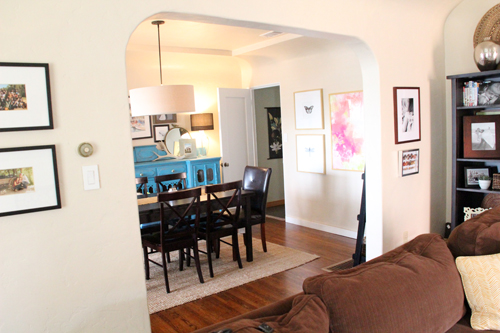 But finding large artwork at a reasonable price is tough! I initially was on the hunt for a big piece of canvas art to add texture to the wall, but I soon realized that purchasing a piece that big (even if I saved my pennies for months) was not in the cards (though there are some really fabulous artists out there – I'll try to get a post together on options). I patrolled Etsy and Art.com and every online shop in between. My mother-in-law gave me a huge 30×40″ canvas so that I could give creating my own abstract art a go – but then I found a piece that I fell for (that canvas will have to find another great spot in the house!).
Minted came on as a blog sponsor right about the time that I was giving up, and Minted's print selection is over the moon fabulous! After searching through their beautiful selection, I fell in love with a print by Kelli Hall called Ligurian Houses. It was the perfect mixture of abstract, colorful, whimsical… it would fit the space perfectly.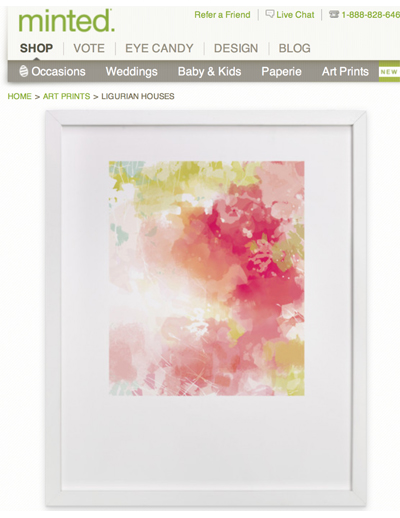 Instead of framing the entire poster as it's seen on Minted, I actually ordered the print in a much larger size than needed and then cut the poster down so that just the colorful artwork was visible. This is a great trick for any poster-style artwork, no need to frame the entire piece if there's one particular portion that you love.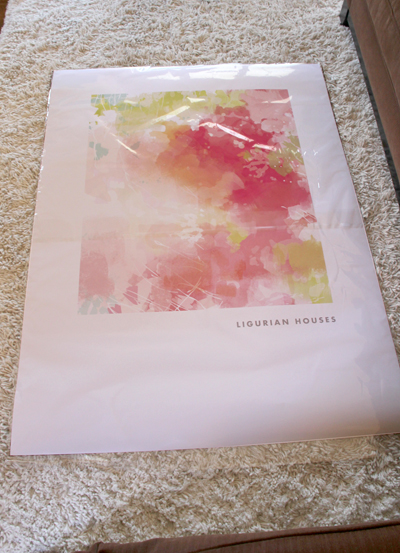 When the print (on a really thick, museum quality archival cotton rag paper) arrived, it was HUGE. I could have wallpapered the dining room wall with it.
When it came to framing, I was on the search for an economical solution, but one that would still look professional and great hanging there on that big ole wall. My favorite Ikea poster frames were just a few inches too long, and I considered breaking one apart as I did here but then decided that spending a little extra to have the right size made was probably worth the longevity of this image.
The most affordable route that I could find? Americanframes.com. I was especially happy that they offered to pop six frame samples into the mail before I ordered so that I could compare the different finishes and wood before making such a big purchase at about $85 sans the white matte.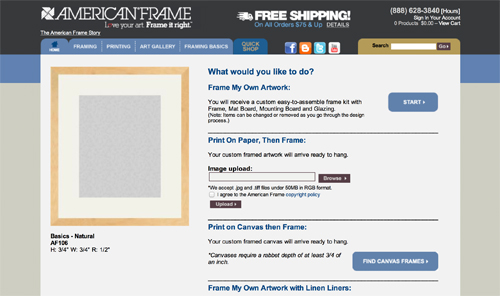 I ended up settling on this natural frame because it matched well with the Ikea framed butterfly and dragonfly, and was the most inexpensive of the bunch.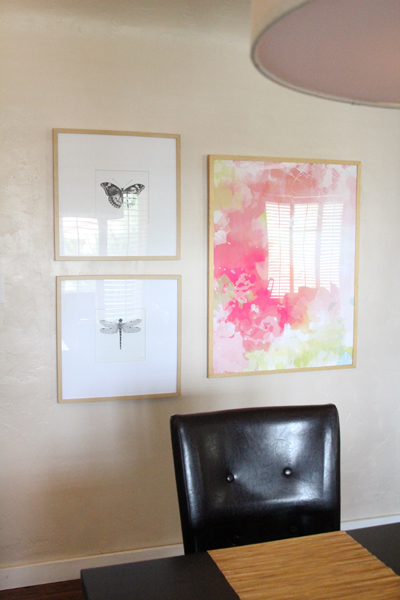 It felt like an eternity but finally my frame arrived! I spent last night assembling it.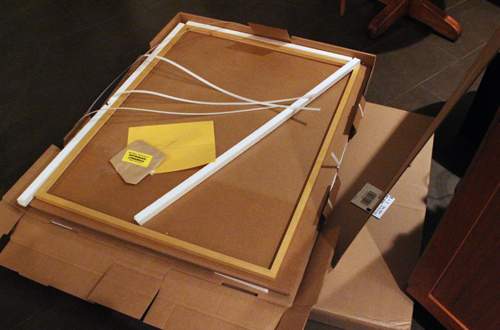 The wood frame came assembled and the backing, acrylic and hardware were in their own separate wrapping. A screwdriver (actually we pulled out the electric screwdriver for tightening the last few clips in place) and hammer later and the artwork was up!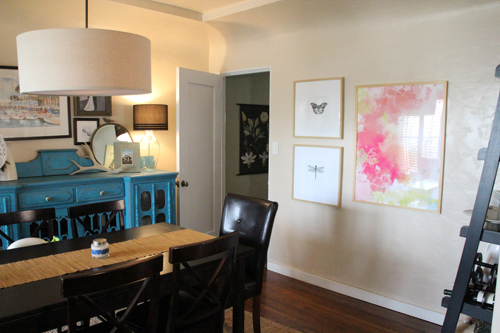 I especially love how it plays so nicely with the new pink additions on the bookshelves in the living room.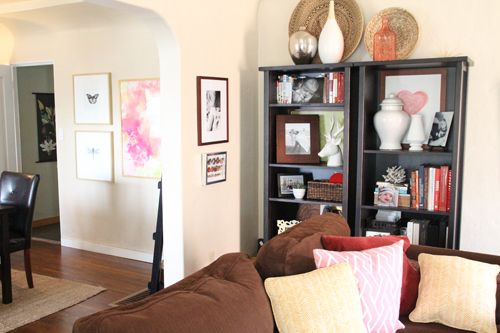 I'm playing with adding a few lighter Spring-colored throw pillows into the mix as well. Yay for the arrival of Spring!!
Here's a link to two additional semi-DIY over-sized pieces of artwork we've recently added to the house (and inexpensive solutions, too): 'canvas' fabric art for the living room and a black botanical chart for the kitchen.
PPS All dining room makeover posts can be found sorted right here.