Very recently I received an email from HomeAdvisor with their Top 10 Spring Maintenance Task List. It was a helpful reminder that come spring, it's time to tend to some of those loooong overdue annual maintenance projects and to finish up some big not-at-all-appealing-but-necessary household tasks (dirty stain riddled patio and clotted gutters – I'm talking to you).
I reconciled the HomeAdvisor list with our own – we have a few big projects that we plan on tackling over the next month such as aerating and reseeding our lawn, restaining several pieces of outdoor furniture, and patching and repainting a few spots in both the kitchen and my office – and we have also just recently tackled a couple of other spring maintenance projects such as washing our windows and professionally cleaning the carpet in our living room and guestroom. None of it is sexy, but so goes the life of a homeowner.

When HomeAdvisor asked me if I'd like to try out one or two of their recommended pros to knock a few more items off of our to-do list, I jumped at the chance to tackle a couple of spring projects that have perhaps waited far too long for any attention. And to have a professional opinion and to complete the work on a time table that was not our own? Huge bonus.
When you have done so much work on your home personally, outsourcing a project to a pro can be nerve wrecking. I have found that the biggest challenge by far is finding someone who comes with solid recommendations, is licensed and bonded, is as detail oriented as I would be, and who is within budget. And finding five of those types of people to compare and choose from? Really tough to do on your own.
Here's a little on how the HomeAdvisor website works:
My first bit of research was on expected cost. What exactly does one pay a professional to power wash a couple of years of grime off of your back patio and outdoor bbq area, for example? This helpful cost guide breaks out just about any service by local and national average, and gives you a few clues on what types of questions to be prepared with when discussing your project with your potential contractor match-ups.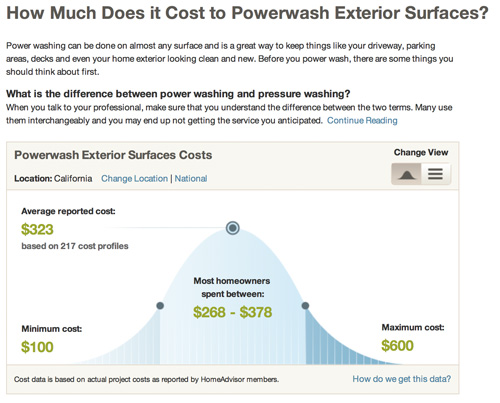 Turns out power washing a big outdoor area with the appropriate boiling hot temperature for moss/mildew/hard-to-break-up-dirt-spots runs the average homeowner about $323. It's much more pleasant to walk into a meeting with a potential hire with a price gauge in mind so that you can make an educated hiring decision. Click on the blue title in this Spring Maintenance List to see where various projects fall, and check out even more cost guide ideas here.
I played around with this feature for lots of project ideas before settling on two very much needed items from our personal spring list: fixing a broken gasket on our guest bathroom toilet (nobody likes to go for a roller coaster ride when they sit down) and installing landscape lighting to both provide a little added security and highlight all of the neat hard/softscape surfaces and plants that we've worked so hard to build and plant.
Here's the before of our home when we moved in: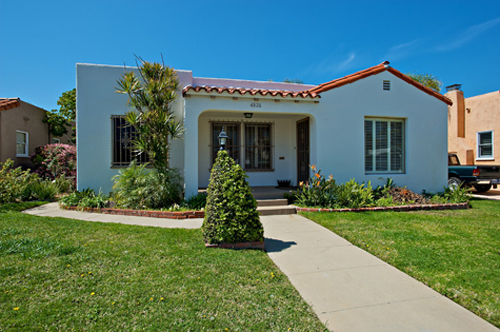 And the landscaping as she sits today: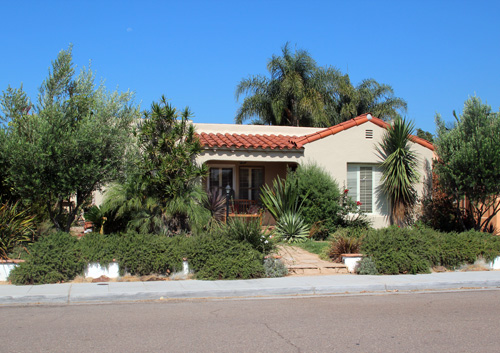 Yep, painting the retaining wall is totally on our spring list as well, and the trim is a decidedly almost white these days as opposed to the trim sparring wars that the windows are having here. Our neighbors must think we're crazy.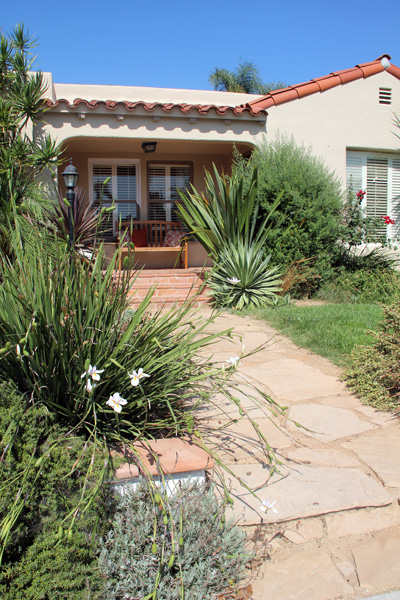 But that awesome flagstone path would look great with a little lighting, and the olive trees (just a few years old and already so big!) would look awesome with a few spotlights. The side yard? Can't wait to see how the deck looks with a few well-placed uplighting accents, and I'll feel much safer at night when I can turn on the lights near our big doors and windows when I'm alone.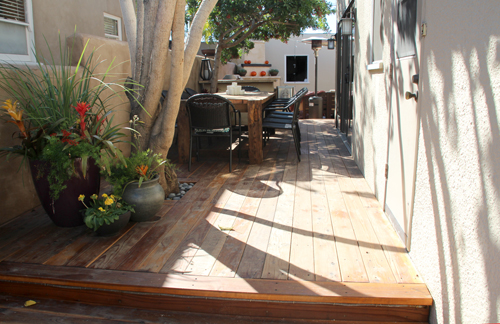 Next up was hiring that pro! After filling out a bit of information on the type of project, the specs of our home and our location, HomeAdvisor sent our details off to be properly matched with the folks in their database. The process from my end was easy peasy, and very shortly I had qualified contractors reaching out to me with when they could stop by to bid.
Our landscape lighting contractor pick arrives tomorrow to install the correct transformer and wire the low voltage outdoor lighting throughout the front, side and back yard. Will keep you posted!
And if you want to check it out, here's the button to get you started:

We partnered with HomeAdvisor to spread the word on their pro matching services, but the opinions and feedback are all our own. Feel free to reach out if you have any further or more specific questions about our experience.