With summer solstice just a few days behind us, it is officially warm-weather, school-is-out, June-Gloom-is-nearing-an-end vacation season. We will be sticking close to home for the next couple of months, but perhaps a staycation in late, late summer is in order for our growing family? Come to think of it, maybe even the promise of family visiting (moonlighting as babysitters) and a day trip out on our own to dinner (or the beach?) will suffice for our vacation this year.
Either way, I'm excited to share with you Anna Kate's style boards for sweet summer outings this season. It might take me a while to fit back into my breezy summer dresses and cute swimsuits, but these two layouts have me motivated. Let me turn it over to AK.
****************************************************************************************
Hello PDB readers! I'm doing my best to stay cool here in Arizona, so I'm dreaming of loose, airy Summer dresses and sandals. I LOVE this dress! The elephant print is really fun and interesting, especially paired with a bright yellow necklace and fun bird clutch! This outfit is perfect for a warm night out while on Summer vacation!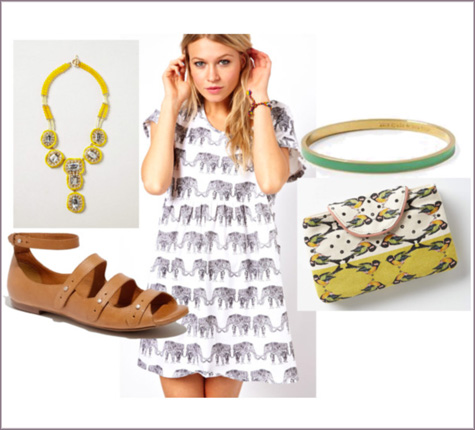 I'm not sure if I've mentioned the outrageous AZ Summer heat yet (yeah right), but it's really hot. If I could, I would live in the pool for the next three months! I love this red suit from JCrew- the color is really flattering, the underwire is so necessary, and the sweet scalloped edges are really pretty and special. And it's on sale! I would wear it with neutral, beachy accessories to make me feel like I'm on a beach vacation every day!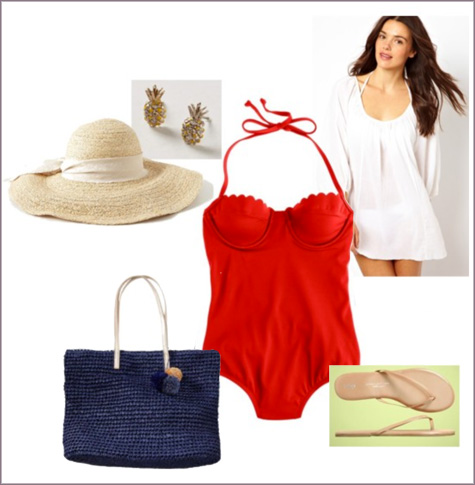 ****************************************************************************************
Ahhh summery deliciousness, thanks AK (ps you can find her at any time blogging over here). I'm especially loving the hot mama swimsuit, yellow Anthropologie necklace and wide brimmed straw hat right about now. I've been sporting my own version – straw hat, not hot mama swimsuit – as the sizzling sun breaks through our June Gloom out here in SD, too and it's been the world's best investment.
PS Speaking of swimsuits and sweet summer finds, you can find all of the style boards as well as links to the above pieces right over here in the gallery.