I feel part hit by a train and part like I am living in hazy exhaustion. But mostly, mostly all bliss.
These past few days have been a whirlwind as we have welcomed our second daughter home and have slowly started the process of becoming accustomed to life as we now know it. Liv is a little momma, but she's having a time getting adjusted as well. Kevin is a champ and happily totes either one of his baby girls scooped up in one arm. I am trying to stay afloat with too little sleep, an overflowing inbox (snail and the digital type) and a to-do list a mile long (didn't help that I put much of that 'extra' stuff on hold about a week before we went into the hospital). Now just trying to catch my breath.
I am mostly relieved that I am not pregnant anymore. Part that I get to hold and kiss and smell that sweet newborn smell – part that all of the angst and weight (literally and figuratively) of this pregnancy is now behind me.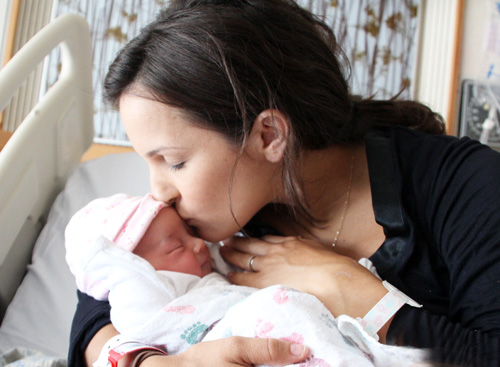 Last week I was beginning to wonder if baby girl #2 would delay her arrival and wait for July. I had been holding on to the magical month of 'June' for the past nine and a half months and it didn't seem possible to me that she would suddenly become a July baby (when your due date is June all you can think about is June…). But last Wednesday we scheduled our induction for July 2nd and simply crossed our fingers and said a prayer that all would happen before then to avoid any type of intervention.
And then it did! Here's our little story…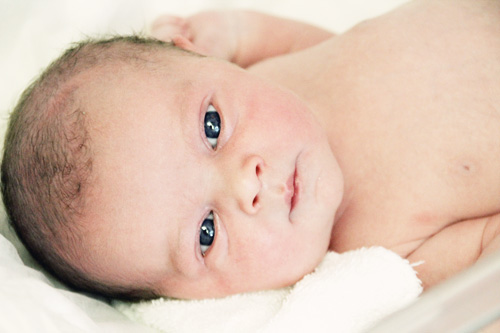 On the morning of June 27th I awoke to strange, rolling stomach pains that kept me from falling back asleep. My first awareness of labor was probably at 5am or so, and given the fast nature of my delivery with Liv, I didn't wait long to consider and confirm the contractions before deciding we'd be heading to the hospital soon! I'm relieved that this time around I did get some sleep the night before (my water breaking with Liv woke me at 2am after a 1am bedtime) and I had the chance to wash my face, brush my teeth and put the last provisions together and into the hospital bag.
I woke Kevin and my mother-in-law (thank goodness for family) up at about 6am and we ate a quick egg breakfast (from our chickies) and departed. My water had yet to break and I anticipated it at any moment, but it never did. The bonus of no water breaking is that my contractions were slow to start and I was able to gradually and slowly experience and endure the rising pressure and pain of each. Water breaking equals massive, rope-biting contractions right out of the gate and that was hard to cope with.
After what seemed like an eternity on the triage floor (apparently we arrived just in time for a change in shift), we were admitted to Labor & Delivery at about 7:30am. I had reached 5 centimeters at this point and was more than ready for the anesthesiologist to do her thing. I knew that this would be another fast labor and that we might not have much time before my body would be ready for transition (very crazy to think about in hindsight!).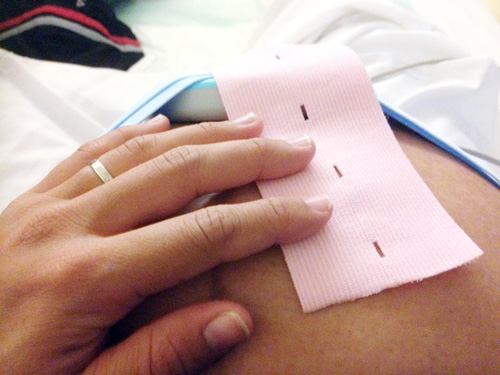 With midwife care for Liv I was immediately taken to a laboring room and allowed to 'begin' working through my various laboring positions and breathing. With the doctors however, I still had to stay strapped to a bed with fetal heart monitoring and contractions closely watched by a machine. It is very hard to labor sitting or laying down! All I wanted was a birthing ball and Kevin to grip.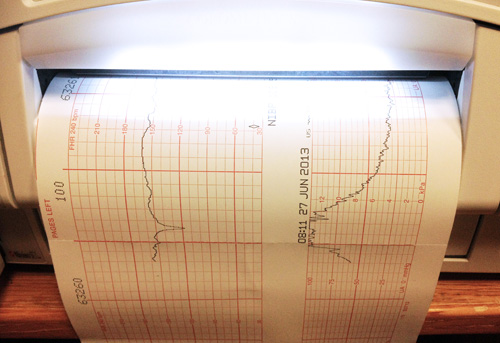 Finally we were moved to the Labor & Delivery unit and I learned that I was first on the list for the anesthesiologist. A rush of relief came over me that was almost equal to the now very painful contractions.
The moment that epidural was in place was the moment that Liv and Taylor's labors became drastically different experiences. I'm glad to have experienced natural childbirth with Olivia and to have known first hand the power and strength of the female body. But opting for the medically assisted route this time around proved to be a blessing and a relief that I cannot even begin to describe. Labor is hard, our body changes in form and function in a very short amount of time as it builds that perfect birth canal and manipulates our bones and muscles to comply – it is gruelingly exhaustive.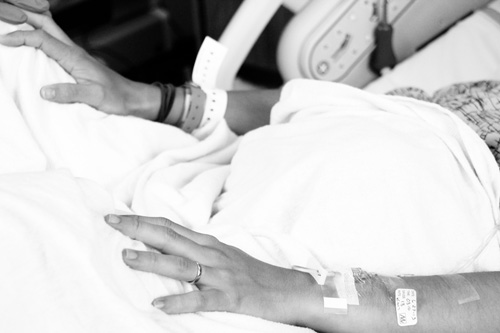 At this point I felt like I could nap! Or perhaps open up a bottle of wine and start celebrating. That epidural is a powerful fix. And about an hour after the epidural my doctor offered to break my waters – now that is how you get labor really bustling along.
An hour or so later I almost cried when the doctor announced that I was at nine centimeters and that we were getting ready to push! I had travelled through transition and I hadn't felt a thing (during those same moments with Liv two and a half years ago I was sure I was going to die). I am still very much a pro midwife, pro hippy momma, but modern medicine is pretty cool, too.
The doctor was on her way to the OR but the nurse had convinced her that perhaps I would deliver first given the speed of Liv's delivery. I'm so glad that she stopped in to check on me.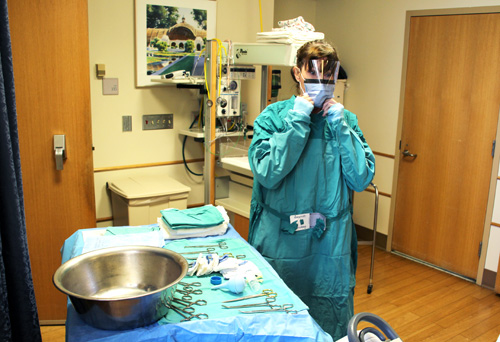 At this moment a very unexpected set of visitors walked through our hospital door. A film crew that was working on a documentary for the hospital called 'A Sharp Experience' (that's the name of the hospital, not the verb that was describing my experience) happened to be working on the L&D floor that morning. They asked if they could film the moment that I met Taylor for the first time, that precious 'momma greets baby' chest-to-chest snuggle. Since I hadn't documented nearly enough of this pregnancy for Taylor (I was snap happy with Liv) I thought that this would be a very exciting way to capture something extra special for this baby. Kevin and I agreed.
Here's hoping that my pain med-induced decision will not be a regrettable one when they air the documentary on TV :-). (Yes, they did capture all of the pushing and all of the special faces that I made. But from the waist up! They stood north of me and I was clear that they were not allowed south, if you know what I mean.) Here's a link to other Sharp Experience documentaries that they've aired and have even received several Emmy awards for.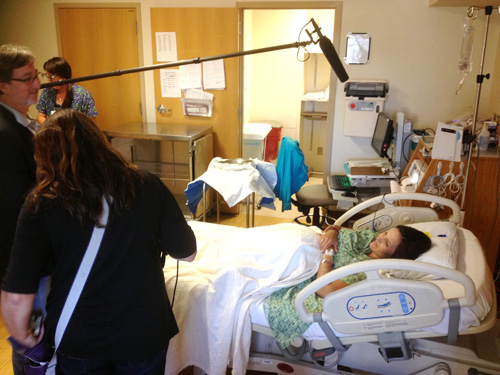 The moment Taylor arrived was indescribable.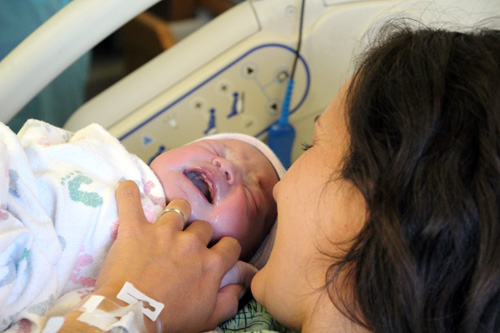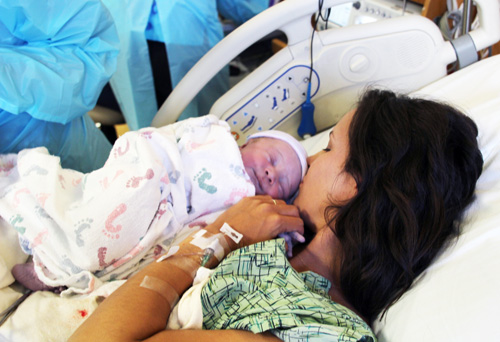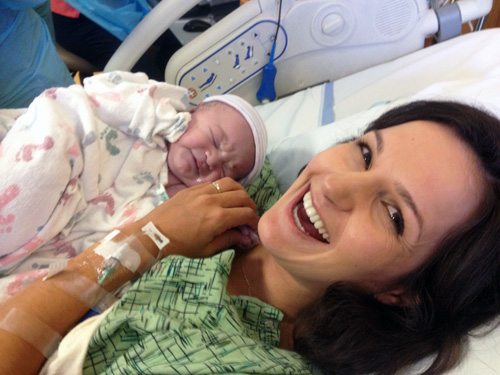 I was so high on pure joy that I forgot about everyone else in that room. Not the doctor that was stitching me up (thank goodness again for the epidural), not the film crew, not the nurses that were busy sorting OB tools and baby blankets… it was just me and this beautiful pink baby with those big blue-grey eyes.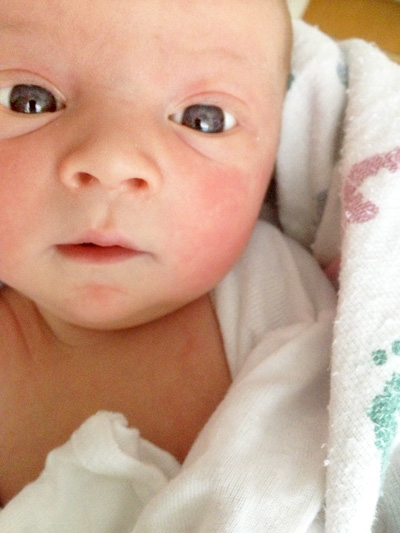 Taylor Rose was born at 11:16am on Thursday, June 27th. She was 20 1/2″ in length and weighed 8.1 pounds. Six total hours of labor.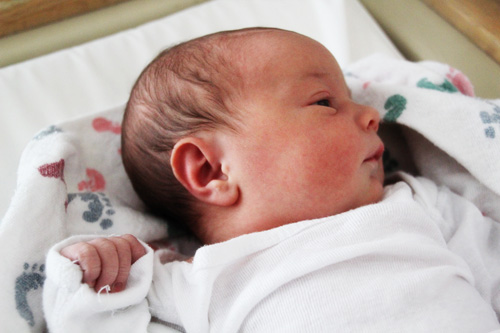 Funny story – both the length and weight of Taylor that was collected the morning of the birth ended up being incorrect. A miscalibrated scale made us believe that she was actually 7.10 in weight, and a super tightly scrunched up baby led us to think that she was 19″ in length. All was corrected in a couple of days but what a surprise!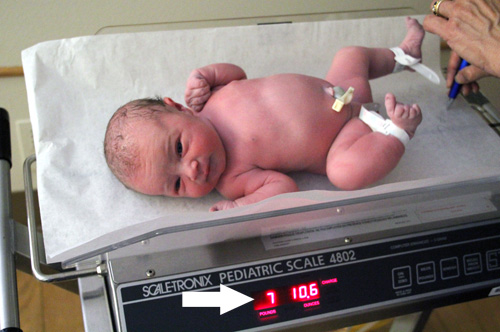 Liv meeting Taylor for the first time was exciting. There was a lot of apprehension initially (I'm sure the hospital room, my IVs and flappy green gown helped with that) but soon she warmed up and could not stop loving on the little one.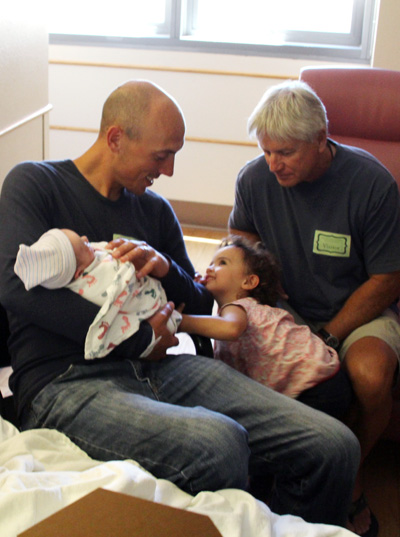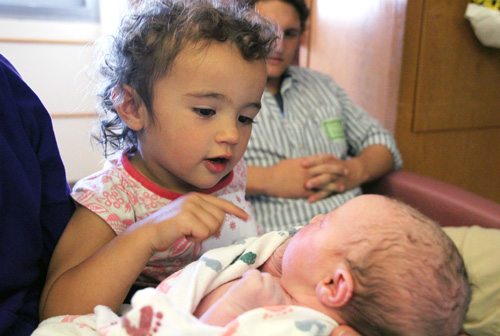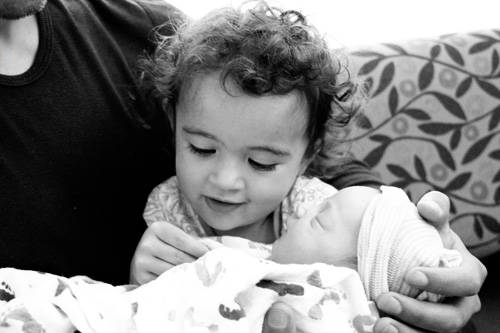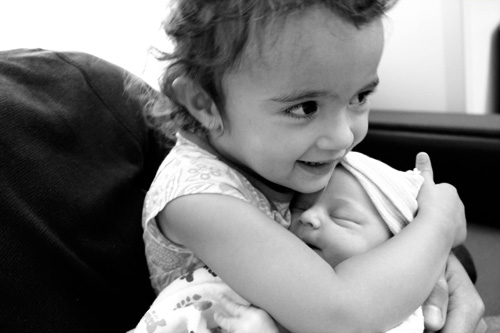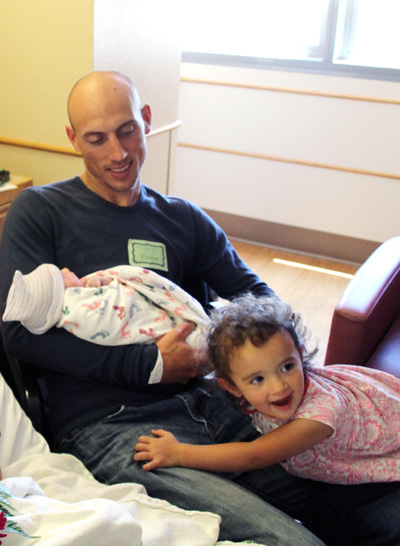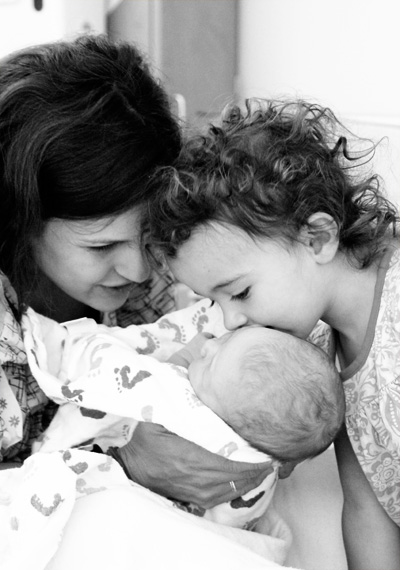 Love at first site for Daddy. Skin to skin bonding: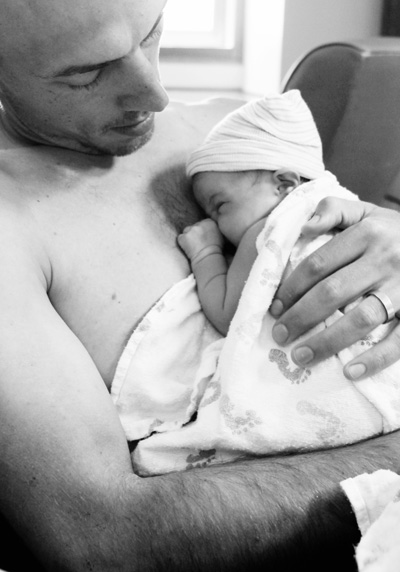 And later on more snuggles. Kevin could have sat there for hours just like this.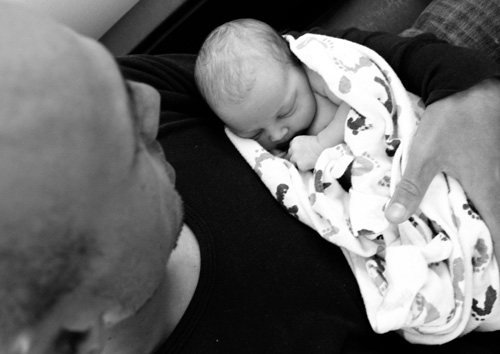 The nurses were great with Liv, she wanted to try everything out.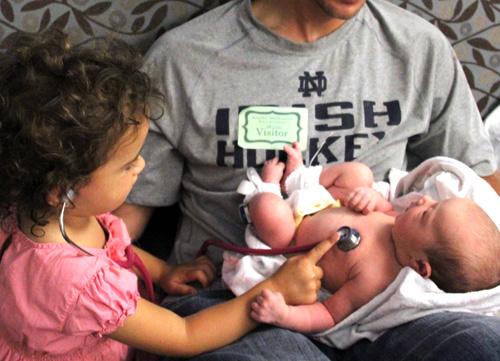 Especially being a momma herself.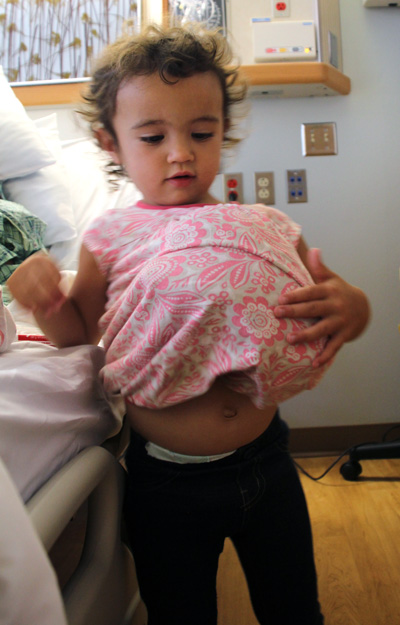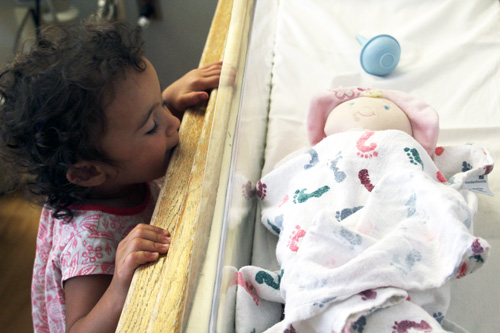 Over those first two days we had plenty of friends and family love. There's nothing like a Starbucks or brownie bites or a delicious Mexican dinner delivered from the outside world when you're in the hospital. Thanks, guys!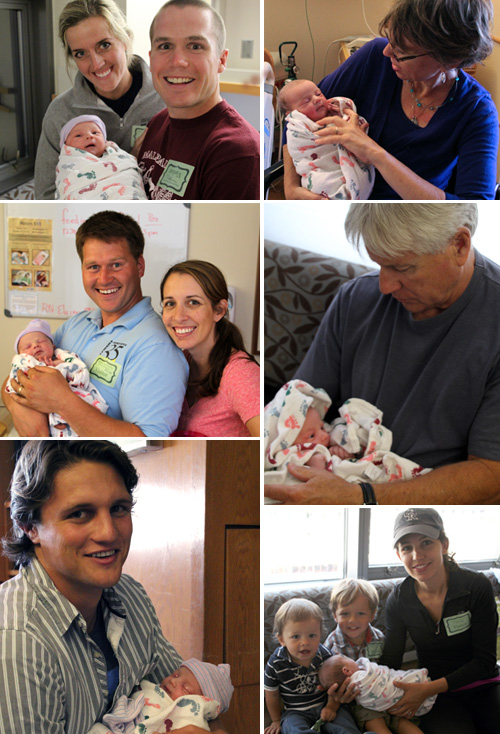 A special thank you to Liv's Mimi who stayed with her at home for our entire hospital visit and made Liv feel extra special during this transition period.
My time alone with Taylor was such a gift. We had two full days to snuggle and love before the real world came calling.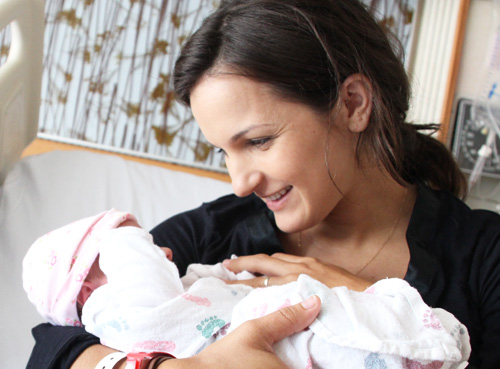 And soon enough we packed up our bags, our new bundle of joy and it was time to head home…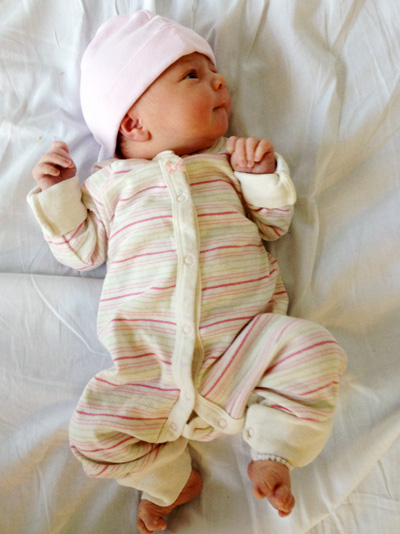 My postpartum healing has been reasonably comfortable, nursing is going mostly well and I am amazed at how labor the second time around has treated me. Looking back on this entire experience I feel so blessed and humbled at how calming the last week has actually been. I am so grateful to say that. My prayers had been answered, the anxiousness that I had expected didn't make even a small appearance.
I told Kevin that with this sort of story I could have ten babies easily, no problem. But don't hold me to it :-).
And that is Taylor's story. Thank you sweet girl for blessing us with your presence.