My office is in need of some love. Since I work from home (my company is in Northern California and I'm lucky enough to not have to make that commute from San Diego more than every couple of months), I spend a good portion of my day there. It is my work-craft-play space. It holds equal amounts of company paperwork/portfolios (I'm the marketing director) as well as bolts of fabric, sewing supplies, balls of yarn, boxes of paints, you name it… so storage is a constant necessity.
I have this little corner in the office that was previously underutilized, and now boasts of a bit more storage for all of my random knick knacks.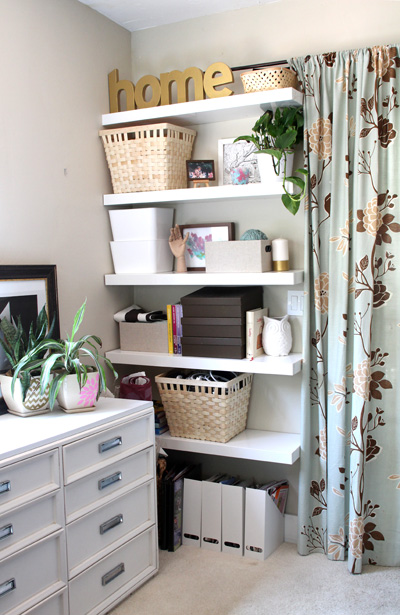 I love the look of floating shelves! The shelves don't feel too 'grounded' in the space because they lack legs and a backing. It's open, light and airy – perfect for a room that is currently overloaded with furniture on all sides (namely, two mid century dressers, bookcases and an oversized desk – a dining table that we cut down).
Styling and color inspiration from Pinterest (I couldn't find the sourcing for any of these links which is such a bummer… but you can see the original pins on my Office pin board).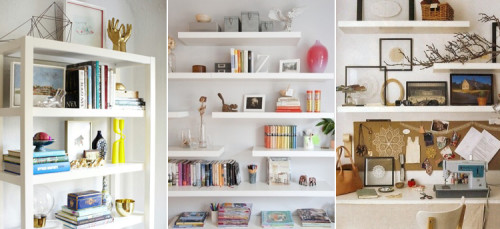 I initially had plans to build these floating shelves myself since I couldn't find anything in price range for the unique wall size of this corner. But then as I was inspecting a LACK unit from Ikea, I wondered about cutting down the long shelf to the correct size.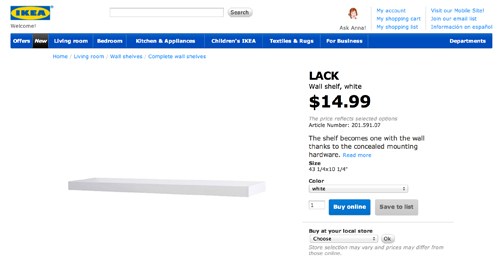 I experimented with one, and it worked! Next came installation:
For these to be even somewhat stable they must be connected to the wall through studs, so the trial and error took a bit. But all was finally finished and I had a new set of wall shelves.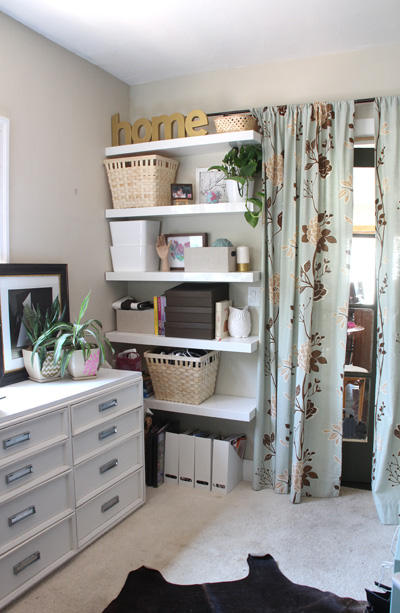 I noticed right away that these shelves weren't going to be book holding, heavy basket toting shelves – it's part the Ikea particle board from which they're built, part the fact that they are bolted into just one wall (when exterior, below-the-shelf brackets would have possibly allowed for stabilizing from two walls), and part that we cut them down by about a foot, but they hold baskets of computer cords, balls of yarn and fabric swatches just fine.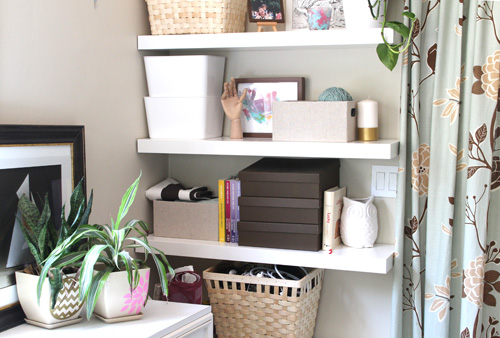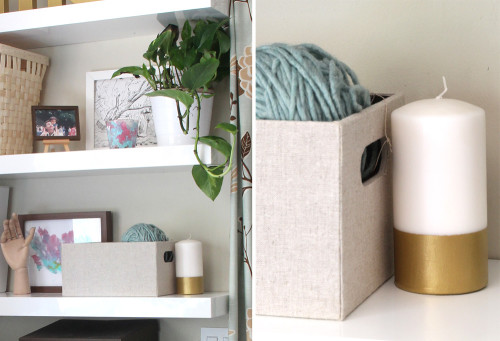 I moved my gold lettering project in from the living room too. I think this is a great new home for my H O M E.
The baskets, magazine butlers and white stacking containers are from Ikea, the brown boxes from See Jane Work, the black and while sailing print a thrift store find, plants and containers from Green Your Air, wooden hand sculpture from TYPO.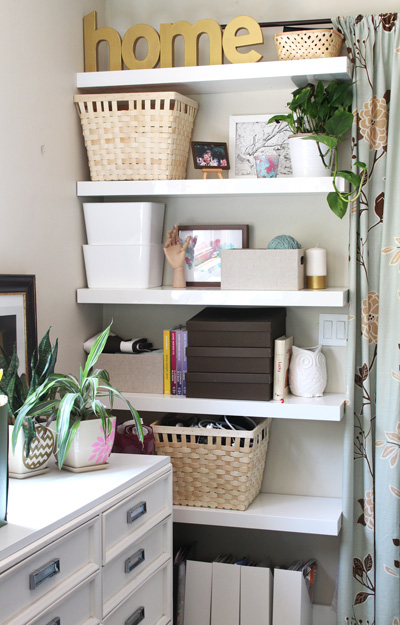 Here's the other side of the office. We need some bright pops of color up in here!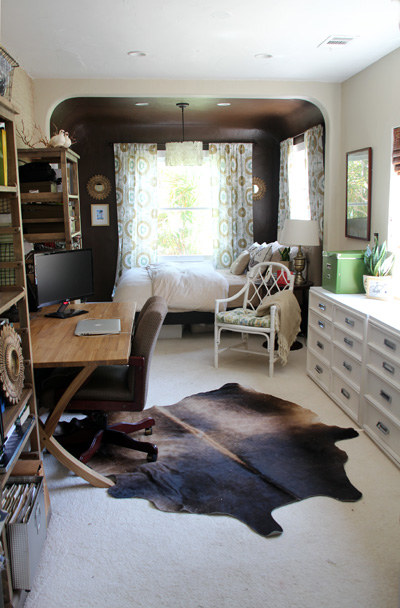 Next up, a newly covered office chair (in velvet, ooooooo so soft), some pretty art and a better filing system.
PS More Office Makeover posts (from the point that we tore those walls down to convert the space from an old kitchen into an office) here.