There is one last little nook in our den-to-kitchen space that is yet to be finished…
From the perspective of the office (or the front of our kitchen), the kitchen looks pretty complete. Especially considering that it started out as a den (wood paneling and all) five years ago.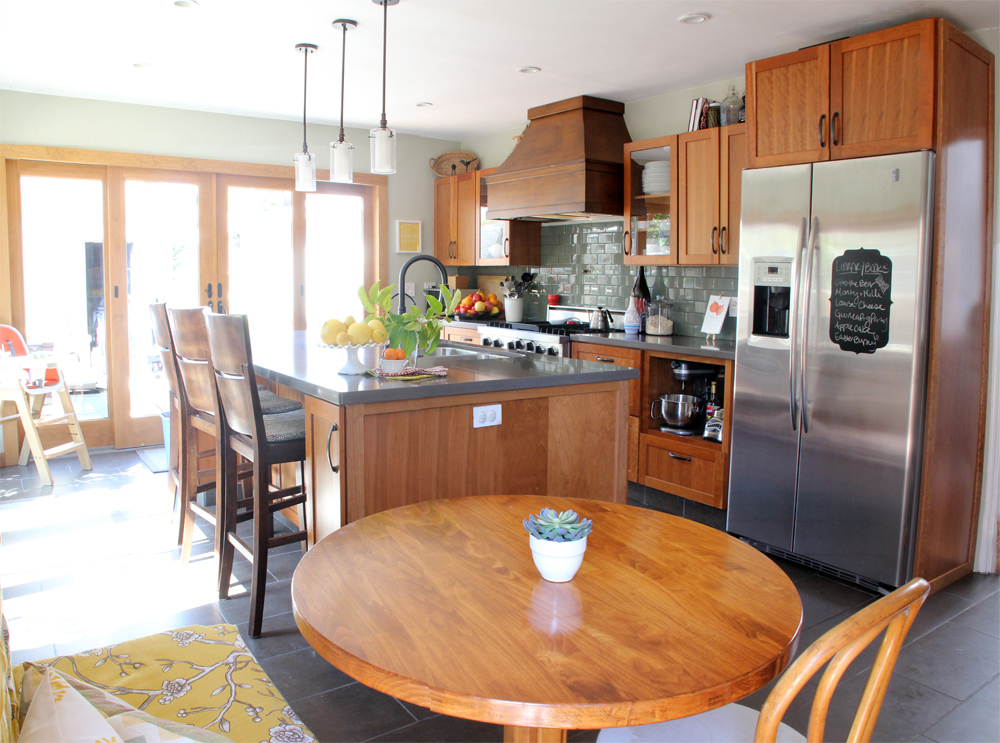 But if you were to look to the right of this space, you'd see a clear glass door that looks like this: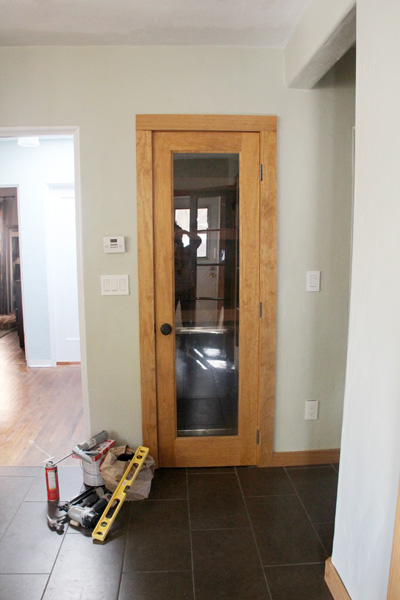 Harmless at first glance, but if you open it up you'll find a half complete shelf space lined with random cleaning supplies, dog gear and bulk paper towels from Costco. I keep waiting for it to be finished finished before filling it with food and using it as intended.
It has plans to one day be a fabulous pantry, one of those organized, pretty pantries that come complete with labeled shelves and cute baskets and bins sorted by type of canned veggie.
But on the bright side, at least it's not here anymore!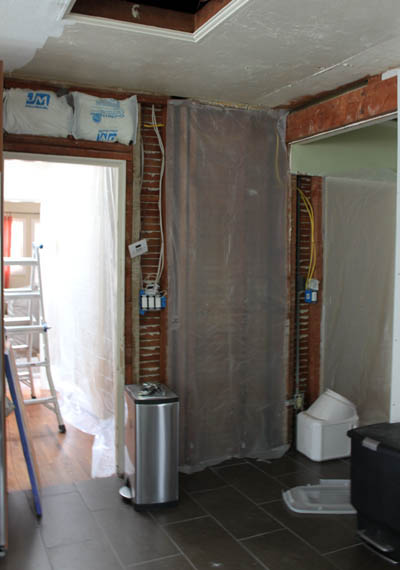 A pantry will be nice because the kitchen actually has very little storage (much like the rest of our house) thanks to last year's transformation of three closets to a full bath.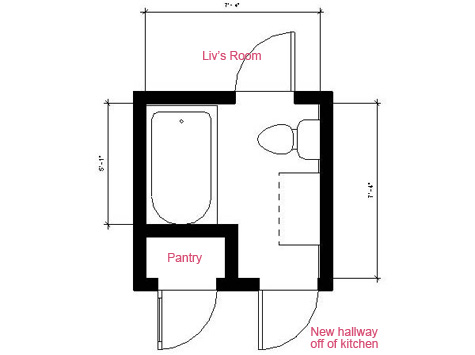 The bathroom is worth its weight in gold and getting rid of closets has caused us to streamline our saved gear (jackets, boots,etc) or find new homes in places like the garage for rarely-used clothing. The lack of house storage is starting to take its toll three years in. Good news for the kitchen! As you can see from the above layout, when we built that new bath we also built in a small pantry space. A small, underutilized (until today) space that I can't wait to finish up.
I shared here how Kevin had basically dreamed up a man-cave pantry complete with beverage cooler for his craft brews and pallet lined walls for that rustic look (with rope lights no less).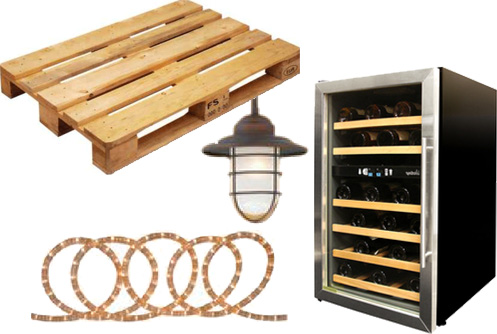 Kevin insisted upon a clear glass door while I suggested we frost it. He agreed to be very organized when it came to canned goods so I agreed to give the clear you-can-see-everything-inside a go.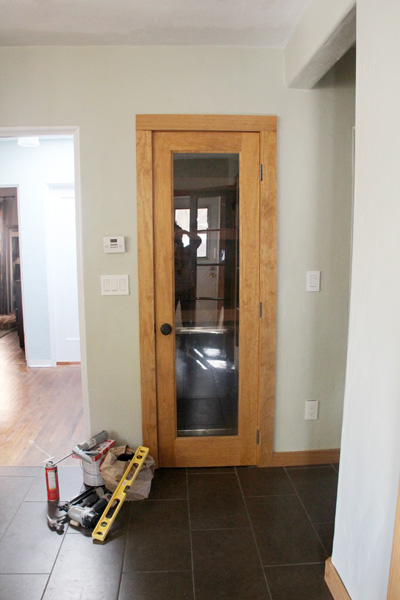 Let's just say that that's not working out so well…
So now it's my turn to dream up a lovely pantry interior storage solution! Happy to get my paws on those bags of dried beans…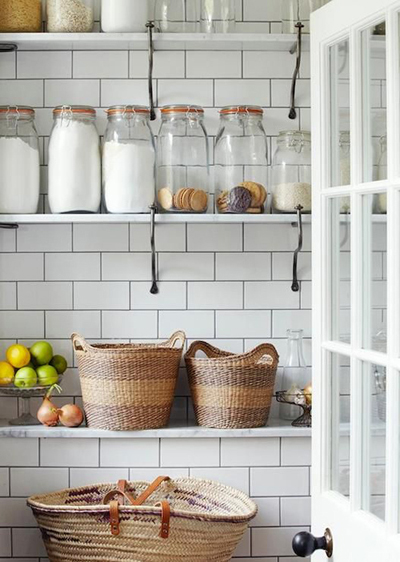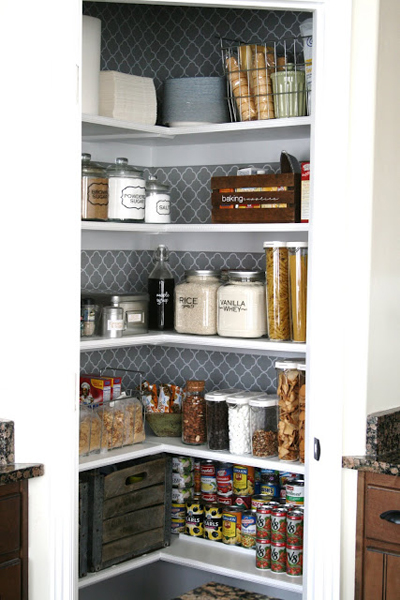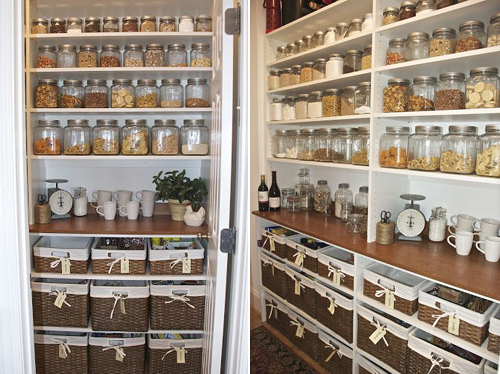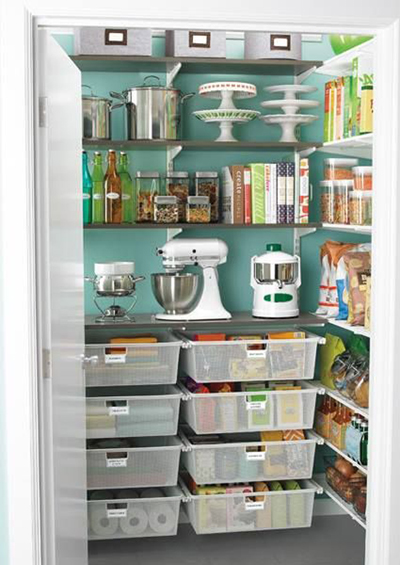 Jars and baskets and bins, oh my! Can't wait to get started when we're back from our little R&R trip to Florida…
PS More Kitchen Makeover posts here.