I knew this day would come, I just didn't realize how quickly it would arrive. Our beloved shaggy white living room rug has bit the dust. Between kids and bare feet stomping around and a very big dog she eventually, after just two years, began to look less than inviting. And with a new baby that's soon to be scooting around?
But not to be dismayed by my rotating rounds of white rugs, I have gone ahead and ordered another.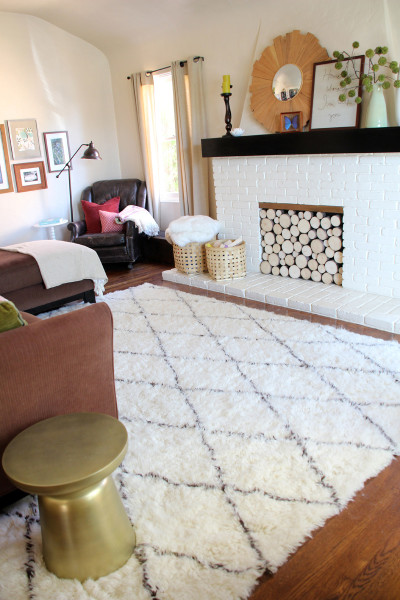 White, you might think? Why white again? See, having a white rug is a bit of a two edged sword. On the con side it has a tendency to get dirty (hehe). On the pro side, we have a 100 lb yellow lab who sheds a body's worth of hair each day. I sweep the kitchen (which has that dark grey porcelain tile) in the morning, in the afternoon… but to vacuum our living room, which is one of the most used rooms in the house, twice a day as well to hide all of that shedding on a dark colored rug? Yikes.
Here's that handsome fellow after one morning's quick brush down with the furminator (the most wonderful dog brush in the world).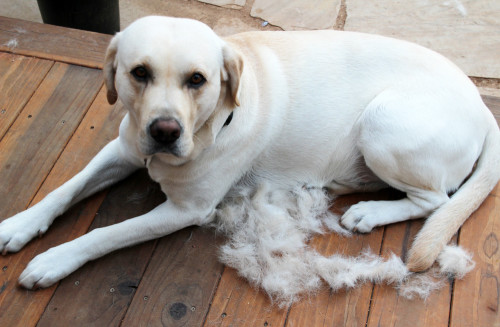 I could stuff throw pillows with that amount of hair. So oddly enough, a white rug makes a crazy amount of sense for us. (Not that I still don't have to vacuum it frequently, that could get a little icky.) Plus it keeps the room so bright!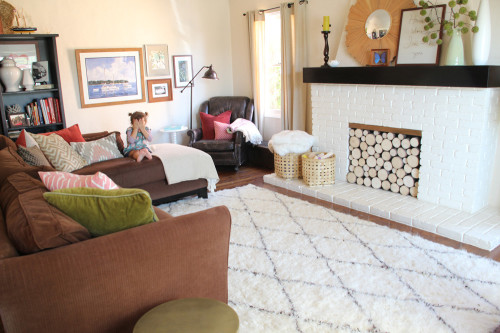 Peek a boo :).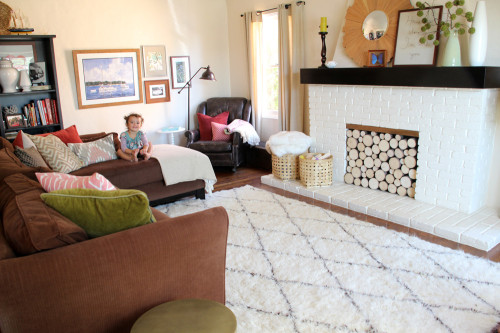 As far as the pattern goes, I fell in love with this style of a Moroccan shag rug when we were in Marrakech last year. They are so beautiful! I would have loved to have brought one home but I had a terrible time figuring out a way to stuff it into my suitcase…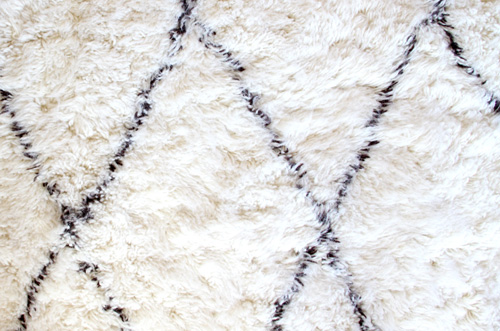 I usually prefer the long-haired shag rugs to shorter tufts because they're generally easier to keep clean. For example, Liv left a red crayon out on our last rug and the sun melted it right into the hairs before I caught it. Luckily I was able to cut it right out, gave the rug a little tousle and no one was the wiser.
This particular rug is a bit silkier, for lack of a better term, but it would be equally easy to trim.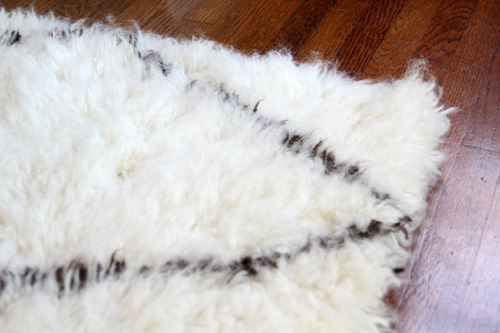 I've actually had this exact rug in mind for the past year, and this month I partnered with the folks over at Rugs USA to bring this baby home.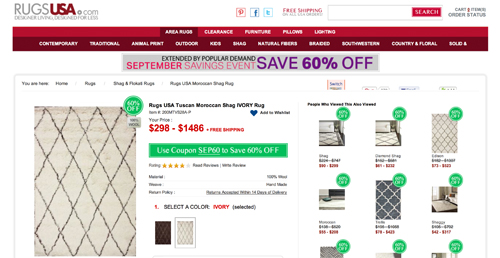 Rugs USA is known for their incredible discounts, they're actually having a 60% off sale right now when you use the code SEP60! Sweet deal.
This rug is SO soft, so pretty and so perfect for this space, I couldn't be happier.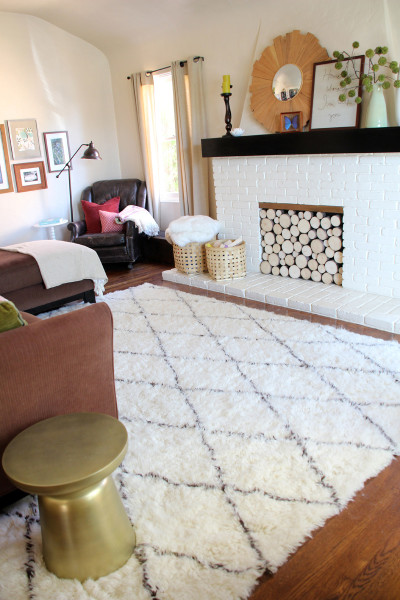 This post was sponsored by Rugs USA who gave us a discount on the above rug for our living room. All of the comments are our own!