What are your Thanksgiving plans this year? We have started a tradition of cooking and celebrating Thanksgiving dinner with my dad and my brothers and sisters on my dad's side. That will take us to Oxnard, California (just north of us by about four hours) this year, though we have plans to rent out our house through airbnb (like we did here).
Another family tradition? What has come to be affectionately referred to as Grandma's famous buns. I mean the edible ones (though I'm sure she had a killer backside in her day, too).
These are the tastiest, most delicious, perfect-for-cranberry-and-turkey-sandwiches-the-next-day buns.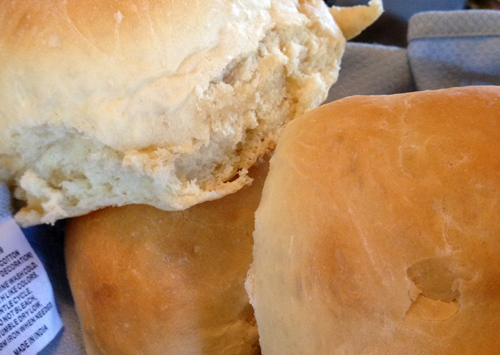 This is actually my Great Grandma's recipe, and likely from women in our family before that. And I (humble bow) pass this family secret on to you. Because this roll recipe is so phenomenal that it deserves to grace the table of many a family this Thanksgiving.
(I wish I had better photos – just a few iPhone photos and instagram images that I shot while baking the bread with Liv last year).
Great Grandma's Buns
aka 2 Hour Rolls
Ingredients:
2 packages yeast
½ cup sugar
2 eggs
2 ½ cups warm water
3 tablespoons melted shortening
¾ teaspoon salt
7+ cups of flour
~2 tablespoons for brushing baked rolls
Makes 24 or so rolls, takes about 2 hours from start to finish (that includes time to rise twice plus baking).
Beat the yeast, sugar, eggs and water in a large bowl until foamy. Add 3 tablespoons melted shortening and ¾ tsp salt. Gradually mix in 7 or more cups flour. Knead just enough to mix well. Place in large bowl, cover with towel and let rise in warm place until double in size. Make into golf ball sized rolls (and no bigger – though it will be tempting), place in buttered glass Pyrex dishes with space between. Let rise, covered in warm place until doubled. Bake 20 or so minutes at 350 degrees. As soon as they come out of the oven lightly brush with butter.
I start the rolls the morning of and intermittently work on them and the rest of the meal (while they're rising or baking) so that the rolls are about ready when we're ready to eat. They're really not a lot of work at all. Make extra so that you can enjoy them as turkey sandwiches the next day! Delicious with gravy, stuffing and cranberry sauce. That might be what I look forward to most!
I will snap better photos this year! Until then, my sous chef (sans Thanksgiving 2012):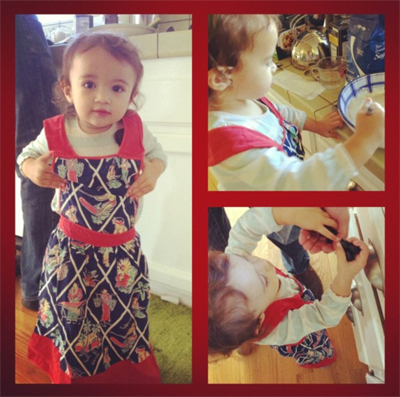 I love putting together a pretty Thanksgiving table! I remember one Thanksgiving when I was maybe 18 or 19 and had 'free reign' to decorate my dad's Thanksgiving table in his new town (and completely empty home) in New Mexico. He lent me his credit card (ha!) and I think that he almost fell over when I arrived home with bags of gold chargers, wine glasses, sparkling centerpieces, florals and cloth napkins… and little presents for everyone's place settings ;). I take offers to 'create a beautiful table' seriously. Needless to say he didn't openly extend the invitation again.
I'm partnering up with Target to share a few of my favorite table finds (as well as my above favorite tradition) and I must say that I was pretty impressed with their selection. Kilim placemats and dark black pottery? Yes please. And wine is great with dinner but a special Thanksgiving cocktail is delicious! (love these hiball glasses.)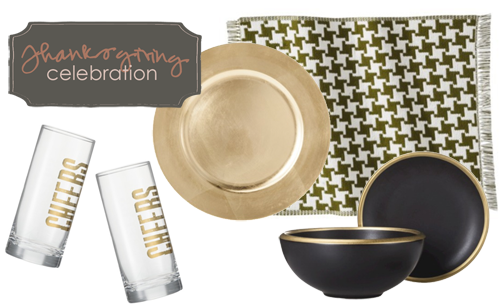 kilim placemats | gold chargers | black & gold ceramic bowls & plates | cheers hiball glasses
However (and wherever) you celebrate your Thanksgiving (that is – if you're here in the States!), I hope that you have a beautiful one! Can't wait to get started on Grandma's buns this year.
More recipes to share here.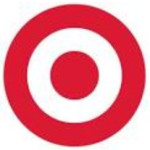 This is a post sponsored in part by Target. Check out sites with this hashtag: #MyKindOfHoliday for more great Target finds this holiday season.