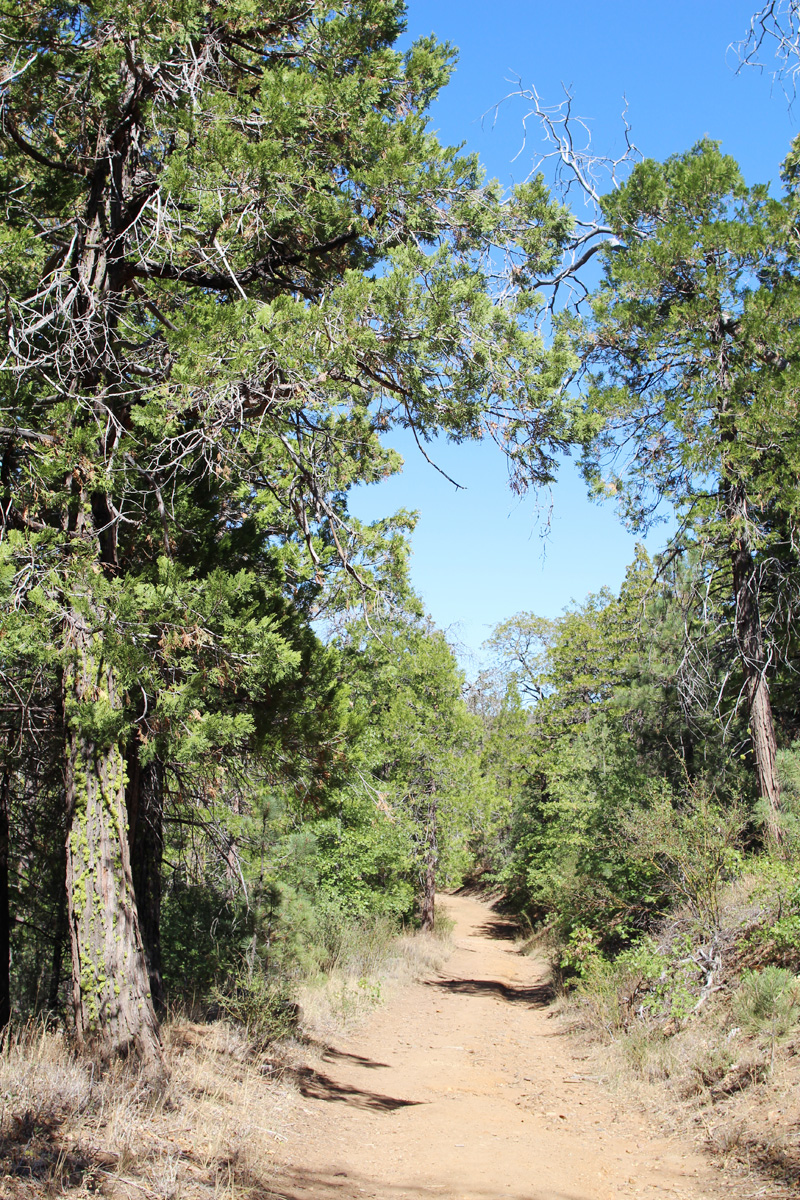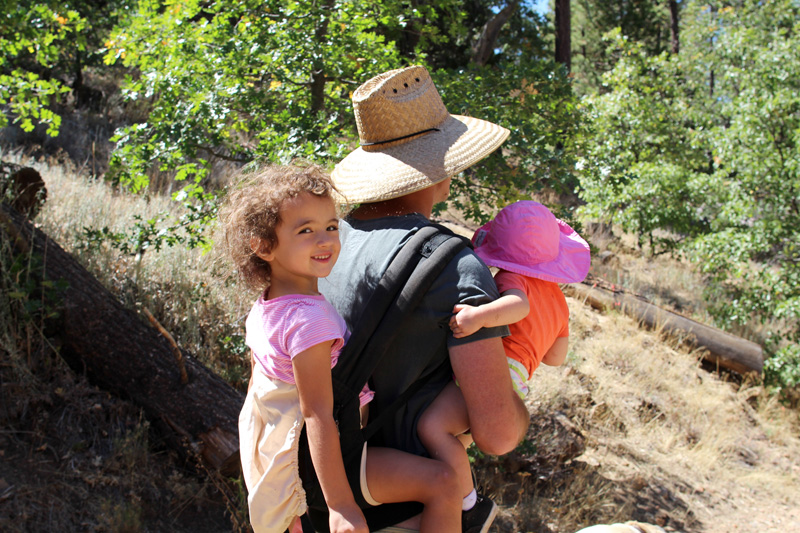 Thank you NatureBox for sponsoring this post! Check out all 100+ yummy snack options here!
We try to explore a new San Diego 'backcountry' trail as a family as frequently as possible. Moving south from Northern California meant a big change in scenery for me. Redwoods and giant oak trees to high desert and lots of brush. But there's so much beauty in it all, and occasionally we stumble upon a particularly magical spot that we all just soak up.
Mount Laguna is one of those spots – tall trees, snow in the winter, super close to home (about an hour). I sometimes lament the fact that we don't have our own backyard with a lawn or one filled with kids structures and toys. I think how easy it might be (now that the girls are old enough to play independently) to 'send them outside' to run off some energy.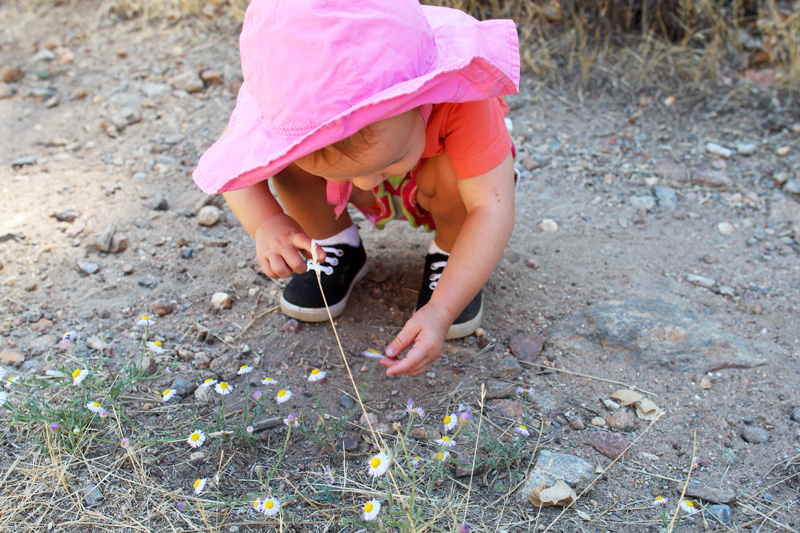 But then I remember that we live with the beach 10 minutes from our home in one direction, a park two minutes by foot in the other, and beautiful, glorious mountains and trails 20-60 minutes in yet another.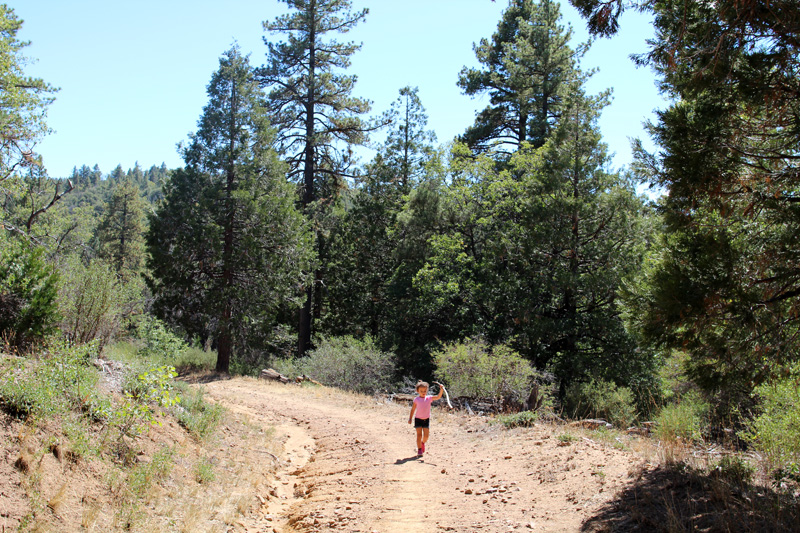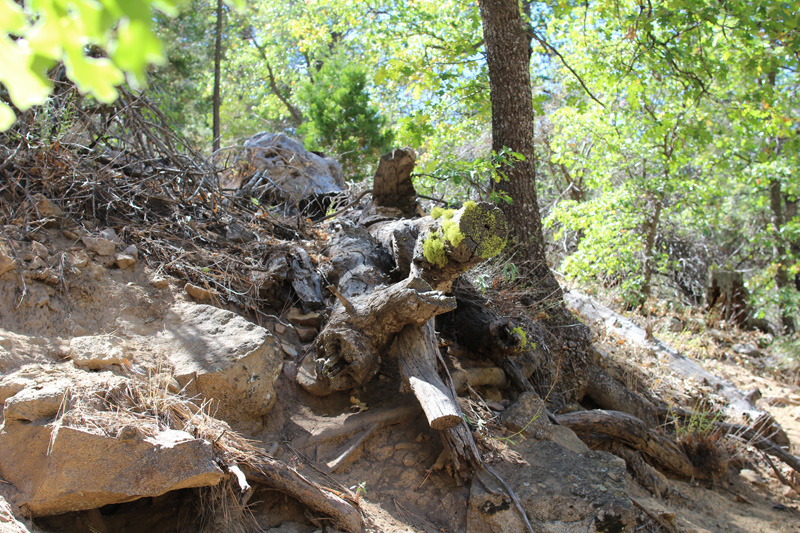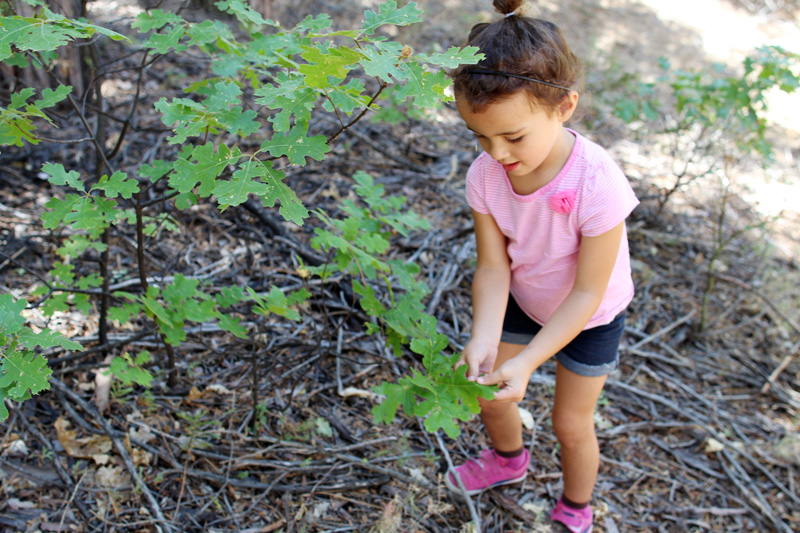 Our family seems to especially connect outdoors. It's a good place to be. We reconnect with nature purposefully by loading up the girls, a hiking backpack (or two), water bottles, snacks and a camera.
Some pics from a recent excursion to Mount Laguna (where we dream of one day owning a single-room wooden cabin surrounded by pine trees, squirrels and even that snow(!) in the winter).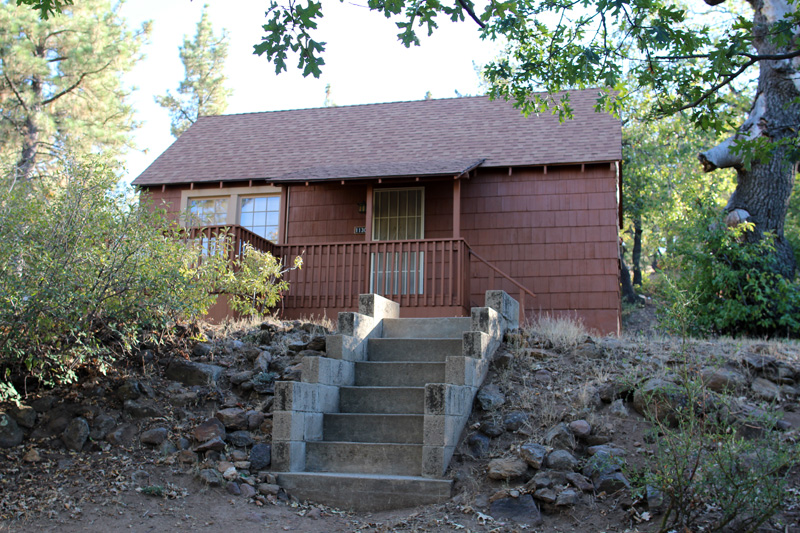 I was totally zealous about scooping up one of these cabins. We even spent about an hour driving all over the area exploring favorite roads and scouting out dream spots just in case one day…
One of the activities I love to encourage the girls to do while on the trail is to collect treasures.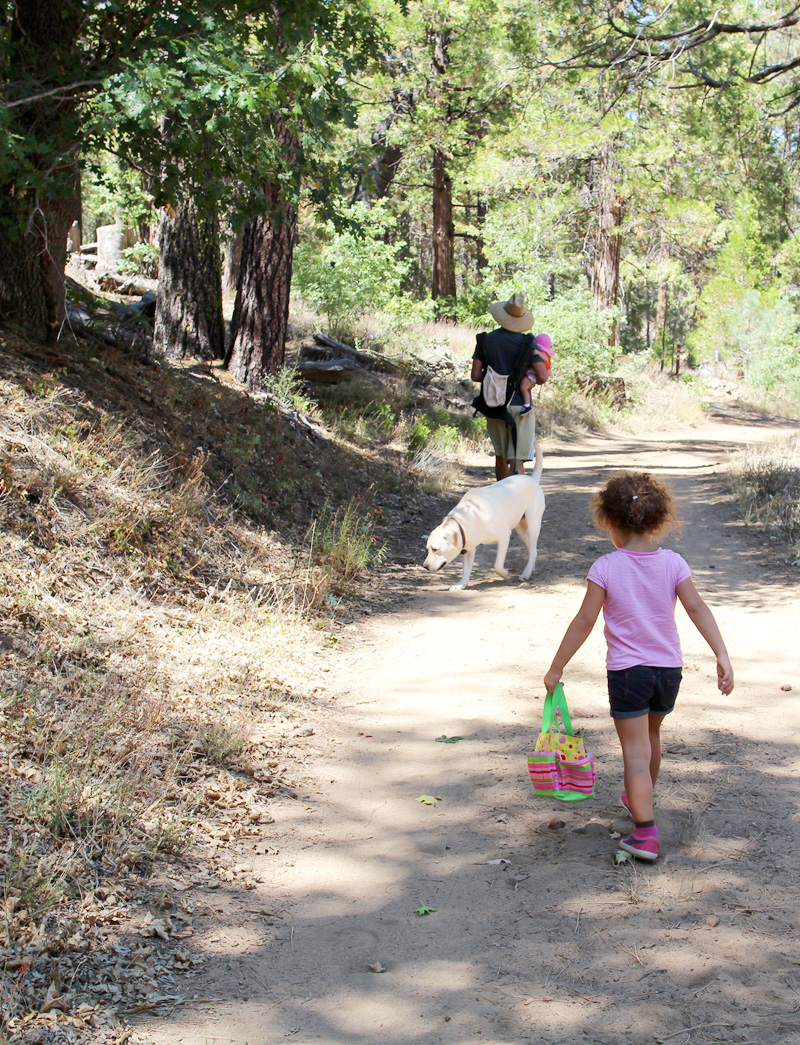 That's Livy's treasure bag above. We find all sorts of cool stuff and one day I'll capture it all in a cool display box, or maybe we'll press leaves or write dates on rocks… but until then, it's all about the collecting,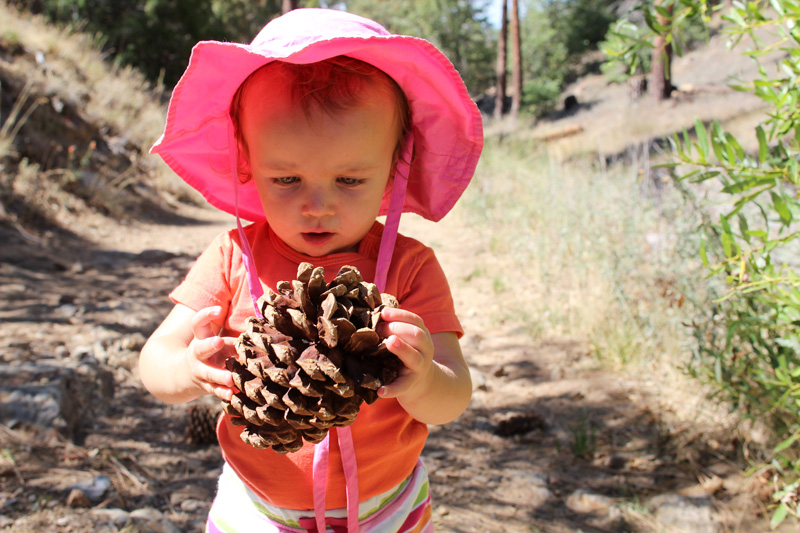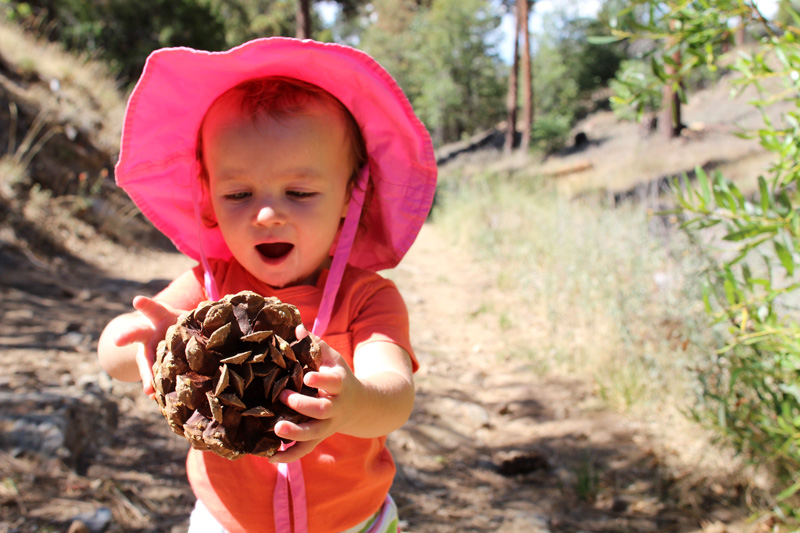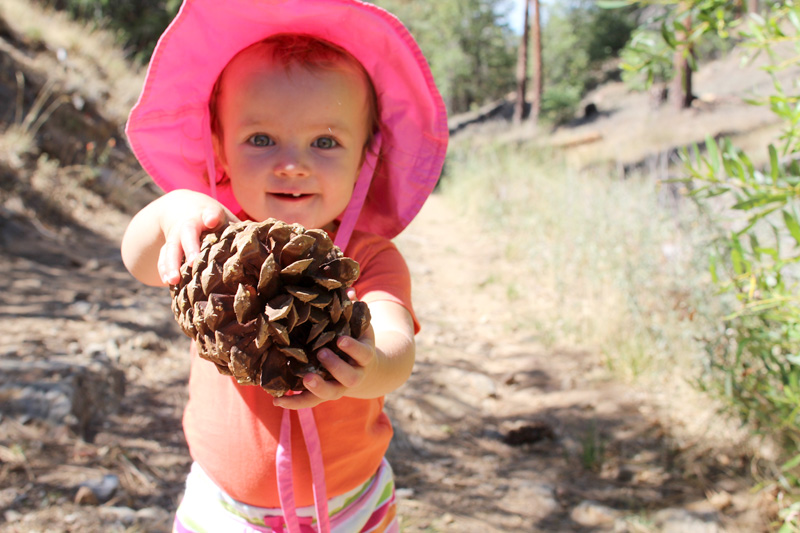 Snacks that fuel are key. I've made the mistake only once of not bringing enough power food on a hike (by leaving it in the car) and the look of dismay when Taylor is signing she's hungry or Liv is calling out for a bite was terrible. Now I'm always prepared (here's a T 'hungry' sign and chunky thighs for you :-)).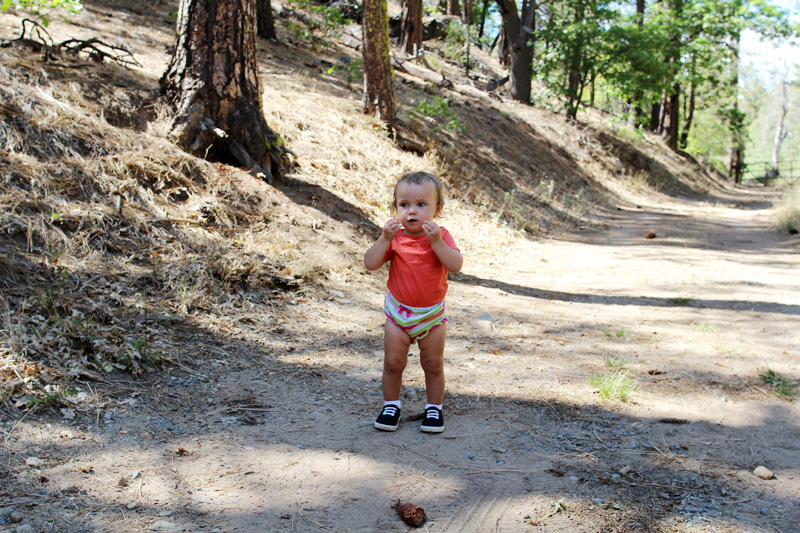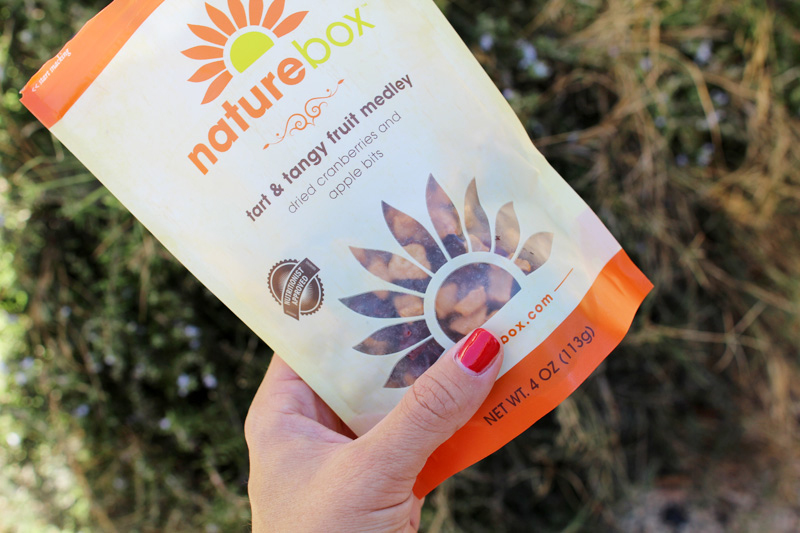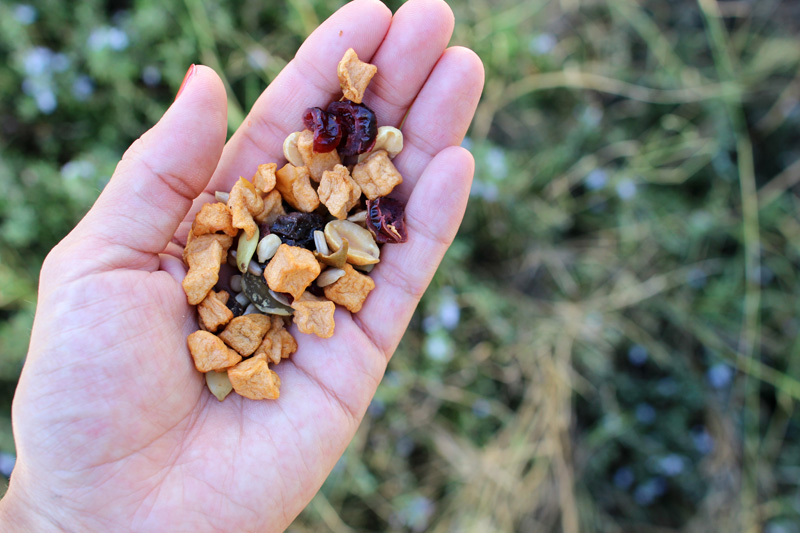 I am excited to partner up with NatureBox to share this adventure with you today. I believe in high quality, fuel-the-body snacks that provide energy and nourishment (Liv always asks if a food is a 'strong body' food or not, which I love, because she wants to grow 'stronger than her nana' – a little competition between the two of them to entice Liv to love her 'strong body' food more than ever). PS hiking hair is the best.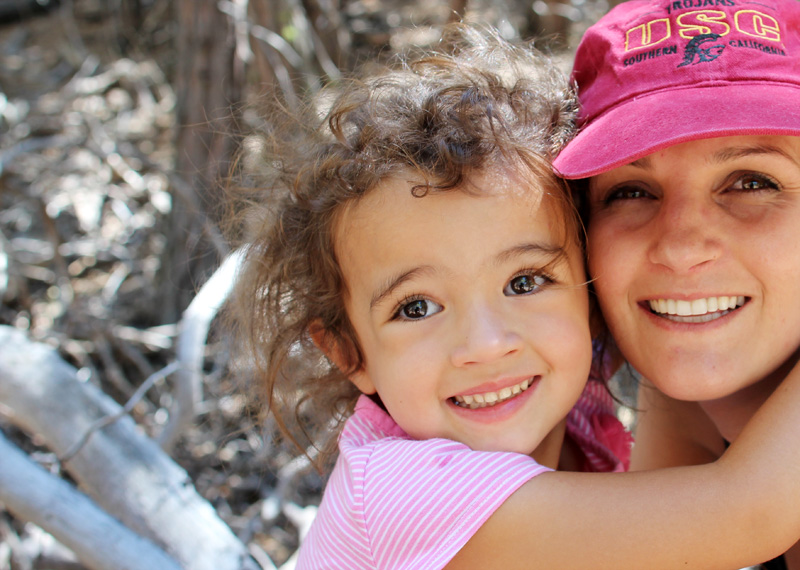 NatureBox provides a monthly service where they send five different family-sized snacks your way (there are over 100 to choose from). It makes it easy to always be well-stocked. I dig that their snacks are carefully sourced foods and that they're a mail service (I'm finding ways to streamline all food-type delivery over here). Snacks contain wholesome ingredients with no artificial sweeteners, flavors or colors, zero grams trans fats, and no high fructose corn syrup.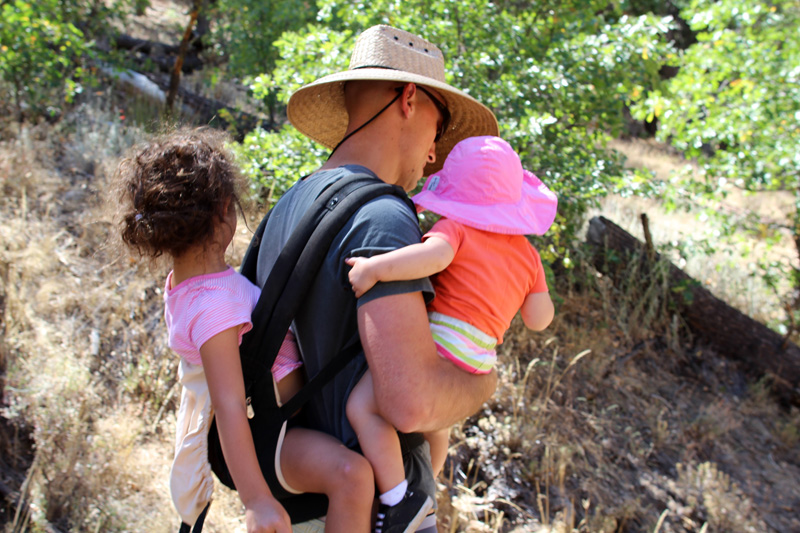 I carried T most of the way, but when I just couldn't make it all the way back to the car… a good daddy steps up to hoist one girl on the front, one on the back. These monkey's are lucky!
(what are we going to do with 3??)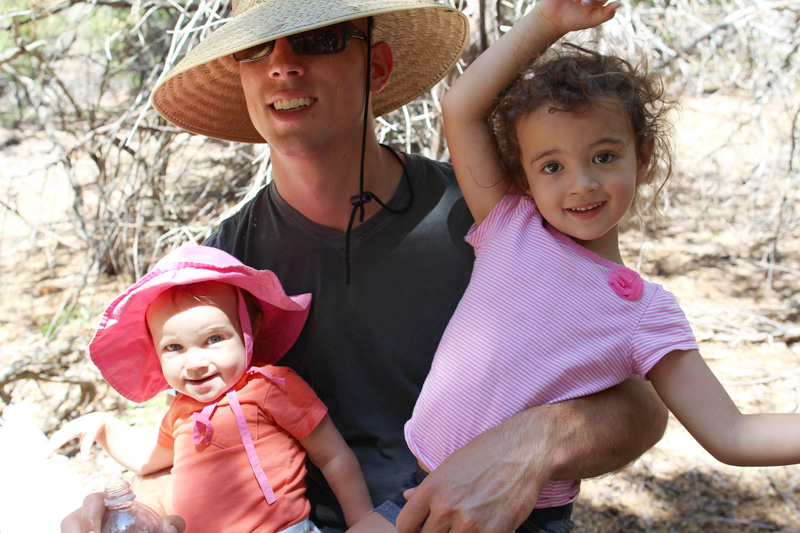 To try out a free trial box (which contains one full-sized bag and four single-serving pouches), click here. (use unique NatureBox url that will be emailed)
Now that I pack a lunch for Liv's preschool 'lunch bunch' activities (it feels so grown up! a real lunch box and everything), I really enjoy including snacks that I know she will enjoy and that will fuel her day. I'm thinking that I'll use my NatureBox snacks as an alternative to traditional holiday snacking as well – we host a few holiday-related kid events here and mixed nuts plus dried fruit would make a tasty option.
*Fine Crumbs: Free trial is available for new and US subscribers only. Not valid on gift subscriptions and may not be combined with any other offers
I was selected for this opportunity as a member of Clever Girls Collective and the content and opinions expressed here are all my own.