Week 1: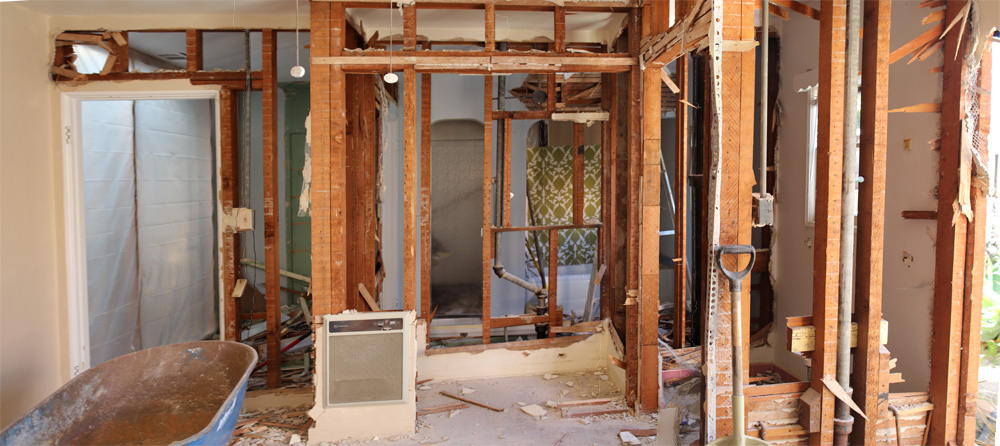 Week 2: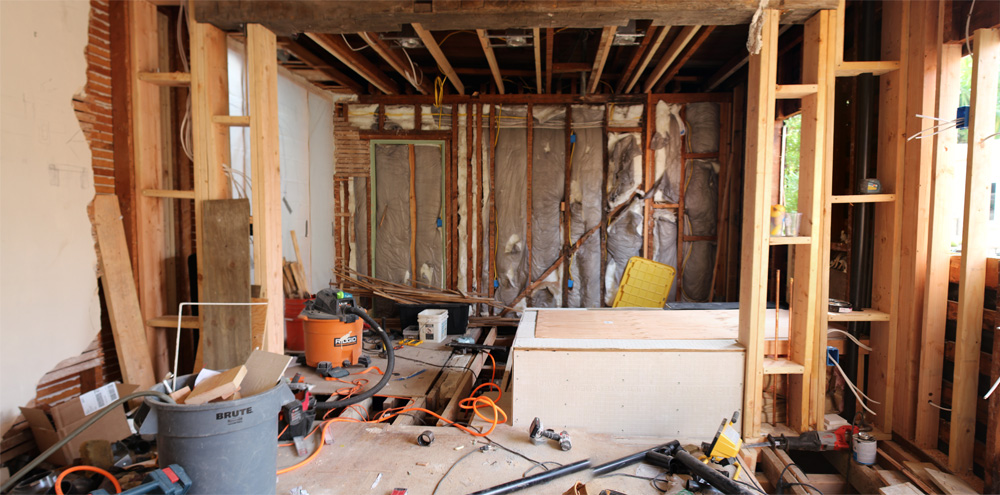 It's a little messy in there but SO much progress has been made! It took a week to fully gut the room, two days to install a beautiful reclaimed wood beam (that we stumbled upon at a lumber yard), a few days to move plumbing for the bathtub and shower, and another few days to prep the tub surround for a quartz fabricator who is getting started today.
I've been going a little crazy trying to race back and forth between tile shops as we make the final decision for the materials for the space. Much of what I had in mind back when I shared my inspiration board is no longer available (either due to lead time or stock) and that was a little devastating initially. It means A LOT more work and many more decisions that needed to be made asap. We've had to start from scratch in finding the right glass tile, ceramic tile, cement tile and quartz – but in the end it worked out perfectly because I've fallen head over heels in love with what we've chosen. It's definitely the right direction for this bathroom!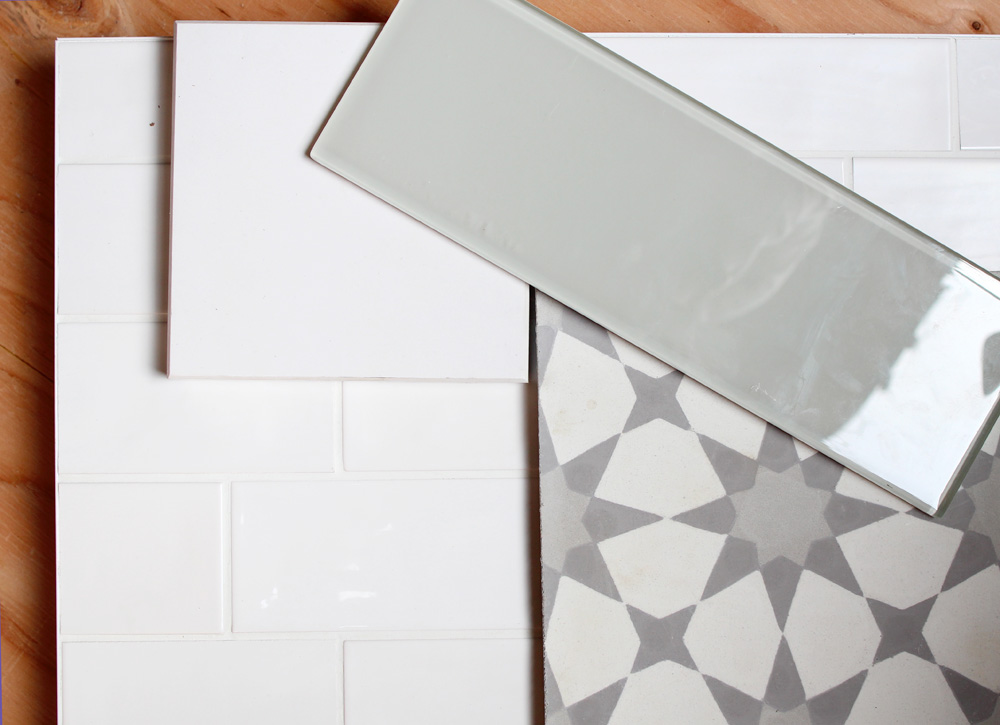 It feels like choosing tile and fixtures should be easy, but then I'm like a kid in a candy store in any tile shop and my head starts spinning. In a good way. There are so many amazing options that it's sort of paralyzing.
What did we choose?
Cement floor tile: Agadir by Cement Tile Shop
Glass shower wall tile: Ponza in the Islandia series by Arizona Tile in 4×12″
Ceramic subway wainscoting: Glazed and unglazed ceramic white tile in 2.5×11″ (source to come)
Quartz (for the tub surround and vanity countertops): White Zeus Extreme Quartz by Silestone
Here's an example of my crazy indecision. Out of all of these green glass tiles (sourced from all over), I couldn't find the right one. Ponza (the one we chose) is in the upper right corner as a 4×12 (amazing how light will affect the look of a tile as well, compare the below with the above) – in the end it's a beautiful shade and the right size of tile to offset the 2.5×11″ ceramic tile (which I'm most in love with – wait until you see it installed!).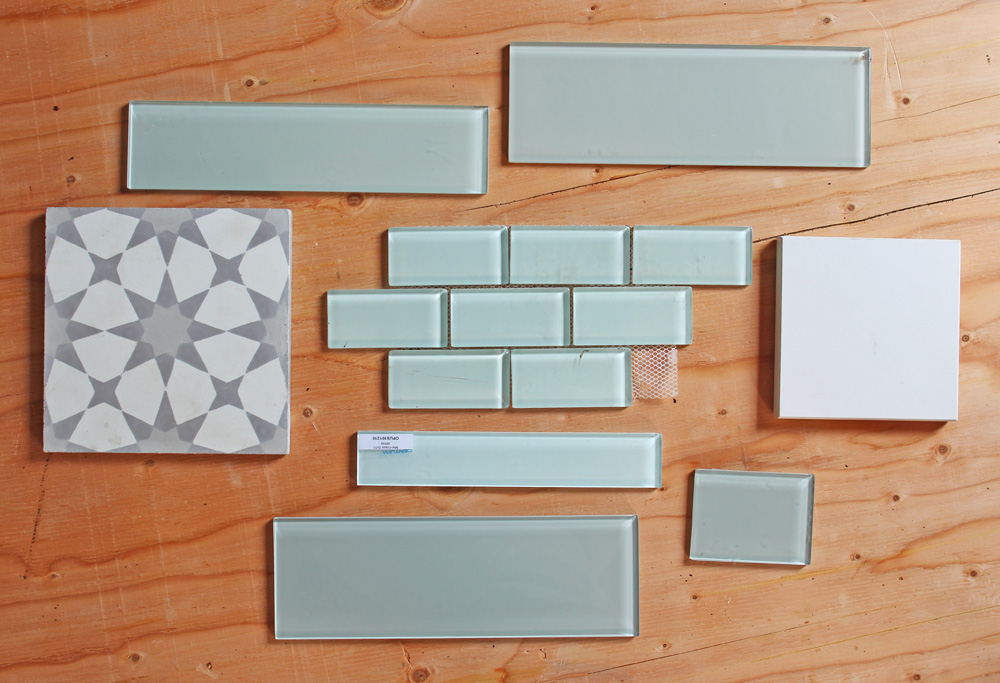 As for the floor, it's probably a bit of the surprise element but I could go on for days about cement tile! I'm in love with cement tile floors and was so happy when Kevin agreed. I'll share a few inspiration photos – I'm so excited for this tile in this space, it will absolutely be a focal point in the bathroom.
While I've been oggling tile samples, Kev had been hard at work prepping the shower. First he removed the subfloor: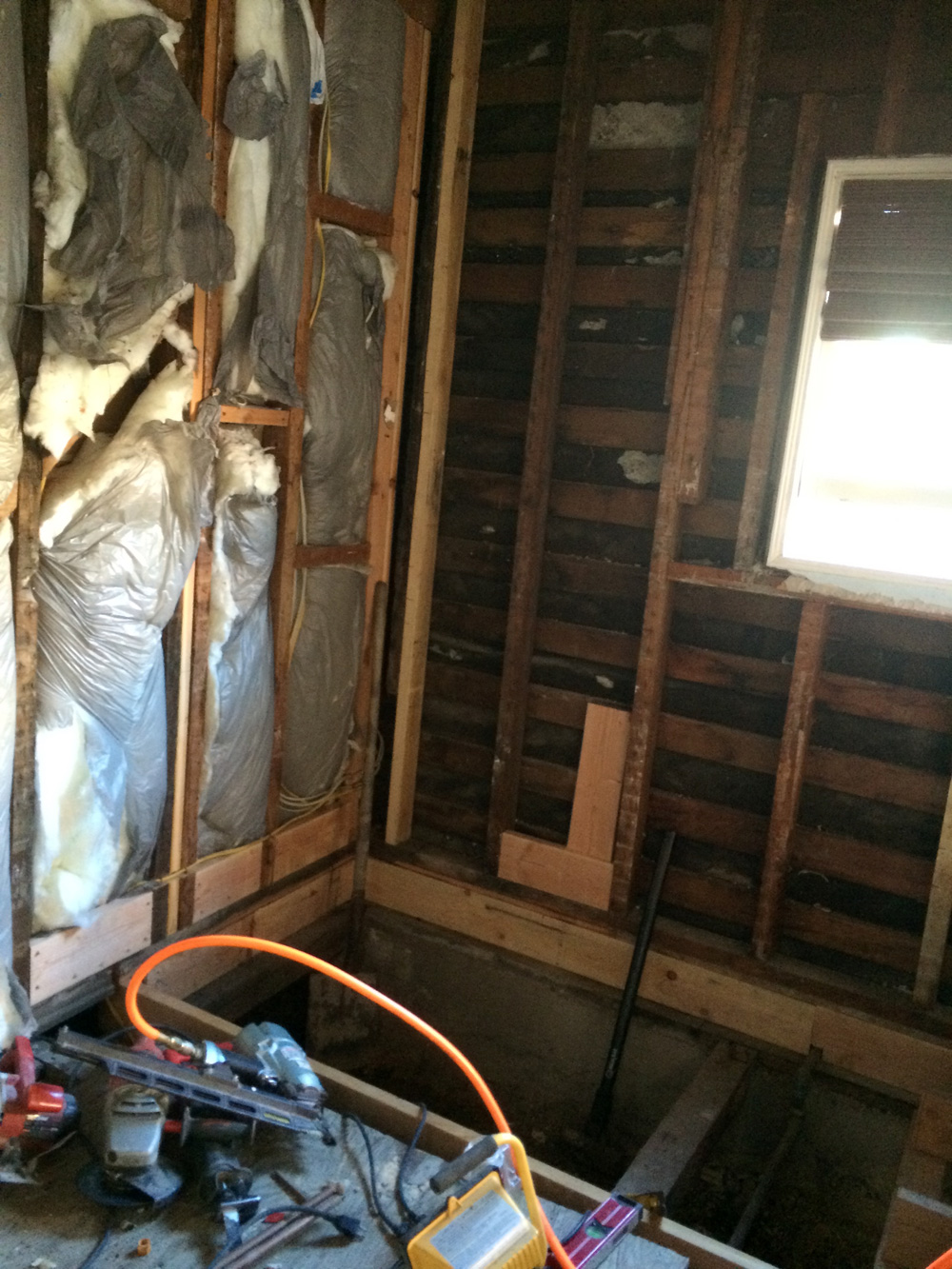 And then he built a recessed subfloor for the shower so that when the hot mopping team (a waterproofing that seals the shower pan) came in, the new shower floor would be even with the existing floor.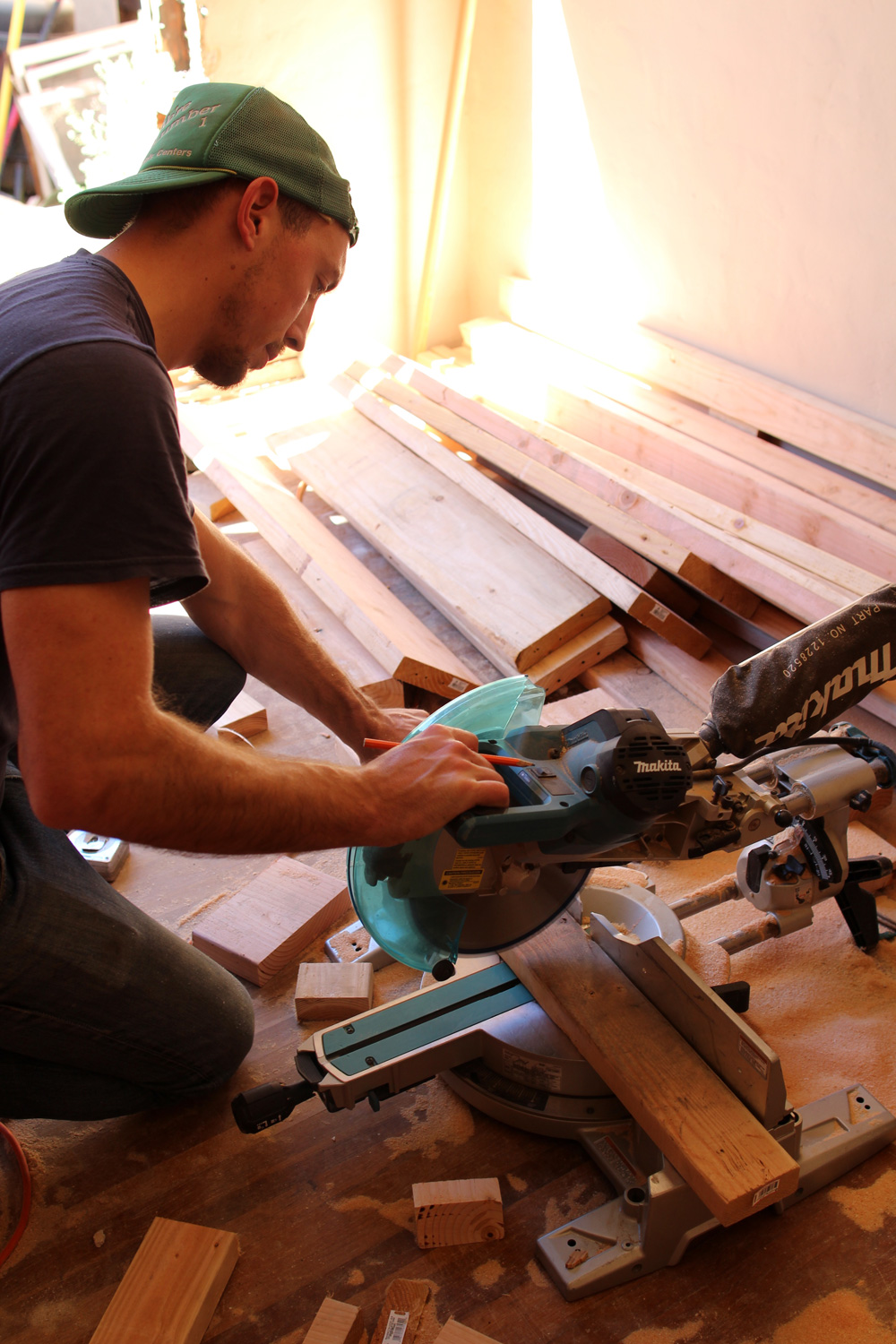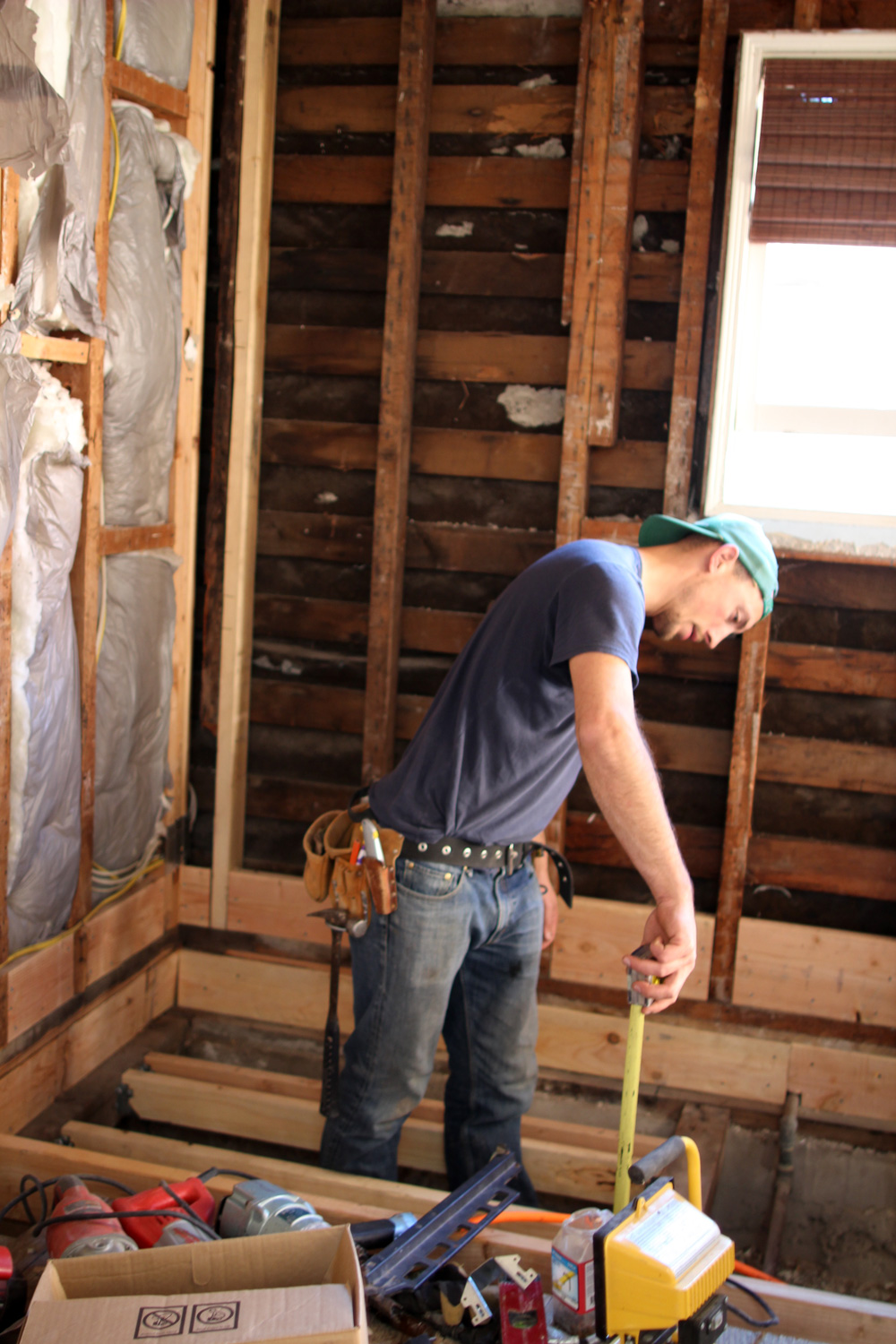 On the tub side of things, the surround was built out and hardibacker was applied (after re plumbing the space) to prep it for a solid surface quartz countertop. We LOVE quartz for many reasons (it's what we chose for our kitchen) so although it's more of an upfront investment we know that it will stand the test of time and look absolutely amazing.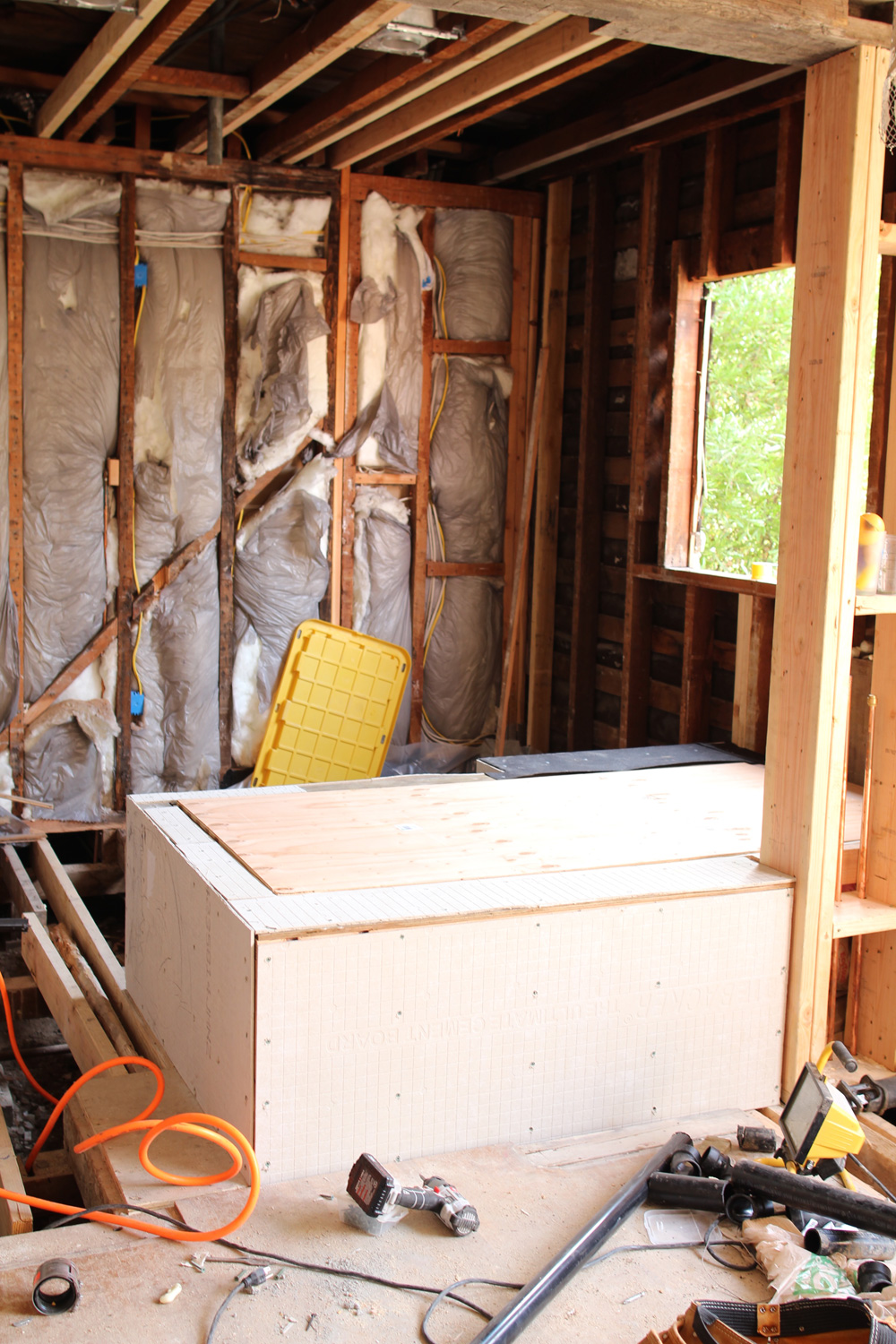 To help keep the costs down, Kev developed the following rendering and we sent it out to 7 or 8 fabricators in San Diego and then chose the one that we felt was the most reliable at the best price.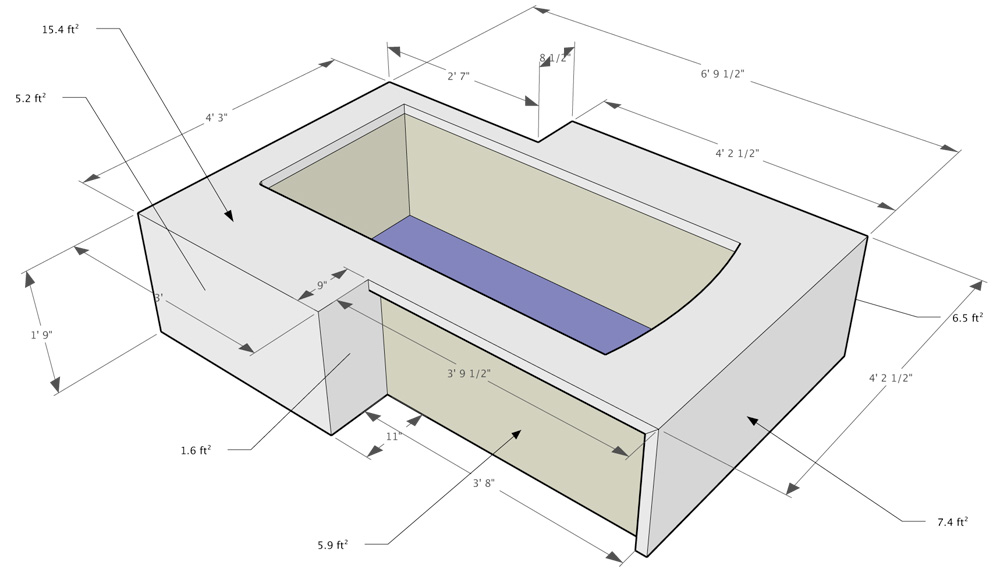 And so the saga continues… next up is more plumbing, all of the electrical (which has been started), drywall and then the pretty stuff :).
PS you can start the master bath/bedroom renovation journey right here.