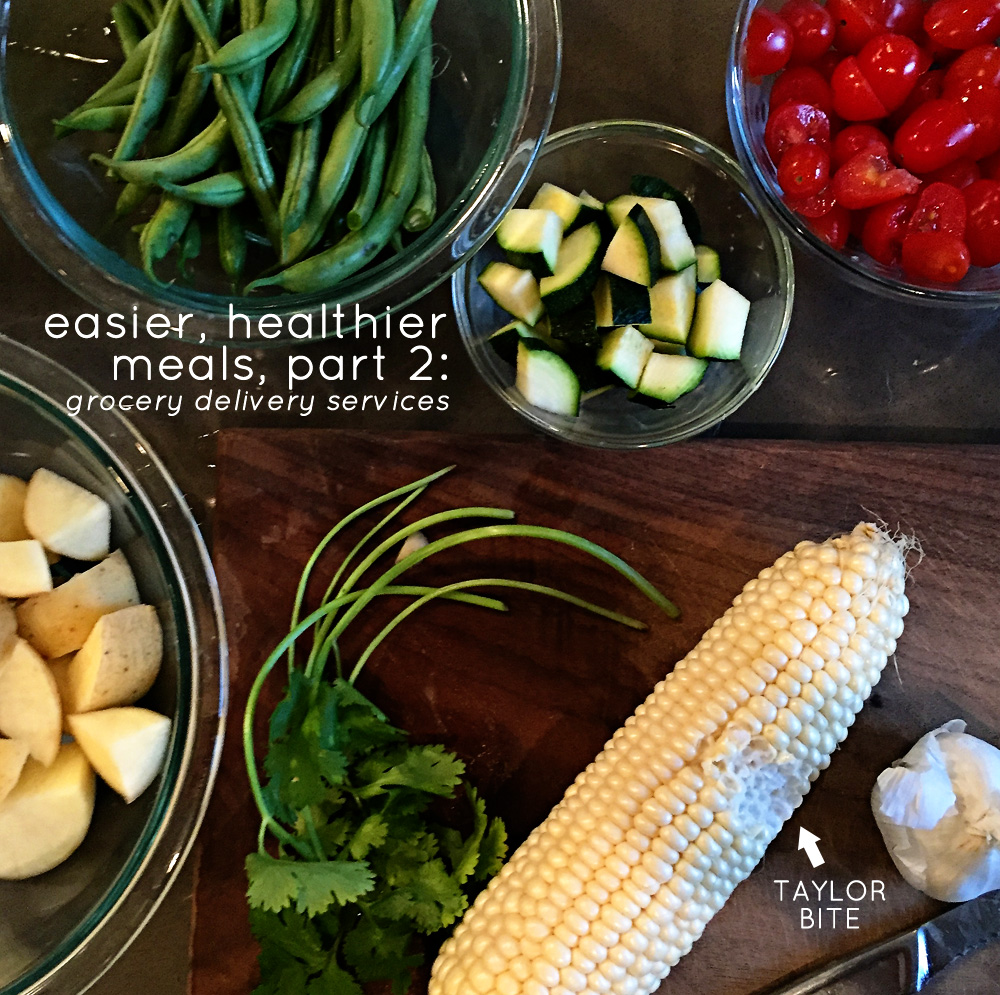 Hey all! I shared in my last post that we nixed grocery shopping in our house about a year ago (or more?) as part of cutting back and really focusing on how we want to spend our time. Today we are using delivery services for a good chunk of our usual grocery store purchases. I've found my rhythm in the online delivery world and the convenience of it now is too good. It would be difficult for me to go back to wandering aisles and manually comparing pricing and brands. So today, an honest overview of where I'm at.
To help set the stage, yesterday I shared why we love our CSA box (we've been using a weekly CSA box for three or four years now) to introduce local farm and organic foods to our table. I also mentioned a few other services and below, a little more feedback on what I love and what I don't love so much about those.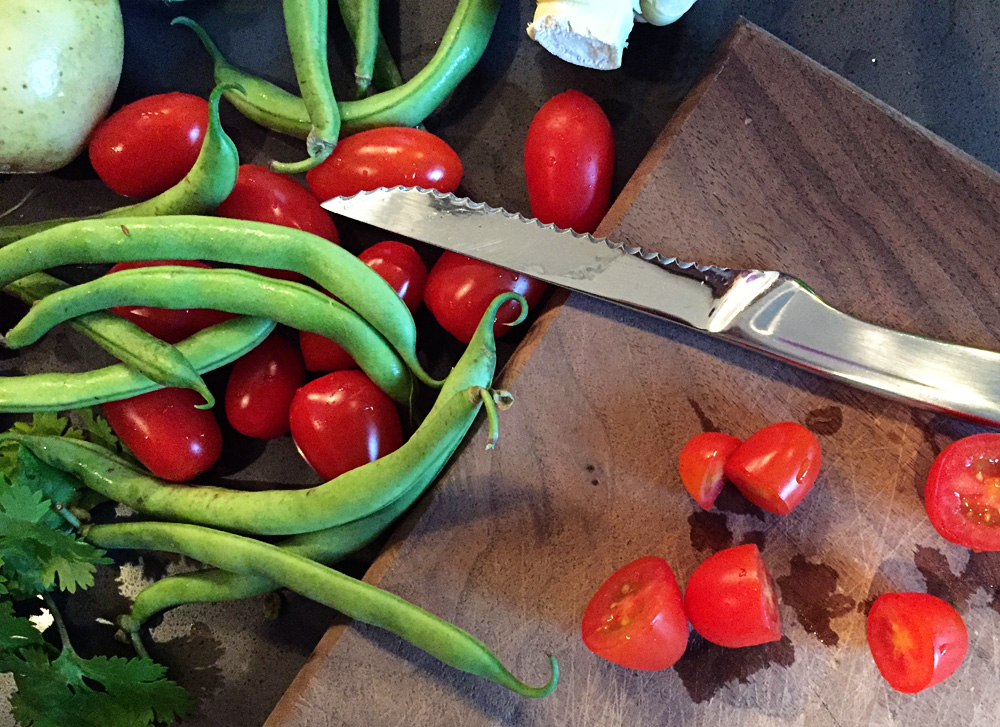 Vons Delivery
Vons is our local grocery store (man do I wish we had Instacart or Good Eggs in our city!) and I try to arrange an every-other week delivery with them using their free delivery service. In order to get free delivery, they usually require you to select a few items from a long list of 'sponsors', but I'm always needing more tomato sauce or cheerios for our pantry so I don't mind.
What I love:
They have a great history feature that allows you to browse what you've ordered in the past so 'repeating' full orders or items is as easy as clicking the box next to that item. This is perfect for regular orders of half & half or bottles of wine or 5lb bags of potatoes.
There's no searching grocery store aisles, just the online database (and typing in 'granola bars' to a text field on a website is WAY easier than walking to and fro).
No forgotten items! (if you do need to amend your order, you can online easily)
Everything is delivered next day.
I sometimes use my saved Blue Apron recipe cards and order through Vons if a meal was especially delicious. I know the quantity of ingredients needed and can price it out in advance.
Speaking of price comparison, so much easier to compare $ per oz online than it is in the grocery store.
What I don't love:
I use this service frequently for when we need condiment or dried goods replenishments, not so much for fresh cuts of meats or produce (though I have in a pinch and it hasn't always been bad, just not what you might pick yourself). On the plus though, if your watermelon is rotting the next day you can send a simple support email and they'll credit you back immediately.
They use WAY too many plastic bags during their deliveries.
Note: Delivery is technically free if you follow their weekly rules but I always tip the guys who drop off the groceries.
Vons Delivery allows me the creativity of meal planning on my own when I'd like to (if I tear a recipe out of Sunset or Bon Appetit) without having to visit the grocery store itself. Amazon's version of this is AmazonFresh but it's pricey at $300/year for the service (minus your prime membership, if you already have one). They are also able to deliver same day and offer a much larger variety of products. Plus they use reusable bags :-). I'd like to try them out one day in the future if my current routine sticks.
Blue Apron
I'm almost hesitant to say how much I enjoy this delivery service. It wasn't reading the overwhelming number of blog posts about it earlier this year (there were so many everywhere) that did me in but actually my girlfriend who sent me a free box later in the summer. Blue Apron (again, not a sponsored post) drops a box off on our doorstep every other week with 2-3 meals. These are my 'this is the craziest day ever' meal solutions when I don't have time to meal plan and need a really delicious and healthy solution for the table. Our family, even my chef of a husband who was quite reluctant, offers two thumbs up.
Here's why I love it:
They deliver perfectly proportioned ingredients. I don't have to source specialty ingredients for hoisin burgers or pork ramen by buying massive jars/boxes/cans of ingredients that we won't use up. There's nothing I adore more than an empty fridge at end of week.
The meals are just complicated enough to make them yummy and worth the effort. But not so complicated that I usually need more than 30 minutes.
Clean up! Kevin and I are exhausted at the end of the day. Truly. There's nothing worse than a kitchen full of pots, bowls and plates to wash after a slightly complicated meal. With these meals, I can usually clean as I go so that we're just loading used cups and plates into the dishwasher (and Liv is now old enough to help clear the table. bonus).
I've found that the ingredients – be they meat, vegetables, fruit, herbs or even gnocchi – are quality.
I can skip boxes. It's not a cheap service if you consider the $ per meal, the opportunity to pass is a good one (there's a specific date you have to do that by though).
I've learned quite a few cooking techniques. I save all of the glossy recipe cards so that I can hopefully replicate a meal again on my own dime.
Here's what I don't love:
It feels a bit wasteful. I'd be bagging produce and purchasing boxed goods at the store if I sourced everything on my own, but the frozen gel packs that I have to throw away each time make me uneasy.
The only times I'm disappointed are when their veggie options aren't up to par. I'm sure to make the costs worth it on their end, they have to include the occasional not really worth it meal (and you don't always have a lot of choice when it comes to this).
Note: Blue Apron offers two plans and our family really doesn't fit well into either since we have two adults and three kids (four and under). I switch back and forth from their three 2-person meal plan and their two 4-person meal plan based on recipes offered. Sometimes I have leftovers for lunch the next day, sometimes I'm supplementing from our CSA box to fill out the meal.
Also – totally wanting to try out Plated too.
CSA Fruit & Veggie Box
I had to include in this roundup list even though I wrote about how much we love our weekly addition over here. We love our CSA box most! Straight goodness right from the farmer's plot. And we're supporting our San Diego neighbors, really. We love the farmer's market and this is an opportunity to have the farm brought to us. Win, win.
What I love:
Convenient, easy, organic, great way to learn how to use lots of veggies. Especially those leafy greens… kale, chard, escarole, endive, lots to love. or juice.
Delivered to a local neighborhood drop spot or to your door (Be Wise Ranch, a San Diego favorite box of mine, is picked up within a mile of our home. Farm Fresh to You delivers to your door).
What I don't love:
Nothing, really! You're in it for whatever the farmers grow though so if you don't love greens in the winter, you might not embrace all four seasons worth of harvesting. While boxes are delivered weekly or bi-weekly, you usually sign up for a season at a time with the smaller farms.
Amazon Subscribe & Save
For grocery store items that are not food related, I think that the Amazon Subscribe & Save feature is pretty cool. I use it for things like cleaning supplies (love Ms. Meyers products) and baby wipes (these ones are super if you have a preschooler learning to clean up after themselves). Orders aren't quite as large as a 52 pack of razors from Costco, but they are bulky enough to make up for shipping them and I don't have to store the excess.
What I love:
It's a set it and forget it kind of thing.
Discounts add up the more you include in your Subscribe & Save (5% for one item, 15% for 4 or more).
You can always skip an order.
What I don't love:
It's important to price compare, you're not always getting the best deal from Amazon vendors. But once you find the best suppliers for you and 'subscribe', it's easy peasy.
We could open a recycling plant for cardboard boxes labeled 'Amazon' at our house.
Jet.com
Full disclosure: I haven't used Jet yet, I was just introduced to it and it seems pretty awesome. As I confessed yesterday, for my bulk items (diapers, organic milk, apple sauce cups, paper towels) I usually tag on to my mom's Costco trips. Thanks, mom! We split bulk orders and she has a little more free time which I'm grateful for.
So, if you don't have a Costco-visiting mom that lives nearby, give Jet.com a try. My understanding is that Jet.com offers free delivery of bulk-style items, sort of the Amazon Prime of Costco purchases (not a bad thing, right?).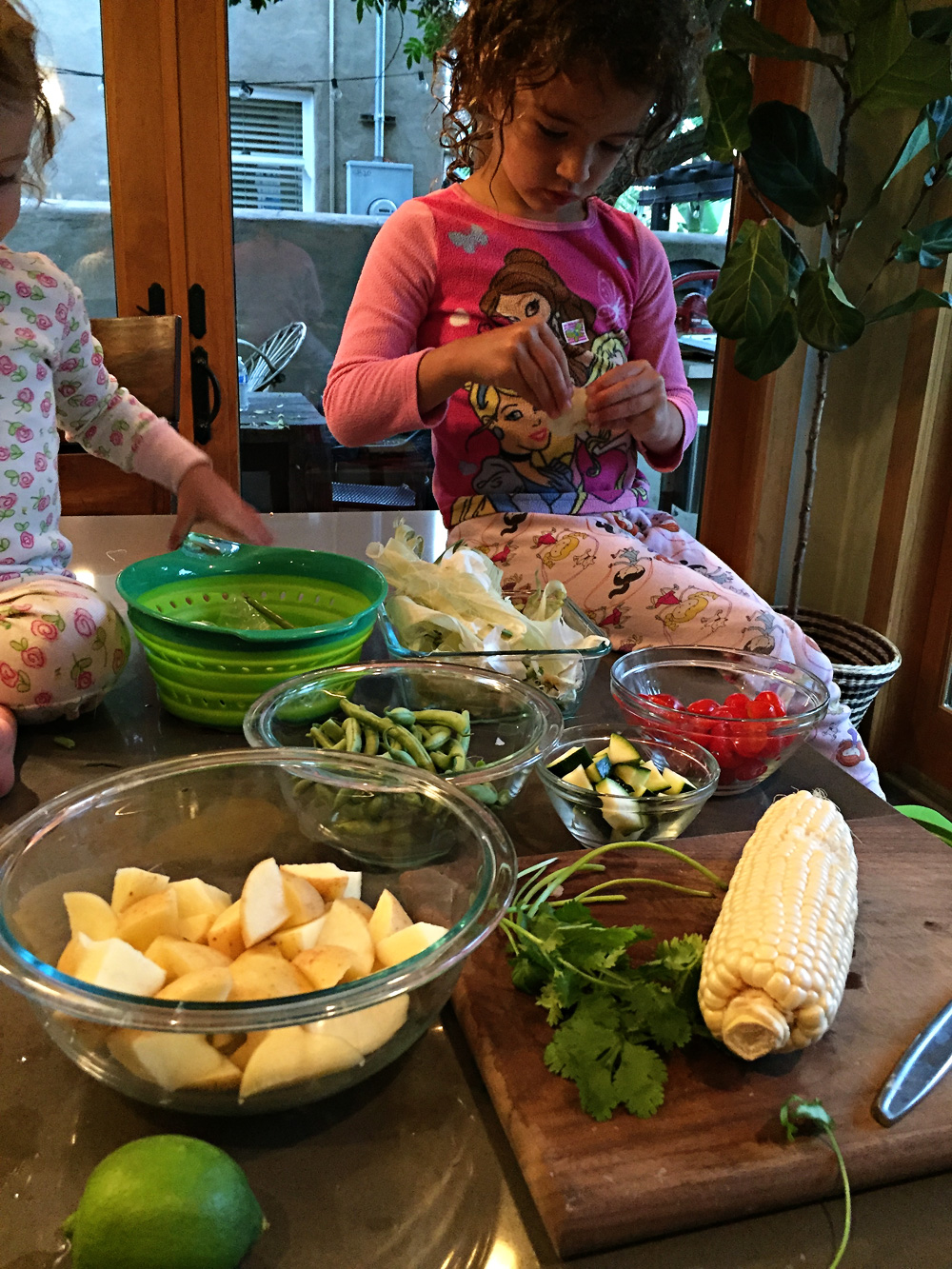 Dinner time!
In our house we make meal prep a family affair. Well, at least me and the girls as daddy is usually driving home right about this time. I have dull kid knives for them to help cut up zucchini or colanders for the girls to wash veggies with. Liv loves to separate out the garlic cloves for me, Taylor eats the cherry tomatoes as quickly as I halve them. Finding age appropriate jobs is part of the challenge but also part of the reward. The more they familiarize themselves with how food is grown, prepped, and cooked for their bellies, the more I hope they appreciate the choices they have out there. We call healthy food 'grow strong food' and it makes my heart sing when they ask for cut up apples over Annie's bunny crackers (also a staple in our home) for a snack.
Anyways, the process isn't perfect but we're getting there. I hope this post is helpful if you are looking for shortcuts without cutting out too much of the good stuff. Cheers!