May 9, 2013
I have a fun project to share with you today!
I've been on the hunt for a neat centerpiece (to either DIY or buy) for the big outdoor table that Kevin built on our new deck and am so happy with how this oversized planter's box project has turned out. My favorite might be the pops of color in the form of five added geometric hexagons.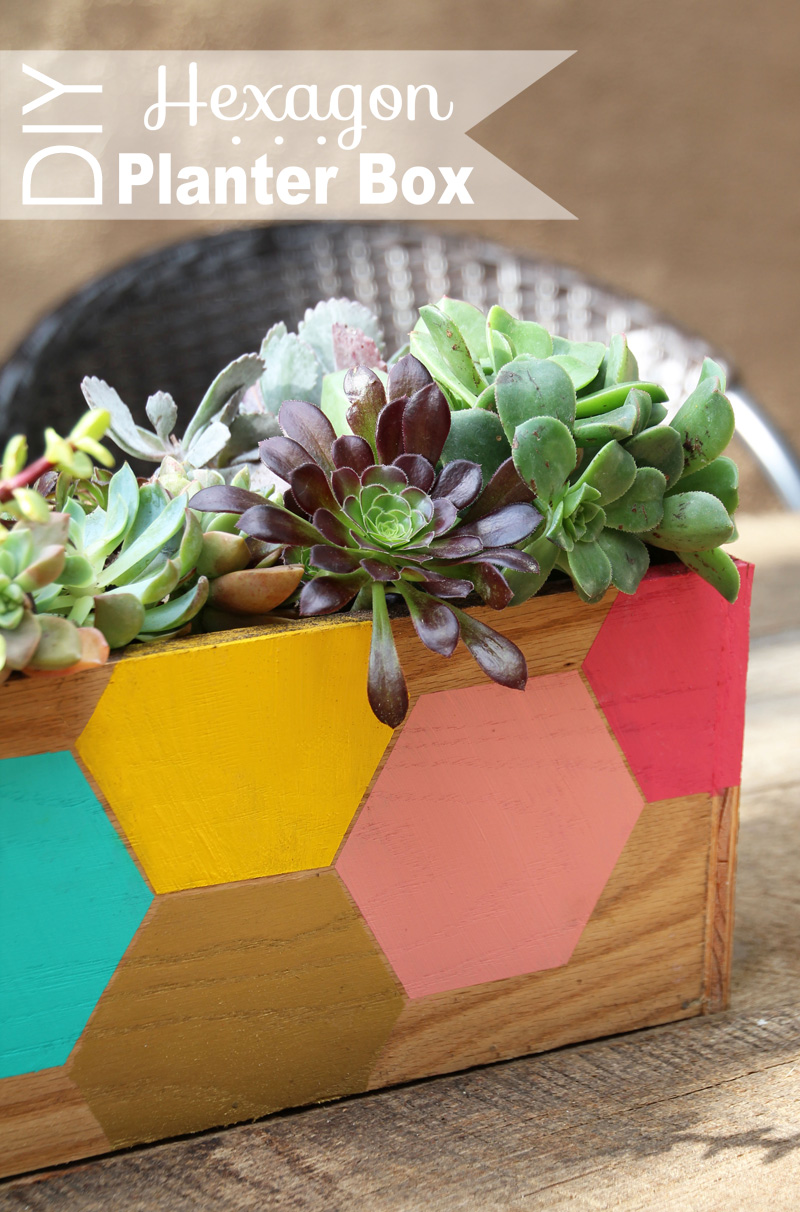 Succulents and I get along really well, and they look so pretty all together in one large container! I've been wanting to play with them more in our garden in unique ways, maybe even designing a succulent wall along the back bbq area.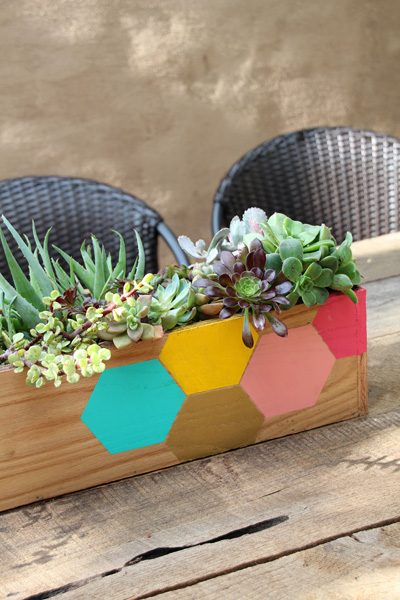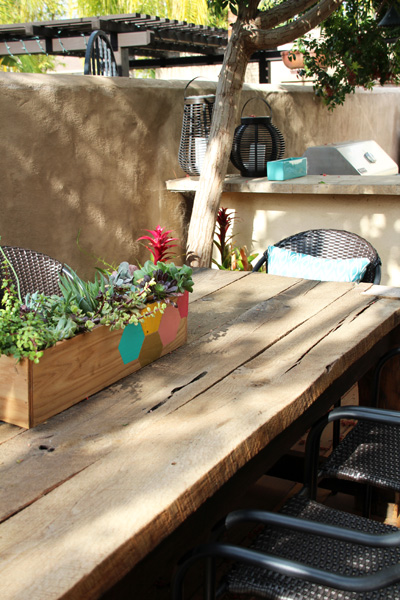 The hexagon pattern wraps over the top edges of the box and along one corner as well, I love the symmetrical pattern and how the painted shapes work together but provide their own little bursts of bright, unexpected color.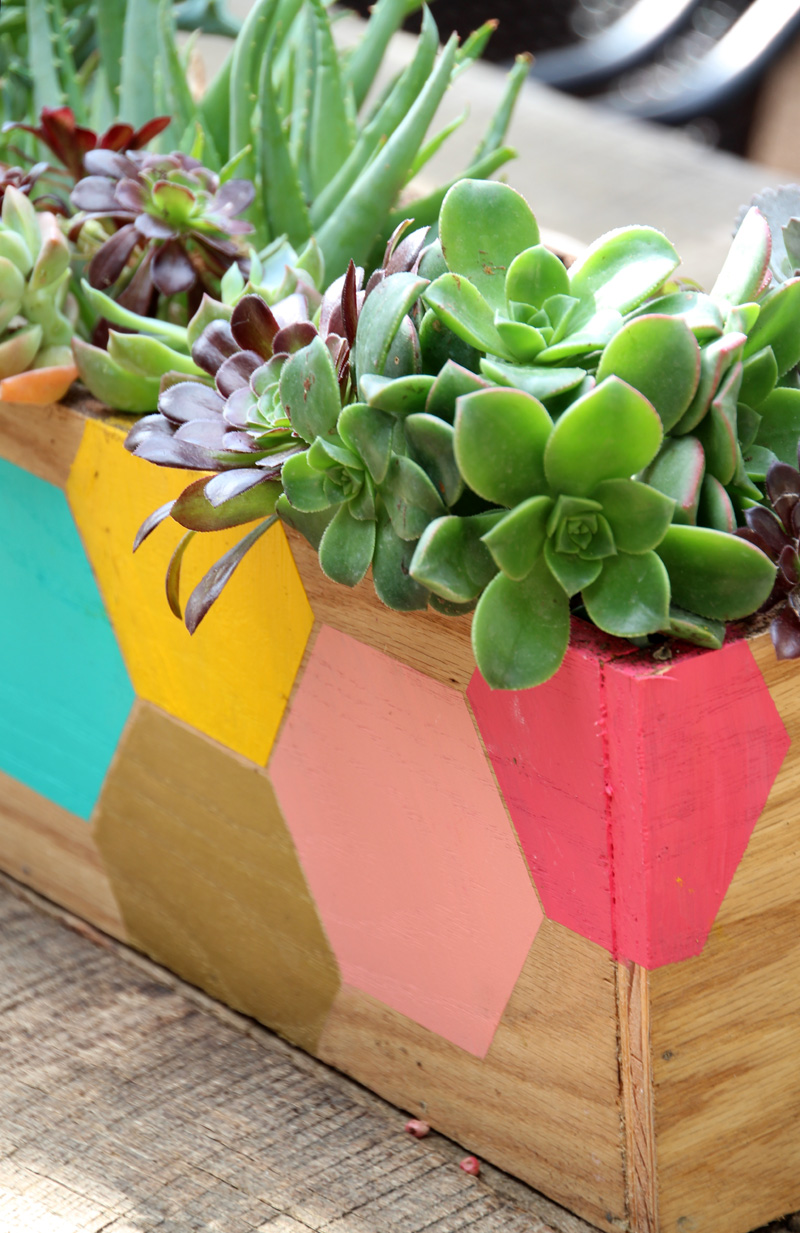 I was actually inspired to finally getting around to finishing this project by Katie and Sherry's Spring Pinterest Challenge:

It provided the inspiration needed to pull my materials together and take a couple of hours to build, stain, paint and plant my new succulent centerpiece.

The goal of the challenge is to take a pinned idea and make it happen – here's my pinned inspiration: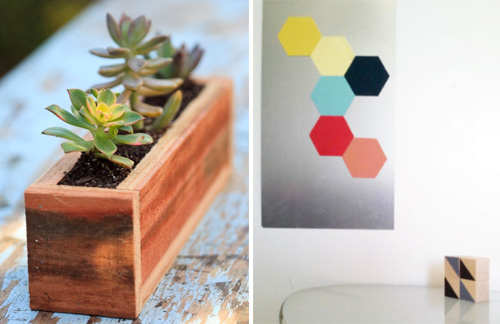 This lovely wooden planter box from The Growing Wall and these neat felt hexagon shapes by Squared Array. I imagined them as potentially very pretty when combined together.
Let's get into the nitty gritty…
The process for building my initial planter was pretty simple. To keep material costs on the low end, I purchased a single piece of 24×28″ plywood from Lowe's and asked the technician to cut the board horizontally into three strips  that were 24×6.5″ in size and the remaining 24×6.5″ piece into two 6.5″ square sides. That used up just about every inch of the wood perfectly (I had just one large rectangle left over).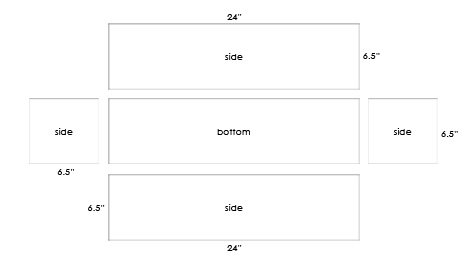 Cutting plywood often causes freying at the edges so if I had needed a more exact cut I might have opted for real (rather than compressed) wood instead. But this worked out perfectly as the cuts were kept to a minimal and the plywood cost just $6! And all of the cuts were made at Lowe's so I didn't have to bring the board home, pull out the table saw and add that extra step to the process.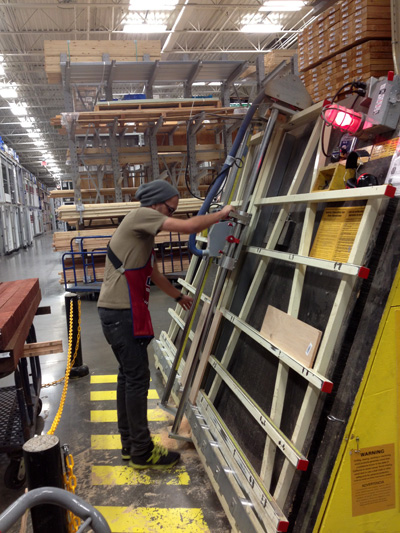 Thanks, Lowe's man.
To nail the box together I used small tack nails that I had on hand.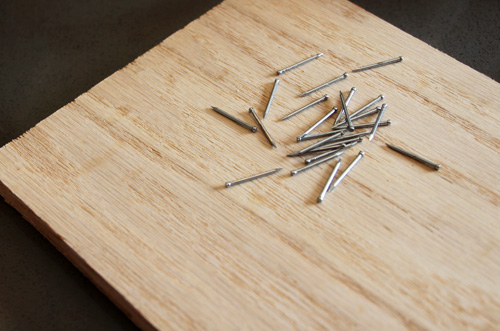 As well as my trusty floral hammer! No need to dig through the garage and pull out a massive hammer from the tool chest, I really love having my smaller-than-average tools in my office and waiting for everyday use.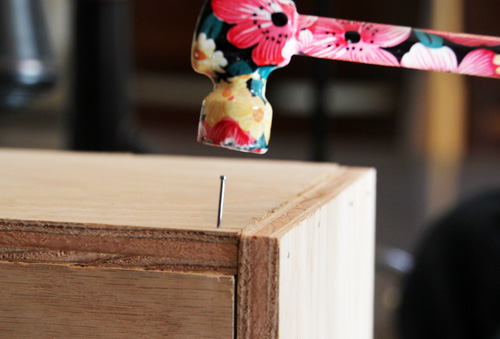 I placed a nail every 3″ or so along all edges of the box that met with another edge. 32 nails and one finger later, and the planter box was assembled.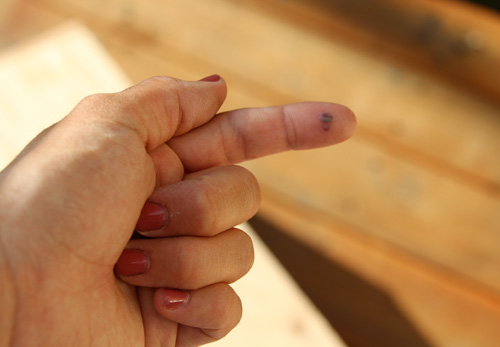 To hide the silver tops of the nails, I used a stainable wood filer that we had on hand (but I would say that this step is optional).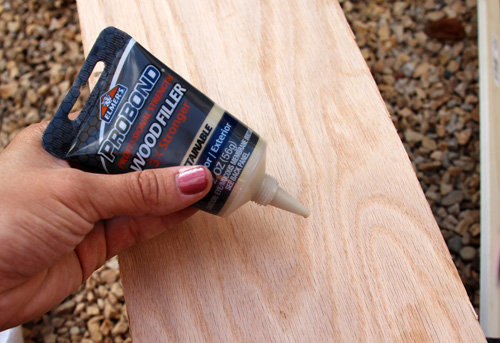 And to remove any pesky store barcode stickers (why do they make them actual stickers??), a little Goo Gone.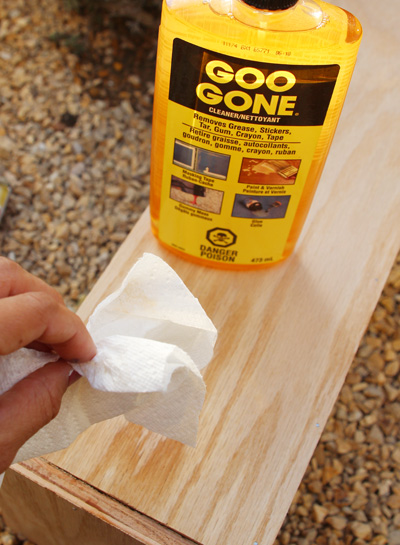 We have a decently sized stain collection from various projects in our garage so I chose from two of the lighter finishes. I ended up using both the "ash" and "oak" (oak first followed by a quick layering of ash) to give the box a slightly birchy, slightly weathered look.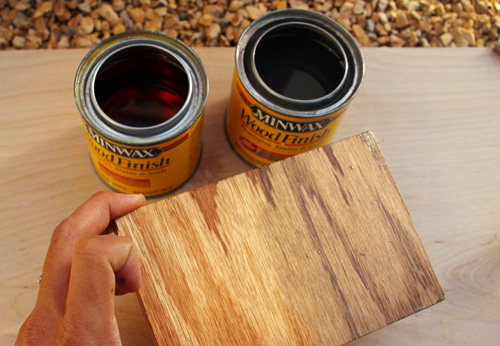 With the glare of the light it's hard to see the finished stain coat here, but the coloring came out just as I had hoped.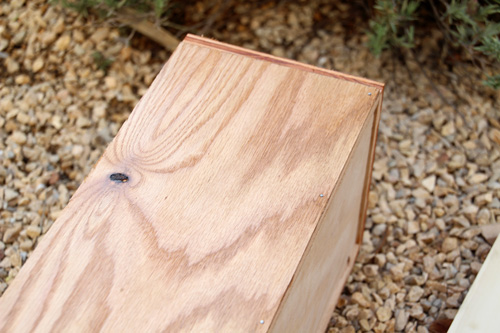 I stained the first few inches of the inside of the box as well, the rest will be filled with soil and will be pretty much unnoticeable.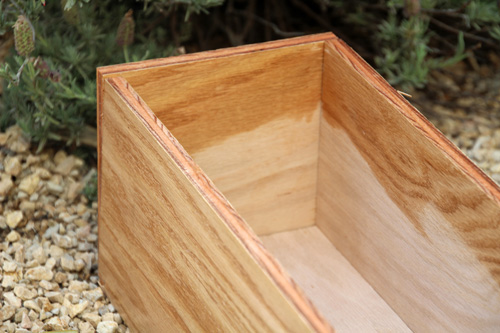 To make my hexagon painted shapes, I printed out a basic hexagon outline (using the Illustrator shapes feature) on to cardstock. Feel free to download my copy here. Laying out the cut out shapes in various formations helped me to come up with a final pattern.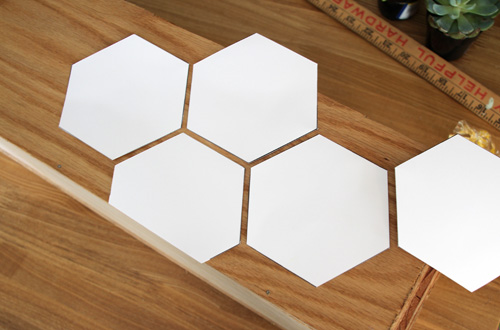 Using that pattern as my template, I taped out the various paintable hexagons one at a time.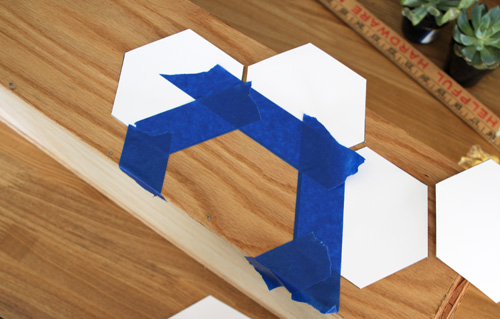 And slowly filled in the taped off areas with various colors. You can see that I left a sliver of wood showing between each shape, I love that little detail.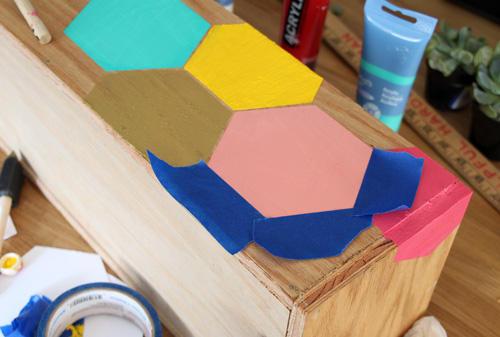 Press down solidly on those edges to prevent any under tape bleeding! And as soon as you've applied the paint to the wood, pull up that tape right away for a flaw free line.
Next up was planting. I found it was cheaper to purchase most of my succulents in one large prearranged plastic round planter from Lowe's (that I broke apart and replanted), then supplemented with littler containers and cactus from our garden.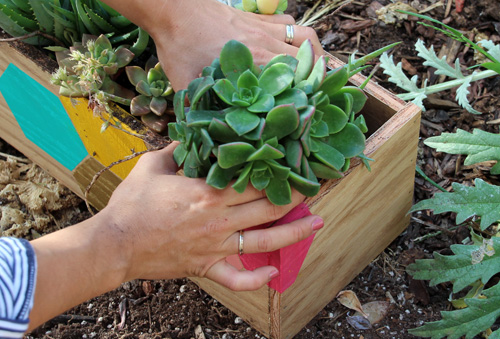 Finished!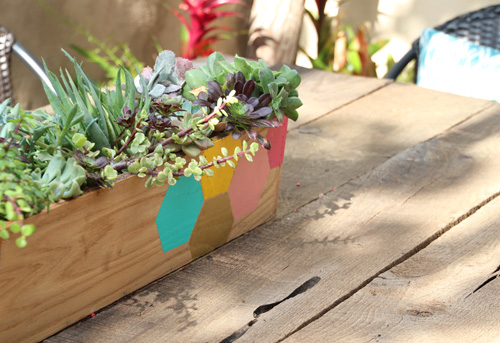 A new, pretty centerpiece that is just the right size for our 12 person table. This will look great in the summer for outdoor picnics and parties – I'm picturing a pretty table set in whites and navy blues, or even pinks and mint greens to compliment the colors of the planter box.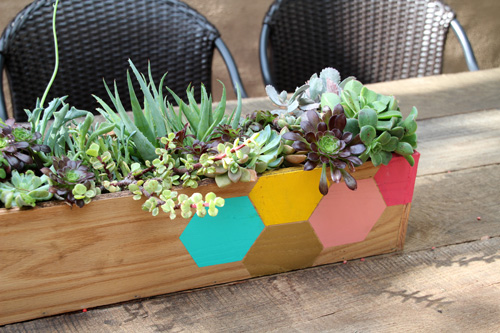 The hexagon shapes are definitely my favorite part.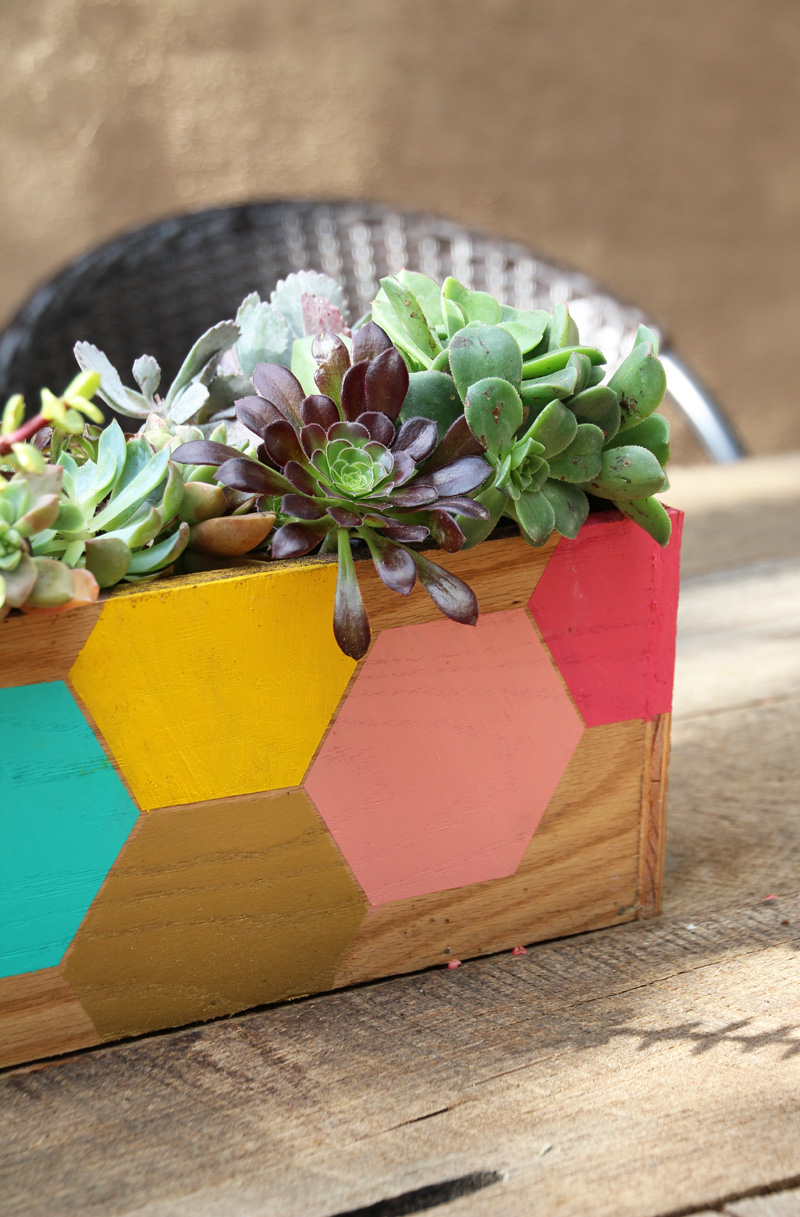 I will be linking this project up with the four hosts of this season's challenge: Katie, Sherry, Emily and Renee. Check out all of the great projects!!
Here's a link to my previous Pinterest Challenge projects (including the fireplace facade that has an exciting announcement to make soon, an ombre step stool for Liv, faux gold mercury glass, a chevron cloth napkin project, a painter's tape stenciled hallway and so many more fun ideas…).
Tags:
Accessories
,
Crafty Solutions
,
Decorating
,
DIY
,
Gold
,
Home
,
Paint
,
Patterns & Color
,
Pink
,
Pinterest Challenge
,
Teal
,
Turquoise
,
Tutorial
,
white
,
Yellow
Posted in
Construction
,
Crafty Solutions
,
DIY
,
Downloadables
,
Favorites
,
Gardening
,
Handmade Gifts
,
Home
,
Our Yard
,
Renovating Adventures
|
6 Comments »
April 18, 2013
We've had some spring-awesomeness reveal itself over here and, being my first bulb planting attempt, I had to share it with you.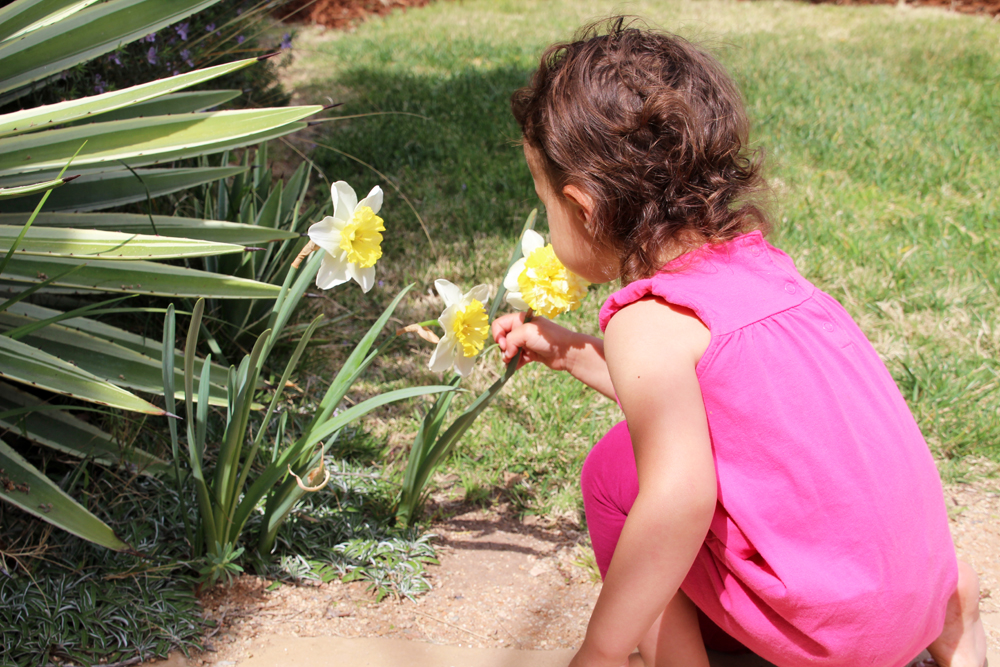 I took a chance last fall (despite not having a green thumb… yet) and planted two dozen or so daffodil and allium bulbs in our front yard. It was my first go, my first foray into bulb planting, so I kept it small and manageable. Just in case project bulb failed.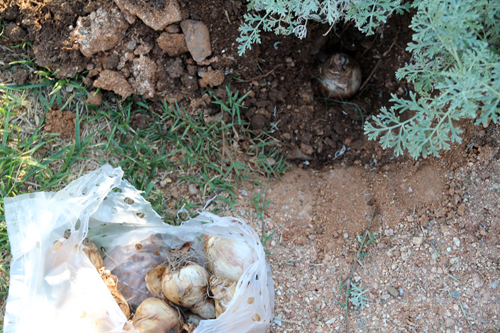 I actually remember watching my mom plant daffodil bulbs by the wheelbarrow full while growing up on the slightly more fertile, rain-loving northern coast of California. She would literally trowel out holes the size of graves and fill the ground with hundreds of bulbs at varying depths. Come spring, those bulbs would slowly break through and line all pathways leading up our driveway in a brilliant yellow! It was beautiful. It marked the arrival of the season.
My planting is slightly more diminutive.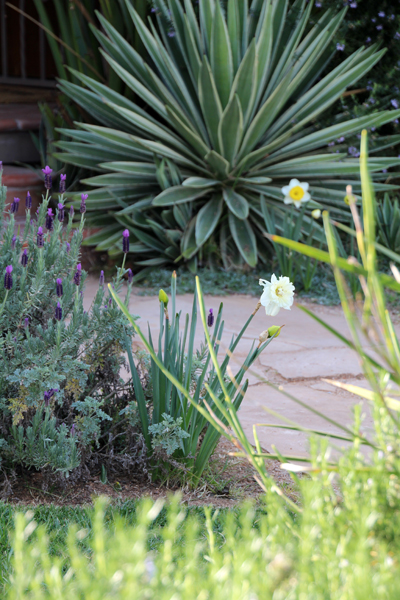 I was actually pretty sure that come spring (5 months post-planting), little would show for my efforts. So imagine my surprise when these beautiful little stalks began to poke up through that gravel-rich, ultra-dry soil that is our desert front yard.
Oh hello spring!! (in my best Carrie Bradshaw voice) you have arrived!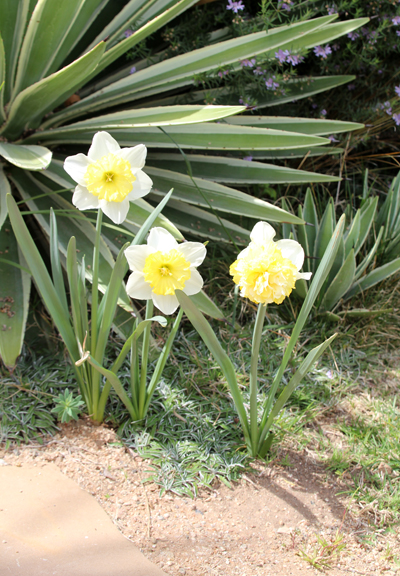 The allium has yet to make an appearance… but I'm keeping my fingers crossed that just as planting daffodils at different depths will yield different blooming periods, these guys will suddenly pop through and surprise us! Because… maybe they take longer to germinate? At least the packaging promises 'late' spring blooming while my daffodils boast of 'mid' spring blooming.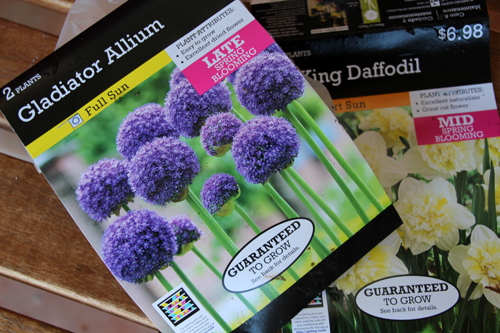 Oh please pop through you pretty little puffs.
As for actually planting these guys, last fall I chose four or five special little spots in the yard and nestled 3 or 4 bulbs in each. I hadn't started the bulbs in water outside of the ground nor have they received special attention since (except for the occasional watering). I planted them about 5″ or so below the soil, but that includes the decomposed granite and mulch that is the ground covering for most of our desert-friendly front yard.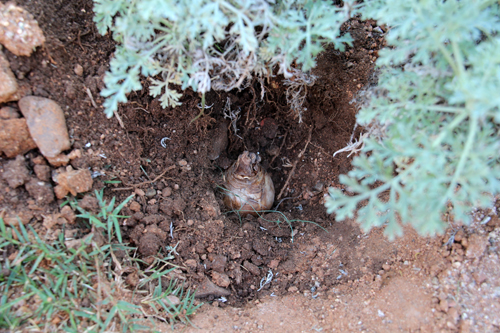 Your average visitor would have no idea my delight in the garden at the moment. But I spot that little yellow welcome sign every day!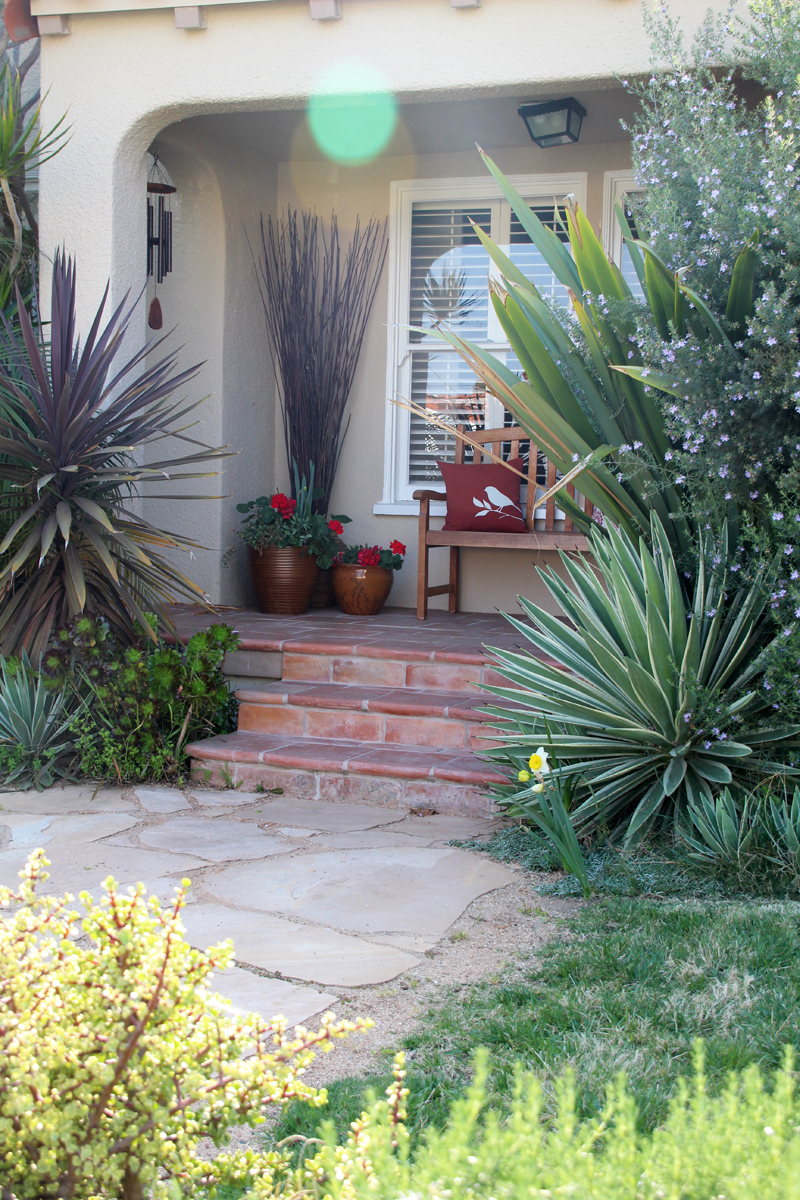 Actually, I'm a little surprised that they are already starting to wilt and shrivel up. So much work and anticipation for just a week's worth of bloom. Is this odd? Perhaps next year (now that I know that I can do it!) I'll plant layers of bulbs so that just as my mom did so that as one set begins to die down the next will begin to bloom. Kinda sounds like a pricey solution to a month's worth of blooms though?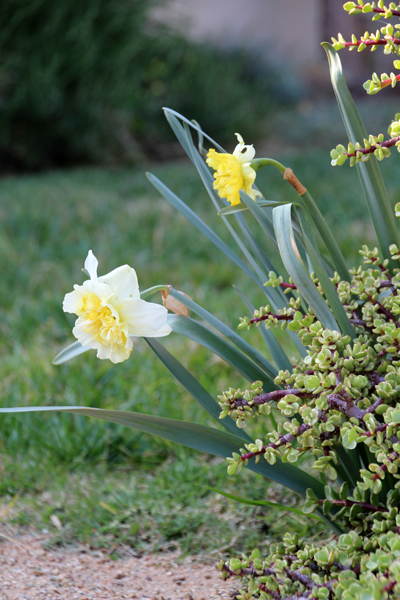 In other spring bloom news, remember when the flower pots on the porch were finally planted and alive with color? Well there was one plant that I was a little nervous about…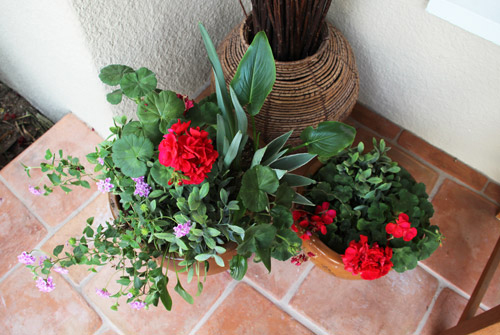 This one.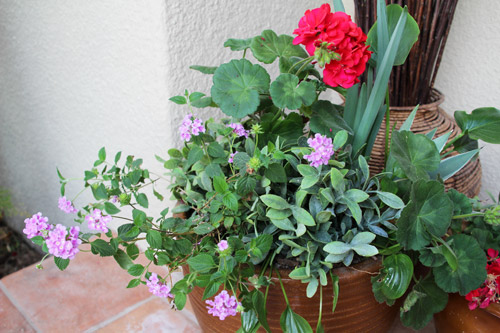 The tag from the original half gallon container mentions that verbena is of the half sun/half shade variety, and sure enough after a few weeks of zero sun (well, no direct sun) she looks a little bit more like this these days: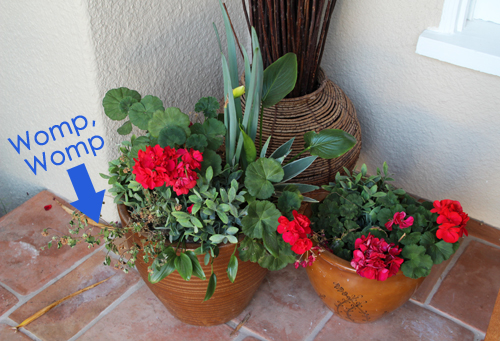 Can you spot the faux plants above? Love that they still look so pretty and green

.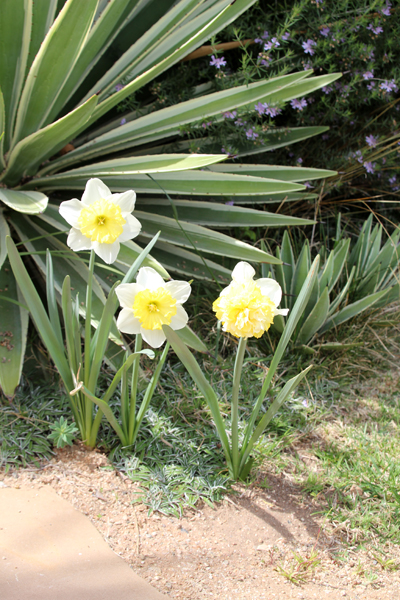 Sometimes it's the small bright spots in our life that cause us to stop and reflect. Thinking of all of those affected by the Boston and Waco tragedies today and offering up prayers of support for the courageous actions of all of those involved.
PS More curb appeal projects found right here.
PPS Talk about unusual art! This artist recently sent over this neat quack-inspired video.
Posted in
Curb Appeal
,
DIY
,
Gardening
,
Home
,
Our Yard
,
Renovating Adventures
|
Comment »
March 4, 2013
Update: Congratulations to Liliana on winning the Lowe's $50 & Change giveaway! Please check your email

. Thank you to everyone who entered!
It's funny how sometimes time seems to fly by so very quickly. Or how some days it seems to stand absolutely still. I suppose it's all how you're feeling at that moment. There are days when I feel like this pregnancy is zooming past and I can't believe we are six months along, and then there are the 'other' days when I can't believe I have at least 100 days to go. But, as far as a belly bump update, it's safe to say I've officially popped and it's no big secret any longer. Especially to the grocery checkout girl (that's when you know…).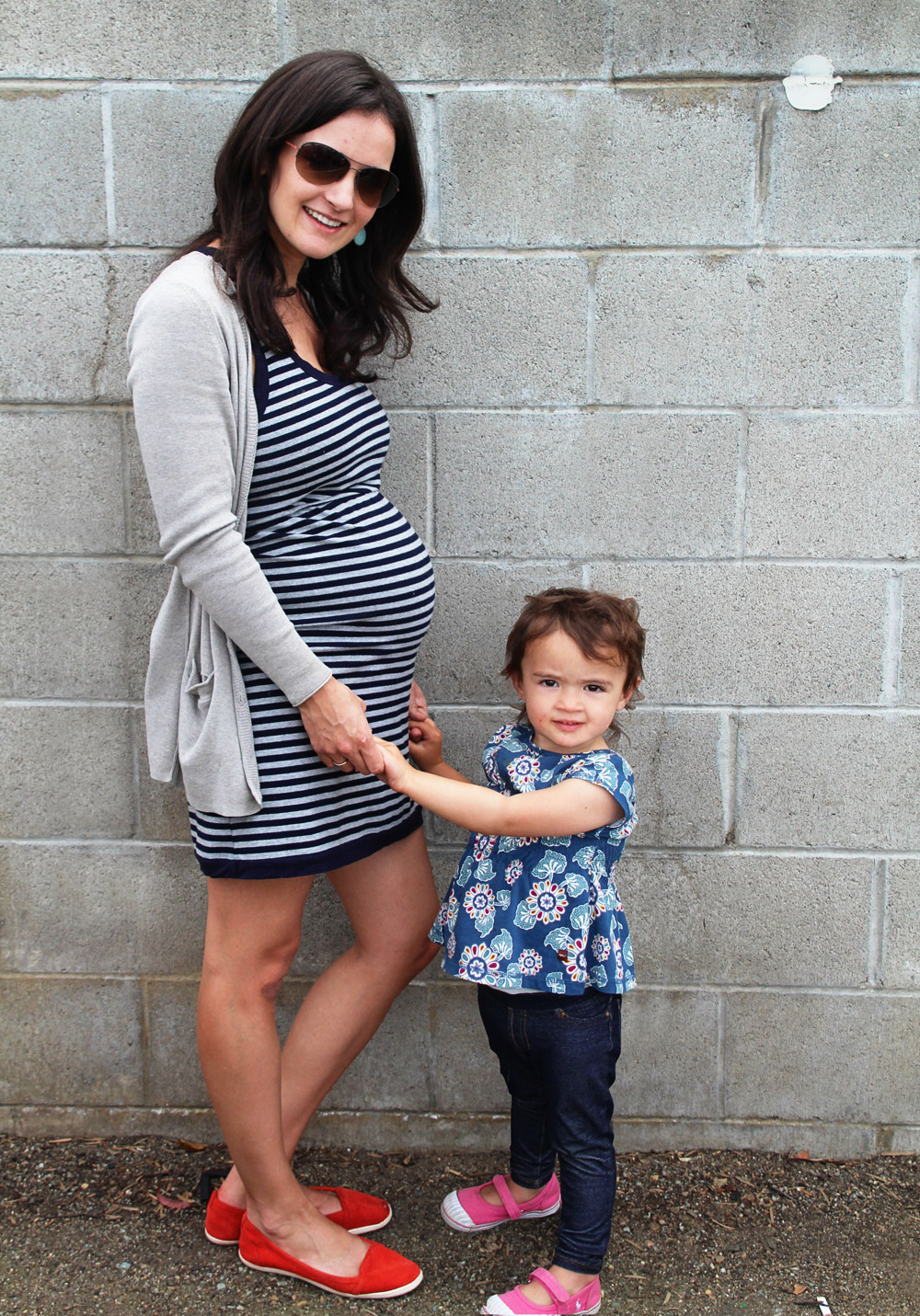 The 'pop' happened overnight. The belly went from the 'wow she's getting a little round in the middle' to 'oh, she's pregnant!' a few weeks ago. Maybe just before this big reveal. I figured I owe you a belly bump shot, but since I'm not so keen on photos these days I rarely slip in front of the camera (I'm also growing the typical tree trunk thighs to support said belly). But! With such a beautiful, sunny, happy weekend, Liv and I were feeling photo optimistic and we took a couple of profile shots just after the Farmer's Market on Sunday. (Poor second babe, I think I documented every month of Liv's pregnancy). Liv is still sure there's a little baby growing in her belly too…
Now on to today's home update!
We are very excited to once again be partnering with Lowes' $50 & Change campaign to share what recent $50 update we've made around the house. Funny how the everyday fix-it/Saturday morning projects tend to hover around that $50 mark, no? It could be installing crown molding or painting a room or planting a spring veggie garden… but $50 is that magic number!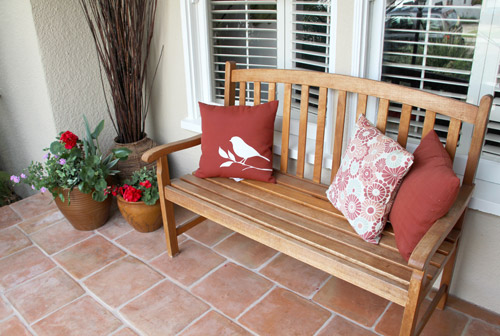 For $50, we gave our front porch a mini facelift.
It's been on my to-do for a while but now that the weather is turning in our favor and the sun is shining bright, it was time to add a little welcoming color to the porch of our Spanish casita.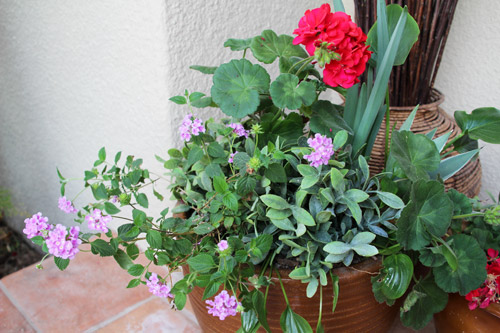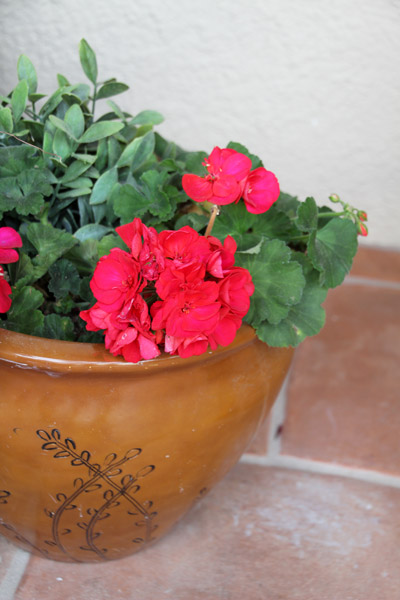 I used my $50 to invest in a new pot, 4 new 1/2 gallon plants (3 red geraniums and 1 purple verbena) and a pretty pillow to add to the mix!
The sticks and basket have been relocated from our dining room – they look much better out here now and bring great height – and the other two pillows across from the new bird pillow had already called our bench home.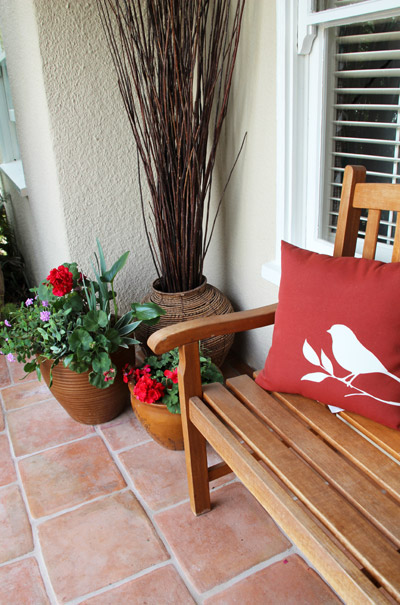 This part of the porch (and the lack of any direct sunlight) makes it really hard to grow anything. I've killed my fair share of beautiful potted flowers before and was near throwing in the towel, but I'm committed to give these no-sun-needed shade varieties an honest go.
To better my chances, I actually mixed in a few 'faux' Ikea plants as well. Can you tell?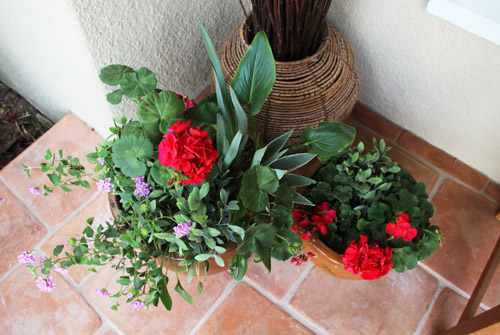 Those green foliage hedge-like guys are actually fake! but when mixed in with all of the flowers and real leaves, you couldn't tell even if you were just five inches away. Now even when all plants are not flowering the pots look full and green.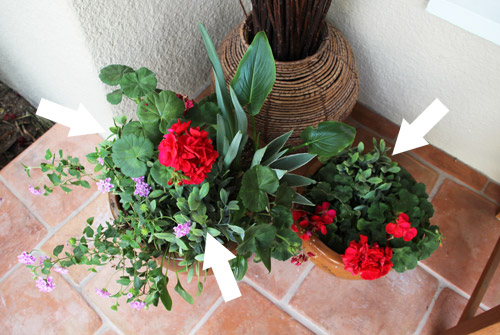 Here's a rough before. This is 'before' paint trim had been decided (hence the two tone windows) and back when the porch was feeling very lonely for color (and our yard for anything flowery, for that matter).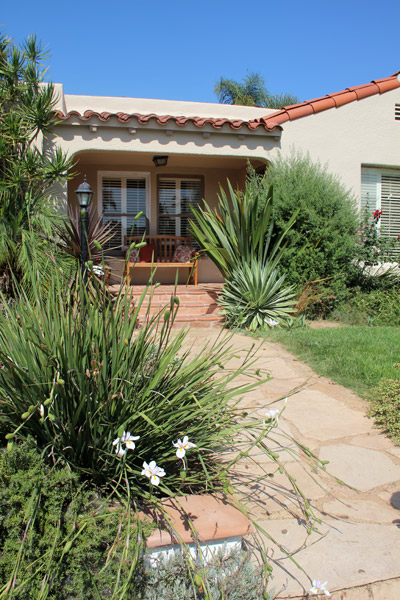 I love walking up to my front door now!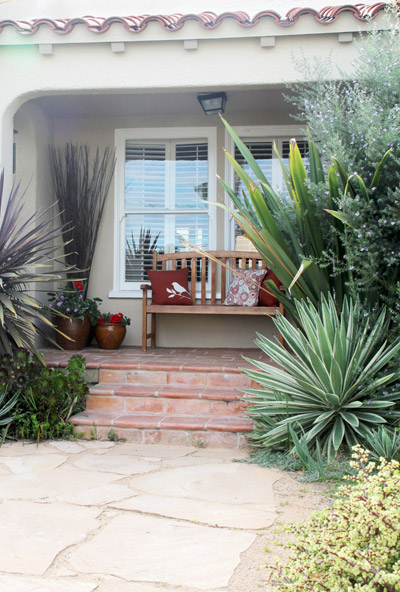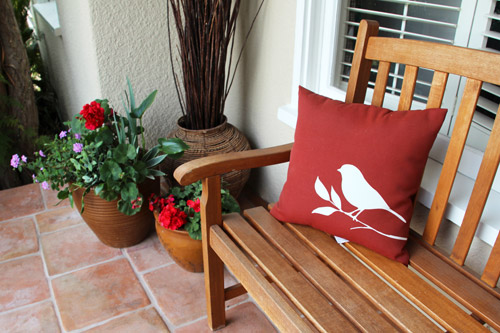 Lowe's is generously offering a $50 gift card to a reader who would like to take on the $50 & Change challenge as well! Your next Saturday morning project is on the house. More info on the $50 & Change program (with ideas and inspiration) here and here.
******************************************************************************************

Giveaway: A $50 gift card to Lowe's!
To Enter: Use the Rafflecopter giveaway entry form to enter once or multiple times.
Giveaway ends Thursday, March 7 at midnight PST, winner will be chosen randomly and announced on the blog. Good luck!
******************************************************************************************
Posted in
DIY
,
Gardening
,
Giveaway
,
Home
,
Our Yard
,
Renovating Adventures
|
34 Comments »