July 13, 2010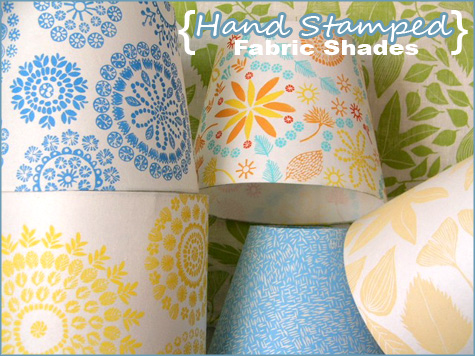 I have always loved a patterned lampshade and I've been keeping my eye out for a fabric that would work well with the new living room design. In the past I've recovered a few shades for the bedroom and else where and I thought this trick might work well for this room too.
But then I discovered Jeanne McGee, a fabulous etsy artist that hand stamps her own fabric and creates beautiful lampshades from scratch (discount at the end of the post). When I saw this basic but classy print I knew it would be the perfect addition. Not too colorful (I redid this coffee table-to-ottoman in a very colorful print for the room already), not too over powering but definitely complimentary to the feel of the space: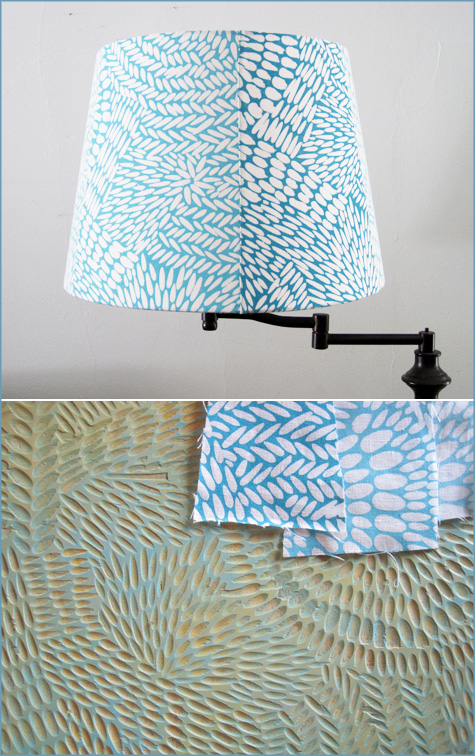 Jeanne and I worked together to find a color that would blend well with the different neutrals in the room: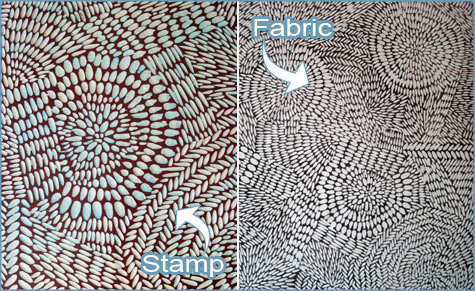 The finished fabric is beautiful! I'm so impressed with Jeanne's talent in creating her own prints.
I asked about her process and she let me in on the secret, which essentially starts with a hand carved woodblock or stamp, white or off-white linen fabric or paper, and colorful ink: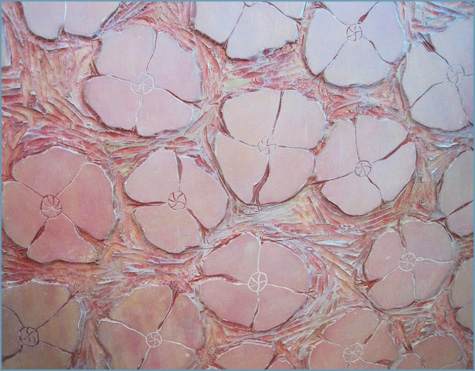 Above is the poppy stamp in it's original form. Below is an example of the ink transfer to the fabric (you can see the stamps all inked up and ready to go in the top image and the finished fabric right below):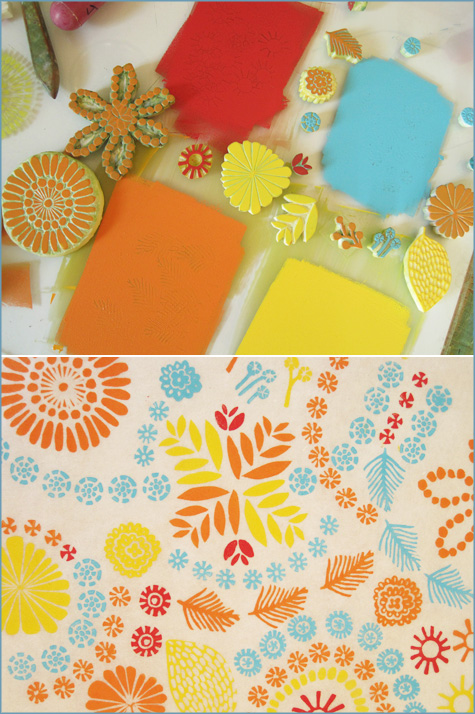 After the paper or fabric has dried, Jeanne adheres styrene to the paper or fabric and begins the process of glueing the paper to the lampshade wire frame. This is done by carefully rolling the fabric over the wire and finishing the edges.
When the lampshades are finished, they look like this!
For more shades and handmade garland, check out Jeanne's shop. I'm excited to share that Jeanne has joined on as a sponsor as well – you can jump out to her site at any time by clicking her lampshade ad to the left. Take advantage of a limited time discount for 20% off by mentioning 'PDB' in your Etsy order!
I'm adding my new shade to the living room and can't wait to share the pictures! Here's a sneak peek: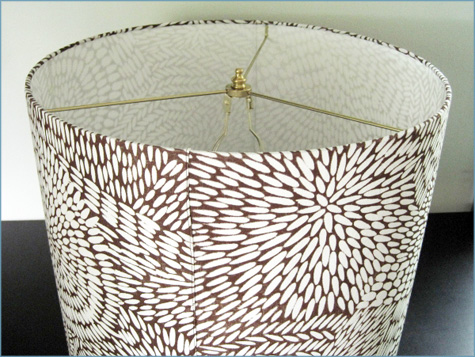 Tags:
Accessories
,
Crafty Solutions
,
Decorating
,
DIY
,
Fabric
,
Home
,
Living Room
,
Patterns & Color
Posted in
Crafty Solutions
,
Home
,
New Sponsor
,
Renovating Adventures
|
2 Comments »
May 18, 2010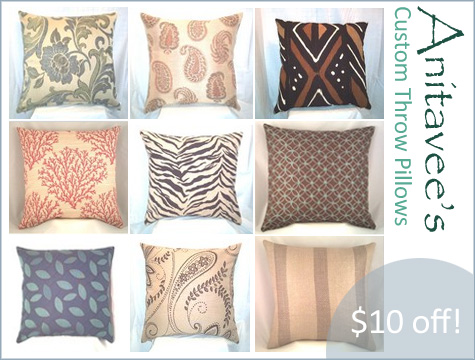 A warm welcome to Anitavee, an online store that offers custom throw pillows in designer prints at a fraction of the price. Readers who enter 'pepper' as a promocode through May 31 will receive $10 off of their order!
A bit about the shop… Melvina, owner and designer behind the store, purchases high-end remnants and bolt ends from interior design studios and furniture/home decor manufacturers for all of her pillows to pass on savings and value to customers. Anitavee carries traditional, modern, ethnic, vintage and even burlap/natural fabric pillows. New pillows are added regulalry and all pillows ship – regardless of the quantity – within 2-4 days for a flat rate of $5.95.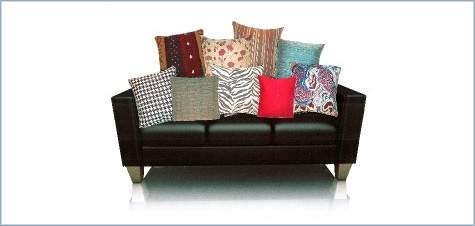 The coral print, zebra stripes and burlap pillows are my favorite – they would look great as accents in the living room or tossed on the bed.
Posted in
New Sponsor
|
Comment »
April 27, 2010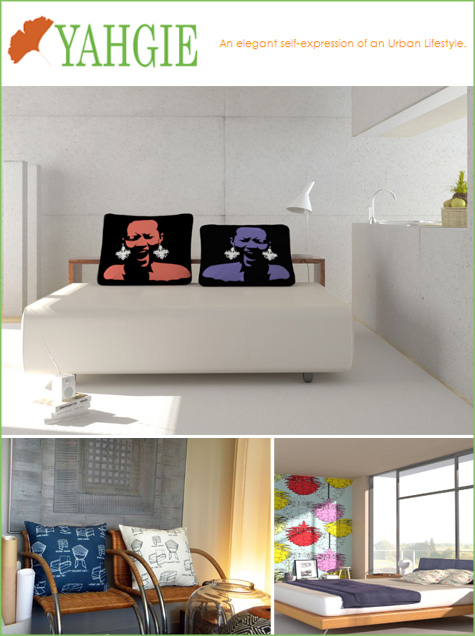 I'd like to offer a warm welcome to our newest sponsor: Yahgie is an urban lifestyle brand with a chic and contemporary line of products that range from bright and bold wall art to trendy coffee mugs and vibrant fabric by the yard. All pieces are hand illustrated by owner and artist Petergaye S. Kisielewicz. As an introduction of her own, Yahgie is offering a giveaway!
The selection of wall art tops my list of favorites and this Home Bliss print would look amazing in a girl's bedroom or contemporary living room (the customizable postcard is more than a close second):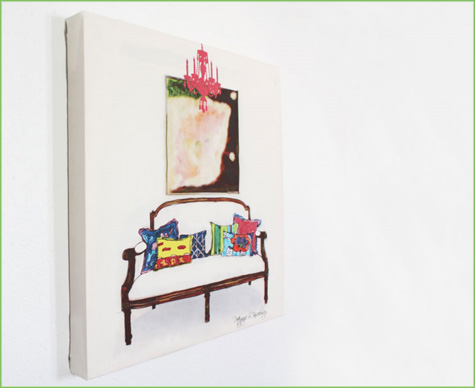 How wonderful are these pillows! They add that splash of contemporary to brighten up a traditional room – or they become the focal point in an elegant and cleanly designed modern layout.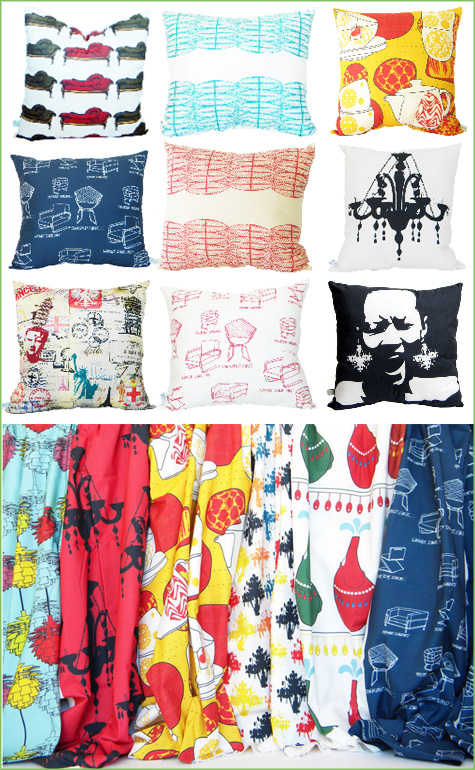 The textiles and home accessories are bright, bold, and colorful, with a distinguishing factor – every product is designed considering the life, safety, and welfare of the individual that it will affect.
Petergaye runs an interior design company and blog full of inspiration as well.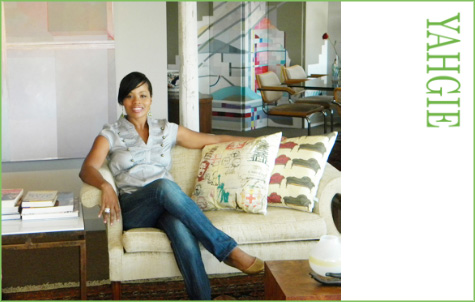 GIVEAWAY DETAILS:
******************************************************************************************
Yahgie is offering one lucky winner their choice of any pillow or piece of wall art (a giveaway valued at $50-$85). Her only request is that the winner share a picture of their new item displayed in their home once it's received!
To Enter: Jump out to Yahgie's website and leave a comment here with which product you love best. Good luck!

Giveaway ends Friday, April 30th, at midnight PST. Winner will be chosen randomly and announced the following Monday.
******************************************************************************************
Tags:
Contemporary Design
,
Home
Posted in
Giveaway
,
Home
,
New Sponsor
|
48 Comments »