April 18, 2013
We've had some spring-awesomeness reveal itself over here and, being my first bulb planting attempt, I had to share it with you.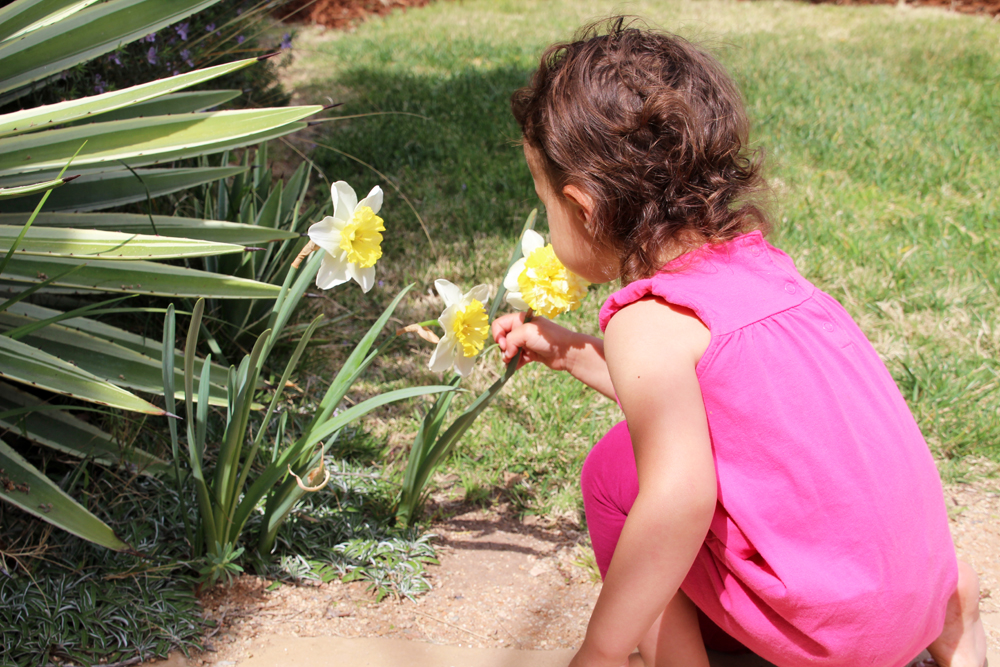 I took a chance last fall (despite not having a green thumb… yet) and planted two dozen or so daffodil and allium bulbs in our front yard. It was my first go, my first foray into bulb planting, so I kept it small and manageable. Just in case project bulb failed.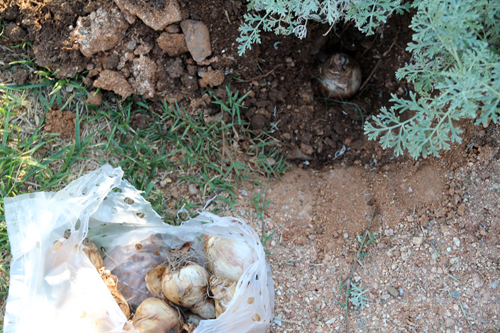 I actually remember watching my mom plant daffodil bulbs by the wheelbarrow full while growing up on the slightly more fertile, rain-loving northern coast of California. She would literally trowel out holes the size of graves and fill the ground with hundreds of bulbs at varying depths. Come spring, those bulbs would slowly break through and line all pathways leading up our driveway in a brilliant yellow! It was beautiful. It marked the arrival of the season.
My planting is slightly more diminutive.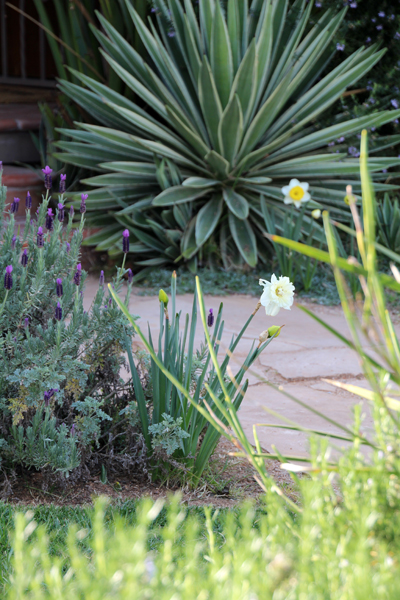 I was actually pretty sure that come spring (5 months post-planting), little would show for my efforts. So imagine my surprise when these beautiful little stalks began to poke up through that gravel-rich, ultra-dry soil that is our desert front yard.
Oh hello spring!! (in my best Carrie Bradshaw voice) you have arrived!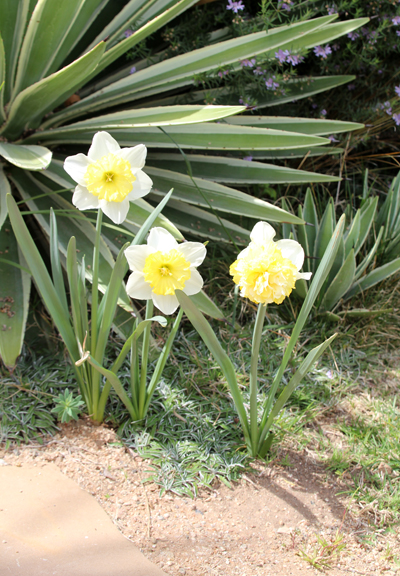 The allium has yet to make an appearance… but I'm keeping my fingers crossed that just as planting daffodils at different depths will yield different blooming periods, these guys will suddenly pop through and surprise us! Because… maybe they take longer to germinate? At least the packaging promises 'late' spring blooming while my daffodils boast of 'mid' spring blooming.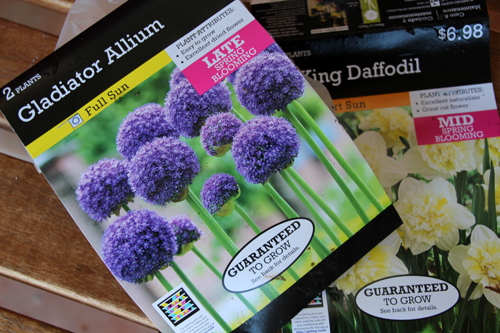 Oh please pop through you pretty little puffs.
As for actually planting these guys, last fall I chose four or five special little spots in the yard and nestled 3 or 4 bulbs in each. I hadn't started the bulbs in water outside of the ground nor have they received special attention since (except for the occasional watering). I planted them about 5″ or so below the soil, but that includes the decomposed granite and mulch that is the ground covering for most of our desert-friendly front yard.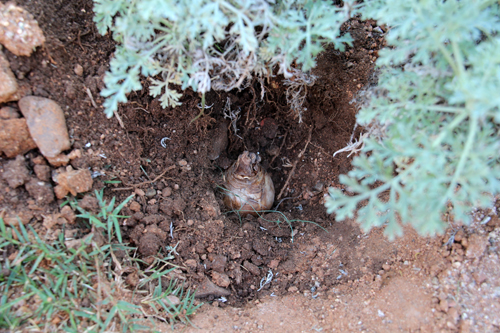 Your average visitor would have no idea my delight in the garden at the moment. But I spot that little yellow welcome sign every day!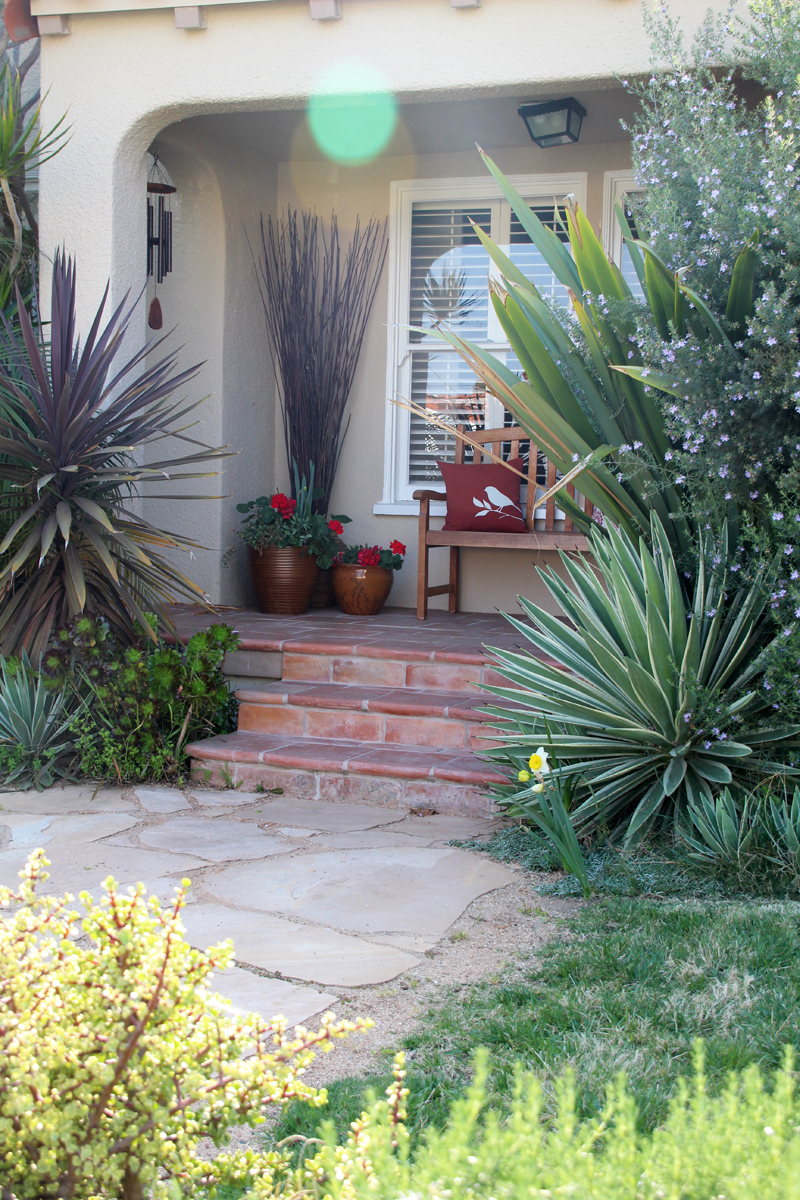 Actually, I'm a little surprised that they are already starting to wilt and shrivel up. So much work and anticipation for just a week's worth of bloom. Is this odd? Perhaps next year (now that I know that I can do it!) I'll plant layers of bulbs so that just as my mom did so that as one set begins to die down the next will begin to bloom. Kinda sounds like a pricey solution to a month's worth of blooms though?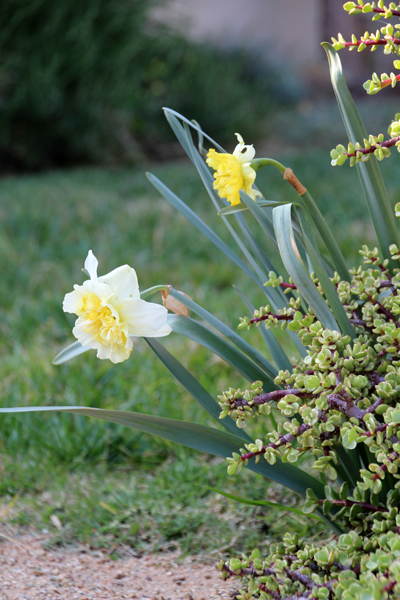 In other spring bloom news, remember when the flower pots on the porch were finally planted and alive with color? Well there was one plant that I was a little nervous about…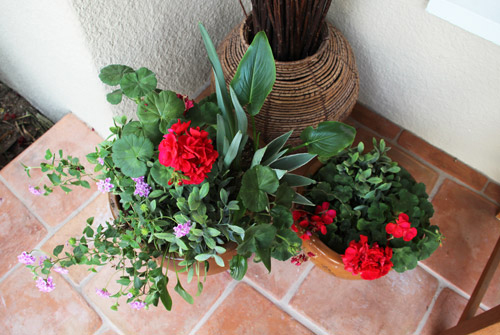 This one.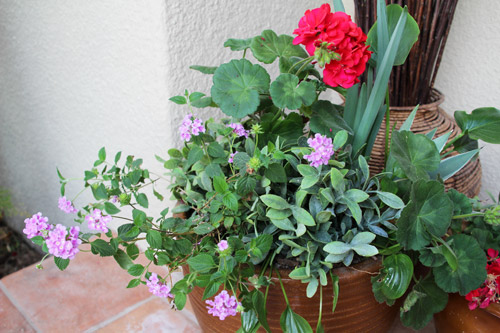 The tag from the original half gallon container mentions that verbena is of the half sun/half shade variety, and sure enough after a few weeks of zero sun (well, no direct sun) she looks a little bit more like this these days: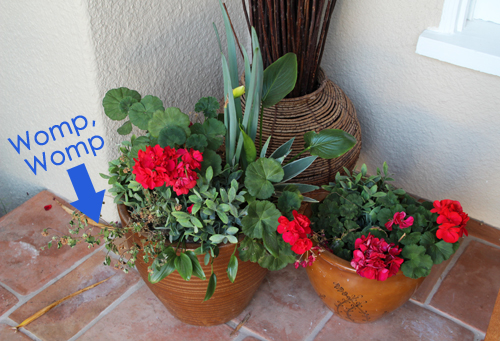 Can you spot the faux plants above? Love that they still look so pretty and green

.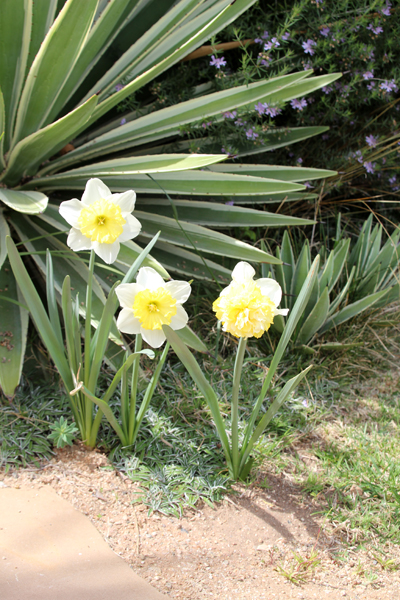 Sometimes it's the small bright spots in our life that cause us to stop and reflect. Thinking of all of those affected by the Boston and Waco tragedies today and offering up prayers of support for the courageous actions of all of those involved.
PS More curb appeal projects found right here.
PPS Talk about unusual art! This artist recently sent over this neat quack-inspired video.
Posted in
Curb Appeal
,
DIY
,
Gardening
,
Home
,
Our Yard
,
Renovating Adventures
|
Comment »
January 1, 2013
Happy 2013! As promised, I spent my New Year's at home with a glass of (Martinelli's) champagne and in uber comfy style (unlike my imagined idea), no major stories to tell but a relaxing welcome to the new year.
Man oh man I can't believe it's already 2013. This past year has come and gone in the blink of an eye and while there were so many adventures and projects and stories to share, it feels like it all happened quite quickly really. With that in mind, I thought now might be a fun time to take a walk around the house to see what Kevin and I crossed off the house renovation project list from last year, and what we might be tackling in the coming months/year now that it is officially brand new. Here's a similar walk-through from 2011 (wow, that seems like yesterday!).
Just for fun, let's take it waaaay back and sneak a peek at what each of these rooms looked like before moving in as a more grand comparison.
The Dining Room
First up, the dining room. No major construction changes here (except that that left door below now leads to a hallway to the new kitchen and the right door below no longer exists – see bathroom update next) but plenty of design changes. Mmm I still love the soffits in the ceiling and the rounded walls that make this a 1930s home.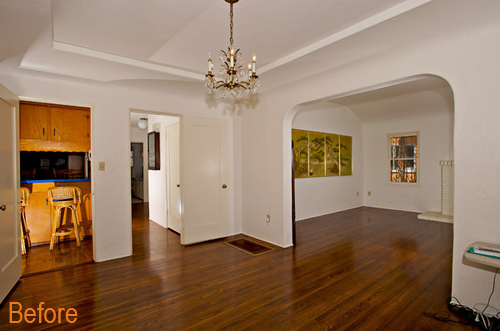 In 2012 we played with rug ideas, new lighting, adding curtains (transformed from a favorite pattern found in a duvet cover) and finding neutral art to balance out the dining room space. Plus this awesome greenery (which does not like its current location – Fiddle Leaf Fig owners with a green thumb, please email!). We still have plans to come up with comfier seating options and more light (that pendant, as beautiful as she is, does not give off a whole lot of bright).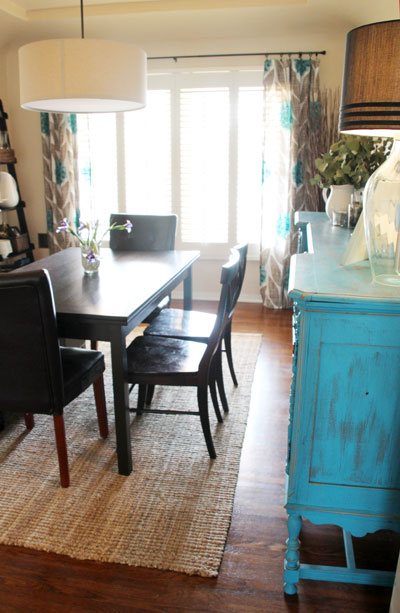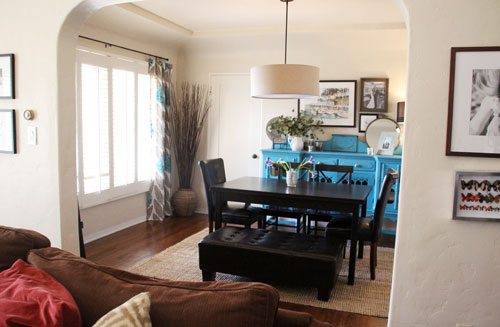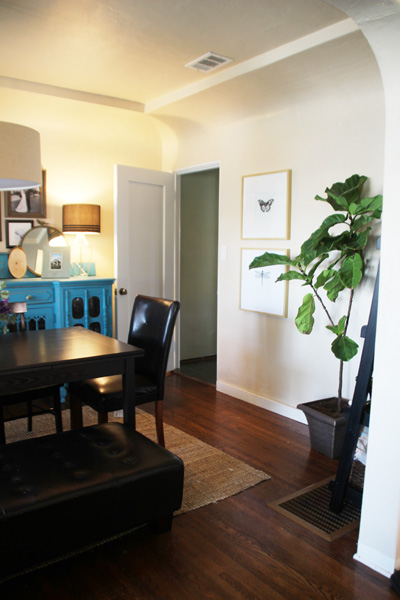 More about all of the the dining room updates here.
New Guest Bathroom
Next is our build-from-scratch bath that used to function as three small closets (two for the hallway, one for Liv's room). The before (photo taken from the back of the house, the same hallway from the other direction is in that top before shot of the dining room):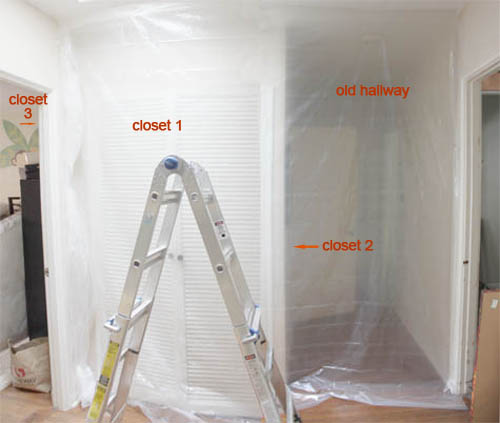 Here's a quick glance at the sketches we initially created to help guide the space, not too much changed over the course of the couple of months of building in terms of layout and design: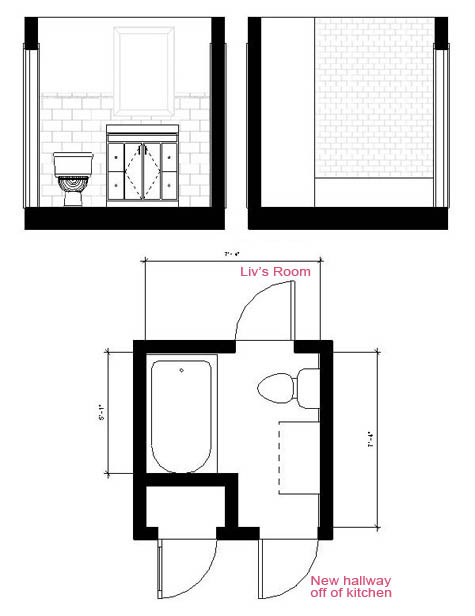 And the crazy construction behind it: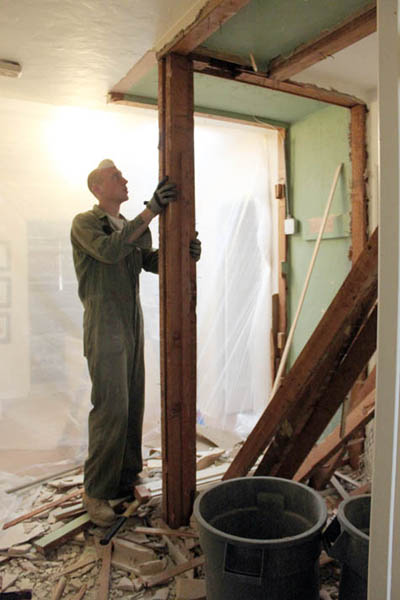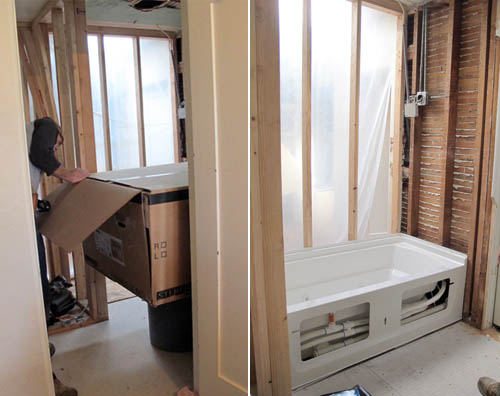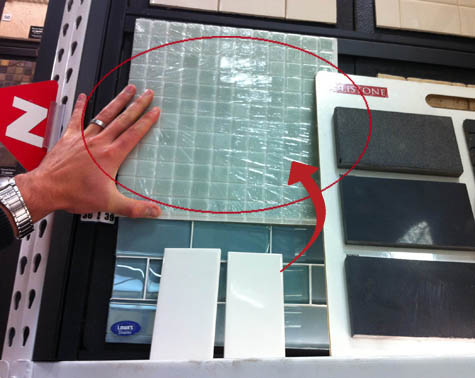 All of which brought us to here!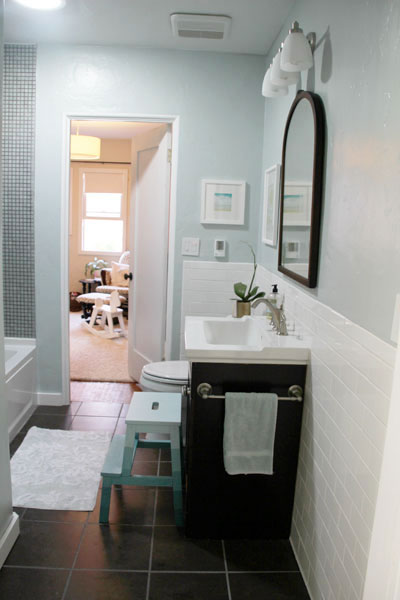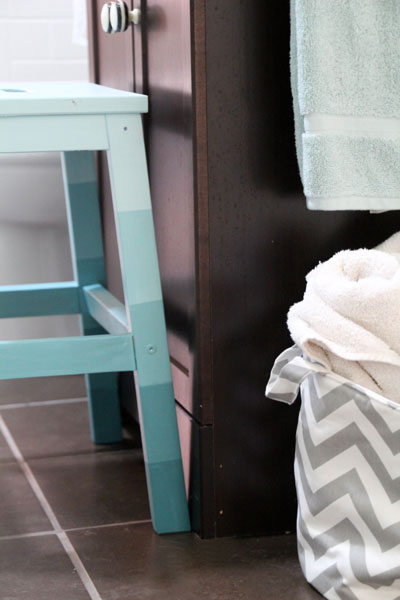 More details on all of the little DIY projects plus the full construction process play-by-play can be found here (favorites include this ombre footstool and awesome Etsy chevron towel bag).
Hallway Redesign
Once the bathroom was finished it was time to tackle a big chunk of empty wall on the opposite side of that tub up above in the hallway. This particular hallway is a roomy space that connects bedrooms to the kitchen and the rest of the house, so it's a natural play space for Liv and her push toys/doll strollers while we're cooking or eating in the kitchen. It made the most sense to keep it as kid-friendly as can be.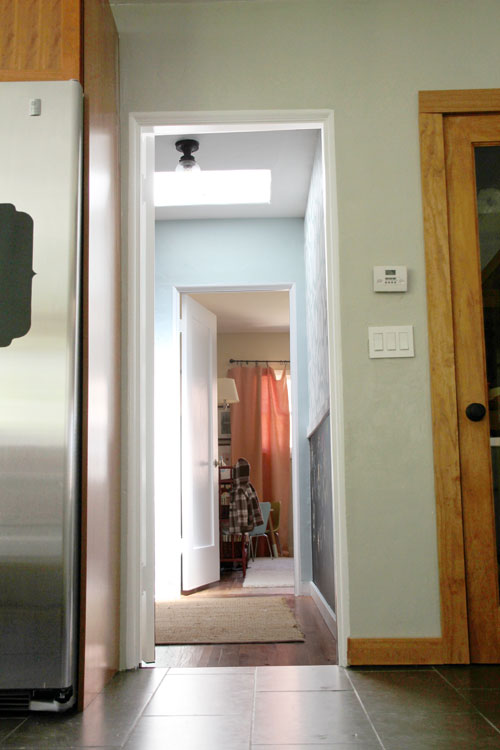 So, I painted the lower half of the wall to encourage massive chalkboard murals and the top half with my own version of a wallpaper design using painter's tape (after much searching and not being able to track down 'the one').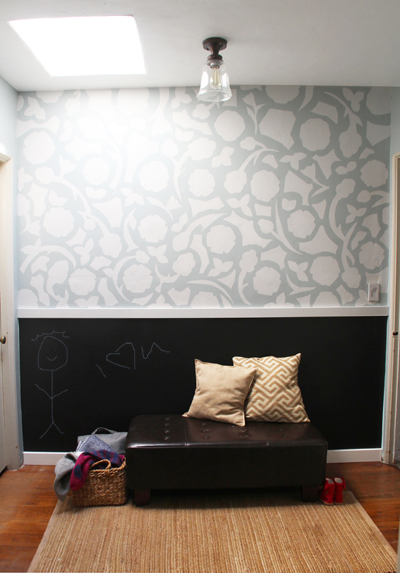 We have since removed my 'shoe-putting-on-station' because the bench really was not so great at corralling loose jackets, shoes, handbags and what not as I had hoped, and eventually became more of a tripping hazard. Ah well. On the plus side, Liv has more access to the full chalkboard and loves to cover it with her shapes and squiggles!
We plan to revamp this entire hallway space once we settle on a master bedroom/bath redesign, so this next update will likely not last through the end of this upcoming summer. But this side of the hallway needed a little storage love as well so a Craigslist corner unit received a paint update and a few favorite knick knacks. The below two shelves now house blankets and what not.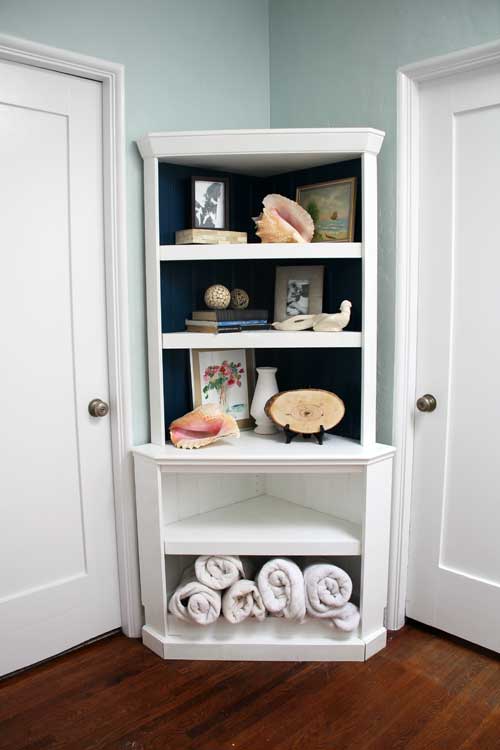 Office/Guestroom
Most of this space was built and finished in 2011 (the original kitchen used to live here). But we did make a few updates such as a new fabric headboard for the guest bed, new wall collage (including this handmade favorite), new Craigslist vintage storage and chair, and rug for on top of our rug (that perty white has nothing against a dog and toddler).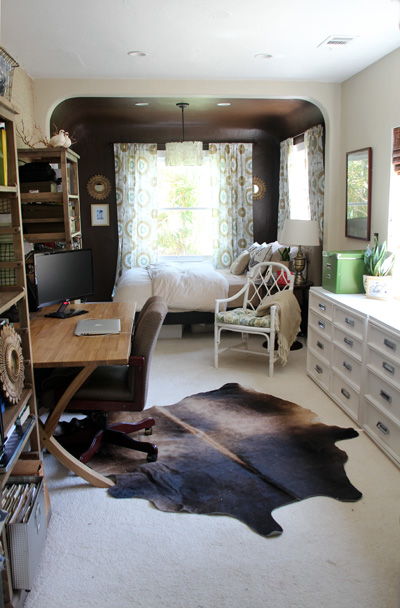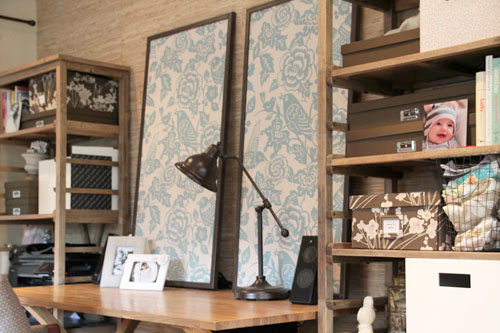 Follow along with office projects here. And believe it or not this space used to actually look like this!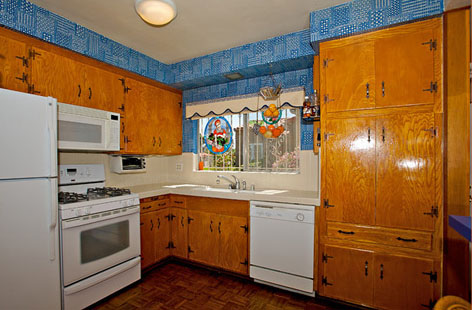 Living Room
Our living room received a few cozier updates with a few more in store for 2013.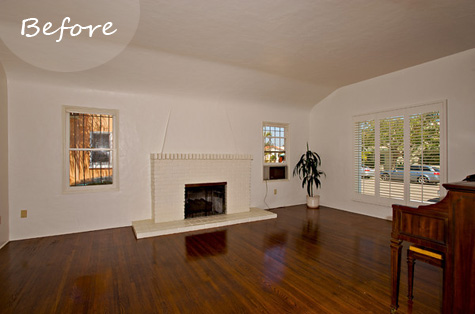 New envelope pillows, embroidered artwork, DIY butterfly art and a faux canvas painting made my list of top changes, though we also invested in a super shaggy/soft rug for playing with blocks and a few new pieces of bookshelf tchotchkis (this being my favorite).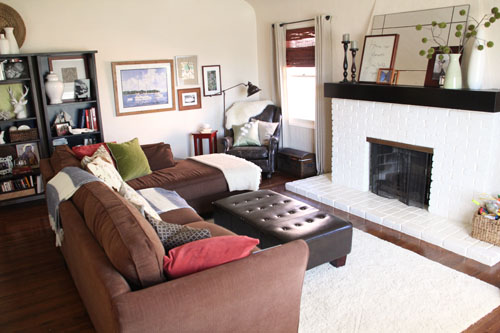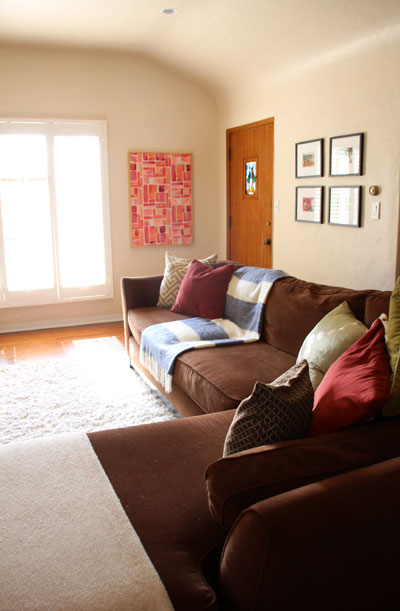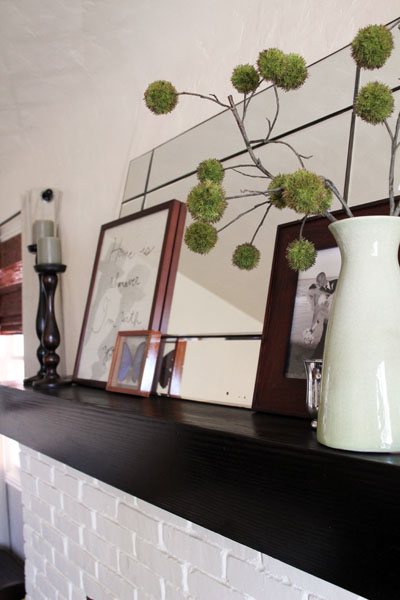 Curb Appeal
So much to be said about all of the outdoor work happening around these parts in the fall of 2012! We painted the house (more to come on that, we actually still have windows and a few little areas to complete) and we're loving the new soft tan color!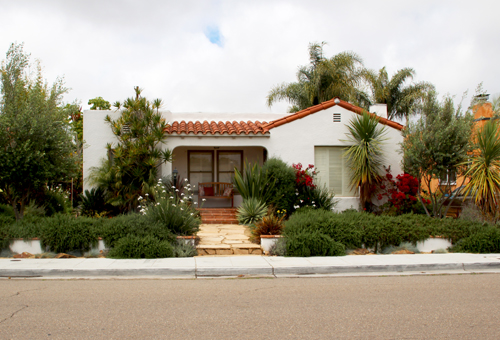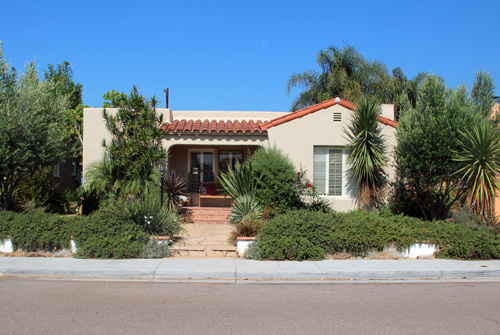 We've chosen white as the window trim and those front two windows have since been restored (also something we're teaming up with professionals for) and painted. Kevin stained the front porch bench and grouted the saltillo tile under foot as well.
The jungle of a sideyard was also tackled!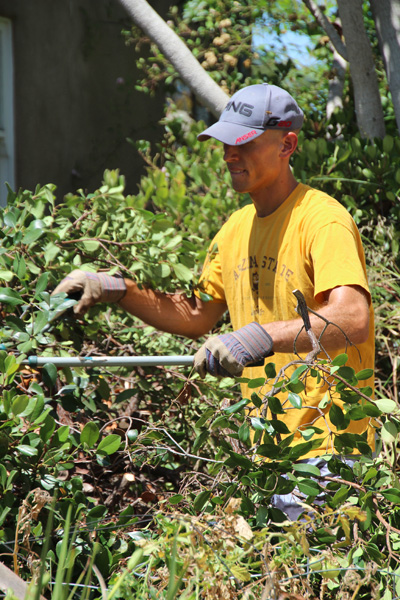 A little clearing, wall building, deck laying and table building (from very cool reclaimed wood) later…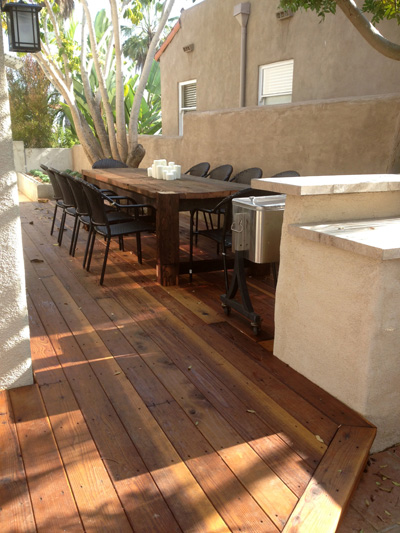 And you have one of our very favorite updates. This is an awesomely useful outdoor space now for dining, cooking marshmallows and BBQing alike. The above dining table is just off of our new kitchen so when it's time to par-tay we push the wide doors open and join the two big spaces.
These two photos below are pre staining, but you can see how the new flagstone ties in with the rest of the backyard!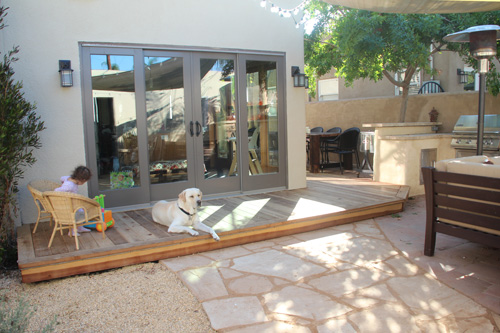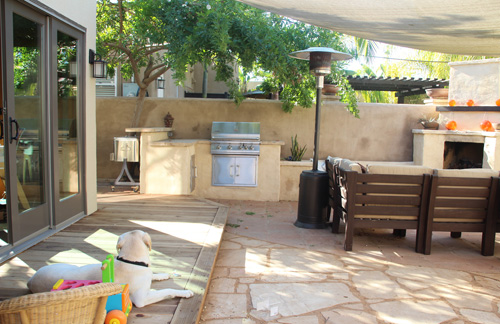 And there it is, the big stuff from 2012.
Still on this list? Much. A master bedroom/bath remodel, guesthouse makeover (we have a little back unit near the garage), finishing up the kitchen nook and hallway, Liv's big girl room + new nursery, the garage and a few more curb appeal updates. Plus the usual day to day crafts, style boards, parties and ramblings of this blog. AND a new baby. Woohoo!
Thank you for joining us on our adventure. I feel so incredibly lucky to have an online group of friends that offer awesome suggestions, that extra encouragment just when we need it and who check in on us on a regular basis. Thank you. And very much looking forward to spending the rest of this new year with you!
Tags:
Decorating
,
Dining Room
,
DIY
,
Home
,
Living Room
,
Office
,
Year in Review
Posted in
Curb Appeal
,
DIY
,
Home
,
Our Dining Room
,
Our Guest Bathroom
,
Our Guestroom/Office
,
Our Hallway
,
Renovating Adventures
|
10 Comments »
November 5, 2012
The side yard is almost finished! The entire backyard feels transformed and we are now very close to crossing it off of our list. In a couple of months it went from a space that you practically had to pull on mud boots to wade through, to a relaxing read the morning paper/play with Liv/dine under the stars snuggle spot.
Then: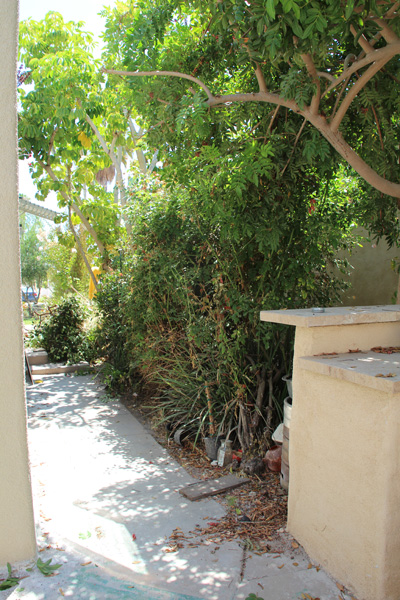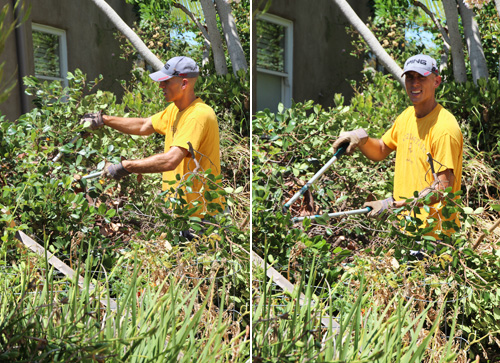 Now: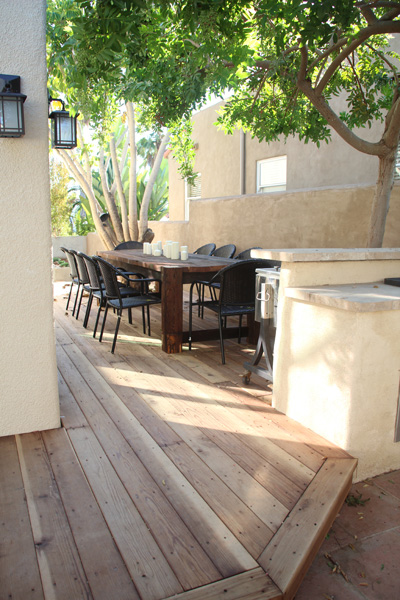 Cue the collective 'ooooo'. I can't take much credit for this space and I hand over all of the glory to Kevin.
We put it to good use on Halloween when we test drove the new dining spot with a few close friends and their families: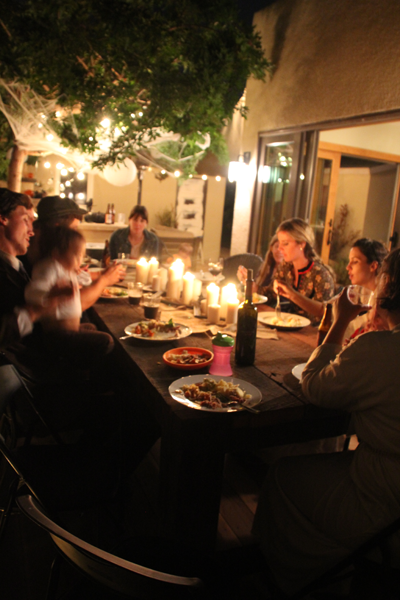 It was perfect. And thank goodness for this beautiful San Diego weather that we have through the better part of fall! I think we'll get plenty of use before it's too chilly to eat outside.
We partnered with Lowe's for pieces of this project as a part of their Curb Appeal campaign this year, and I'll be sure to point out areas where their expertise and product played a big role. You'll see more of my favorites in the final reveal when pots are in place and flowers are a bloomin'. It is a huge honor to represent our favorite home improvement store on the blog, so a big thank you to the folks over at Lowe's

– you guys are awesome.
Back to the side yard transformation… it is still amazing to me that there was SO much space hiding in those bushes! Here's a shot from the front of the side yard looking back.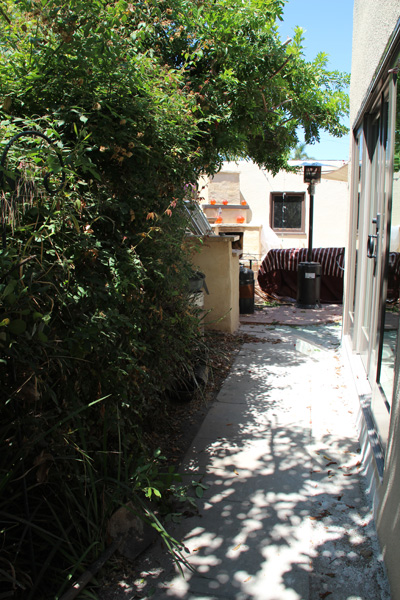 We expanded the deck all the way out to the new wall and property line between our house and our neighbor's, which essentially took a foot path that was three ish feet wide and turned it into a deck space 3 times that width.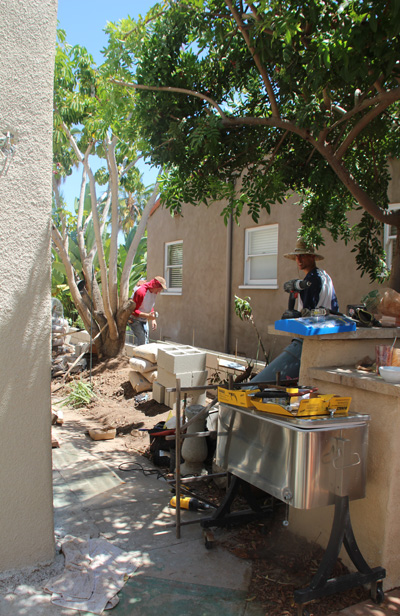 I last left you all with pictures of the wall as it was beginning its ascent. The wall was an arduous task – who knew so much cement and cement block could take so long? But as soon as the wall was finished it was time to lay the footers and frame out the future deck. These photos were from days before we left on our big trip, so we actually brought in a couple of recommended guys to help us knock it all out. Local San Diegans, hit me up for phone numbers if you need deck or flagstone contacts.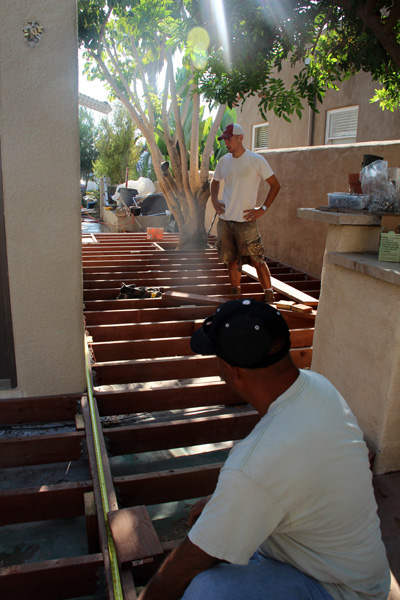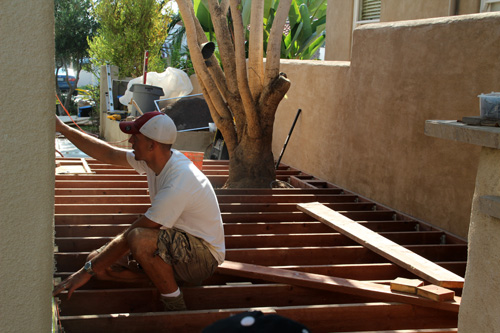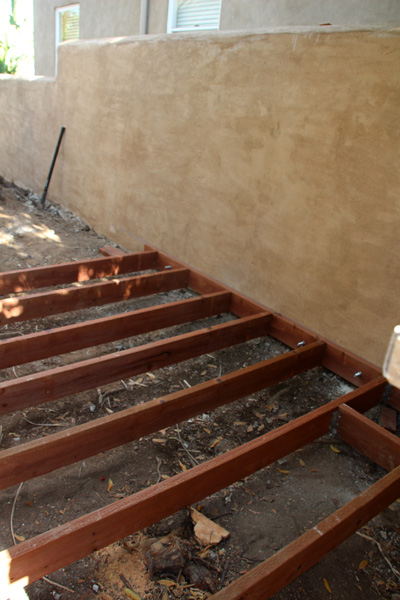 After much research and many hours spent perusing the forums of deck builders (yep, they exist), we settled on pressure treated douglas fir for the frame of the deck and redwood for the top. Choosing a synthetic vs real wood deck is very much a preference and budget choice – there are so many options out there these days and it all comes down to the look and feel that you are hoping to accomplish as well as the amount of upkeep you're willing to supply on every-few-years basis.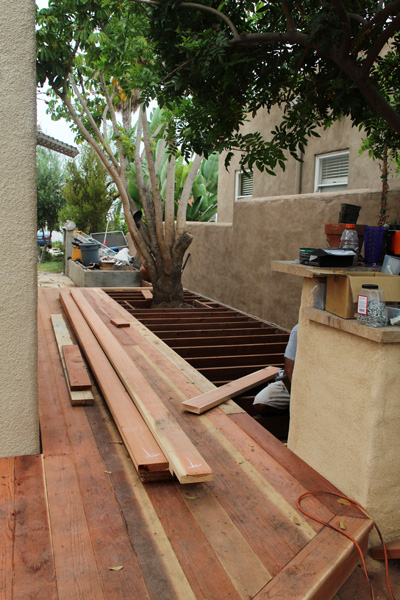 We chose natural wood for a variety of reasons, a few included: the overall look and feel of the deck (wood vs wood-like), redwood is naturally weather-resistant (though we'll seal it annually to prevent damage) so it won't bow or shrink as it retains and sluffs off water from a storm, there is little expansion/shrinking of boards over the years, it contains tannins that make it least-termite friendly and rot prone of natural woods, it's easy to work with, it's quite durable and most importantly, it fit our budget. Other materials considered: oak, cedar, tropical woods (like ipe), pressure treated wood, plastic and composite options.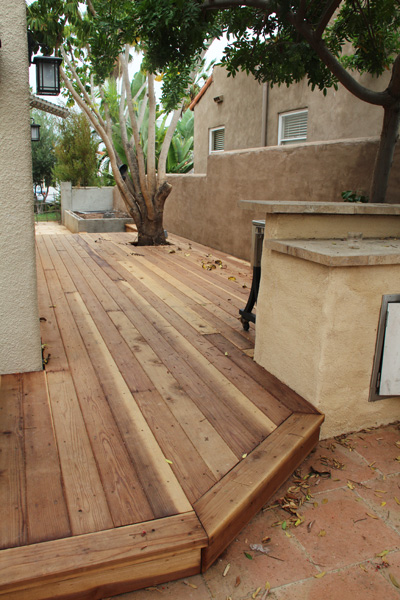 This is where we finished up before leaving for Europe. A functional deck but not yet stained or sealed (bad!). Now we'll have to pressure wash it back down (as well as possibly sand) so that we can seal the deck asap.
We have a little surprise going in at this end for Liv!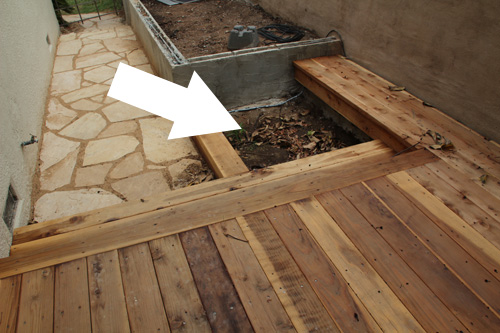 The flagstone path from the front of the house now wraps around to the back. We'll eventually replace that window above the path (the only aluminum guy in the house), the door in the forefront of the photo (with a version that matches the paneled sliding doors) and add a nice gate to the front of the side yard, too. Also on the list is texturing and painting the garden box that is still sad and grey.
Mid-deck build we asked our electrician to come out and help us install deck lighting. Kevin chose to wrap rope light all the way around the base of the deck so that a subtle uplighting would highlight the space at night.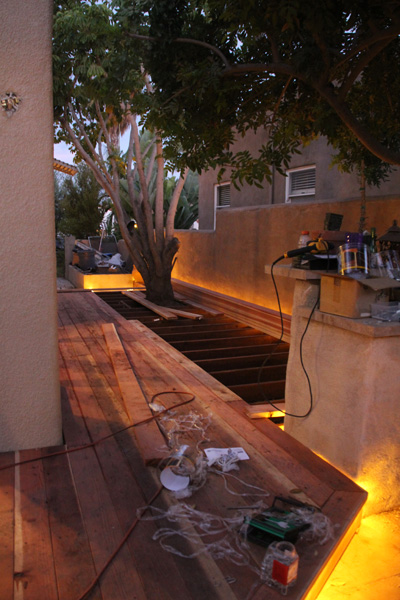 Oooo, so soft and pretty (and energy efficient). Here's a glance at the under side, the lights are held into place with U shaped nails.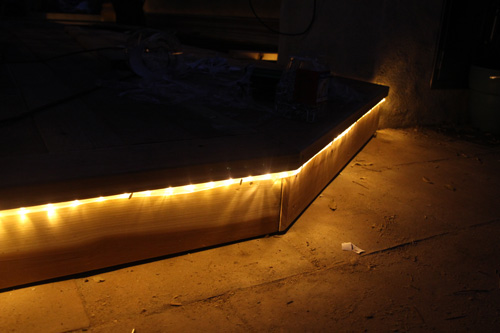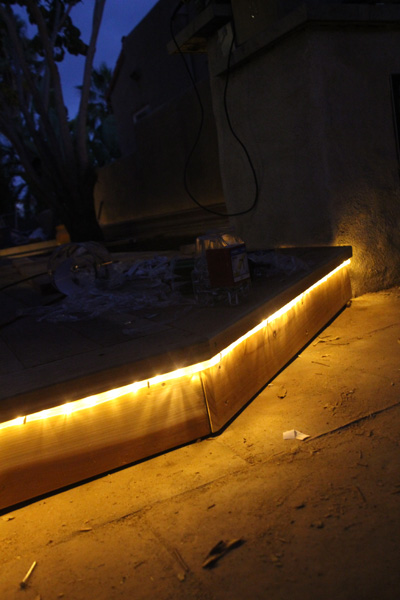 We also had electrical outlets added to the outdoor kitchen island and porch lights installed on either side of the kitchen sliding doors. These guys are great! and very cost-efficient.
Kevin and five of his strong buddies added the new table to the deck just in time for Halloween, but we'll pull the 1,000lb beast off again before we stain. Can't wait to share how that table came together so quickly!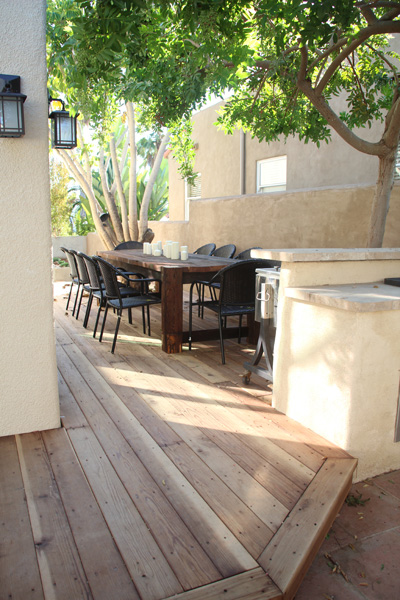 The outdoor dining area sits right off of the large four paneled sliding doors from the kitchen with the goal being that the two spaces could easily be integrated on warm summer nights.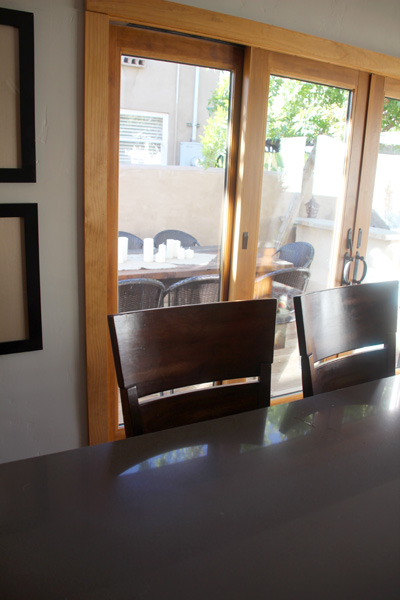 Still need to find or DIY some sort of long candle plate to hold my white pillar candles (from Ikea), so that any potential tip overs don't hit the actual wood table or deck.
Here's a view from the grilling area that we built back when we first moved in. We found the grill, doors for the various storage compartments in the island and the beverage bin on Craigslist for a steal (a landscaper had just pulled them out of someone's property for an upgrade), and then Kevin built them into a cement block cooking area that was eventually plastered a neutral sand color.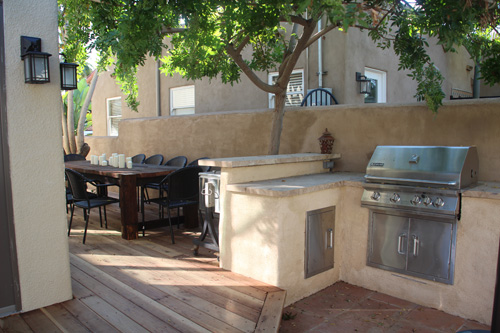 To the right of the grilling area is our outdoor fireplace (Kev also built that from scratch a couple of years ago) and the outdoor sectional that we semi-DIYed (the cushions at least

) for cozy fire-side wine nights.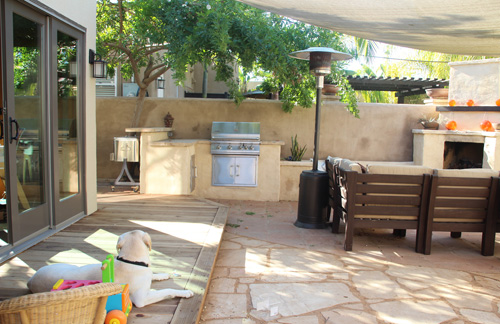 The original plan was for the deck to stop after the side yard, but Kevin came up with the idea of wrapping it around the back of the house and it was brilliant! Now the two spaces feel very entwined and connected.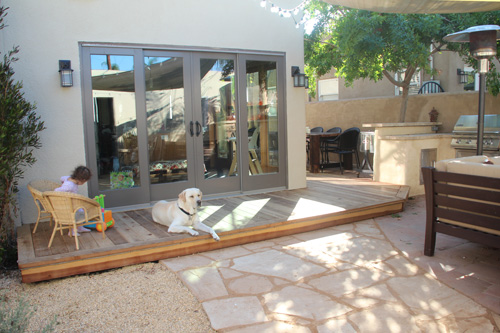 I hope to one day replace that decomposed granite that continues to crawl around the back of the house with a lawn area for Liv to run around on. But it's very pretty and neutral for now.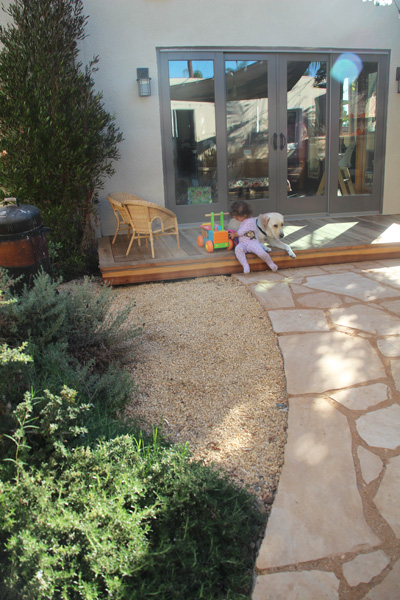 The above photo is deceiving, but that DG actually stretches another twenty feet to the left. I'll have to snap a few photos and show you all soon – perhaps when the chicken coop is a bit more photo ready!
Bodie and Liv, best friends forever.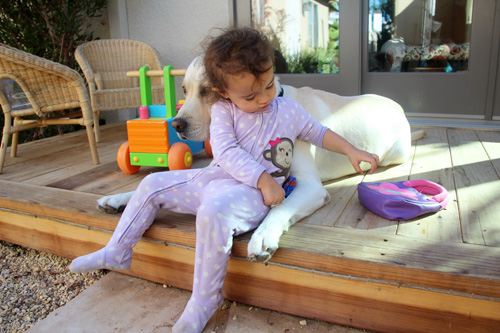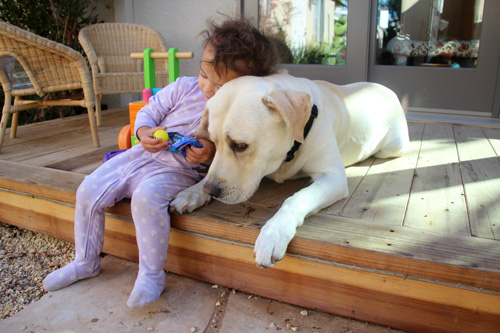 I found a cute set of wicker chairs at Ikea a while back as well. I need to treat them for outdoor use (I'm already starting to see the side affects), but Liv's a huge fan of sitting on the porch and playing or 'reading'.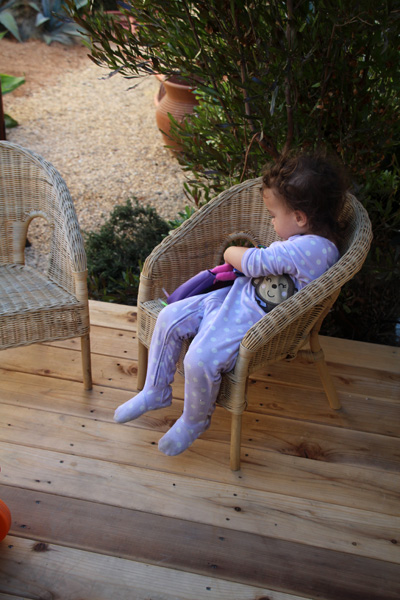 She really digs Liv-sized chairs right now.
One more post on staining and sealing (still deciding on colors – possibly just a nice clear to really show the grains in the redwood and so that it contrasts nicely with the table) and then our deck is finished! To be completed on the yard front is the flagstone path that stretches from the back of the house to the garage, a remodeled chicken coop, finish the garden bed and find a beautiful gate to seal it all up.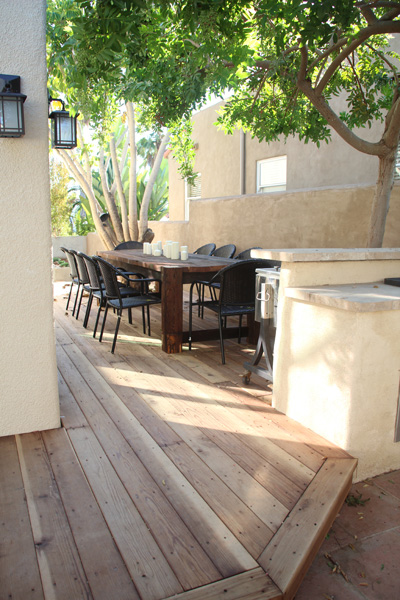 Yay for fall projects! And more Curb Appeal posts headed your way as we finally finish painting the house, continue our work on restoring the windows and add pretty winter foliage to the bare spots that still need a little love.
We are incredibly excited to have partnered with Lowe's for various parts of this project, including those great dining chairs (more on that when I share about the table), outdoor lighting and deck framing materials. All opinions are always our own and as usual we try to keep it as real as can be.
Tags:
Before & After
,
DIY
,
Home
,
Side Yard
Posted in
Construction
,
Curb Appeal
,
DIY
,
Home
,
Our Yard
,
Project Lowe's
,
Renovating Adventures
|
7 Comments »