April 17, 2013
Well sort of. The wallpaper samples for the nursery remodel have arrived. I've been staring at them for a couple of days now and am trying to imagine how each might look covering an entire 10×15′ ish wall – and I have to be honest – I love them all. I'm pretty sure that any one of these designs would be so perfect in here. Which oh which to choose?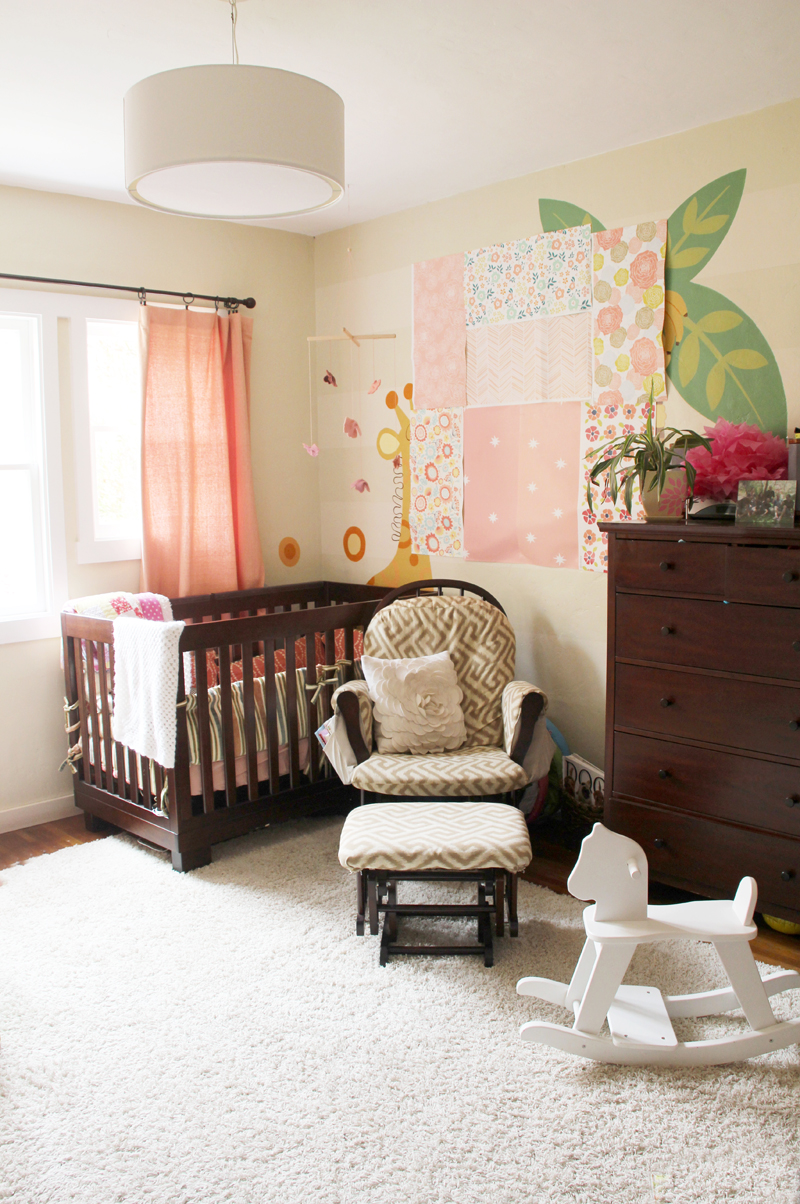 Here they all are up close if it's hard to see the above at an angle.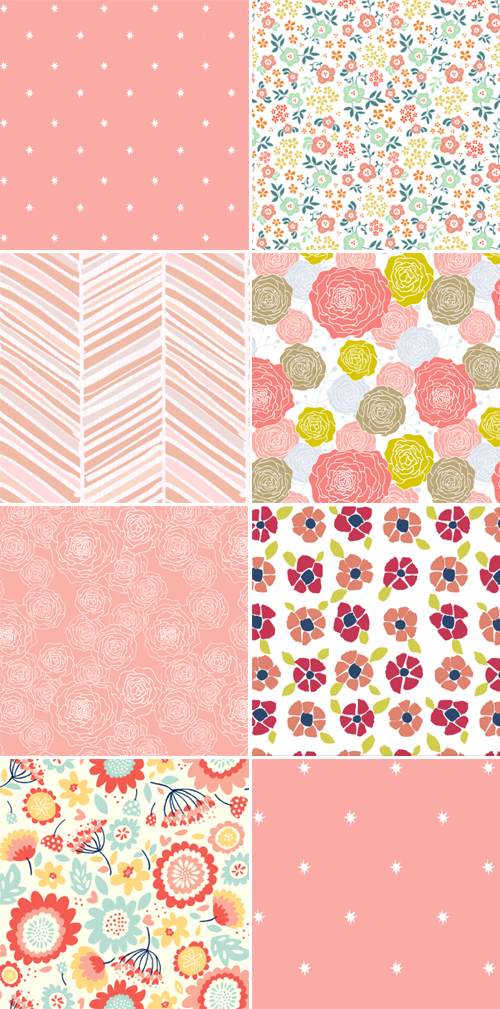 Most of these I shared here when I was debating on what direction to take my solo statement wall. Clearly I'm still debating, even when I was sure that ordering my favorites and hanging them up would help settle that nursery quandary!
All of these wallpaper samples are from Spoonflower, an awesome site that lets you design and print your own fabric and wallpaper (oh search thousands of predesigned options by different artists, sort of like Etsy). I've used them a ton and they are reasonably priced compared to purchasing something manufactured (though boy does it take a long time to process and ship your order… I have too little patience these days).
I designed the two starry prints (top left, bottom right) which were inspired by this Osborne & Little wallpaper. I spotted the pretty night sky in House Beautiful a while ago and the image sits in the back of my mind. Not happy with any of the colors offered through Osborne & Little, I recreated from scratch and used both a peach (top left) and light pink (bottom right) as the background, while also softening up the stars and playing with the frequency in pattern. The rest of the prints are handmade on Spoonflower by various artists. Clockwise you can find the links here: 1, 2, 3, 4, 5, 6, 7 & 8.
The pinks are not exact, the fabric examples are still undecided (and will depend largely on the wallpaper) and this is in general a pretty crude photoshop markup, but here's how I think the bookshelves will work with the space once they're installed: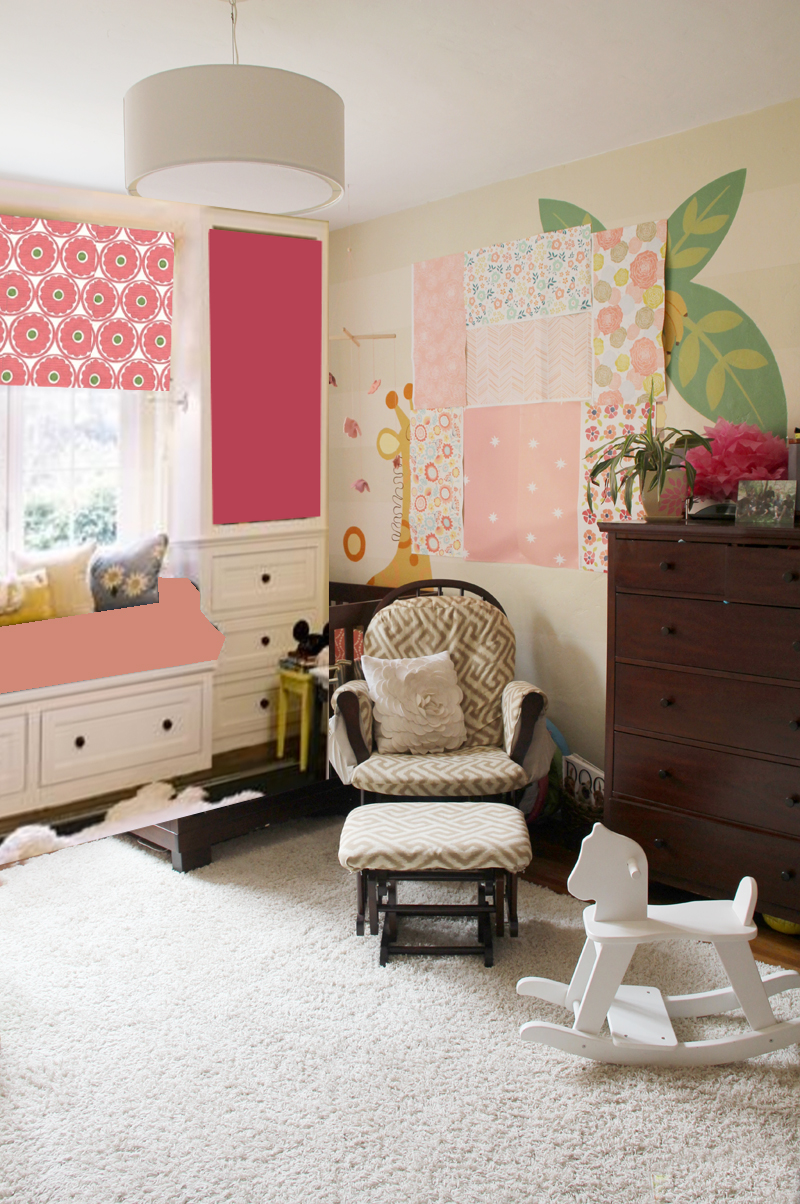 Amazing for storage, right? Oh man I can't wait.
Update: Fabric Warehouse Direct is offering that beautiful Kravet window covering fabric that I photoshopped into the above pic at a steal of a rate right now. 
Ignore the random throw pillows and the other pieces of photo I didn't get a chance to photoshop out. I'm imagining a dark pink painted backing in those top shelves, hence the awkward block of color at the moment. If you squint you can begin to see it all come together…
Ahhh, it's all becoming so real!
Tags:
Bedroom
,
Decorating
,
DIY
,
Home
,
Nursery
,
Patterns & Color
,
Pink
,
wallpaper
Posted in
Girls' Room
,
Home
,
Liv's Nursery
,
Renovating Adventures
|
8 Comments »
March 5, 2013
We didn't find out if Liv was a boy or girl until we welcomed her on the day of her birth. That was thrilling and exciting and so worth the wait for baby #1. But this time around, I was much more ancy to know whether she might have a little sister or brother and I was so happy that Kevin agreed to a big gender reveal. Now I have three and a half months to plan, design and scheme a new nursery for 2! And two beautiful girls at that!
This means lots of pink. We're pulling out all of the stops. There will probably be very little about this space that could qualify as gender neutral (basically the opposite of the design plan for Liv's nursery back when).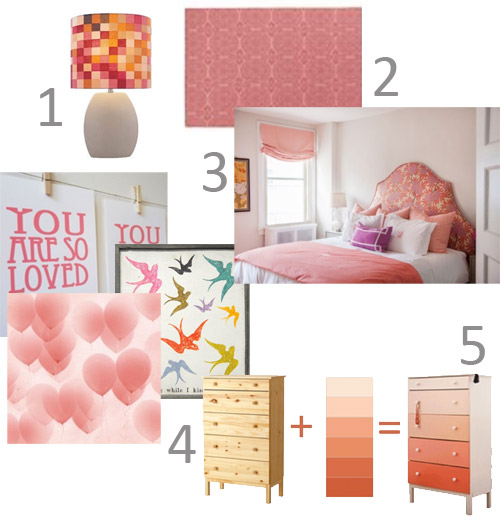 Pink!! Still undecided on specific fabrics and patterns and art and rugs and lamps and paint and all of the details, but here are a few images that have resonated with me and have made it to the Pinterest board that continues to inspire.
1. We'll keep the big drum pendant that currently hangs at the center of the room, but this lamp is very cool and a potential DIY project. I have wanted to DIY a glass bead hanging chandelier for some time too! This might be the right opportunity to make a version of this one.
2. Still quite unsure on the rug. Might be an excellent opportunity to introduce a contrasting color like this navy guy, or more pink. TBD.
3. Liv won't move into a toddler bed for a while (she's not ready, plus the new baby will stay in our room for at least the first 4-5 months), but when she is I would love to make a mini upholstered headboard out of a fun fabric and maybe attach it to an Ikea low toddler-sized platform bed. This photo is by the lovely Caitlin Wilson.
4. Art! I'm not sure at all where we'll go with art, but I hope to add plenty of it

. Here Here are a few ideas.
5. Liv's room currently has a dark brown dresser that we scooped up on Craigslist (it's Pottery Barn so it's sturdy as a rock). Rather than replace it, I'm considering painting the drawers ombre like this guy.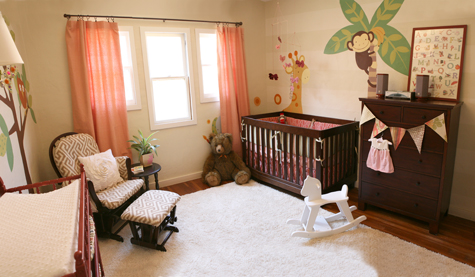 Other than decor updates, there's one big elephant in the room that we'll have to deal with when reconsidering this room. When we opted to build a bathroom ensuite off of it, we completely demolished all closet storage space. All of it.
It hasn't been terrible so far. Between the dresser, changing table and bookshelf we've managed to find homes for all clothing, baby storage (like diapers, wipes, wash clothes) and toys. It only becomes a bummer when we lack storage for bigger items like an umbrella stroller or Liv's travel gear. BUT with two, I know that zero closet is going to be tough. So after much deliberating I've decided to build a series of built-in bookcases along the window side of the room. The unfortunate part of this decision is that we'll have to paint over the beautifully awesome wall animals that Kevin's mom and aunt gifted us with (they are both phenomenal artists). I measured and measured again but most of the animals will be awkwardly half covered up by the new bookshelves and drawers, and it just wouldn't look right. Too bad we couldn't pull the plaster board right off of the walls and relocate!
Those little baby animals are popular! They have been saved in over 37,ooo Ideabooks on Houzz and the tree bookshelves alone have been repinned more times than I can count.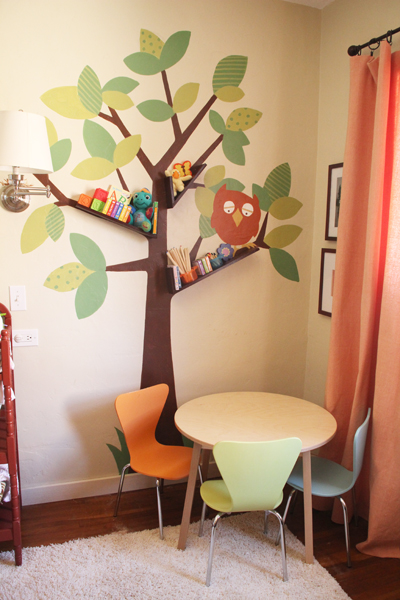 It will be hard to say goodbye.
My ideas right now include a built-in unit like 7 below, but perhaps painting out the backings like Kate did in 8, and I'd like to use fabric for the new shade and window box similar to this little trio show in 6.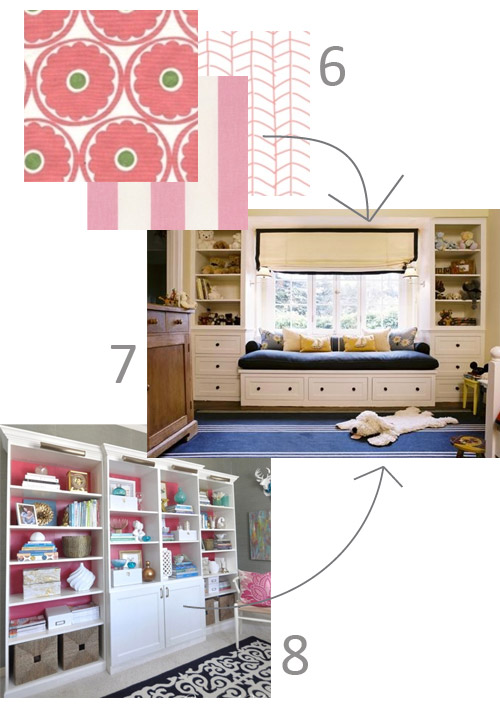 Last but not least are the walls. Everything will get a coat of clean white with the exception of the far right wall, which I hope to turn into a really cool accent wall by finding the right wallpaper.
Sort of like this room (so pretty, right?):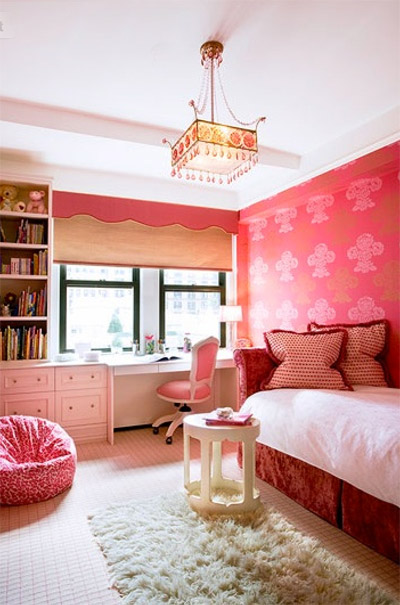 Here are a few patterns from Spoonflower (you can print your own wallpaper now! So cool!) that I love: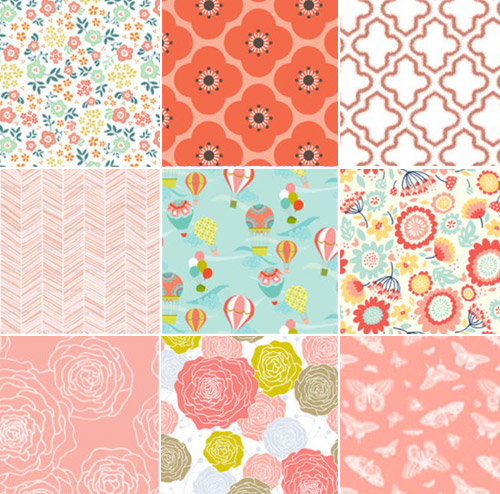 The sources for each (and even a dozen or so more that I love) can be found in my Houzz Ideabook.
There's the start! What do you think? I'm so ready for a full room reno, even though it will be very, very hard to part with Liv's current nursery. This is when you wish you had an extra room in the house for every idea

. Except for cleaning, then that's a terrible idea.
PS See more of our nursery projects for the current room right here.
Tags:
Decorating
,
Home
,
Kid's Rooms
,
Pink
Posted in
DIY
,
Girls' Room
,
Inspiration Board
,
Liv's Nursery
,
Olivia
,
Renovating Adventures
|
6 Comments »