May 1, 2012
This past weekend I finished up the new curtains for the bedroom. Last week I had shared a sneak peek of the fabric I had found, but a little pinning, pressing and hemming later and my curtains are up and hanging.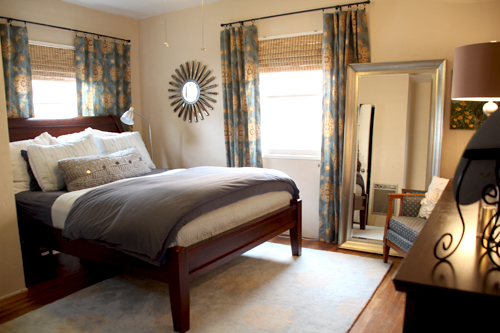 This room has been asking for a little character update since we moved in almost four years ago, and being the hidden bedroom that it is (no one ever really wanders into the master), I've left it as-is for some time. But now it's well on its way to a little sprucing up! Even if that just means a few new fabrics, art and rearranging.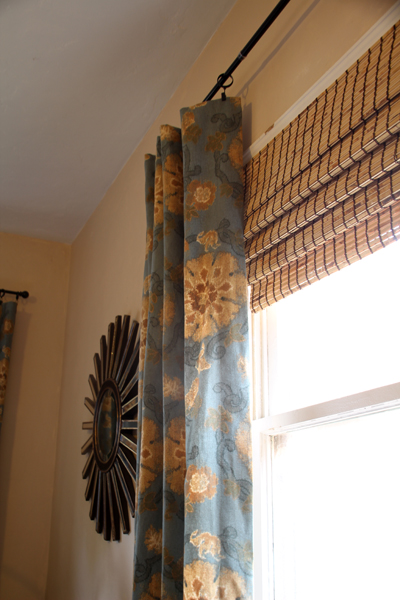 I'm loving the start! This fabric has had me smitten for some time and just as I had imagined, it goes so well in the space. The blue compliments the bedding and the tans work perfectly with our bamboo roman shades.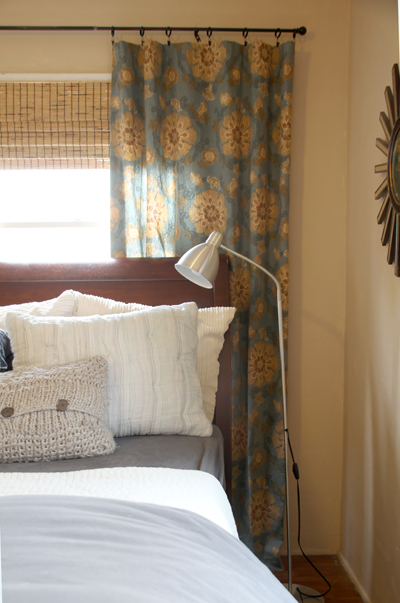 The bed still needs a few punchy throw pillows, and I think I'll recover those bright white shams in the back, but the new front standard shams are from West Elm and my aqua/soft blue coverlet was found at Pottery Barn. So much better than the all-blue as it was before. This side of the bed is still in dire need of a night stand…
Alright, on to those curtains. Here's the quick and dirty on how I sew a simple unlined curtain panel (this style can be a pocket rod or used with clips like I did above. Just for reference, here's where I tackled lined curtains).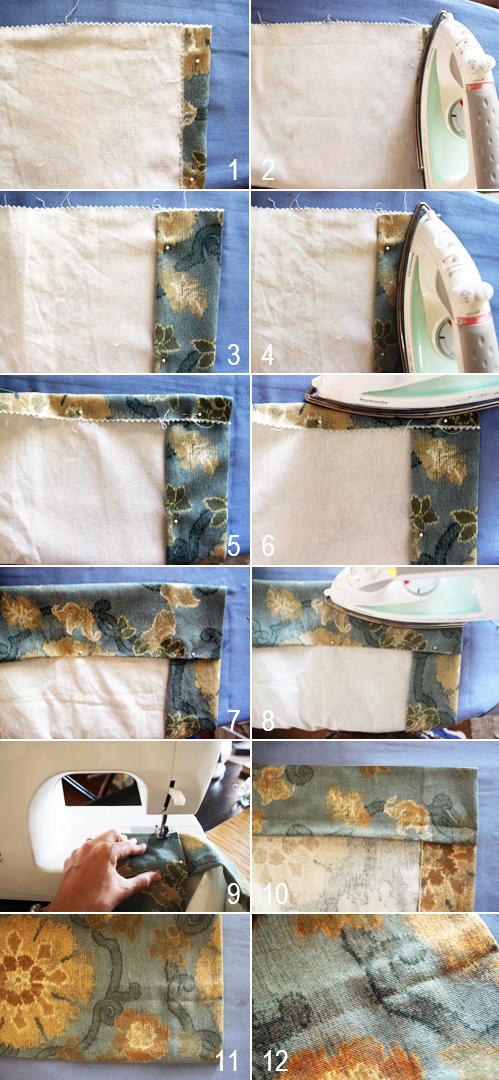 For me, it's all about the folding and pressing.
I begin by flipping my fabric over, folding down one edge about 1″ and then I pin and press into place. Next I fold down that same edge to create a wide hem, usually 4-5″ for the bottom of a curtain, 3-4″ at the top and 2-3″ on either side (to me, the thicker the hem the more professional it looks).
Here's an example of prepping the top of the curtain. First I fold the fabric over 1″ and pin, then press that fold into place. Next is folding again for an addition 4″, pin then press. This is what is my new top pocket rod if that's the style of curtain I'm making.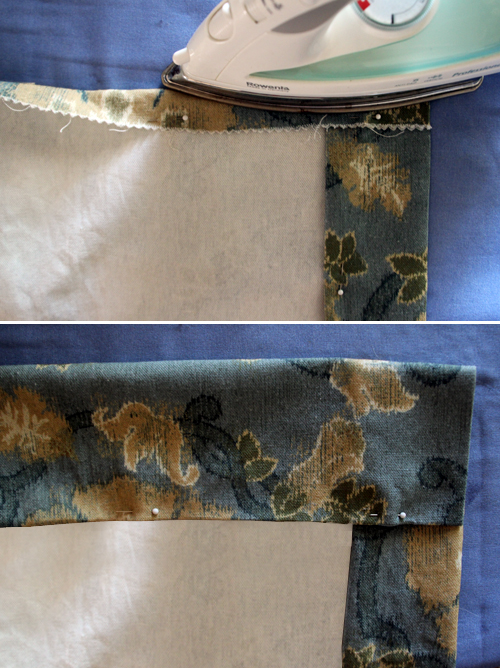 That pressed crease is key! It will not only guide your sewing line but will keep the curtains looking polished.
I repeat that process for three of the four sides (all except the bottom) and then sew along the top fold about 1/2″ in from each new hem (not the edge of the curtain but the folded over part, see arrow).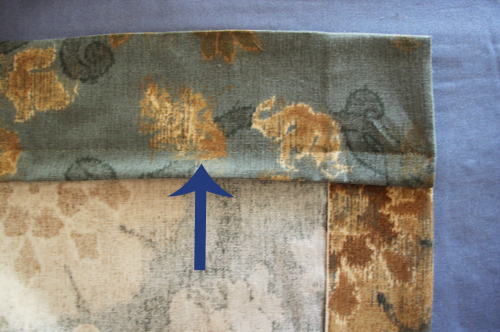 I sew the top hem first and then hang my curtain to let the weight of it pull the fabric down. Now I measure exactly where the fabric hits the ground and pin about 1″ below that to allow a slight break at the floor. This establishes the base point of my curtain. (I highly recommend remeasuring here by hanging your curtain unfinished from the rod, there's nothing like sewing a panel in one go to only find out your 1/2″ too short or too long!)
Next I pinned, pressed and sewed the bottom hem just as I did the top. I haven't sewn my sides up, but they are pressed into place just like in the image above.
Now it's time to sew up the sides. Beginning at the top panel hem (not the top of the curtain) I sew straight down each side, again about 1/2″ in from the folded over hem edge. I'm keeping my top and bottom hems unsewn along the sides because I think it looks cleaner, and it creates a nifty little pocket if you want to hang your curtains directly from the rod without clips.
If I flip the corner over, here's a visual that shows that the side hem stops right at the bottom hem.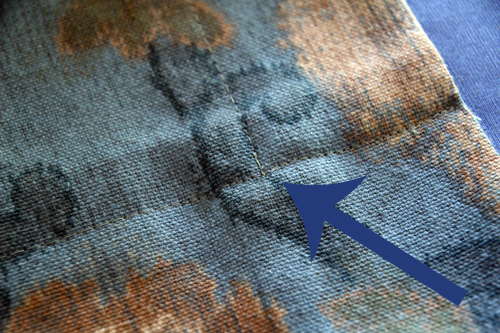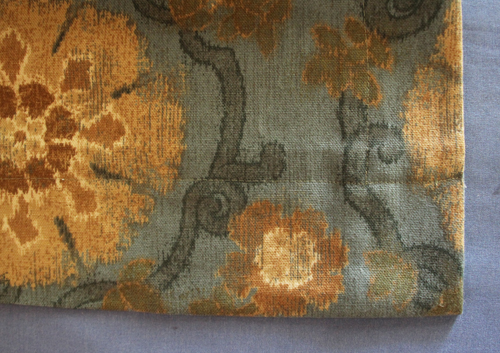 And if you have any boo boos? Because mistakes are always inevitable… I turn to my trusty Sew No More (discovered this guy in the $1 bin at Vons – you know, the bin where they're just trying to get rid of product? But this stuff is awesome.)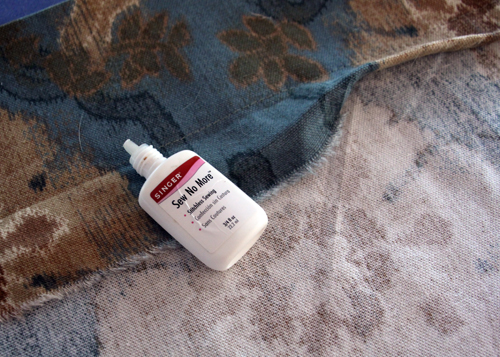 My sewing machine stitch hadn't caught about 10″ of a pressed hem, so I applied a little fabric adhesive and now it's all better.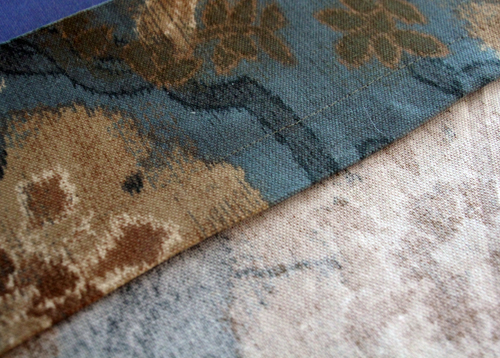 The last step was ironing the curtains one last time and then hanging them up! As mentioned before, I opted to hang my panels from curtain rod clips (you can find a pack of 7 – one pack for each panel – at any home improvement store).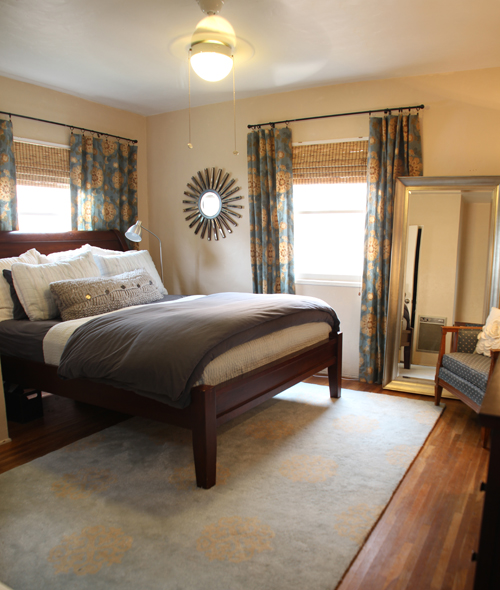 To help shape the pleats, I improvised a bit and used a hair duck clip

and left the panels bunched for several hours.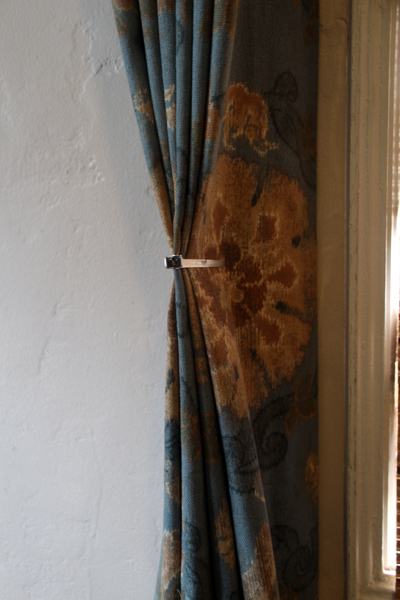 I'm sure there's a better way to do that…
The curtains tie in well with other areas of the room, too. A garage sale painting I found a while back (above chair) looks as if it were made with the curtain color palette in mind: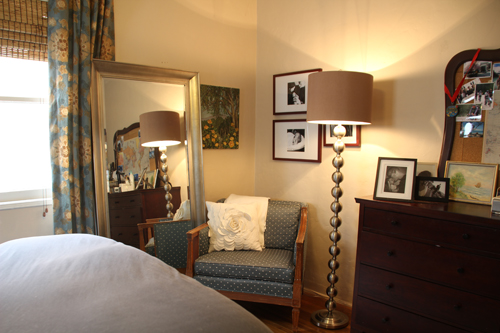 I'm thinking now that mustard might be a great color to use as an accent on the bed? Actually, the fabric from my thrift store chair looks pretty matchy too.
The curtains also help to balance out a window behind the bed that's a little off center, though this bed is asking for new throw pillows.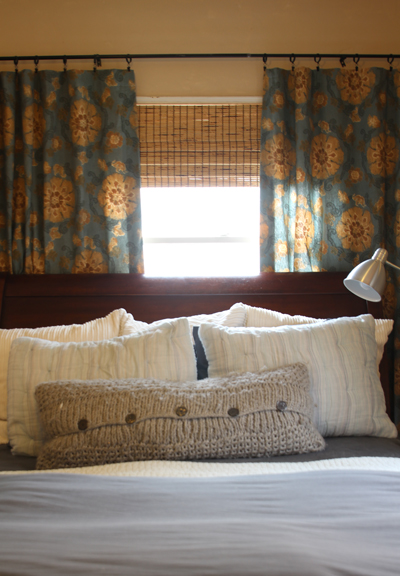 The fabric reminds me of a more floral suzani print, the actual name is Orbetello by Thibaut in blue.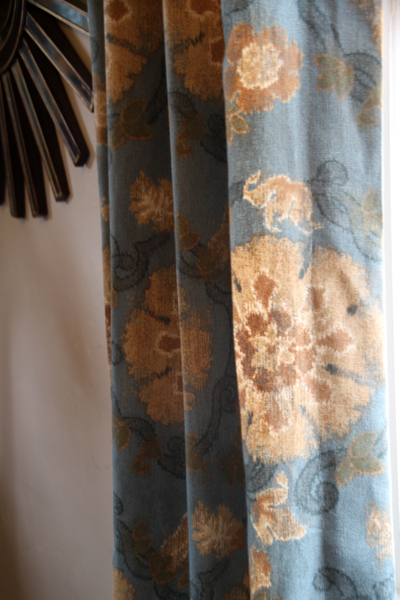 One more project crossed off of the list!
A reminder of the room before we moved in: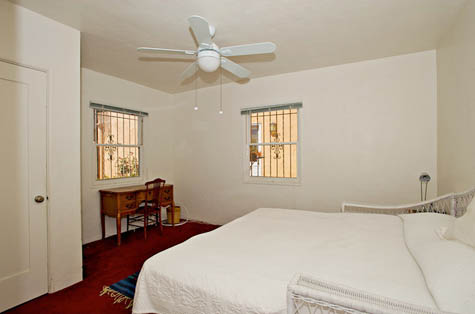 What we put together shortly after we unpacked boxes (in pretty bad lighting):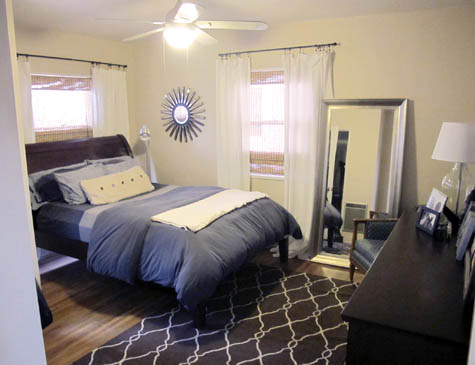 And now where the room is today: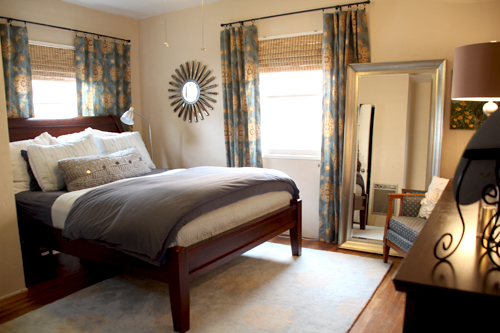 That means as of now the rug, most of the bedding and the curtains are done! With art, pillows and possibly a new bed frame to go.
We actually have plans to demo this room and the adjoining bath to create one master suite sometime next year… that will really be a fun project. But baby steps, all in due time!
More master bedroom posts here: curtain fabric sneak peek, a new rug, the floor plan.
Tags:
Accessories
,
Blue
,
Crafty Solutions
,
Decorating
,
DIY
,
Fabric
,
Home
,
Patterns & Color
,
Sewing
,
Tutorial
Posted in
DIY
,
Home
,
Our Master Bedroom
,
Renovating Adventures
|
14 Comments »
April 25, 2012
Quick note: load time has been a little slow over here at PDB. Bluehost is upgrading our server and software so you might experience a short outage – they haven't shared when but sometime this week for two hours

. Have you experience lag time for the blog?
I bit the bullet and ordered 11 yards of one of my very favorite fabrics for the bedroom: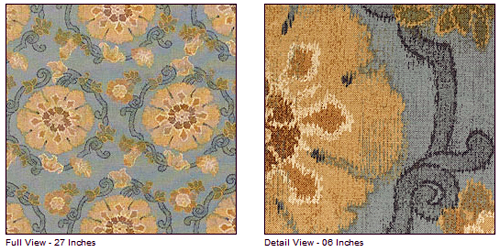 It's the Orbetello in blue from the Palladio collection over at Thibaut, and it's so pretty in person!
I had lived with a large swatch hanging over our current white curtains in the master bedroom for over a month before I finally gave in and ordered enough fabric to cover two windows. I've had a hard time with this purchase because a. I was nervous that the fabric would feel too heavy and dark in a room that doesn't get enough natural light and b. it was a bit of a splurge even with a designer discount. Well, it's arrived in the mail and the biting of nails was all worth it. It is so pretty and will look so great in the space – now I just need to finish (or start, I should say) getting these puppies sewn up!
To balance out a bigger ticket item, I picked up an 84″ curtain panel called Ogee Dot in the color Spring Melt by Martha Stewart Living from Home Depot (it was kind of like my great Waverly fabric find from Lowe's after I fell in love with the same fabric over at Ballard Designs for 3x the price. Unfortunately it's near sold out now

now):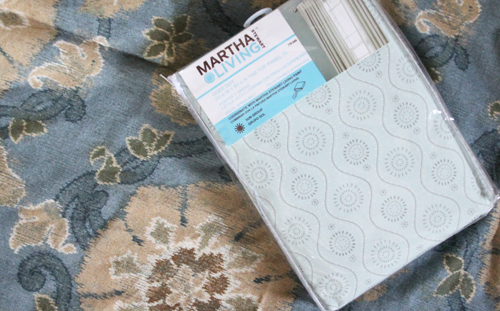 It's more of a soft aqua color and is much prettier in person as well – need to get some nice clean photos in here. I think I"ll turn this one panel into three big square shams for the back of the bed to fit over current white Ikea versions that I have.
And it all matches so nicely with the new rug!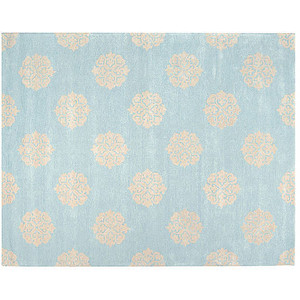 Which was that really great One Kings Lane find from a little while back.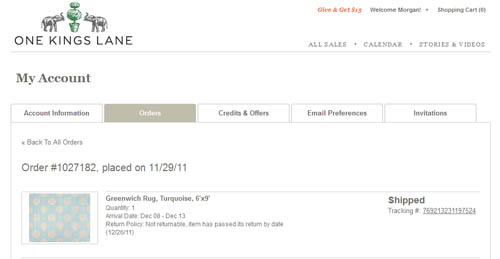 The room pieces are really coming together. Now I just need to decide on a style of nightstand, find one on Craigslist (fingers crossed), give it whatever makeover it might need and pull everything together. That plus art, can't forget a few good pieces of personal art for this space.
I'll see if I can't get on these sewing projects this weekend so I have some actual room progress to share next week.
Tags:
Bedroom
,
Blue
,
Decorating
,
Fabric
,
Home
,
Turquoise
Posted in
Our Master Bedroom
,
Renovating Adventures
|
7 Comments »
March 26, 2012
Happy Monday! Hope you had a great weekend. I am just getting back from a three day visit to Austin for a girl's weekend getaway and my first BIG weekend away from Liv. It was both challenging and wonderfully relaxing (more on the trip below).
Back at the homestead I've been working on finishing up the guestroom/office with a new tufted headboard and new bedding. The new guest bathroom is waiting on a few lovely pieces of Etsy art, a few necessary bath accessories and a super awesome glass shower door install before it can move forward. And my 9-5 work has been busy – very busy. We just finished up with a decent sized product release involving many deadlines, but happily all went smoothly and since overly busy = really productive = loving my job, I'm thrilled about that, too.
But excuses for the lull in posting aside, I'm enjoying warming up our little abode (which after 3.5 years the bedroom is in decorating limbo, err, progression) with a few new purchases and some wonderful inspiration! One is a new rug.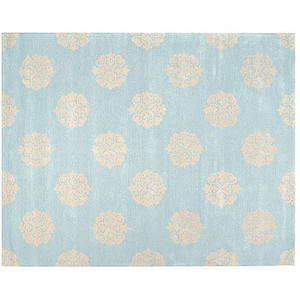 Isn't it pretty?
While our bedroom usually isn't on display, it's desperately in need of a mini makeover that will bring it back to the serene, restful space that is its purpose. Because it's usually seen by few other than our family, the room has been low on the list for attention. In fact, when we had finally painted it a non-exciting tan, found a new task lamp for reading at night and scored a sweet thrift store chair find, I put the room to rest entirely. Waiting to be inspired at some forlorn point in the future.
But! Imagine my surprise when I came across this stunner on One Kings Lane! And then despite my horrible history of indecisiveness, pulled the trigger in buying it! I'm awful at making decisions about rugs and curtains and bedspreads and fabrics – I wait until I'm sure I've made the absolute right decision (is that possible?) and that usually means that no decision is made at all.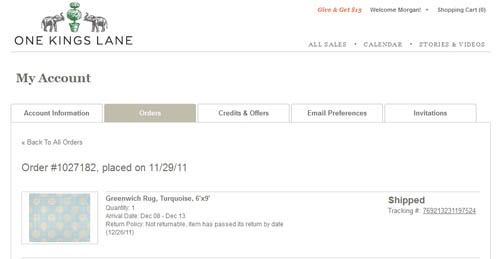 After months (maybe a year) of keeping an eye out for a new rug for the master bedroom though, I have found a piece that I'm quite smitten with. Look at that ice blue! And those giant oatmeal-colored medallions.
I'm not a huge Daily Deals shopper for big purchases but I have made a few. My tips for these types of investments are:
1. Keep a list of items you're on the look out for + an inspiration board of what you imagine those items looking like (to make sure they'll match your current style/decor). Add measurements of the desired find (a dresser or rug, for example) to the list so that you're not persuaded by the wrong deal (70% off of a too short $1000 table is still $300 hard earned dollars, after all).
2. Utilize coupons and referral credits to bring a big discount down to an even better deal.
3. Have an escape route. Double check the return policy (shipping back a rug will set you back $20-$60 but that's better than being out $400) or find an alternative for a big ticket purchase should you not like it when it arrives if it's not returnable (what could this go for on Craigslist or eBay? Could I use it in a different room?).
Back to the bedroom… here's the before we moved in photo from the realtor: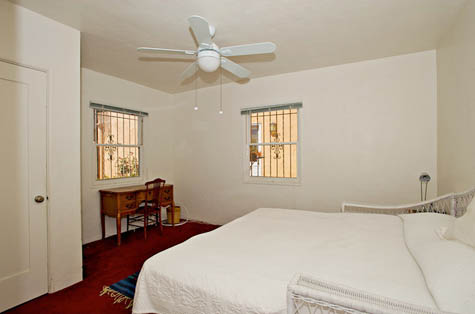 We originally configured our bed in much the same way, but found that we had more space when we swapped it for the other wall: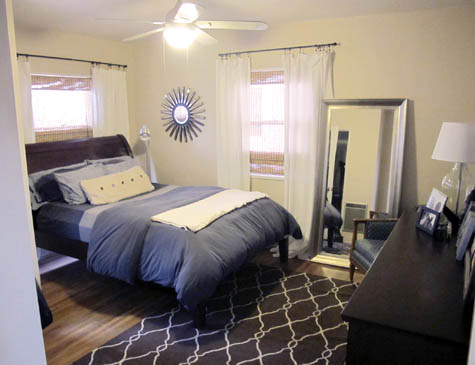 And that cool chair? She's on the same wall as the dresser, back in the corner there. The tan below is much more realistic to the tan in the current room, not so much the above yellow-tan.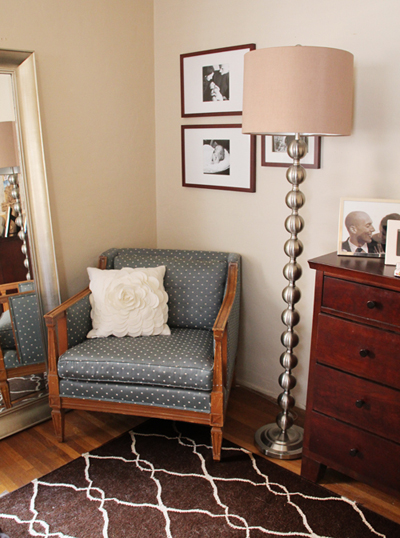 I'm a little hesitant on matching the blue of the chair to the rug, but it's usually covered in Kevin's clothes so I guess that's not the end of the world

.
For a bird's eye view, here's the room in the back right section of the house. We have plans to knock out that Bathroom #1, Half Bath #3 and Closet to create a bigger master suite and bathroom combination in the future, but for now the room does have a few interesting chunks taken out of it making furniture placement creative.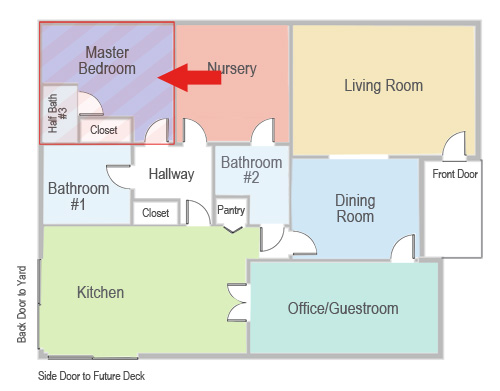 It was actually about a year and a half ago that I was on the search for the brown rug that's currently in the room. It's a pretty neat rug and if you're in the market for a basic geometric print I highly recommend. The only problem for us is that the rug is a Dhurrie style and for some reason Bodie's white dog hair really gets embedded in the fibers. We've found that flat weave rugs are just not for shedding dogs and that instead a plush rug is much easier to vacuum.
With this new rug in mind, it's time to add just a few more pieces to the space! You can check out all of my growing inspiration over on my master bedroom idea's board on Pinterest.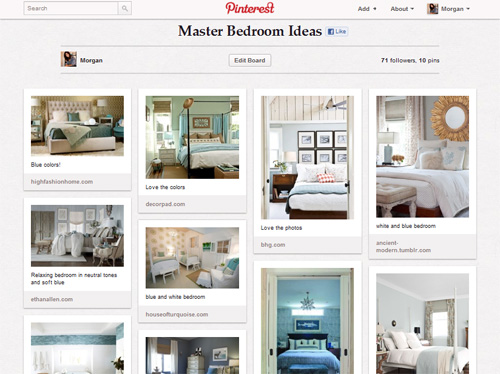 *************************
PS Austonians, I had such a wonderful time in your beautiful city! I cashed in frequent flyer points and met up with college roommates for our annual reunion (to a city in the US that we're anxious to explore) to sight see, shop, visit places of historic significance, eat and most importantly to catch up on the craziness that is our lives over cups of coffee or cupcakes.
Here are a few of our Austin favorites: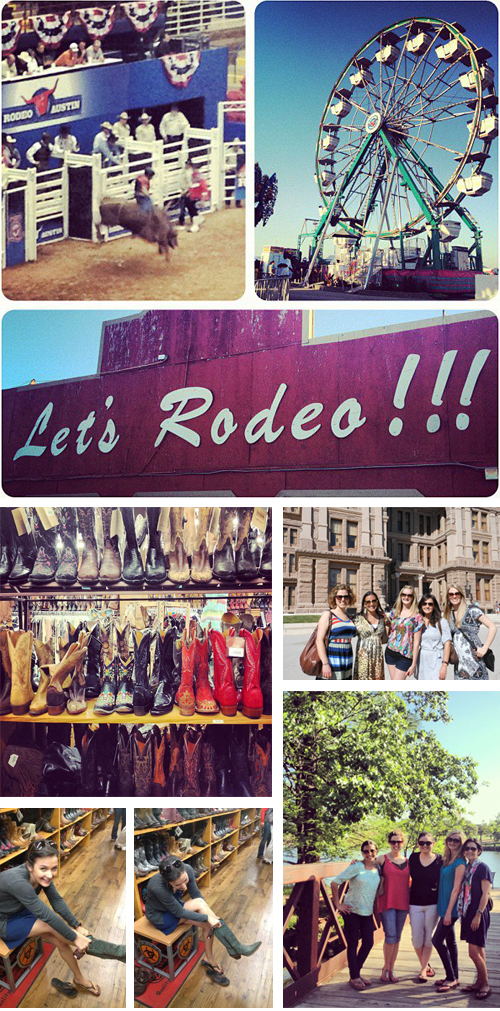 We toured the capitol building on Friday afternoon, visited the Rodeo and local county fair on Friday night, shopped South Congress Ave on Saturday, walked Lady Bird trail and 2nd Avenue on Sunday, and line danced at a local pub two nights in a row!
When it came to exploring the local cuisine there was no shortage of finger licken' BBQ in the form of Salt Licks or food trucks. As far as shopping goes, I highly recommend any and all boutiques/cowboy boot shops around that most wonderful treasure called Uncommon Goods (a well-edited version of the Pasadena Rose Bowl Flea Market, if you're familiar) and a chunk of 2nd Ave that's near the river.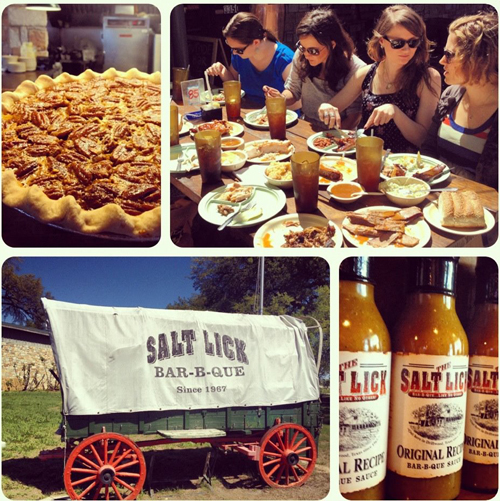 PS Kevin had a great daddy daughter weekend – I was kept well informed with little updates of them playing at Legoland, on the beach or while golfing. I loved my surprise photos and videos!
Posted in
Family & Friends
,
Our Master Bedroom
,
Renovating Adventures
|
4 Comments »