April 8, 2013
While maybe a little overdone, I've been kind of loving 'letter art' for a while. We have our initials on the bookcase in the dining room and even a 'LIV' set in Liv's room that I don't think I've shared just yet.
When placing an order recently with Land of Nod for a cool new desk lamp, I fell for a free shipping coupon and had to spend $15 ish more on the site to qualify. So at $4 each, I threw four of these letters in for good measure (which with a free shipping discount makes them a steal at like $2 each, right?

).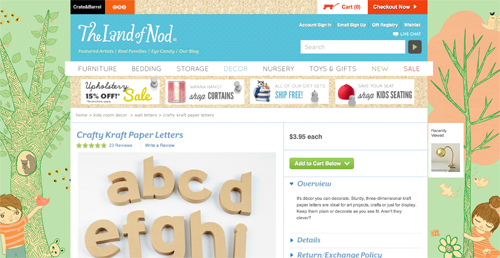 They were made out of brown craft paper, 8-10″ tall and very light weight. I thought they might be fun to cover in paint or fabric or wallpaper and hang on a wall or bookcase in the house.
For now, my 'HOME' letter art calls the bookcases in the living room home: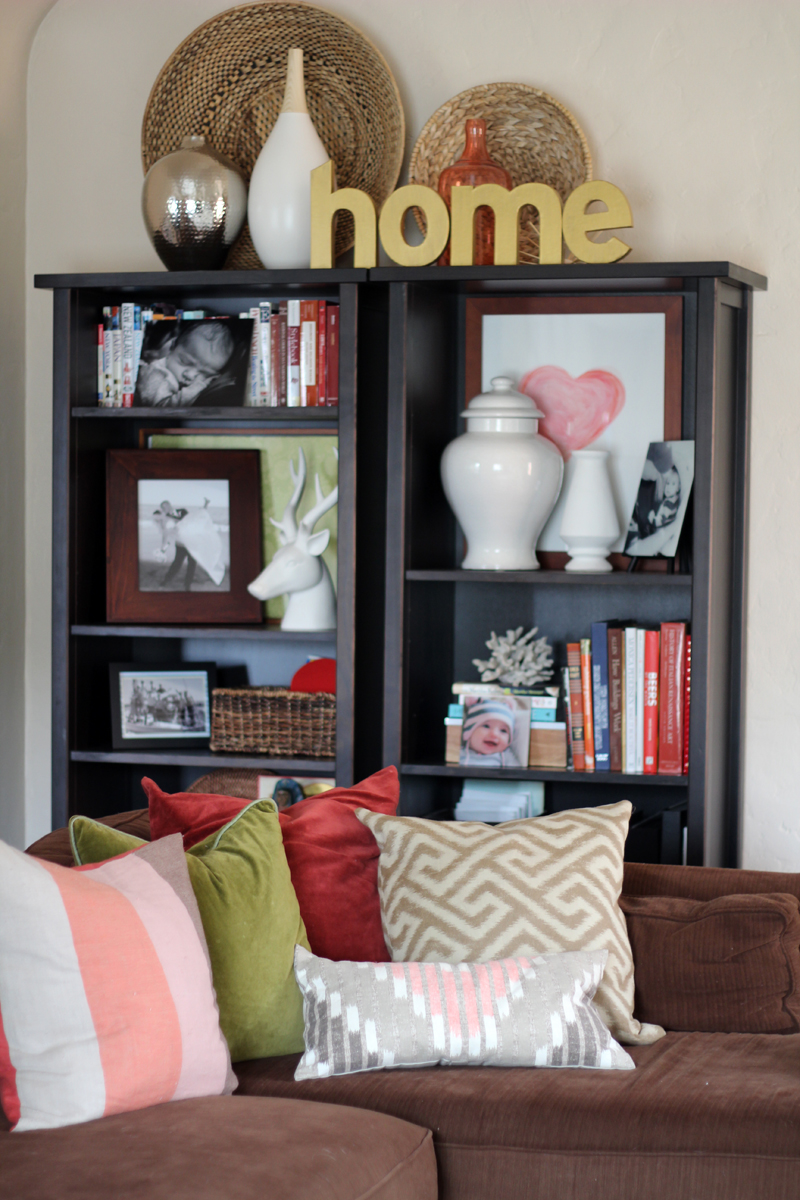 But that might change soon. They feel a little big for this space? Would love to shrink them down about an inch on each side.
I thought about spray painting these guys for a super quick gold application but ended up sponging gold craft paint (left over from our Easter project) late one night, thinking that I might like a more burnished rather than solid effect (and the sponge would allow me to give that textured look). The result is definitely a solid gold (I nixed the burnished look after a few minutes), but I love how they've turned out.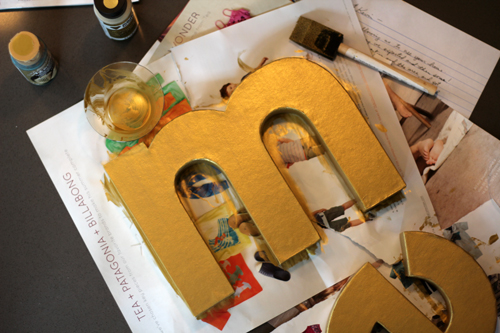 I have a few gold paint containers in my stash but this metallic gold by Folk Art continues to be my favorite: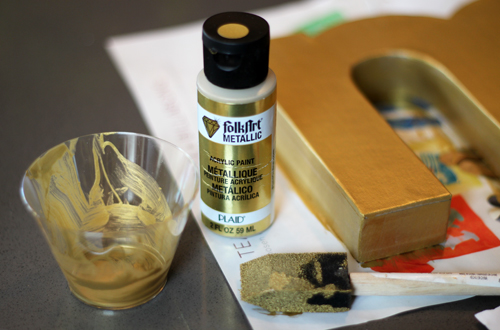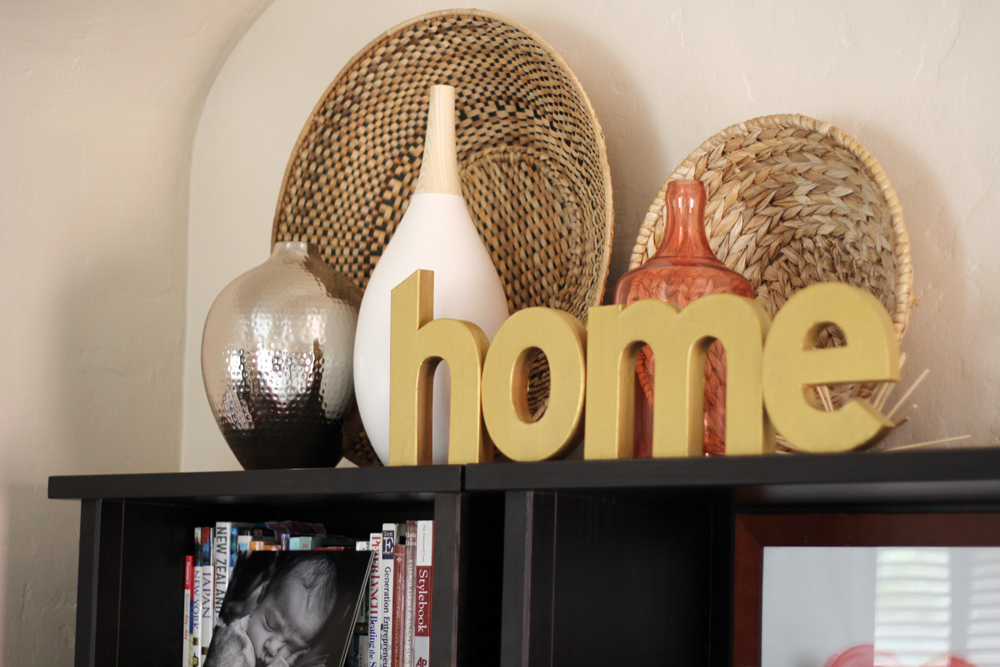 While the letters might not stay here, I do love the addition of gold and pink to the space!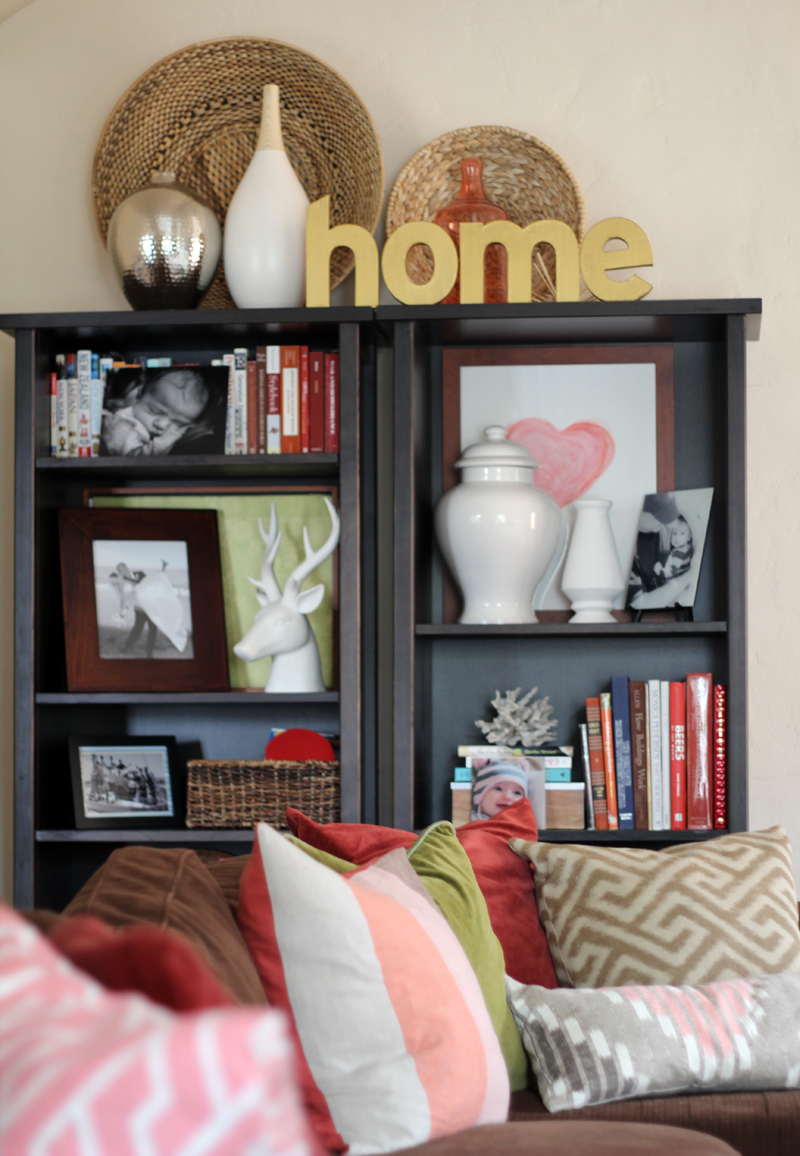 Now the heart art ties in with the new Spring pillows (still debating pillows over here

) which ties in with that cool new glass coral vase (West Elm's sale bin) up on the shelf.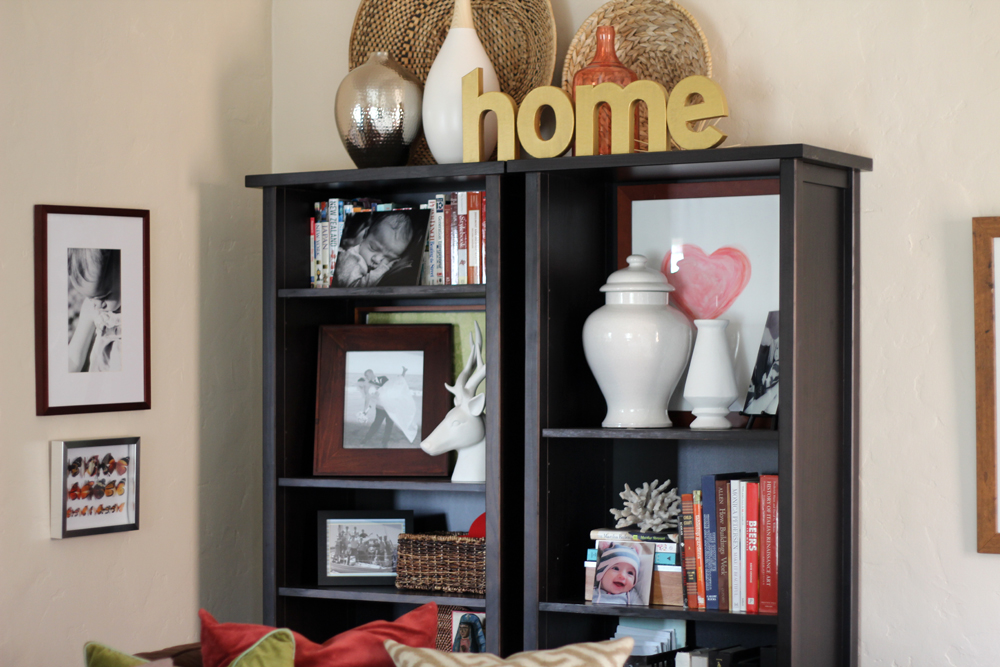 My plan B was to set the letters up on top of the kitchen cabinets. Might be fun to add a splash of gold?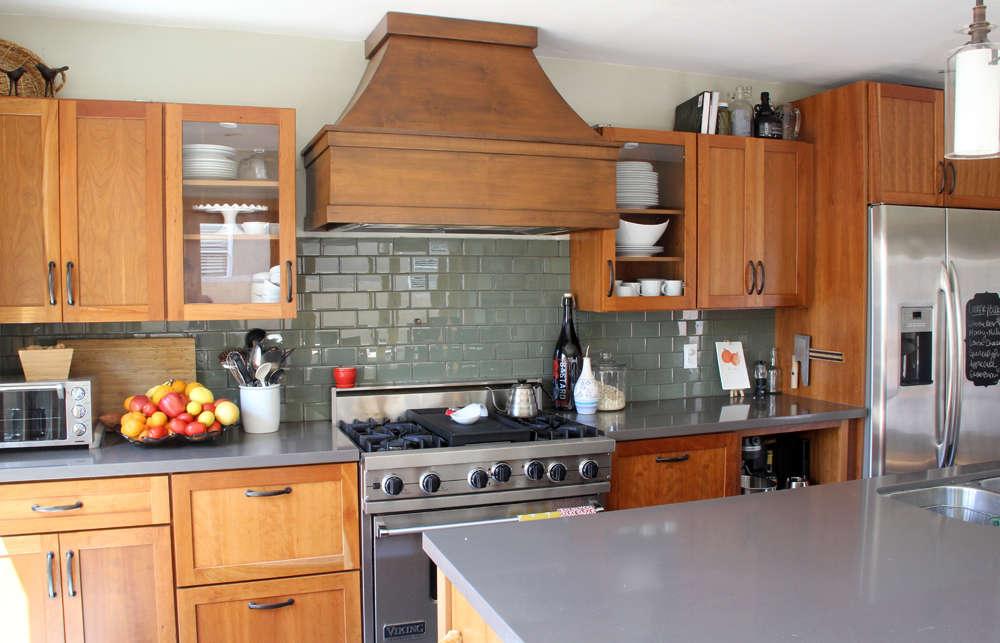 What do you think, has letter art become cliche? Overused to the moon and back? or does it still make for a fun and crafty addition?
PS The entire living room makeover is chronicled right here.
Tags:
Accessories
,
Crafty Solutions
,
Decorating
,
DIY
,
Gold
,
Home
,
Living Room
,
Paint
,
Tutorial
Posted in
Crafty Solutions
,
DIY
,
Home
,
Our Living Room
,
Renovating Adventures
|
3 Comments »
March 29, 2013
It's not, I can count on two hands the projects in progress for this big guy, but these last two updates that I'm sharing today make the kitchen feel so very (almost) finished!
First up, we added molding to the end cabinets of our kitchen island and boxed in fridge, and I have to say that it makes all of the difference in the world.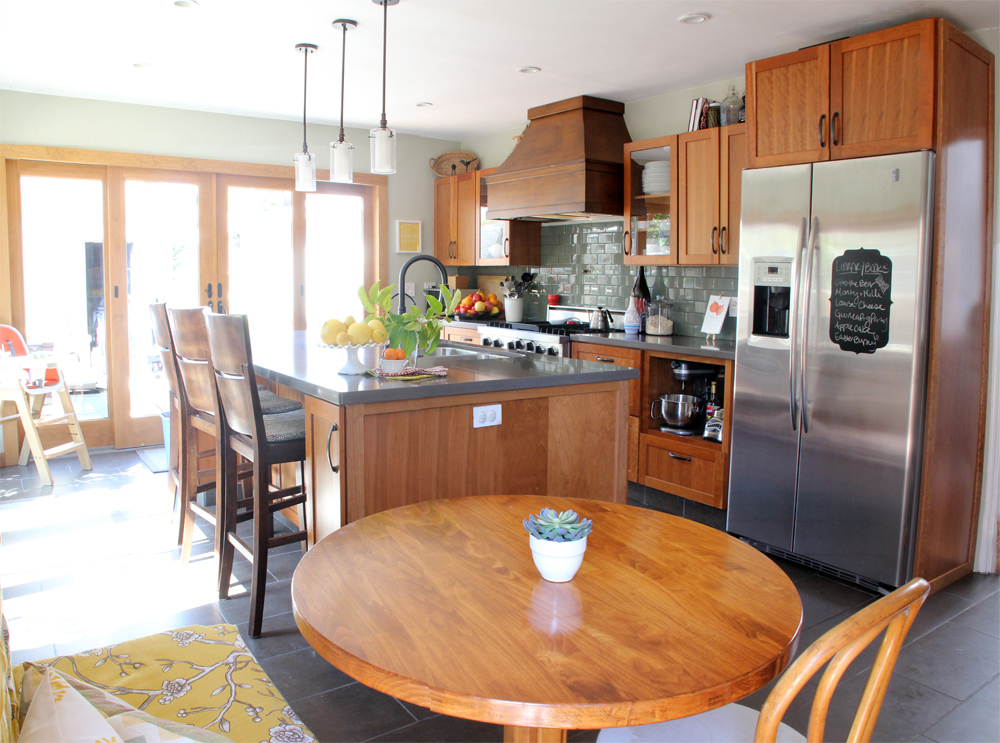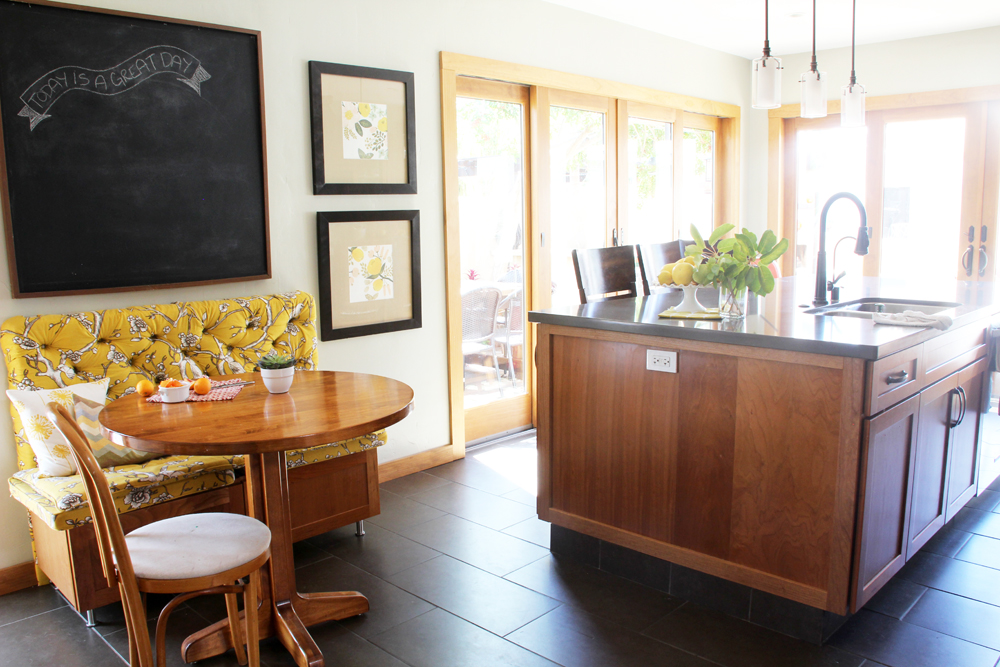 See how the end of the island is boxed in shaker-style now, just like the cabinets? Maybe it's just me… but now I walk into the room and it feels so… finished! Sometimes it's the little details like trim work (that very last 10% that you put off for years and years) that make all of the difference.
Here's a reminder of the before: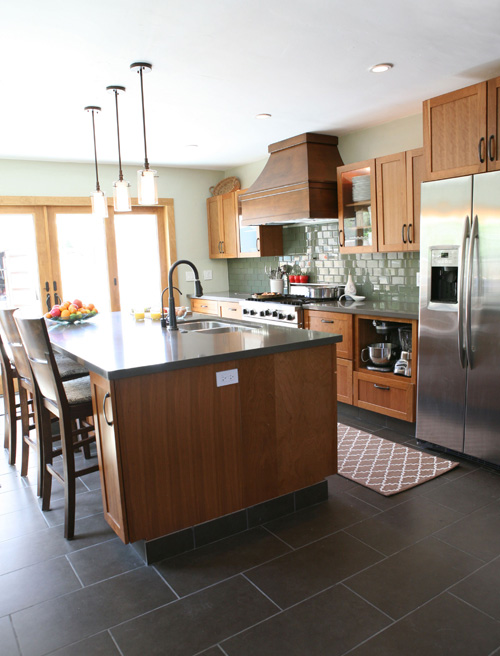 Naked, naked island. The raw piece of wood there on the end of the island always stood out like a sore thumb to me… and the tile toe kick had a groutless rough top edge that needed to be covered up.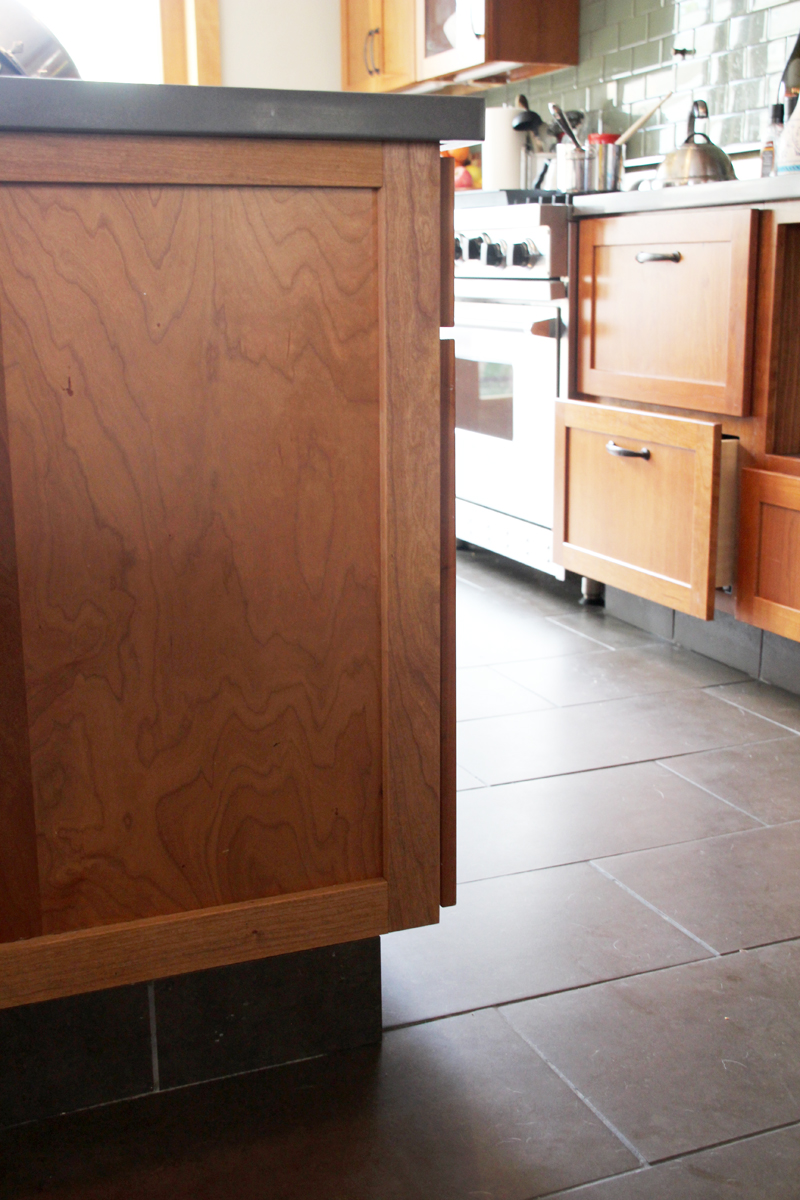 Oh so much better! We designed the island to be really, really oversized, so we couldn't order a cabinet door (sans handles of course) to cap the island with when we purchased the rest of the cabinets (which is sort of standard in kitchen finish work). They just don't make doors that big. We could have ordered two separate doors and bumped them up against each other (so that they had a long seam down the middle), but I always imagined that with a little creativity we could come up with a cleaner solution.
Two and a half years later and it finally happened. It's just one of those projects that you put off and off because it's definitely more visual than practical

.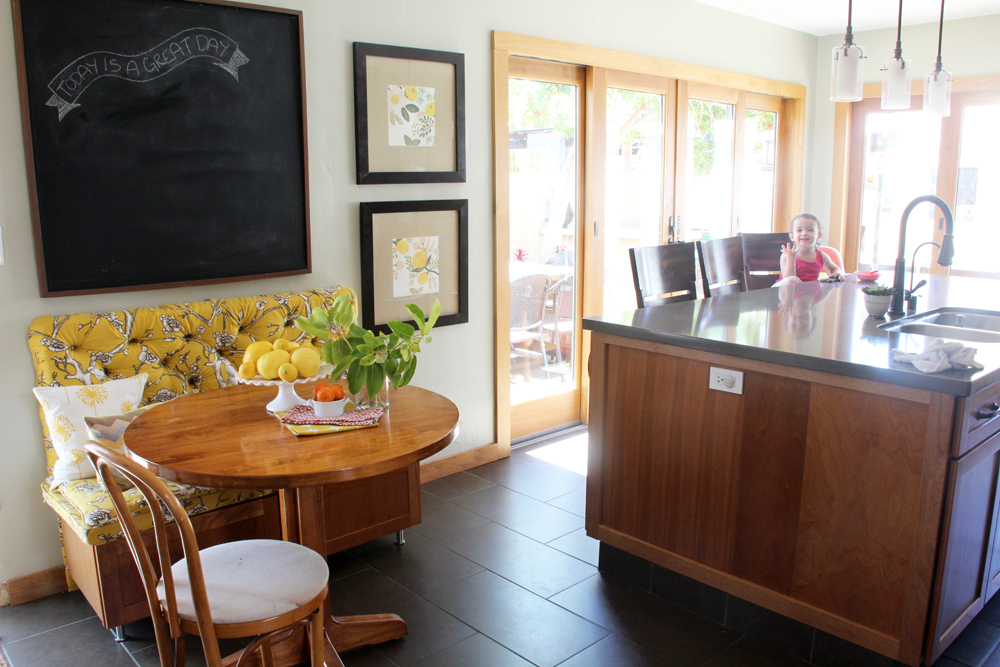 And the fridge? She received a trim covered update, too.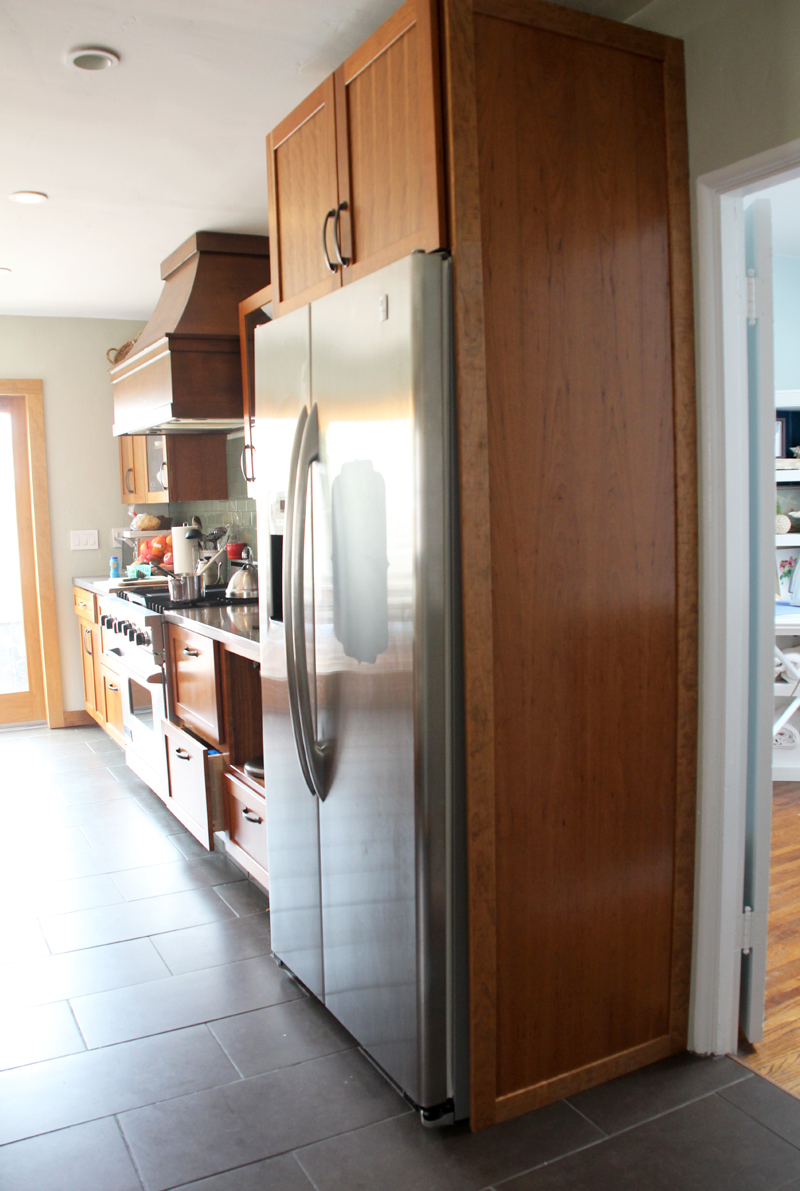 That was before Grandma's art was added there on the end wall, I do love that bright, happy pop of yellow.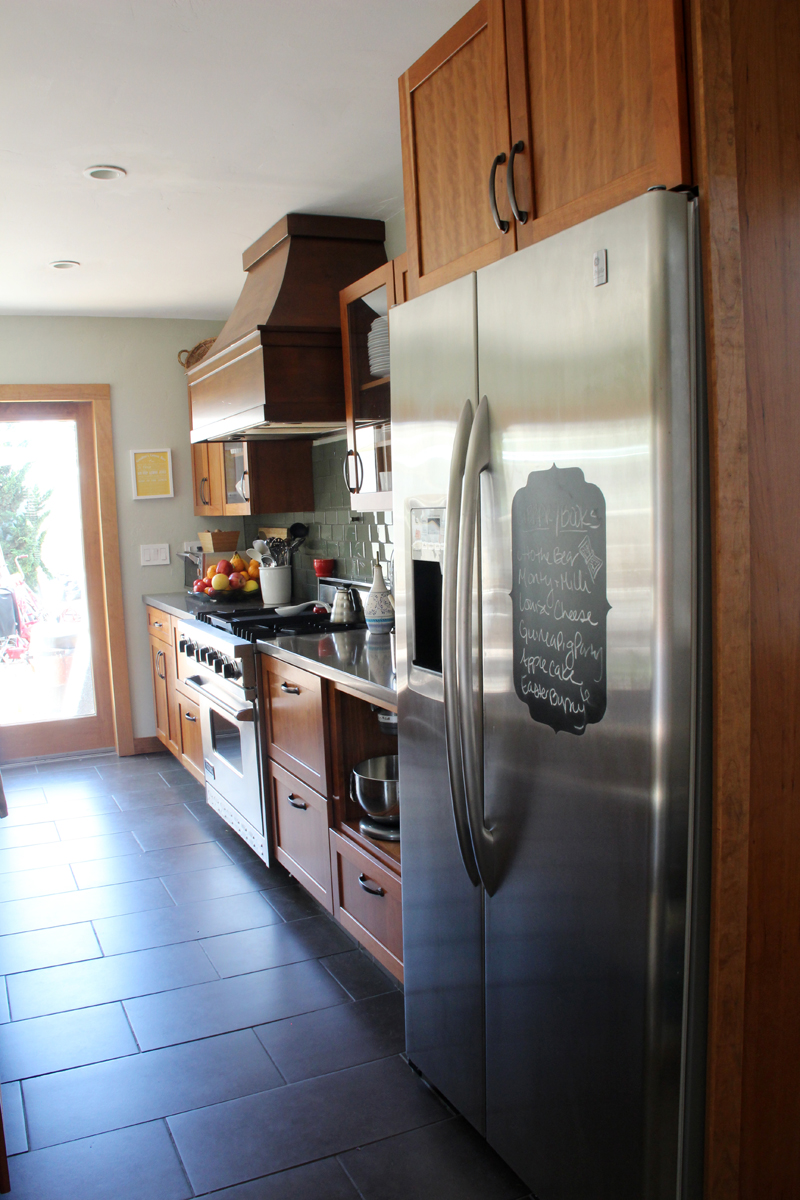 Sadly, my trellis print runner had to go. A rug right underneath a hot stove and in the main thoroughfare of our house was not practical… it either caught and held on to Bodie hair like nobody's business or had grease stains on a very regular basis. I do miss the look of that pattern though… (see trimless kitchen pic above).
I spilled the beans a bit when I posted on the semi-diy botanical chart art (you can see the trim peeking out in the back there), but it's all completely finished now!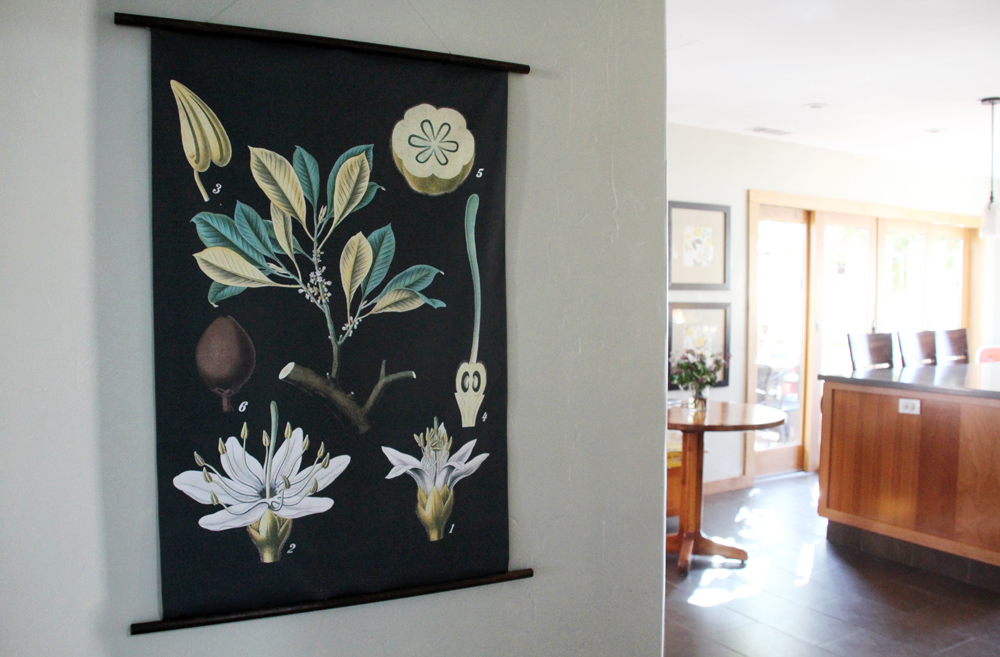 The second major update? We finally had the ceiling fixed between the new kitchen and what was (at one time prior to us in the house) a separate room.
See that miss match of plaster up there? Attic entries have been covered up and moved… central air was added two years ago… a wall (where that giant lip is) taken down at some point…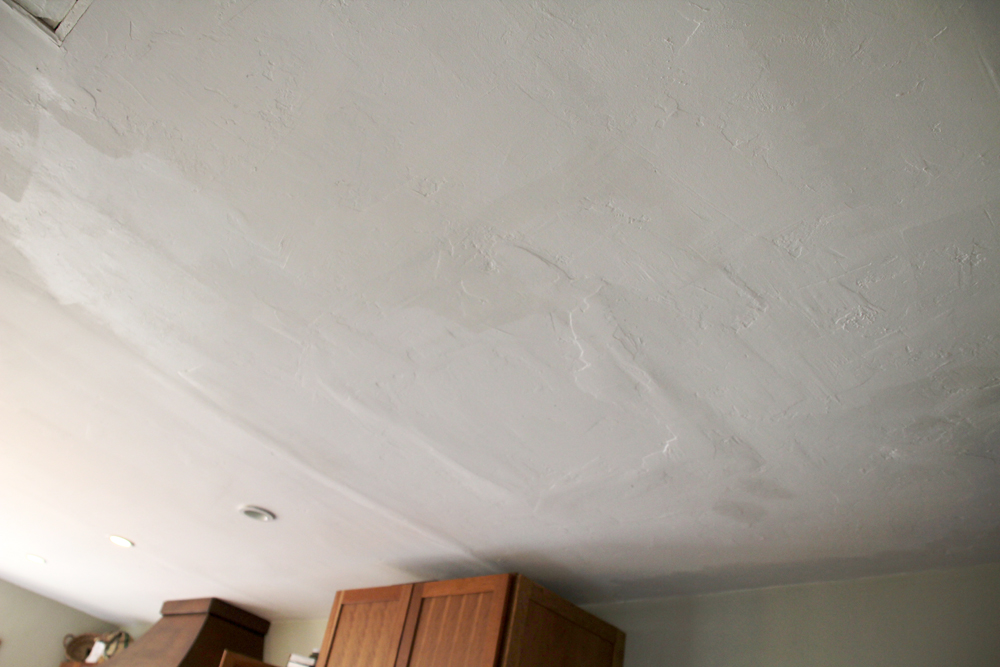 After a week or so of this: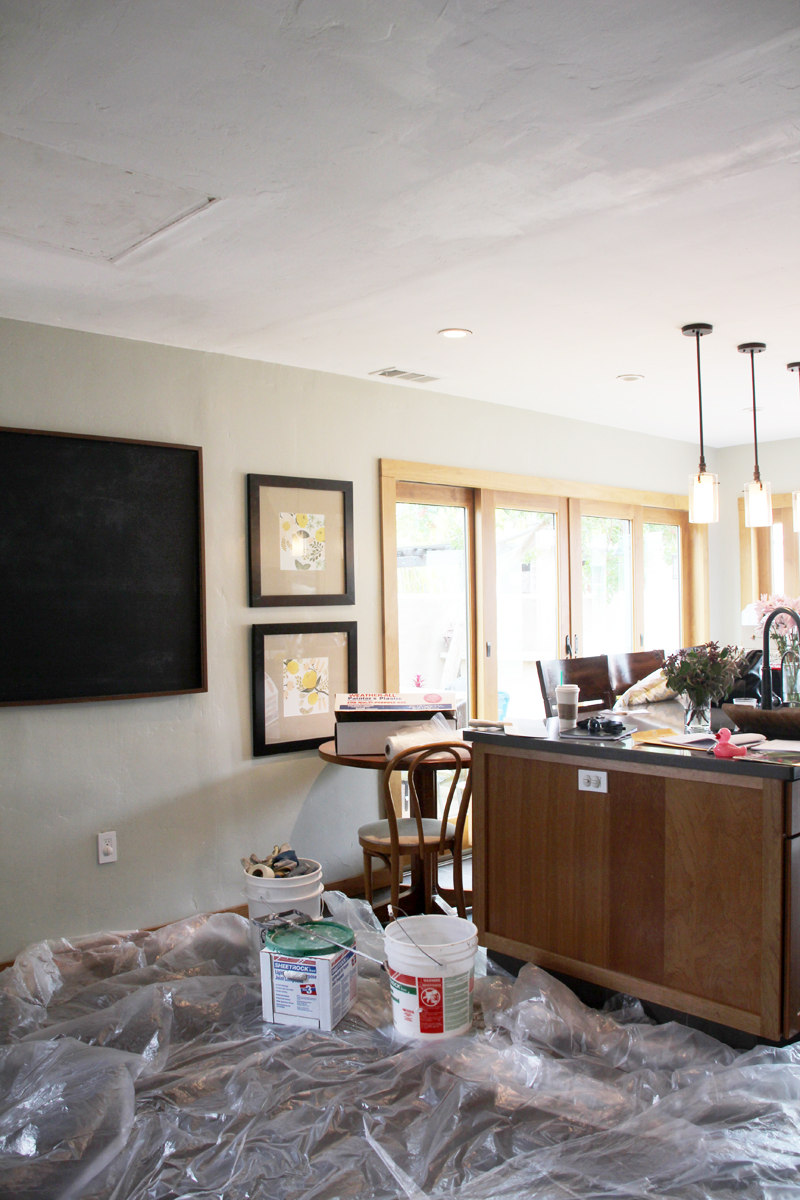 We had this!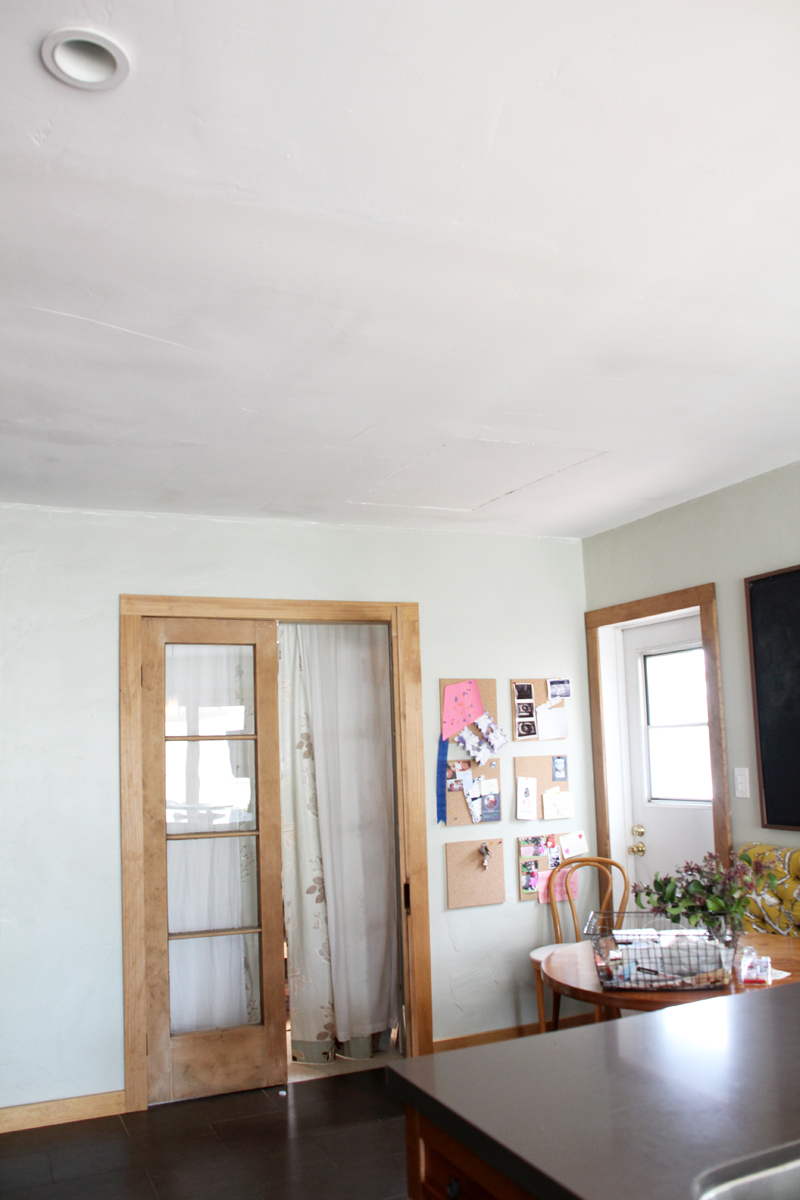 I'm not sure why I took the after photo from a different angle… but you see the idea. It's wonderful! Another one of those 10% projects that doesn't make the room any more practical, but suddenly the space feels 10x more complete – those little details subconsciously work away at you.
This was one project that we actually hired out. Lately that's been happening with some of the 'finish' type work, and I'm not really disappointed at all (as I always thought I'd be if we couldn't manage something ourselves over a Saturday morning). Kev only has time for so much… and sometimes to get that last 10% crossed off of the list you have to save up a bit and hire someone who knows exactly what they're doing, and can finish that project super quickly. In this case, we've just added an awesome new plaster guy and window reburbisher to our rolodex.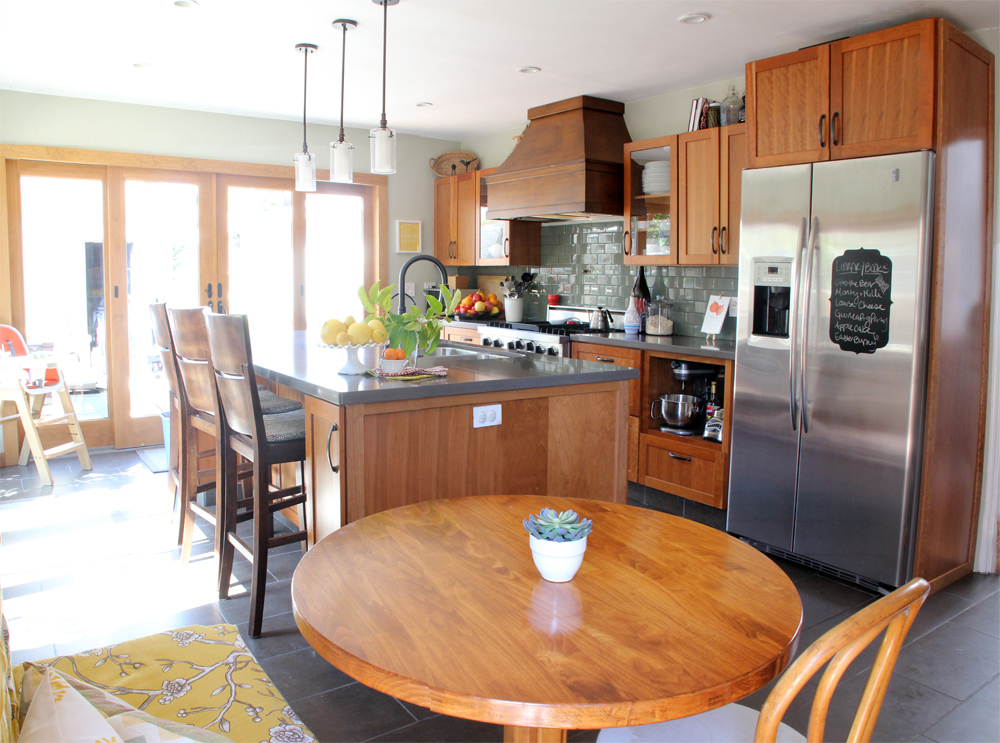 I had the camera out, the kitchen clean, and even a cake plate of lemons… so I took a few more obligatory photos of the space.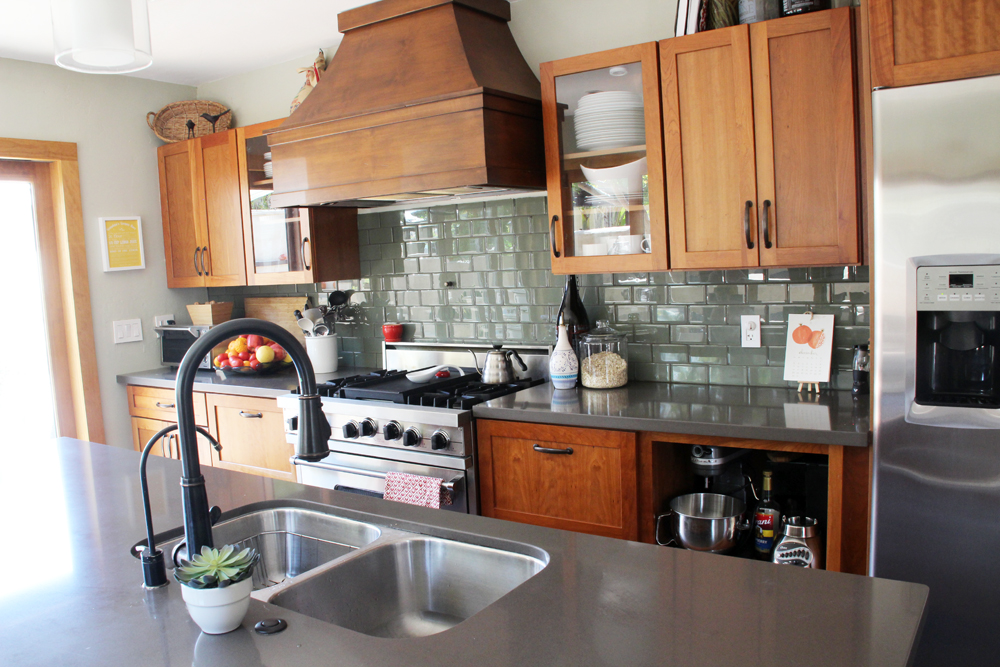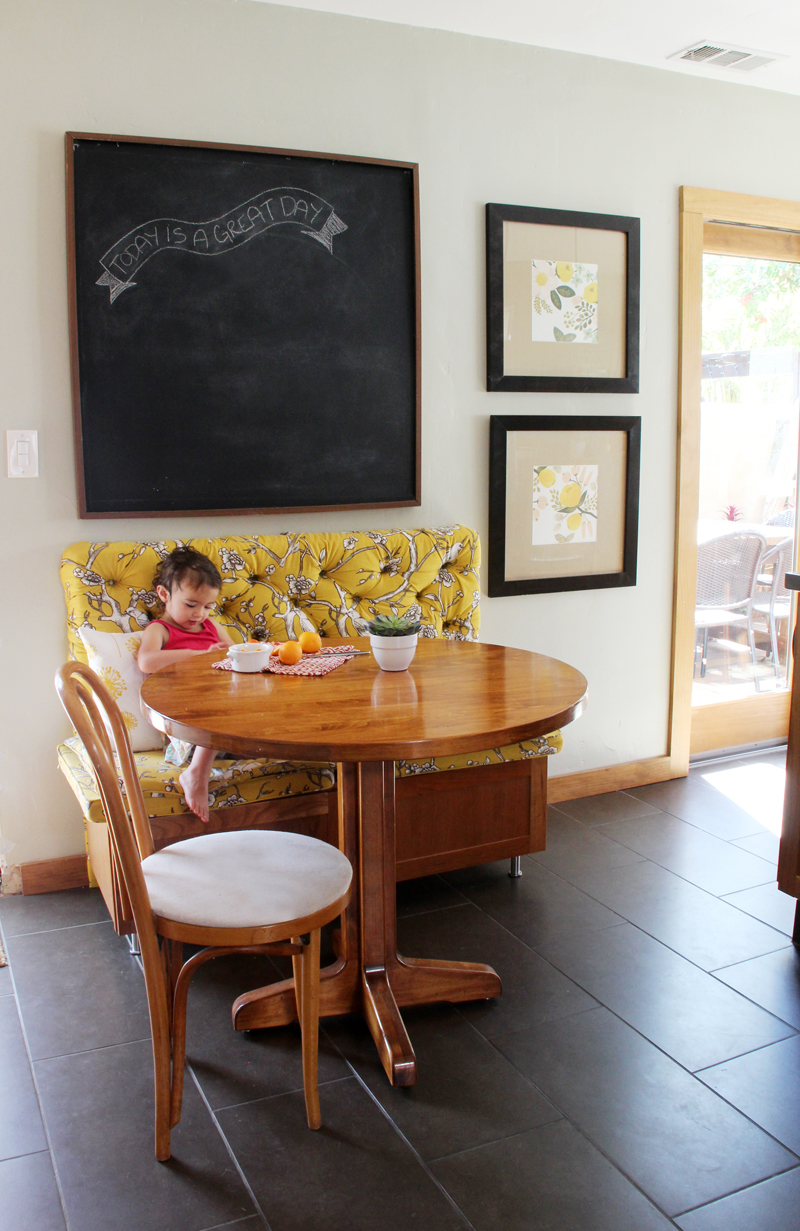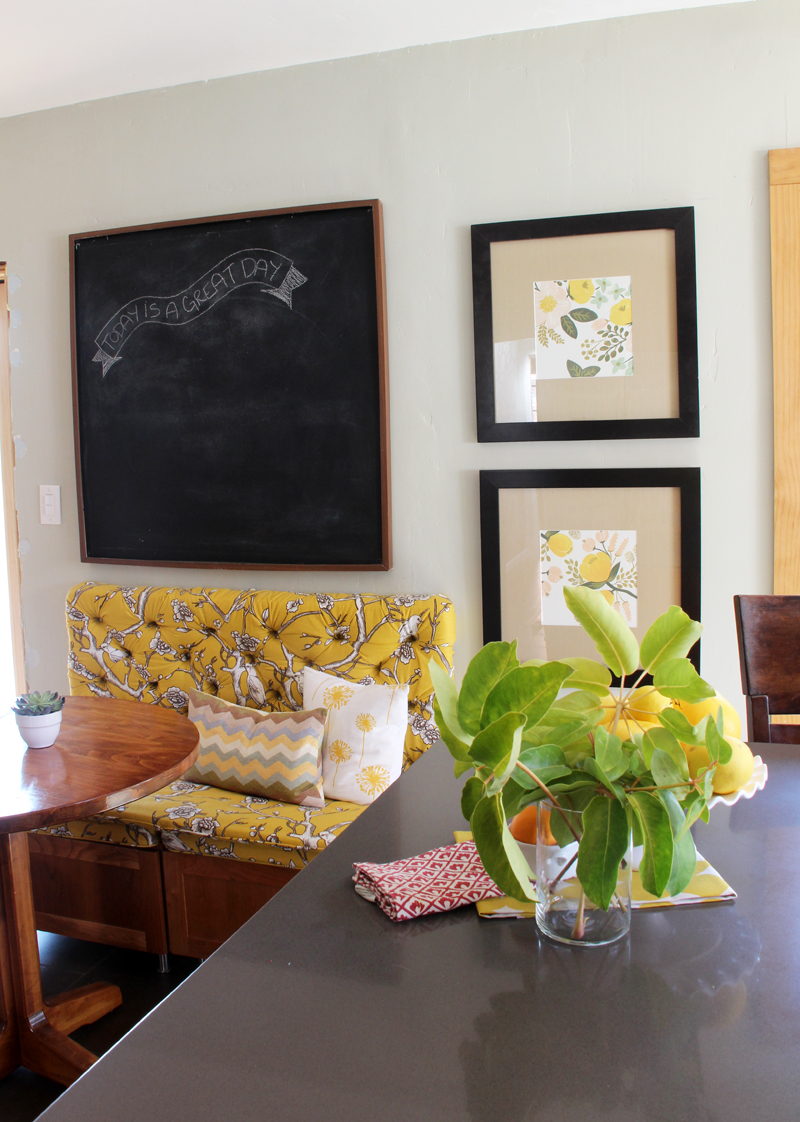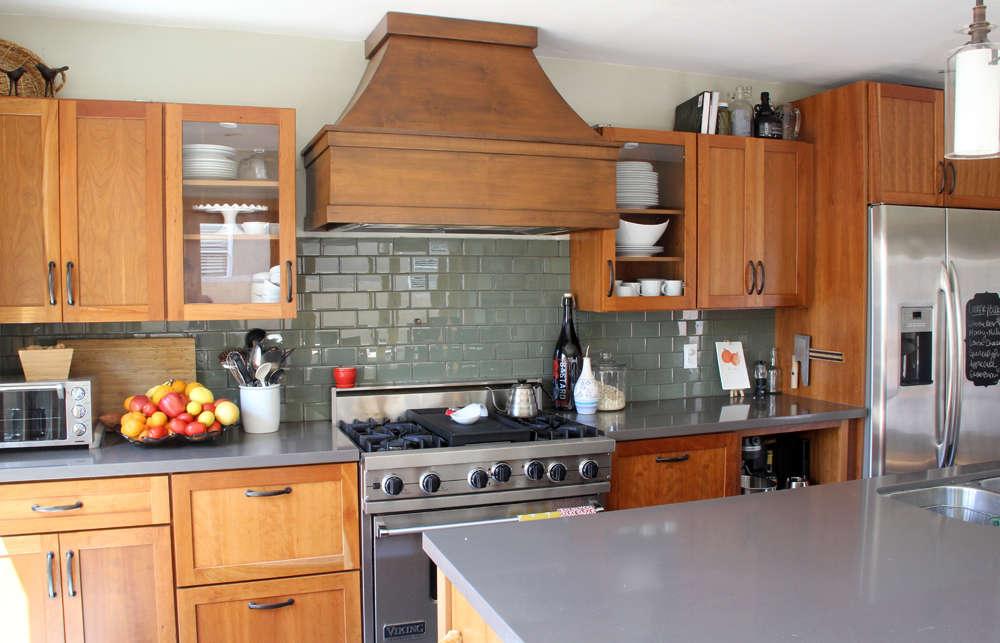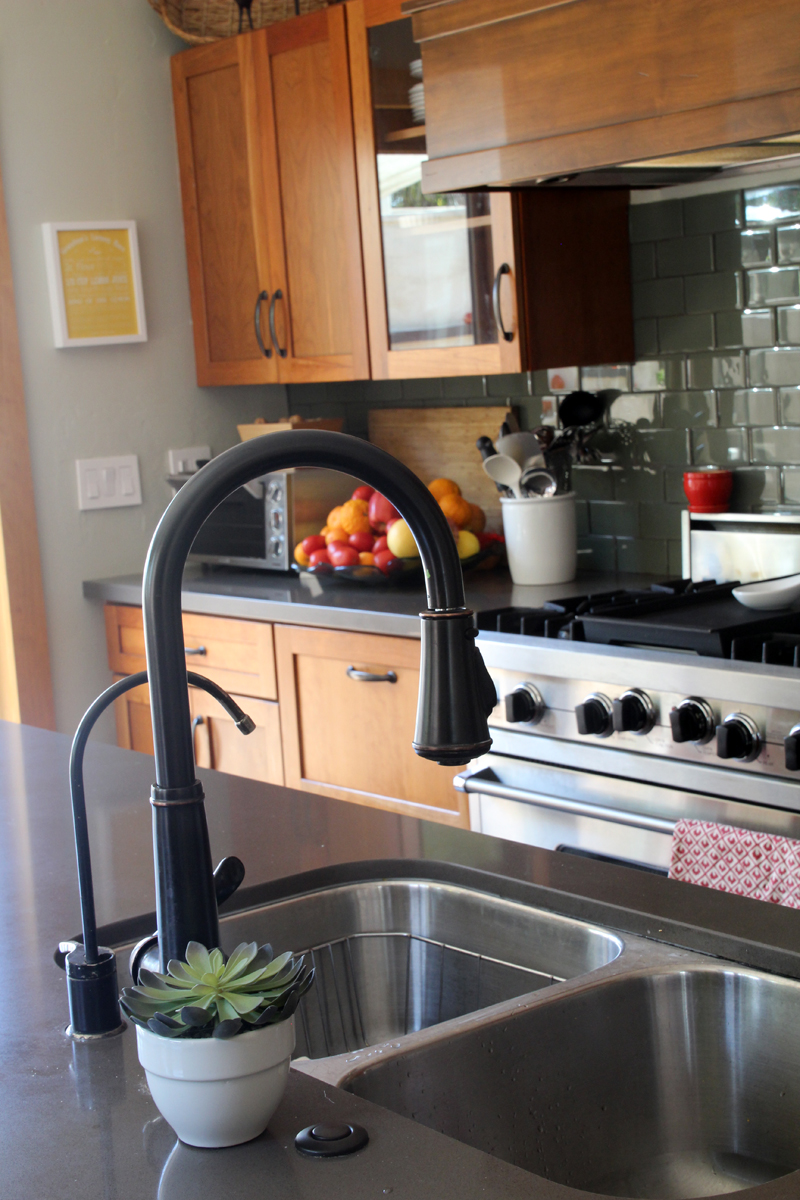 And just for fun, four before shots to get an idea of how the kitchen and den in this room used to look.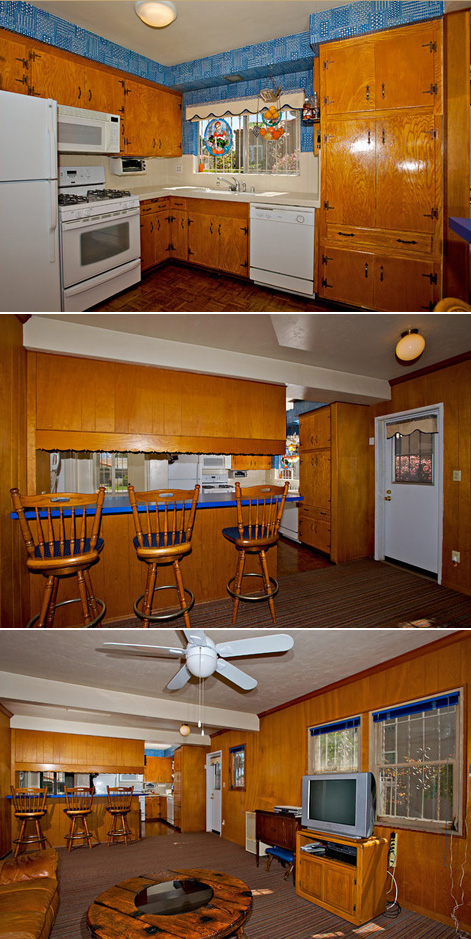 Here's two shots of the kitchen from practically the same point in the room, just 5 or so years apart (before we moved in and today):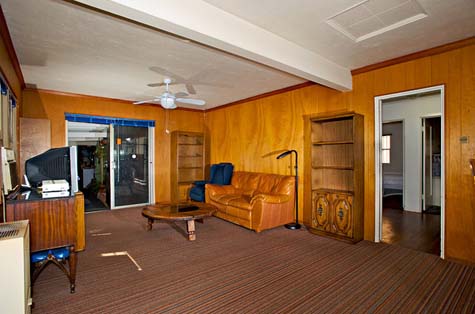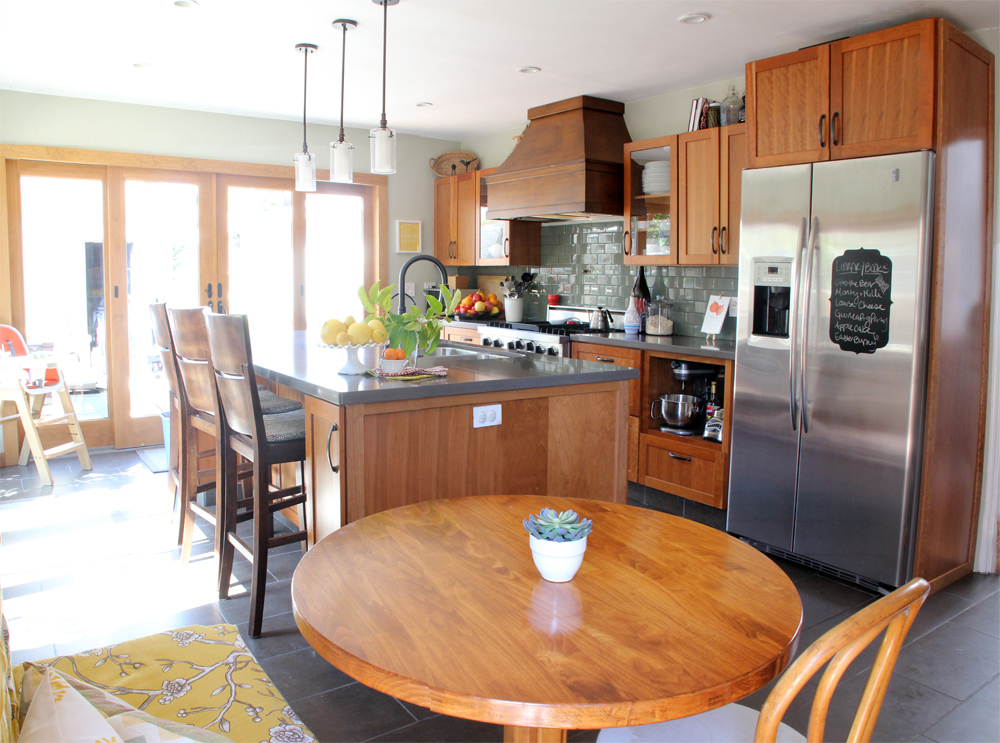 Moving the kitchen from the middle of the house (which is now an office) to the back den was something we had debated quite a bit… but it really is nice to throw open those big sliding doors and integrate the outside with the in.
You can see the dining table just passed the island…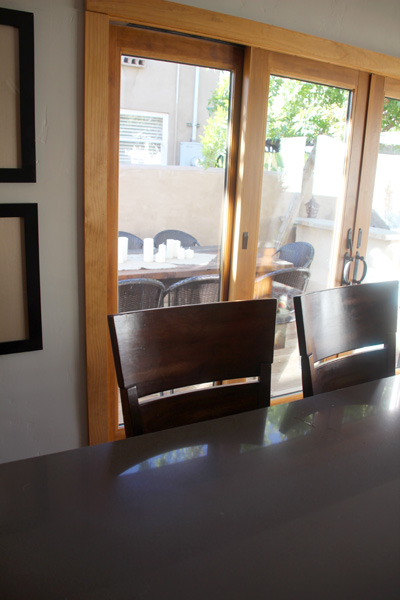 And when the doors are open, the outdoor deck, dining space and fireside area are connected directly with the kitchen.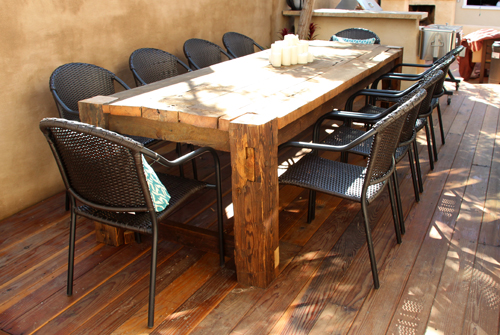 There you have it, two updates (trimming the end caps of the kitchen island and fridge plus new plaster on the ceiling) that have made a big difference!
I'm thinking that one of the new projects for the kitchen might be a DIY pendant over the new breakfast nook, and a little hint at another definitely has to do with the pantry. Little things always pop up

.
PS All den-to-kitchen remodel posts (and kitchen updates like the botanical chart and calendar art) can be found here.
Tags:
Before & After
,
Kitchen
Posted in
Construction
,
Our Kitchen Remodel
,
Renovating Adventures
|
7 Comments »
March 26, 2013
I thought I'd share a little project with you today that I recently hung up in our kitchen, but that I actually created about six months ago. We lost my Grandma just before our big trip to Europe and it was devestating. She was the local Grandma in my life that I was very close to – the one that taught me to bake, gave me sage advice on finding 'the one' (which subsequently confirmed my yes to Kevin) and who picked blackberries with me every summer when we visited Washington together. It was a very heartfelt loss and there were no words to describe it. To add salt to the wound it was in a matter of weeks that we were celebrating the passing of my other special Grandma, whom we had lost the year before.
But, I took what meant most to our relationship and created a piece of art that I thought my family would enjoy.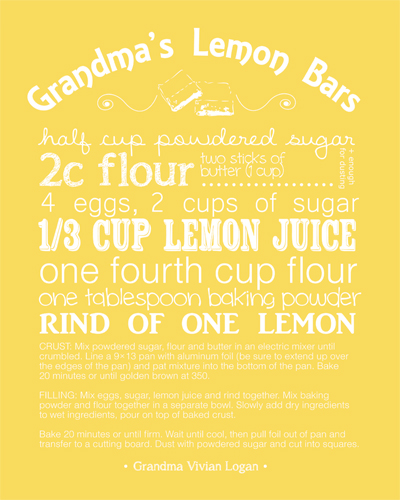 Grandma and I baked together at every opportunity we had – she was an incredible baker!
We couldn't attend her funeral because of travel and that was a second blow to my heart. There was nothing to be done regardless of how hard I tried to change flights and so on… so instead of being there in person, I was there in spirit (while in the Ireland countryside, her heritage) and I wanted to leave something for the guests that were present to celebrate her life.
My first thought was to create a memorable piece of Recipe Art for everyone to take home and I was on the hunt to find an Etsy artist to help me out! But because of short notice (as these things often go, funerals that is) no one could fit my short timeline. Sooo, I opened Adobe Illustrator up and created the art myself.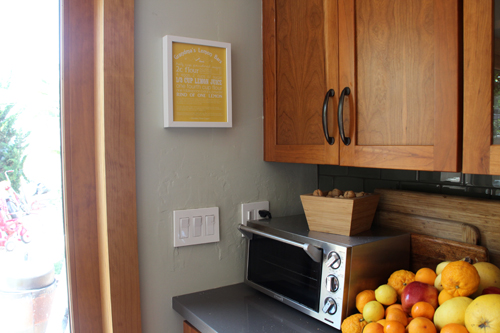 I made about 50 copies for the funeral, packaged them up and sent them to my Dad to leave out for family. And now, finally, one of my prints hangs in our kitchen.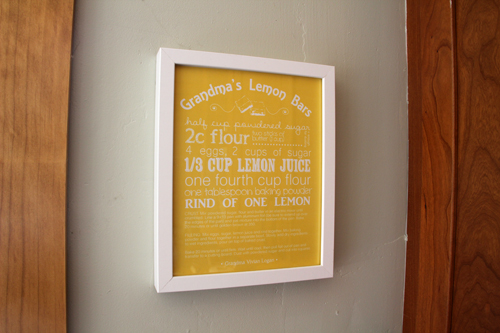 Lemon bars (hence the bright, happy color) is one of the BEST recipes we have from my Grandma, though I'm working on an entire cookie book inspired by Grandma's delicious creations. She was a baker – a real conossieur of the trade. She taught me everything I know and it runs in my blood because of her. I hope to pass that on to my girls.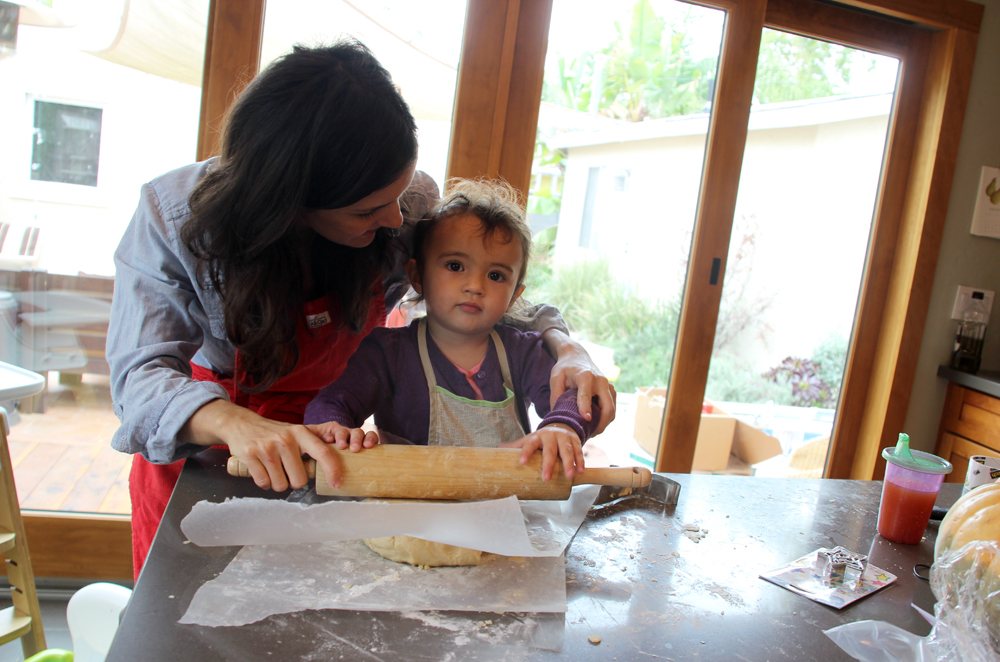 About a week prior to her death, I was visiting her home in my hometown of Santa Cruz and I sat down next to her bed with a tablet and began recording. I knew that I didn't have much time and Grandma was happy to share her secrets (the ones that I had heard before, the ones that I was just learning for the first time) of baking with me. We went through hundreds of recipes together from her shelves and hand written books and boxes of torn out magazine clippings, and picked out about 30 that were her favorites. The legacy she will leave us is the love that she shared, the stories of her inspiring life, and her recipes.
Grandma's memory lives in the heart of my home now, and she will be with me every time I bake.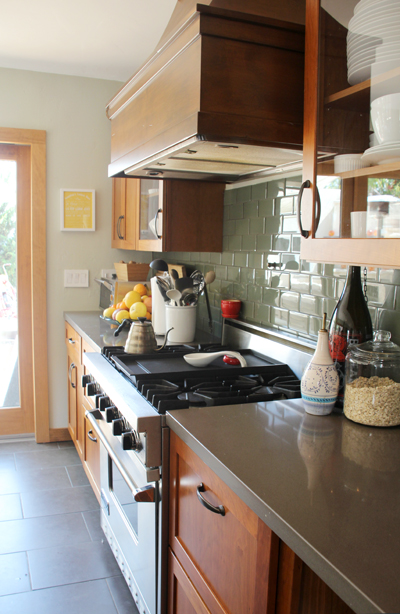 Love you, Grandma! I know you are watching over us with the angels now.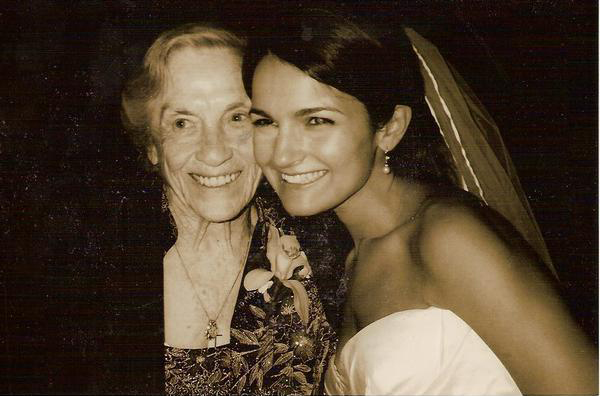 PS I shared the actual recipe here when we made lemon bars for Liv's baptism. Delicious.
PPS If you are an Illustrator wiz, I'd be happy to share the original file with you so that you can edit it with your own favorite recipe. I can't link it here because it's not compatible, but feel free to email me at: morgan at pepperdesignblog.com
Tags:
Art
,
Decorating
,
DIY Art
,
Kitchen
,
Paper Crafts
,
Recipes
,
Yellow
Posted in
DIY
,
Downloadables
,
Family & Friends
,
Our Kitchen Remodel
,
Recipes
,
Renovating Adventures
|
5 Comments »