January 25, 2010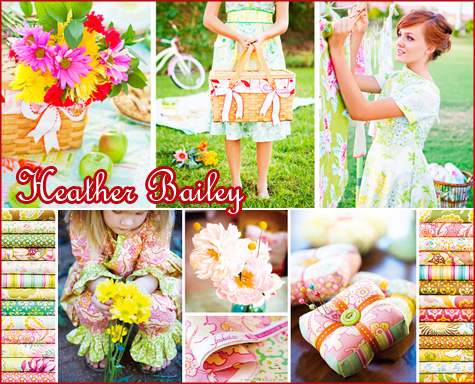 I found this beautiful collection by Heather Bailey (shared by All Things Lovely) and thought it would be an ideal addition to PDB's Favorite Fabrics (see the right hand sidebar button for the entire list to browse). If fabrics with names like 'kissing booth', 'porch swing' and 'sugar mallow' don't make you smile, the country chic-meets-retro prints most definitely will.
Her latest line: Nicey Jane, is a feminine kickback to all things your grandmother probably loved (you might find yourself reminiscing about a window treatment or two!).
I'd adore a quilt made out of big patches of her entire collection.

Tags:
Crafty Solutions
,
Fabric
,
Patterns & Color
,
Red
,
Teal
,
Yellow
Posted in
Crafty Solutions
,
Favorite Fabric
|
2 Comments »
January 25, 2010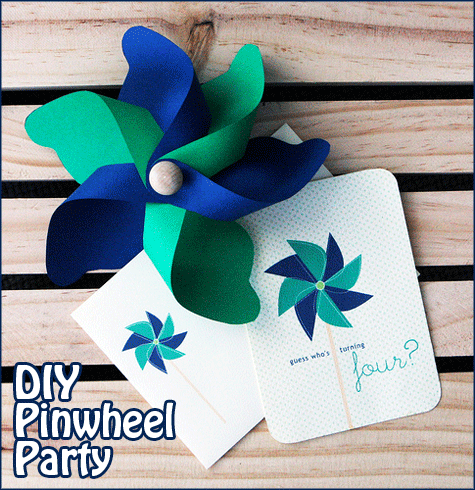 If you had a chance to check out this post from earlier last week, you might note that right now I have a minor obsession for all things pinwheels. So when I came across this diy pinwheel party that Sharnel (of My Life – My Loves) from Brisbane, Australia, threw for her son's 4th birthday, I thought you might enjoy it as well!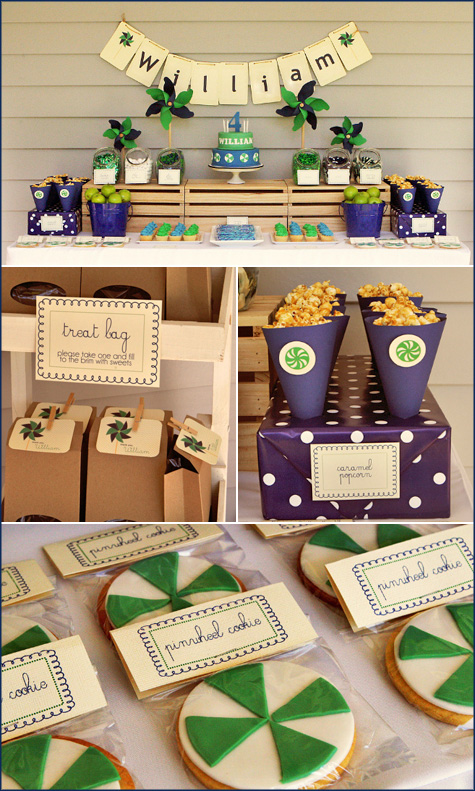 From the block print banner to the handmade caramel popcorn cones and the delicate navy dessert labels – I can't decide which detail I like best! The pinwheel cookies and packaging is at the top of my favor list right now and reminds me of a few ideas from here.
Amy Atlas shared her accolades with Sharnel over such a lovely dessert buffet on her blog Sweet Designs (check in to read the kind words of encouragement) and I can't agree more – beautiful job! For the full post and sources, jump on over to My Life – My Loves.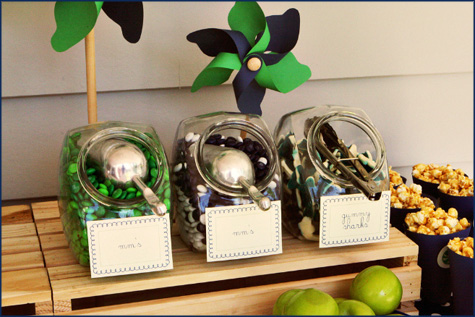 Thanks for sharing this wonderful blog, Full House!
Tags:
Baby Shower
,
Birthday
,
Blue
,
Bridal Shower
,
By Color
,
Cake
,
Crafty Solutions
,
Decorating
,
Desserts
,
Dinner Parties
,
DIY
,
Green
,
Kids Party
,
Parties & Entertaining
Posted in
Crafty Solutions
,
Parties & Entertaining
|
4 Comments »
January 22, 2010

Happy Friday! Today I'm sharing one of my very favorite blogs…
Young House Love is an inspiring and informative resource for all things home renovating. Sherry & John, the brains behind this great blog, are a young couple that has tackled every project from floor boards to kitchen remodels.
If you ever want to drop in on a charming duo that is not only rhetorically amusing but also incredibly insightful (step-by-step guides to just about any home project), pop on over! Today Sherry & John share with us a few of their favorite tips… in the form of PDB's four favorite questions… and you'll love their answers.
You may recognize this couple from their appearance on the cover of the 2009 spring edition of The Nest - a popular newlywed magazine from the creators of the The Knot (and a personal favorite). They've also been featured on HGTV's Rate My Space, were key bloggers behind True Value's DIY Blog Squad, and have a wonderful house tour featured here.

Young House Love is part of my daily read. Not every other day and not once a week – but my daily read – because these twenty-something-year-olds are inspiring and creative at a whole new level. I love their fascinating stories and their endless projects… but most importantly I love their engaging and positive attitudes surrounding the whole mess that is remodeling.
As a young home renovating couple ourselves, it's inspiring to see such beautiful progress and 'project tackling' from like-minded friends! Jump on over to their blog and prepare to be thoroughly charmed.
I've provided a few of my FAVORITE before and afters from their sweet little Richmond home, so follow the jump for a wonderful PDB interview and some serious eye candy – and don't forget to visit Young House Love for a step-by-step playback of each of these projects. Read more »
Tags:
Bedroom
,
Before & After
,
Decorating
,
Dining Room
,
Guest Blog
,
Guest Interview
,
guest room
,
Home
,
Kitchen
,
Living Room
Posted in
Guest Blog
,
Home
,
Interview
|
5 Comments »