January 22, 2010

Happy Friday! Today I'm sharing one of my very favorite blogs…
Young House Love is an inspiring and informative resource for all things home renovating. Sherry & John, the brains behind this great blog, are a young couple that has tackled every project from floor boards to kitchen remodels.
If you ever want to drop in on a charming duo that is not only rhetorically amusing but also incredibly insightful (step-by-step guides to just about any home project), pop on over! Today Sherry & John share with us a few of their favorite tips… in the form of PDB's four favorite questions… and you'll love their answers.
You may recognize this couple from their appearance on the cover of the 2009 spring edition of The Nest - a popular newlywed magazine from the creators of the The Knot (and a personal favorite). They've also been featured on HGTV's Rate My Space, were key bloggers behind True Value's DIY Blog Squad, and have a wonderful house tour featured here.

Young House Love is part of my daily read. Not every other day and not once a week – but my daily read – because these twenty-something-year-olds are inspiring and creative at a whole new level. I love their fascinating stories and their endless projects… but most importantly I love their engaging and positive attitudes surrounding the whole mess that is remodeling.
As a young home renovating couple ourselves, it's inspiring to see such beautiful progress and 'project tackling' from like-minded friends! Jump on over to their blog and prepare to be thoroughly charmed.
I've provided a few of my FAVORITE before and afters from their sweet little Richmond home, so follow the jump for a wonderful PDB interview and some serious eye candy – and don't forget to visit Young House Love for a step-by-step playback of each of these projects. Read more »
Tags:
Bedroom
,
Before & After
,
Decorating
,
Dining Room
,
Guest Blog
,
Guest Interview
,
guest room
,
Home
,
Kitchen
,
Living Room
Posted in
Guest Blog
,
Home
,
Interview
|
5 Comments »
January 21, 2010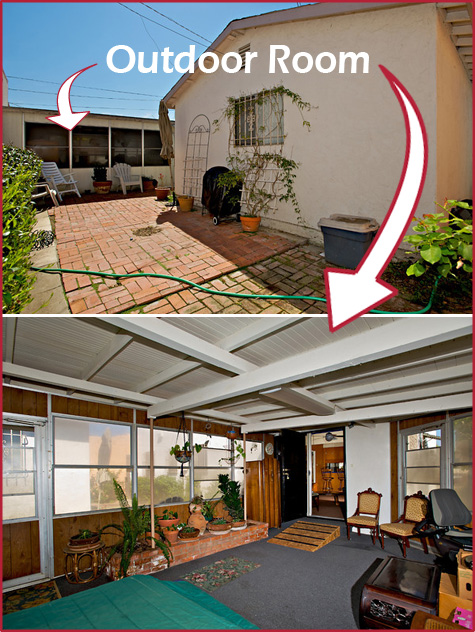 Once upon a time… there existed a makeshift home addition known affectionately as the "Outdoor Room". This little room had four wood paneled walls, plenty of windows and, um, well-used blue berber rug.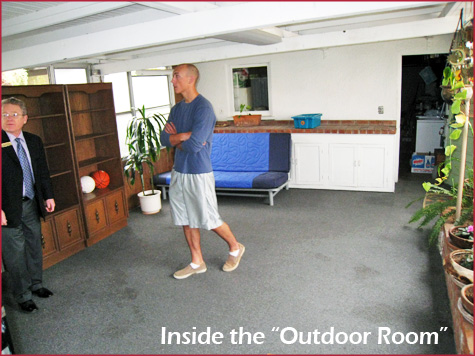 Upon purchasing our casita we knew our outdoor room needed to be at the top of the Honey-Do list. There was so very much to do though that it eventually fell somewhere between fix plumbing, re-wire knob & tube electrical and replace bathroom. Whew! Our list was starting to get long… But then one sweet summer day (pre all of the above list items), we decided to get moving on our new outdoor space… and visions of bbqing, sipping red wine and laughing with friends around a sweet outdoor fireplace began dancing through our minds.
I can't think of a better way to spend a summer evening… and so the project was on.
Before we could design the perfect space, however, some major sweat was involved in tearing down the entire room (this is where the sledge hammer comes in), ripping up hundreds of bricks & slabs of cement, and clearing much backyard space. BUT… this is sort of what we had in mind when it would be finished: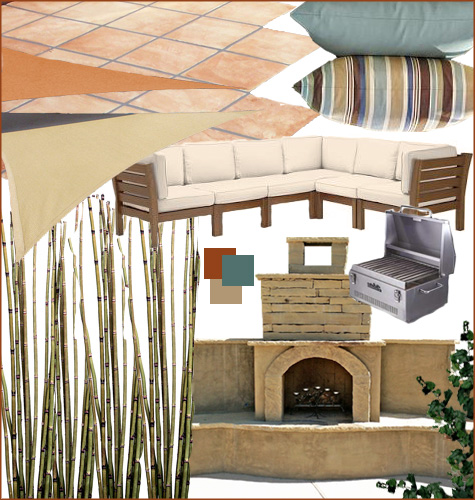 Stay tuned! And if you really love home makeover projects, wait until tomorrow's Friday Guest Blog by Young House Love – a neat play-by-play of a terrific home renovation by two crafty twenty-something-year-olds. I found this awesome blog while searching for like-minded posts to learn from… and it's been an invaluable resource!
Tags:
Backyard
,
Before & After
,
DIY
,
Outdoor Spaces
,
Renovating Adventures
Posted in
Renovating Adventures
|
1 Comment »
January 21, 2010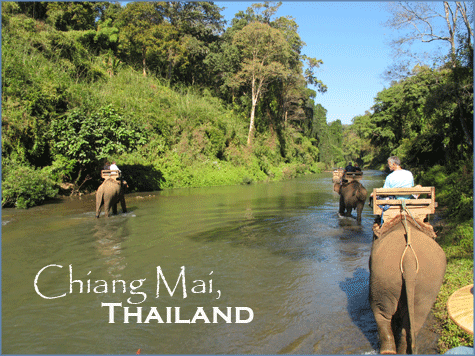 Oh the stories behind Chiang Mai! If you're just visiting this little series… hop on over to the 'Travel Adventures' tag (at the bottom of this post) to see our trekking journey across the beautiful countries of Australia, New Zealand and Thailand from start to finish.
If you've followed for a bit, welcome back to Thailand! While exploring the rural north country, and specifically areas around Chiang Dao (which is an even more rural version of Chiang Mai), we had the opportunity to: ride elephants, take a lazy river trip by bamboo raft, crawl through 12″ crevices in a local cave, hike through six hill tribe villages and spend the night high on a mountain in a little woven hut.
*Jump on over to PDB's Facebook page to watch two quick videos from our elephant camp adventures*

Tags:
Thailand
Posted in
Travel Adventures
|
1 Comment »