January 20, 2010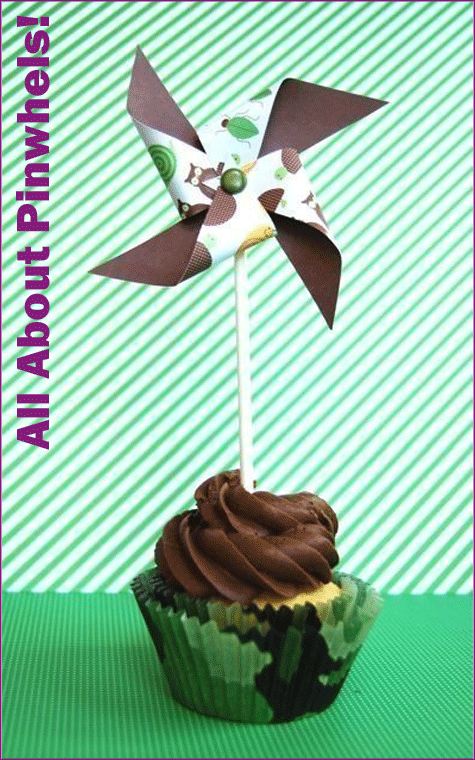 Love the popular pinwheel theme that we're seeing more and more of? Me too! Here are a few inspiration boards to get the wheels turning…
Plus a LOVELY offer from the artist behind Cupcake Social for 20% off (not including bulk or handmade items). The adorable pinwheel cupcake topper (above) and school/spring themed versions -my favorite!- (after the jump) are her designs! Just be sure to enter 'HOLIDAY' at checkout. Thanks Cupcake Social!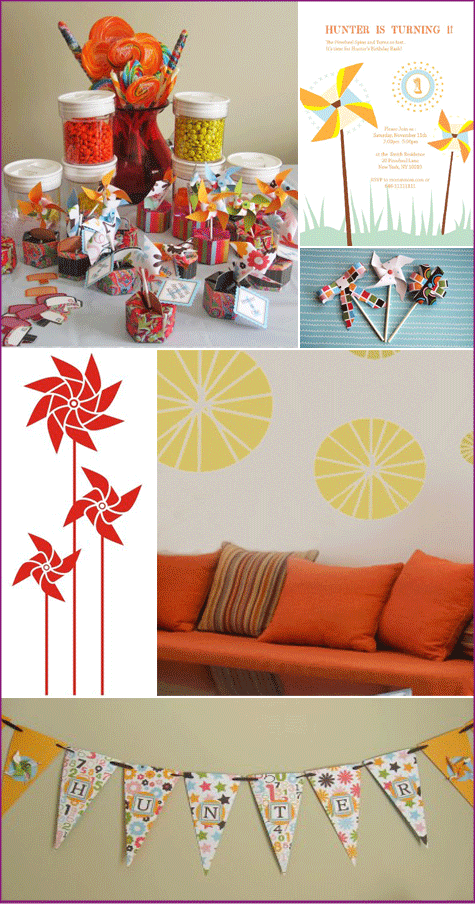 There are too many great ideas out there… and the best part of a pinwheel themed event is that it's as diy as you'd like to make it! From paper projects to fabric banners we have a full list of Etsy artist resources on the next page that WON'T break the budget.
Don't stop now… check out three more pinwheel inspiration boards full of oh-so clever ideas. Read more »
Tags:
Baby Shower
,
Birthday
,
Crafty Solutions
,
Decorating
,
DIY
,
Kids Party
,
Parties & Entertaining
,
Patterns & Color
Posted in
Crafty Solutions
,
Parties & Entertaining
|
4 Comments »
January 19, 2010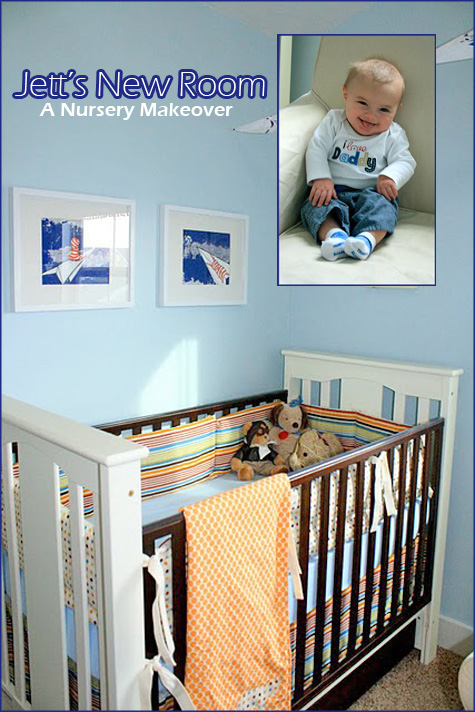 Kirsten, over at 6th Street Design School blog, just finished the cutest makeover for her son, Jett. Her son's name, and husband's full time job as a pilot, gave way to the perfect aviation theme for the space; from the wall decals, model airplanes, clustered globes and paper plane garland strung across the ceiling, all of the details are adorable.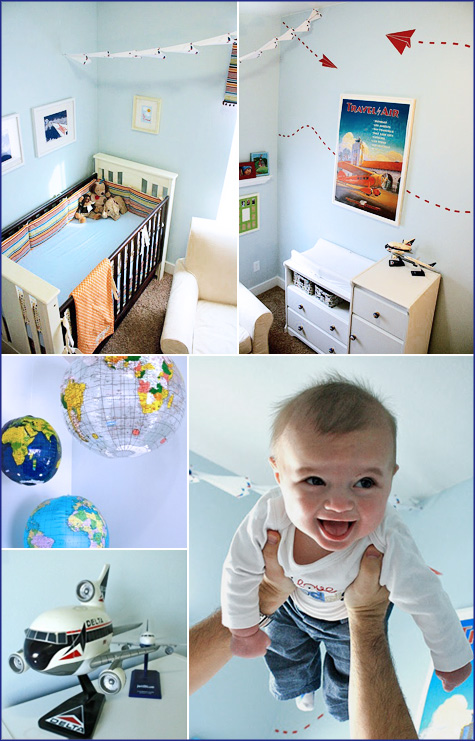 But Kirsten confides that she didn't start out with a jet theme in mind: "In designing his nursery I wanted to steer clear of the obvious airplane theme.  But guess what? I just couldn't do it.  The airplanes kept calling to me.  But in the end I really like how it turned out. If I would have to describe this room in 3 words they would be Adventure, Colorful and Sentimental. It is full of mementos from my husband's childhood and even has a few items from our travels. The room is the tiniest room on the planet earth so I tried to make sure each item in it meaningful."
To see the 'before' as well as many more room details, follow the jump! Read more »
Tags:
Bedroom
,
Blue
,
Boy's Room
,
Crafty Solutions
,
Decorating
,
DIY
,
Home
,
Nursery
Posted in
Crafty Solutions
,
Guest Blog
,
Home
|
7 Comments »
January 16, 2010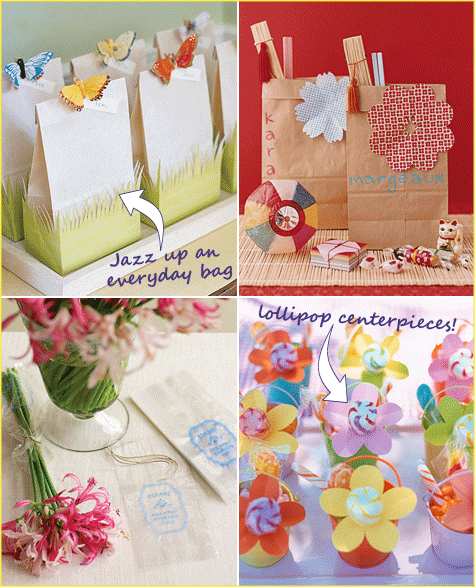 Whether you're planning a kid;s birthday party, winter get-together, Valentine's Day group dinner or shower, your personal party favor can be a unique and special way to say 'thank you' for joining in on the celebration.
These easy ideas from Martha Stewart Living. are as simple (a thoughtful take-away bouquet from wrapping a few centerpiece stems in prepared tissue or plastic baggies with ribbon) or fancy (cardstock cones complete with matching ribbon and monogrammed labels) as your party sees fit.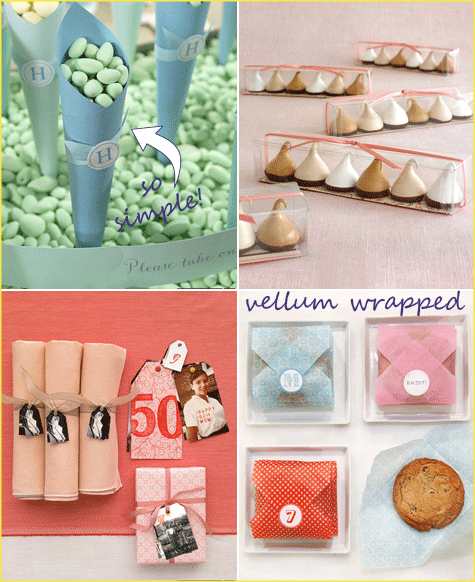 These vellum wrapped cookies are one of my favorite ideas – wrap up a homemade dessert as if you were creating a mini envelope and add a pretty sticker. Place at the center of all individual table settings for a sweet little touch.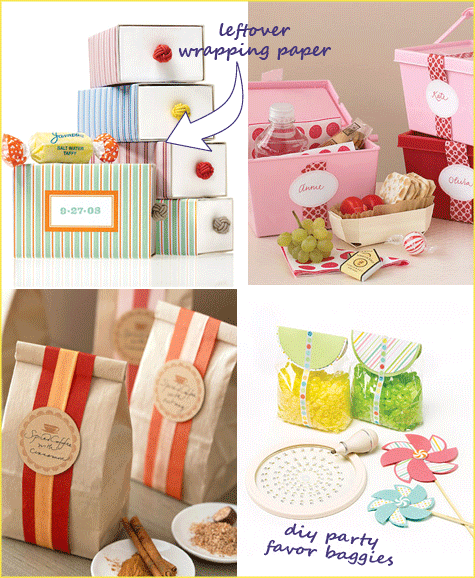 These diy pinwheel baggies are super easy and adorably cute as well – using plastic favor bags from your local craft store, fill with goodies and staple shut by folding cut out round circles over the top edges, wrap a ribbon completely around favor for a finishing touch. Simple! And it's perfect for a kid's party or baby shower.
For 8 more creative favors, and the 'how-to', follow the jump! Read more »
Tags:
Baby Shower
,
Birthday
,
Bridal Shower
,
Crafty Solutions
,
Decorating
,
Desserts
,
Dinner Parties
,
DIY
,
Kids Party
,
New Year's Eve
,
Parties & Entertaining
,
Patterns & Color
,
Wedding
Posted in
Crafty Solutions
,
Parties & Entertaining
|
5 Comments »