Happy Friday! Oh I love me a good Friday. It's the close of the work week… a chance to wrap up unfinished projects, cross off items from the ever daunting list, reprioritize tasks that didn't meet their Friday deadline. I also take an early lunch on Fridays for a story time at our local library with Liv. It's the best.
Weekends usually mean a new kind of project – one that involves a hammer or paint brush or some mod podge. Weekends also mean par 3 golf courses, BBQs with friends and morning Church on Sunday. Sunday rituals are sacred in our house, it's a morning to look forward to all week. After Mass we swing by the most delicious bakery for an almond danish and vanilla latte (always the same order. always), that's followed by our favorite Farmer's Market where we stock up on goods from farmers we're beginning to get to know. Oh man those homemade almond danishes… I'm thinking about it already.

But! It's still Friday, and with that I introduce to you a blog that I think you'll very much enjoy checking out. The Busy Budgeting Mama was introduced to me by a friend and I was immediately smitten with Natalie's creativity.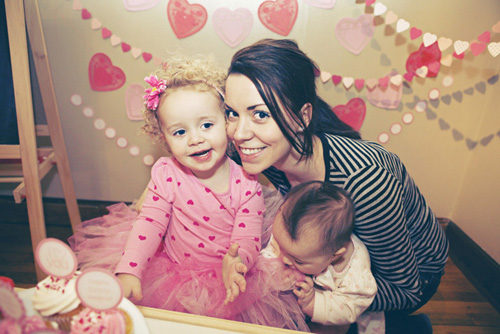 Be it a cardboard castle of all castles for her kiddos, the most wonderful crocheted animal patterns, her awesome dessert tables (because her graphic design skills are through the roof) or a dollhouse complete with wallpaper and DIY designer furniture, this girl is crafty and quite good at it. How cute is this idea? And here's that awesome castle that cost a whopping $4 to create: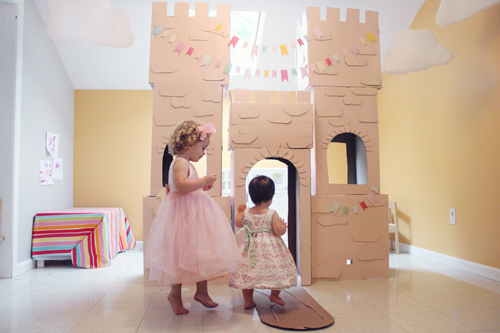 If you enjoy following along with families (and super savvy creative ones, at that) then I think you'll really enjoy Natalie's blog. More pictures of her adorable family and crafty style (plus answers to the usual four interview questions) after the jump.
…